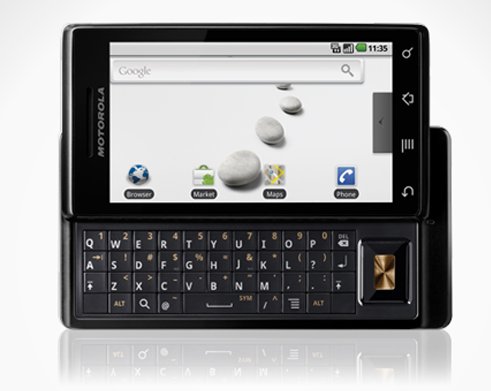 To our Canadian brothers and sisters, the time has come!  You can head over to the Motorola website, use the My Software Update process, and have 2.1 burning through your device in minutes.  (And that sounded about as sales-pitchy as it possibly could.)  We heard rumors of this happening last night, but hadn't heard yet from our Canadian partner Matt.   Either way, we're going with it…
Simple instructions…
1.  Visit this Moto site.
2.  Choose "Telus" and then "Milestone."
3.  Download the My Software Update software.
4.  Connect your phone and follow the instructions.
(Wish I had more details on that process, but we're stuck with simple OTA's here in the states.)
Release notes after the jump!
Release notes:

Animated Wallpapers and multiple home screens
This additional wallpaper option enables you to select from a number of wallpapers that can move on your home screen<s>. A selection of animated wallpapers are bundled with the software upgrade – further wallpapers are available on the Android Market.

The number of home screens you can have now also just got bigger – you can choose to have  3, 5, 7, or even 9 home screens – plenty of space for all your widgets and icons.
Facebook App and Widget
A Free Facebook App and Widget is included in this upgrade. The Application enables contact importation including Names, Profile Pics and Status into your phones' contacts. The Widget can be place on one of your home screens to stream live updates from your Facebook account.
Google Maps Updates
Personalized suggestions: Google Maps on your Android device suggests (autocompletes) locations based on your personal search history on maps.google.com

Sync with desktop: synchronizes starred items between Google Maps on your Android device and maps.google.com.  Sync and personalized features require a user to be logged in to myGoogle account while on maps.google.com

Multi touch is now also enabled within Google Maps.

maps.google.com
Other Enhancements
Help:  A new Help Center app is included that provides mobile access to your user guide, video tours of key features, tips and tricks, and FAQs to help you get the most from your device.

Bluetooth support : support for Bluetooth headset multi function for initiating voice calls

Security: Prevents unauthorized pattern lock bypass, allows for PIN security and local device wipe following PIN error input

Music Player : Album art 3D gallery view supported in landscape orientation

Battery life: ongoing battery life optimization

Email account removal: Improvements to manual removal of email accounts
And yes that says up to 9 home screens.  Anyone in Canada upgraded yet?