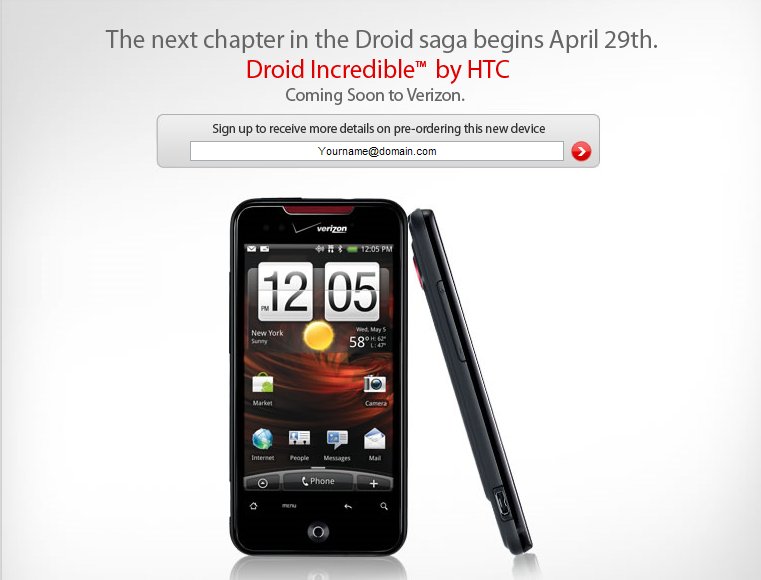 While the Droid Eris was a nice little brother, Verizon may have officially announced the Motorola Droid's half-twin brother from another keyboard-less mother.  The Droid Incredible launches April 29th and is a worthy family member.
Update 9:37AM: Appears that Verizon has pulled that link.  Interesting.
Some of the specs to have you drooling a little…
* Processor: Qualcomm Snapdragon at 1 GHz.
* OS: Android 2.1 with Sense UI
* Memory: 576MB RAM/512MB ROM
* Screen: 3.7-inch AMOLED at 480×800.
* Radios: 1xRTT, EVDO Rev. A.
* Dimensions: 4.63×2.30×0.47 inches.
* Weight: 4.6 ounces with battery.
* Camera: 8MP with autofocus and flash.
* Battery: 1300 mAh (talk time rated at 313 minutes, 146 hours' standby)
* aGPS
* Digital compass
* Proximity Sensor
* Light sensor
* Bluetooth 2.1
* WiFi 802.11 b/g/n
* 3.5mm headphone jack
My take on this?  I'm excited to see something worthwhile coming to Verizon and the "Droid" family.  While this site is centered around the Motorola Droid, other Droid devices such as the incredible might give us a chance to continue to grow.  In fact, I was sort of hoping this would be tossed under the "Droid" title so that maybe we could add it to our lineup.  Just small talk at this point though.  (insert smiley)
Thoughts?  I'm not sure this is poll-worthy, but this is one sexy phone and the specs are very nice indeed.