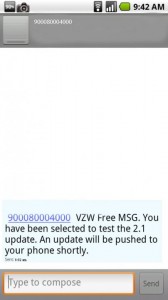 Update: A second screenie of equal quality was just submitted.
Update 3/25: So the guy that posted that fake screenie actually sent us an email today confirming that it was a joke that got way out of hand.  I think we all got that.  Nice of him to put it to rest though.  I'm guessing he got overwhelmed by the 3000+ emails sent to his Facebook account.  (Nice work DLers.)
Check out this picture we were just sent.  Receiving an update notice via text message is semi-odd, but if it is truly a test then it sort of makes sense.   It's been quiet today on the update front, but this would match the information we had showing that the testing would begin again today.
A little background now:  Looks like it was posted as a comment on BGR earlier…
DroidFan says:

March 24, 2010 at 6:05 PM

I didnt know how to get a picture on here so here is my facebook page. I was selected to be one of the testers for the 2.1 update. I was as surprised as you can imagine. nothing wrong thus far.
So what do you think?  After reading comments for 5 minutes it's pretty obvious everyone thinks it's fake.  I'm jumping on board with that. Fake?
Cheers Isaiah!