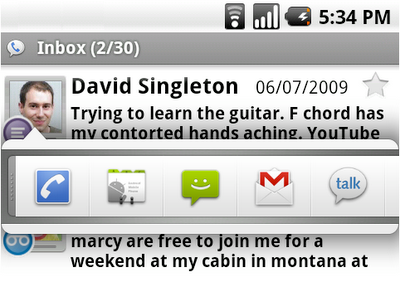 When I say major, I don't necessarily mean that they've gone through a complete overhaul.  What I do mean, is they've added 2 new features which will make Google Voice users a heck of a lot happier.  So what did Google do?
Added "Synchronize Inbox" feature: This allows Google Voice to to notify you immediately if you should receive a new message or voicemail.  In the past, this could take up to 15 minutes after receiving a call.
Contact Options: They added the ability to tap on a contact's picture which brings up options to allow for easy communication. (Picture above)
I have yet to receive a voicemail since the update so I can't comment on how fast it really is, but the previous delay in notification was very frustrating.  Any notice a significant difference?