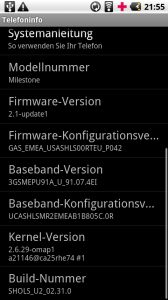 Just received a tip that the German Motorola Milestone on Vodafone's network is shipping Android 2.1 filled devices as we speak.  Yay for Germany!  Apparently, it's just for "retail Europe" which means that only new Milestones will come equipped, but you've got to figure that their OTA update is just days away.
And now back to us…Verizon?  Motorola?  Please chime in.
If you missed last week's delayed Droid update debacle, we have you covered here, here, and here.
Cheers Tom!