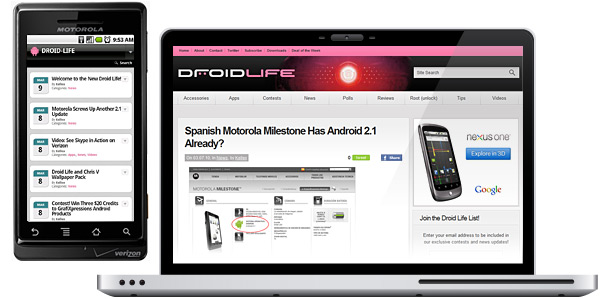 As you may have noticed last night or this morning, we cruised through a major overhaul of the site.  And I must say, it looks fantastic!  You may have also noticed that I'm using capital letters now.  Crazy I know.  In my next life, I may run for President. Who knows!
So why the new site? Well, WordPress as many of you know, is the beast of all blogging platforms and offers users and myself a chance to do some really cool things which our old platform probably never would have allowed.  Like the brand new mobile version!  I know that a ton of our readers come here straight from their Droid, and you can now do so in a much quicker and easier format.  (Don't forget you can still view the full version too with that little switch at the bottom.)  The site will also help us to keep running contests, add fun widgets, make underlying changes for performance, and just provide a better overall experience in the long run.
Any isues? We are expecting there to be some minor issues which we hope to get worked out in the next few days and for the most part, you probably won't even notice them.  However, if you do, please, please, please, drop them in the comments so that I can get right on them.  I'm pretty much a control freak and feel the need to make things as perfect as possible.  So let me know!
Who made the site? Our amazing new friends at Coulee Creative!  In less than a week, they pumped out the design, imported pretty much all of our settings, and pushed through one of the smoothest transfers I've ever seen from one blog to another.  As you can probably tell, I'm incredibly satisfied with their work.  So check them out if you have any website design work needing fulfillment.  We're definitely putting the DL stamp of approval on them.
Going forward! Time to get back to the grind.  At least we look all official and stuff now right?