Samsung announced this evening that it will begin rolling out the latest version of One UI, which is One UI 5.1.1 and launched with the latest Galaxy foldables, later this week to the past generation of Galaxy Z devices.
First to get the update will be the Galaxy Z Fold 4 and Galaxy Z Flip 4. Following that, you'll see it eventually roll out to foldables dating back to the Galaxy Z Fold 2 and Galaxy Z Flip. Samsung also intends to roll out the latest One UI to its large list of Galaxy tablets, as well Galaxy Watch smartwatches going back to the Galaxy Watch 4 lineup.
Full details on what devices are getting the update are right below.
What devices are doing to receive the update?
In order to provide a more seamless and enhanced device experience to users, the One UI 5.1.1 software update will come to Galaxy Z Fold 4 and Z Flip 4 devices starting this month, with Z Fold 3, Z Flip 3, Z Fold 2 and Z Flip devices receiving the update sequentially.

Galaxy Tab S8, Tab S8+, Tab S8 Ultra, Tab S7, Tab S7+, Tab S7 FE, Tab S6 Lite, Tab A8, Tab A7 Lite, Tab Active 3 and Tab Active 4 Pro users are also set to enjoy several new user-centric features as part of the One UI 5.1.1 update. In addition, Galaxy Watch 5, Watch 5 Pro, Watch 4, and Watch 4 Classic users will experience key updates from the One UI 5 Watch update.
What's Inside One UI 5.1.1?
It was only earlier this year that Samsung started the One UI 5.1 rollout. Now comes 5.1.1, and inside, Samsung markets an enhanced Flex Mode Panel, with more controls for when you're watching content or easier access to the panel itself. In addition, "with the new update, the media play bar button – complete with a 10-second fast forward and rewind and features access – is showcased in one convenient place when the Flex Mode Panel activates."
Samsung also highlights its change to Taskbar, which now allows you to task switch up to four recent apps. That'll help all you crazed multitasking professionals.
Again, if you have a Galaxy Z Fold 4 or Z Flip 4, you'll see this update beginning this week. For everyone else, you'll have to wait a bit.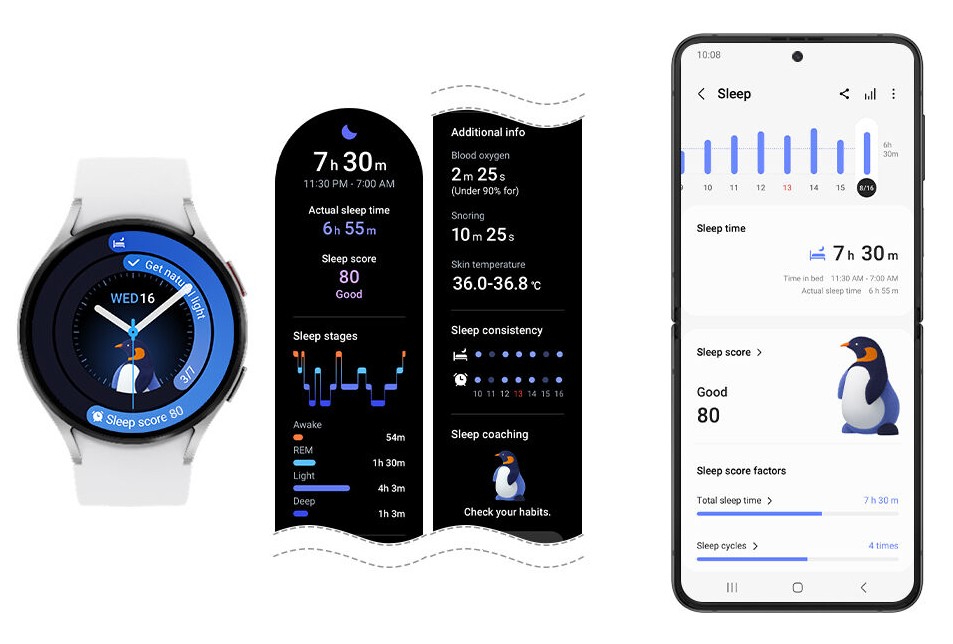 One UI Watch 5 update for older watches
Older Galaxy Watch owners are also getting love with One UI Watch 5. In Samsung's writeup, Galaxy Watch owners will appreciate the upgraded sleep management features, with users able to access an improved UI, detailed analysis of Sleep Scores, Sleep Consistency, and Sleep Animals. Also, owners can also access Sleep Coaching right from the watch, allowing you to track progress more conveniently, "and stay motivated throughout the day."
Galaxy Watch 5, Watch 5 Pro, Watch 4, and Watch 4 Classic should start seeing the update as early as today.