NVIDIA is continuing its tradition of announcing new SHIELD TV hardware every two years, giving us the new SHIELD TV (2019) and SHIELD TV Pro (2019). The launch of these devices is pretty straightforward in our eyes, considering NVIDIA didn't have to do all too much to improve what we'd consider the best Android TV set-top box experience on the market.
To sum it up, NVIDIA added a few notable features which we think are totally worth the upgrade from any older SHIELD TV model and also lowered the entry price for the device. If you're a consumer, it doesn't get much sweeter than that.
Below, we'll go over what we like and maybe don't like about NVIDIA's new SHIELD TV (2019).
---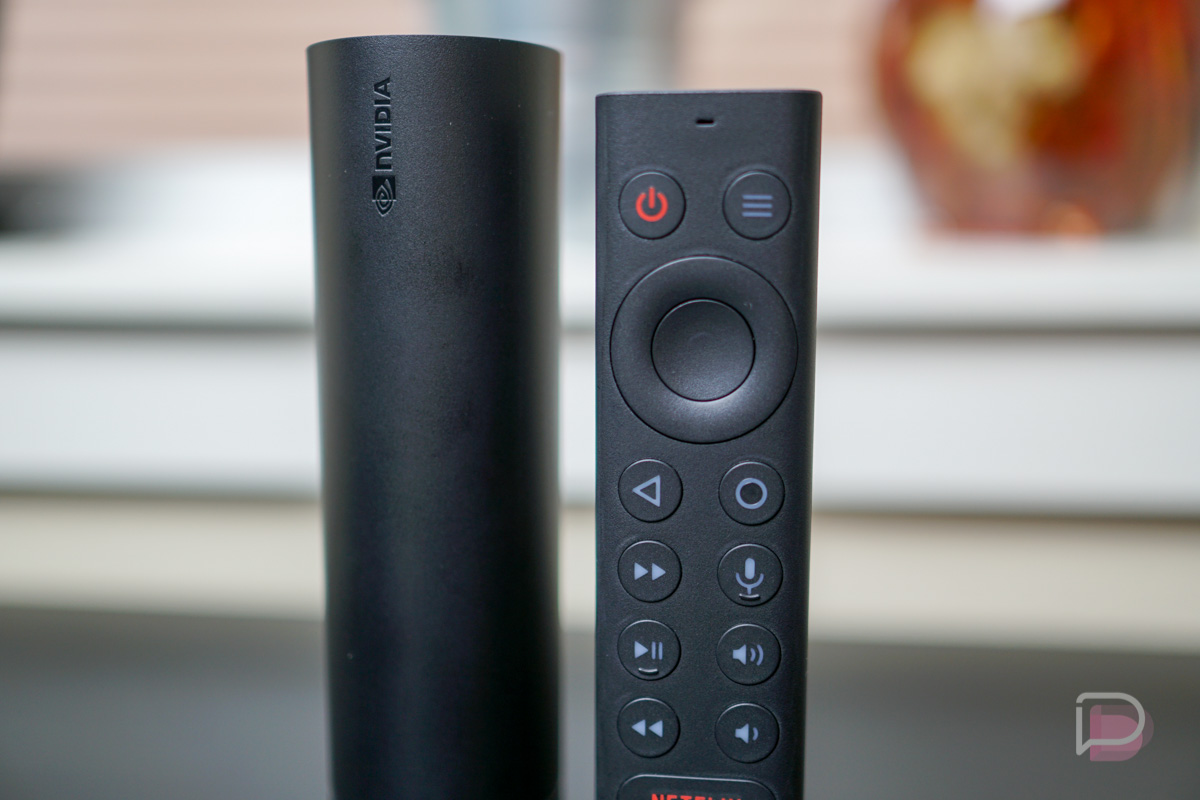 Hardware
NVIDIA provided us with the new SHIELD TV, the "little tube" as I'm calling it. The company explains that the new SHIELD TV is designed to disappear, whether that be behind your television or wherever else you may keep all of your TV's cables. As someone who mounts my TV to the wall, the little tube design allows me to just throw it behind the TV and keep it out of sight.
The SHIELD TV features a microSD slot for those who want to bring their own media to the device, a gigabit ethernet port, dedicated power/reset button, and HDMI output port. It's only the necessities that made it onto this year's SHIELD TV, so if you happen to need a full-size USB port, the new $199 SHIELD TV Pro will be for you.
In terms of appearance, I will say that the new SHIELD TV looks very un-NVIDIA. There are no aggressive angles, sharp corners, or glowing green lights. It's quite the departure from what we're used to from NVIDIA's design team, but again, when it's designed to not be seen, we suppose the way it looks really doesn't matter — so long as it performs well.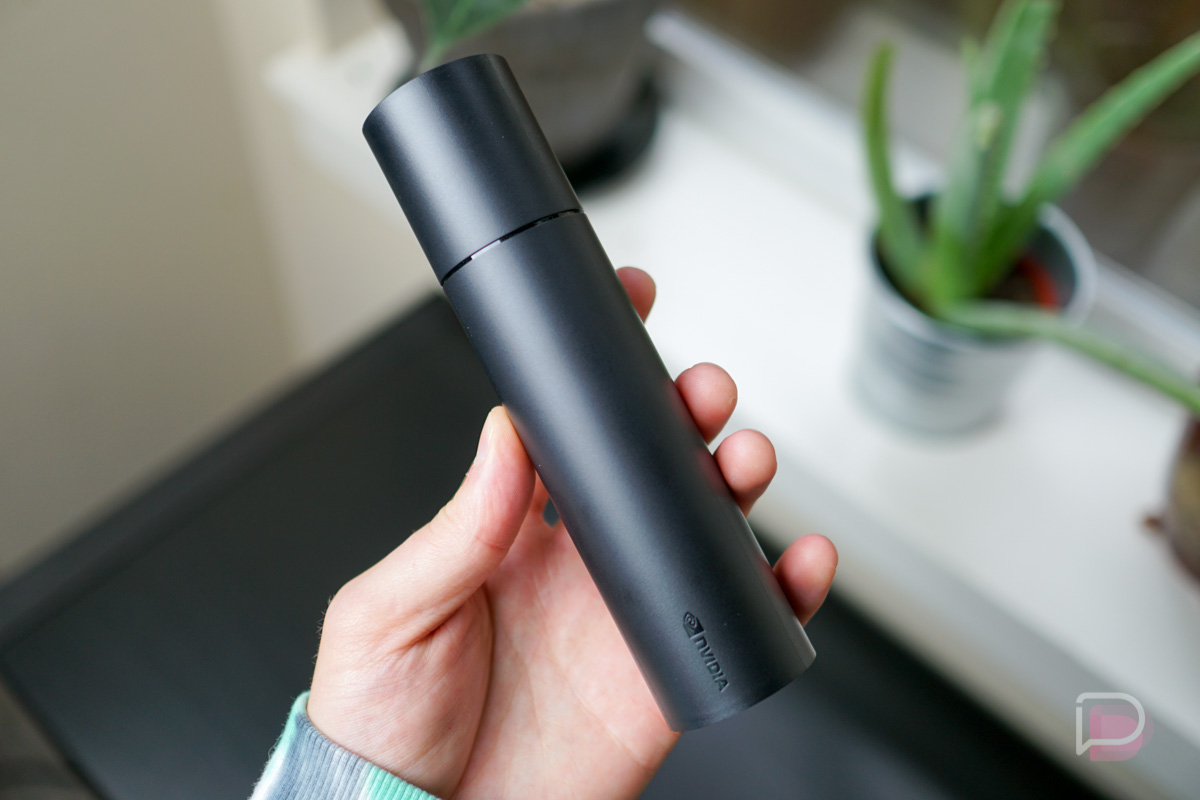 Specs
For specs, the SHIELD TV (2019) features a Tegra X1+ processor, 2GB RAM, 8GB built-in storage (with microSD support), gigabit ethernet & 802.11ac WiFi connectivity, Dolby Atmos surround sound support, Dolby Vision HDR, onboard 4K AI auto upscaling (we'll take more about this below), and the Android TV platform with access to Google Play.
Importantly, for those who love Netflix or are patiently awaiting the launch of the Disney+ streaming service, the inclusion of both Dolby Atmos and Vision means particular content will look and sound better. Currently, only SHIELD TV offers Netflix streams in Dolby Vision, so if you take your content streams seriously, that's something to consider. NVIDIA lists the following services as supporting Dolby Atmos and Vision: Netflix, Prime Video, Disney+, Vudu, and Movies Anywhere.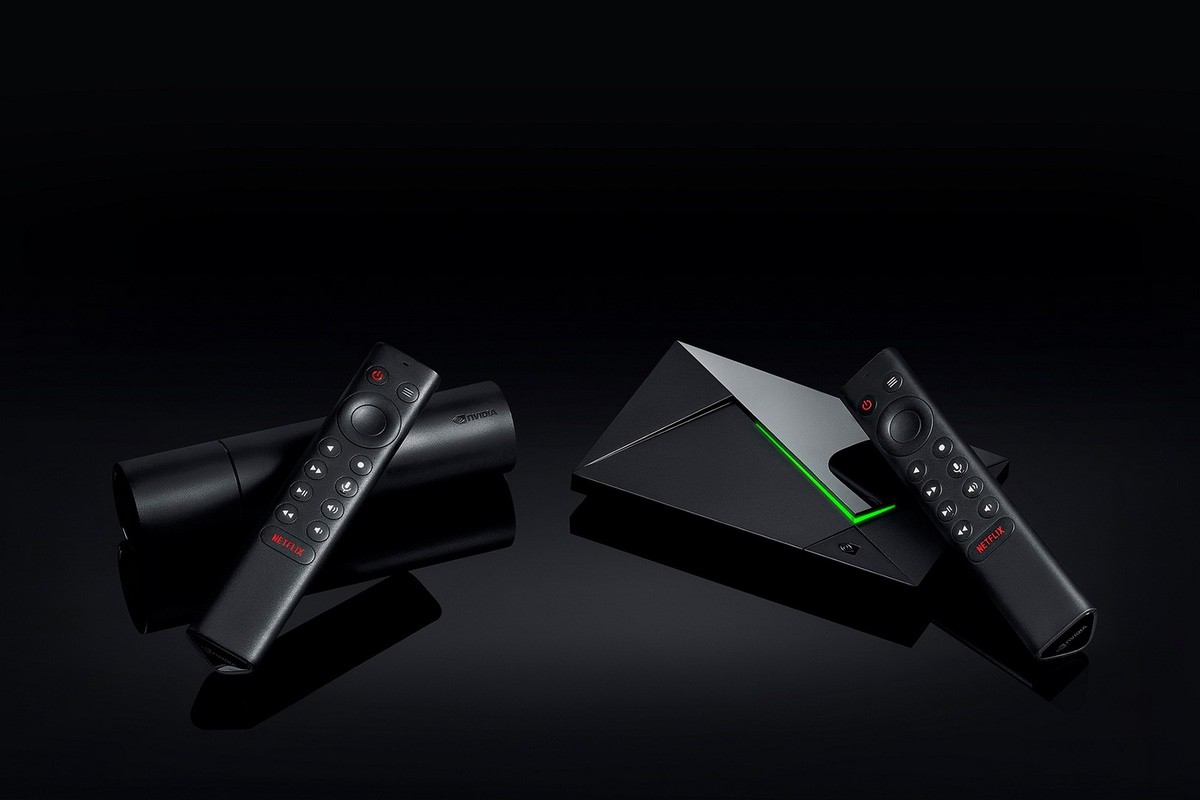 Distinction: SHIELD TV or SHIELD TV Pro?
For those interested in the SHIELD TV Pro, it has everything the less expensive model has, plus the following.
Plex Media Server support
SmartThings Link Ready
2 full size USB 3.0 ports
3GB RAM (up from 2GB*)
16GB storage (up from 8GB*)
Advanced Android Games (Half-Life 2 series, Portal 2, Borderlands: TPS, Borderlands 2, Metal Gear Rising Revengeance, Resident Evil 5, Doom 3, Tomb Raider, The Witness, and more) *These titles require a minimum of 3GB RAM
Gameplay recording and Gameplay Broadcast to Twitch
Do note, the SHIELD TV Pro (2019) is housed in identical hardware to the SHIELD TV (2017).
As mentioned above, the key difference between the Pro and non-Pro is that the Pro is designed to be more for hardcore gamers and content streamers. Those who are big into housing Plex libraries should opt for the Pro with its Media Server support, and for the gamers, the addition of 3GB RAM allows it to run heavyweight gaming titles that includes Borderlands, Resident Evil, Doom 3, and plenty others.
If you intend to stream your gameplays, you'll also need the Pro model, since it's the now the only model that offers built-in gameplay broadcasting to Twitch.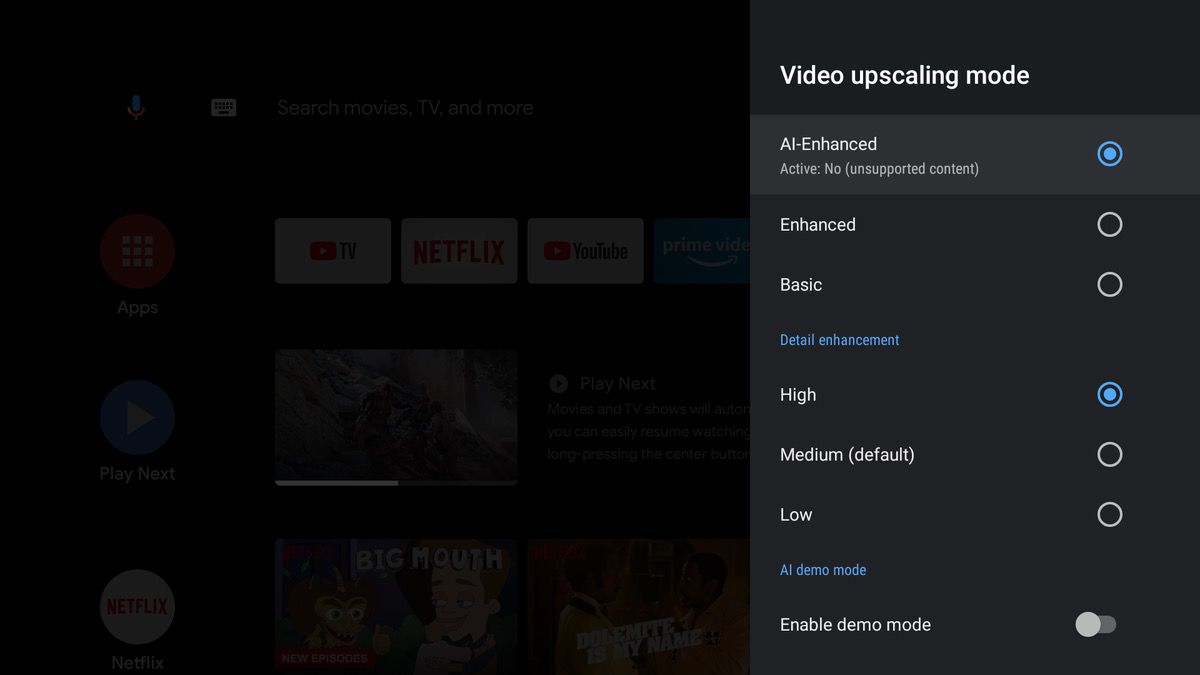 4K AI Upscaling
The big new marquee feature for the 2019 units is AI Upscaling. SHIELD TV units already in homes feature a basic upscaling tool, but this year, NVIDIA leveraged the power of its new Tegra X1+ processor, trained a neural network on current popular TV and movies, then runs a neural network on your SHIELD TV device in real-time to upscale select content to 4K levels.
NVIDIA explains for us layman what exactly it did to achieve this.
We trained a deep learning neural network offline on today's popular TV and Movies. Then, we run the neural network in real-time on Tegra X1+ as HD content is playing. For most HD video content on top apps like Netflix, Prime Video, Hulu, YouTube, HBO and more, users can expect to see crisper, clearer, video than what is achieved with basic upscaling.
SHIELD TV (2019) includes multiple upscale settings. The included "Basic" mode is what comes with the SHIELD TV (2017). The new "Enhanced" mode runs on all video content up to 60 fps. The "AI-Enhanced" mode, which is where the magic is, enables the neural network to further improve picture quality.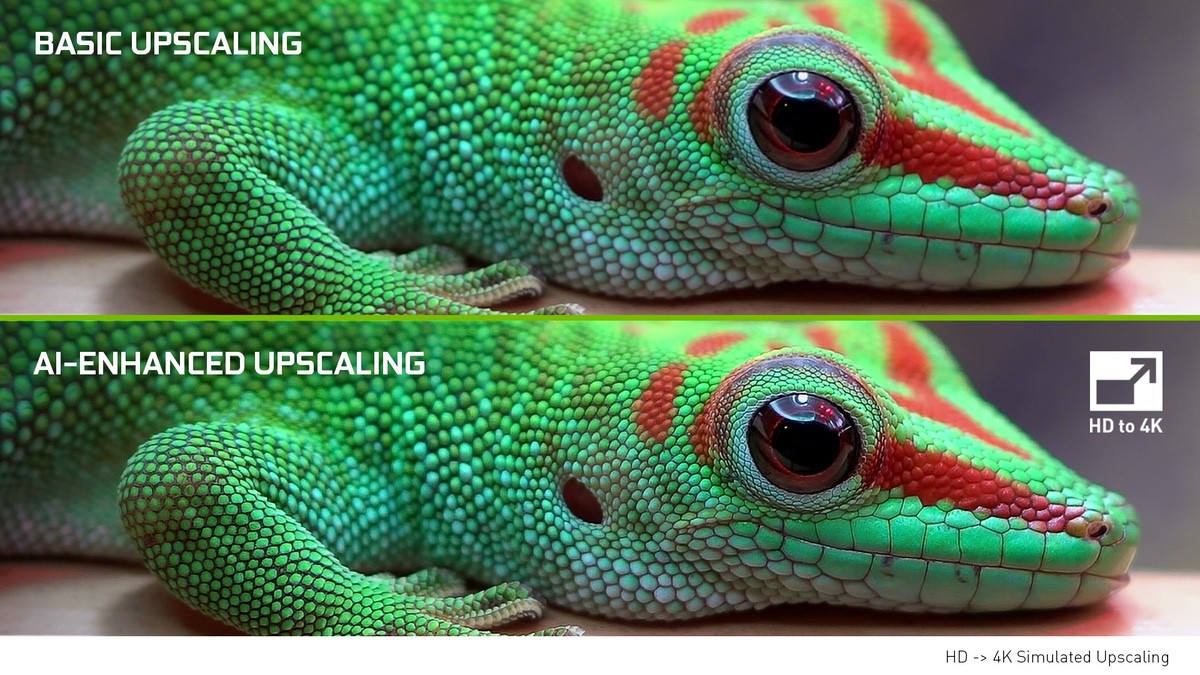 According to NVIDIA, "AI Enhanced can upscale HD content up to 30 frames per second. When AI-Enhanced mode is active, users can adjust the Detail level between Low, Medium, and High. The detail level is the confidence level in the AI prediction and lowers or strengthens the detail prediction."
Due to DRM restrictions, it's hard for me to share screenshots of what AI Upscaling looks like on SHIELD TV, but I can at least share a couple of photos and NVIDIA-provided graphics to give you a sense of what to expect. As someone who enjoys crispy content with a lot of pixels, I can say it's amazing to look at. If you decide to pick up a new SHIELD TV, I've been using it with AI Enhanced set with the Detail level set at High. Additionally, if you're looking for content that specifically takes advantage of this new upscaling technology, I recommend you give Coco a look on Netflix, since it's a perfect example of Netflix/Disney limiting the content to HD, but the upscaler making details pop and colors more vibrant.
Photos of Basic vs. Enhanced Upscaling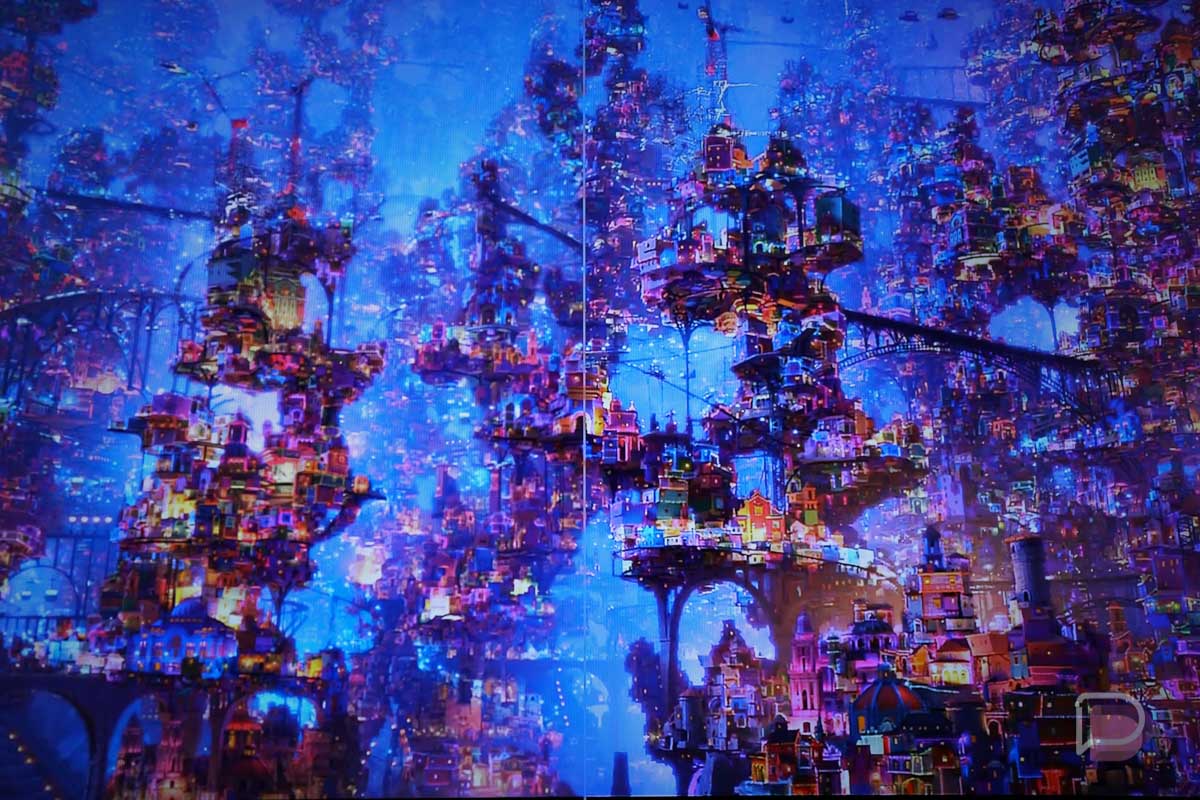 To really see this upscaling at work, NVIDIA has included a very fancy "Demo Mode" for it. When enabled, the Settings button on the new SHIELD Remote is remapped to toggle a split window of AI Upscaling versus Basic Upscaling. To really see it in action, I recommend you check out time marker 25:09 on Coco. This scene is a colorful cityscape, and when the split window is enabled, you can really see the tech that NVIDIA has baked into this little tube (and into the Pro box).
Software
While NVIDIA does a great job adding features and value to its own box, Android TV in general continues to improve. While major changes to the platform are relatively slow from Google, the changes that have been made and are being made are important.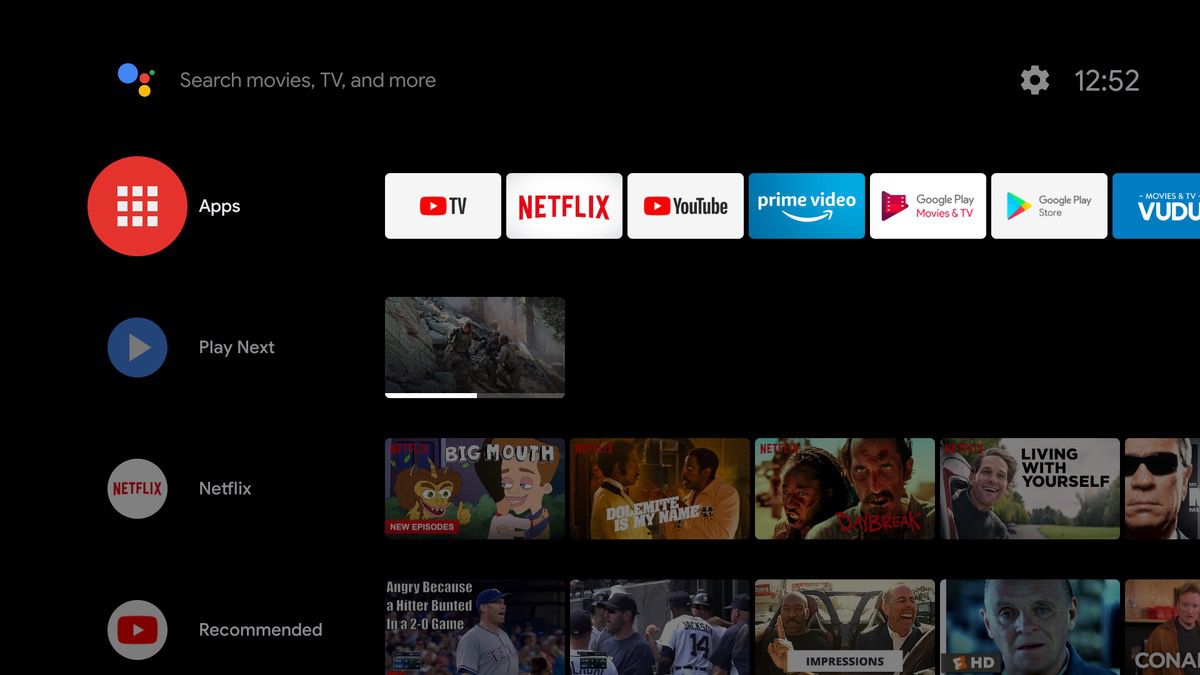 The next big thing Android TV users can expect is the UI update for Google Play. I've had first-hand experience with the new Google Play and it's much better than the current offering from Google. Featured apps are allowed to showcase features, similar to what Netflix does when you hover over a title.
The biggest thing coming is support for Google's Stadia cloud gaming platform. Once that arrives, the SHIELD TV will be in a unique position to not only offer its own gaming service, but Google's too. Google also recently detailed that it expects the number of apps on Android TV to explode.
As of today, Android TV is a healthy platform, featuring support for all of the major streaming services, plus a good amount of games that are downloadable from Google Play. On top of having plenty of content, the baking in of Google Assistant for the allowing of smart home control is awesome. If I'm sitting on my couch in my underpants, I can tap on the SHIELD Remote's voice button, tell SHIELD to set my home's temperature to 72 degrees, then go back to binging whatever show I want. That's the type of convenience that helps you forget that society and the world are in shambles.
Basically, it's never been a better time to get into Android TV, whether that be with a SHIELD TV or not.
Gaming
This wouldn't be an NVIDIA experience if it wasn't capable of gaming. Just like past SHIELD TV devices, this year's model can access NVIDIA's GeForce NOW gaming platform, as well as NVIDIA GameStream. And yes, you can download games from Google Play and play them. The thing to note is, SHIELD TV only comes with a SHIELD Remote, and if you want to game, you'll have to purchase a SHIELD Controller separately or connect a supported Bluetooth controller. Plenty of those are on the market, so keep that in mind if gaming is something you'll want to do.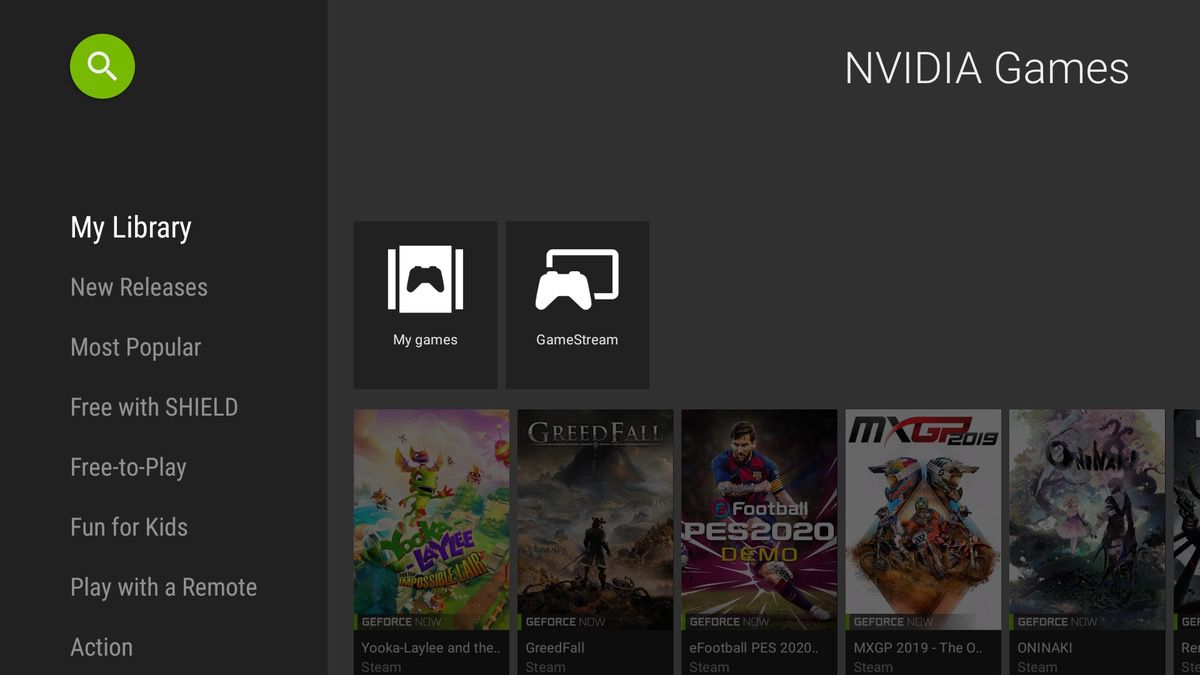 NVIDIA explained to me that instead of passing the cost of a SHIELD Controller to the consumer, it focused on making the $149 SHIELD TV a streaming-focused box and not a Plex server/Gaming system for hardcore users.
As I mentioned previously, if gaming is something you'll be spending a lot of time doing, I'd recommend going for the pro model. With its 3GB RAM, versus the regular model's 2GB, it allows for the playing of what NVIDIA labels as Advanced Android Games. These are past PC and console games that have been ported to Android, but need that 3GB RAM minimum in order to be played. Keep in mind, when it comes to gaming on SHIELD, more RAM is always better.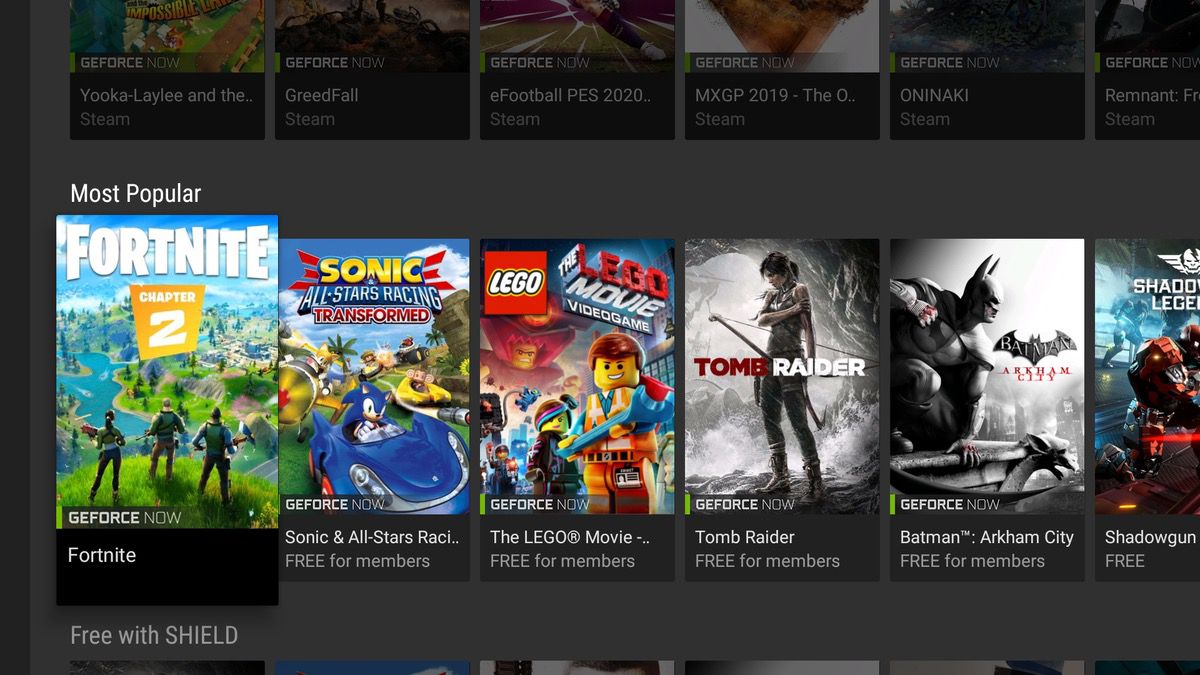 New Remote
Besides the upscaling tech, the new SHIELD Remote is probably my favorite aspect of the SHIELD TV (2019). Before I get into why, older SHIELD TV model owners should know that if you don't plan on purchasing a new SHIELD TV, the new Remote is compatible with older models, but won't be available for separate purchase until later this year. This is a great thing.
The new remote is as straightforward and easy to understand as it gets. There's a few buttons with movement-activated backlit lights, a dedicated Netflix button, a voice assistant button, plus a D Pad. The only thing missing is a dedicated Mute button, but there is a programmable button that can be designated to do almost anything on the device (including the action of taking a screenshot).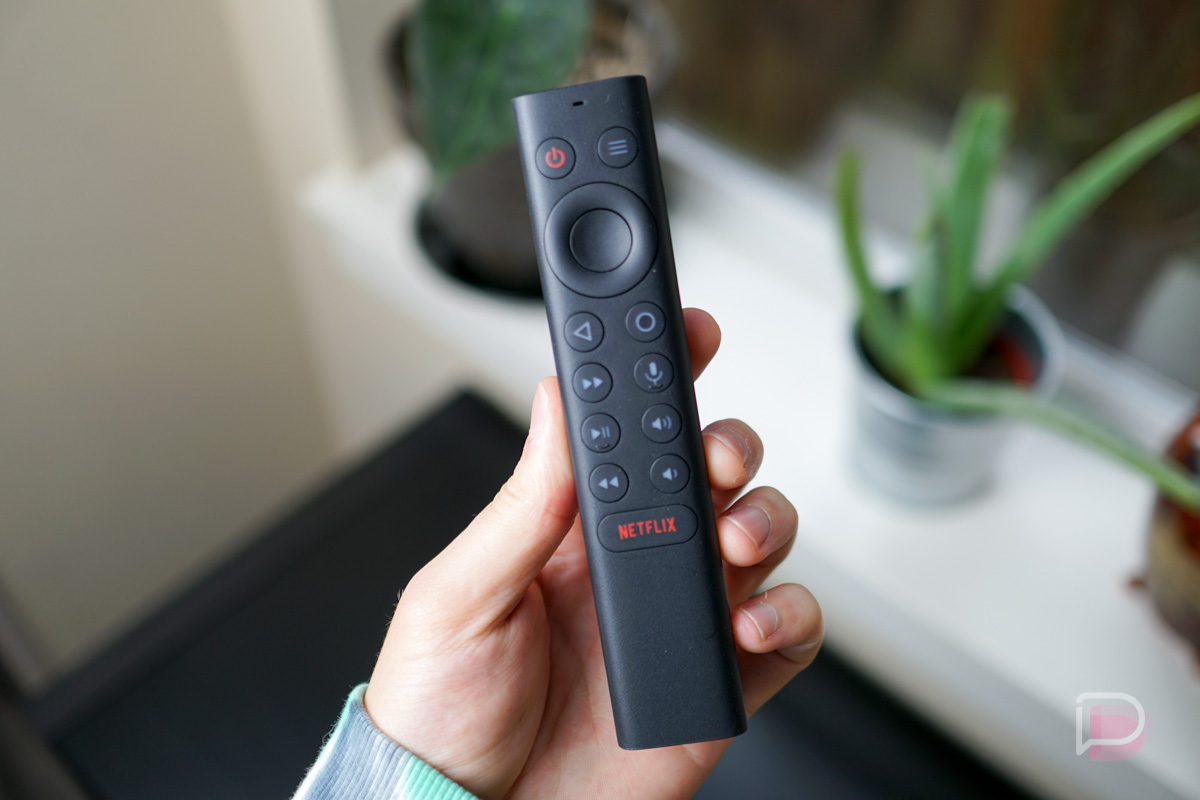 What pleases me is the inclusion of dedicated rewind/fast forward buttons. Now, instead of having to D Pad to where you want to scrub to, you can simply fast forward or rewind wherever you need to be. This is funny because it's obviously a minor thing, but in terms of the user experience, it's great.
When you first see the remote, and its triangular shape, you aren't quite sure what to make of it, but after living with it for nearly a week now, I can tell you that it's awesome. Thanks to a built-in lost remote finder, motion activated backlit lights, plus good connectivity via Bluetooth (and IR for TV controlling), I urge any past SHIELD TV owners who don't plan on picking up a new model to at least get themselves this remote. It's easily worth the $30.
Powered by 2 AAA batteries, NVIDIA says users can expect six months of life with normal usage. As previously stated, it also has built-in IR for controlling volume or other actions on supported devices. Setting it up to control audio on my Vizio TV, which is hooked up to a surround sound system via HDMI, took all of 5 seconds to complete.
The new SHIELD Remote will cost only $29.99 when released for separate purchase later this year.
---
The Verdict
If you don't already have a SHIELD TV in your home, but you're into streaming content to your TV, you've been missing out. Considering the inclusion of Dolby Atmos and Vision, as well as the AI Upscaling, there is no other streaming box on the market that competes with the new SHIELD TV's set of features.
Android TV on SHIELD TV supports all of the great services, streams them in the best possible quality, and when you factor in NVIDIA's history of software update support, picking up the new hardware is a no-brainer. Not only did NVIDIA somehow improve upon the best Android TV set-top box, but they even made it more affordable at $149.
Just buy it. You won't regret it.
---
Shop NVIDIA SHIELD TV: