Google made all details of the Pixel 4 and Pixel 4 XL official this morning after more leaks than we can even recall. I'd try and make the argument that these two phones were the most leaked in history, but last year's Pixel 3 and Pixel 3 XL might take offense to that. Google is not good at keeping its products a secret. With that said, you'll soon (finally) be able to buy them!
The Google Pixel 4 and Pixel 4 XL are here with new 90Hz refresh rate OLED displays (5.7″ and 6.3″), dual rear cameras (12.2MP + 16MP telephoto), 64GB or 128GB storage, 6GB RAM, 2800mAh (Pixel 4) and 3700mAh (4 XL) batteries, 8MP front cameras, USB-C, and Android 10.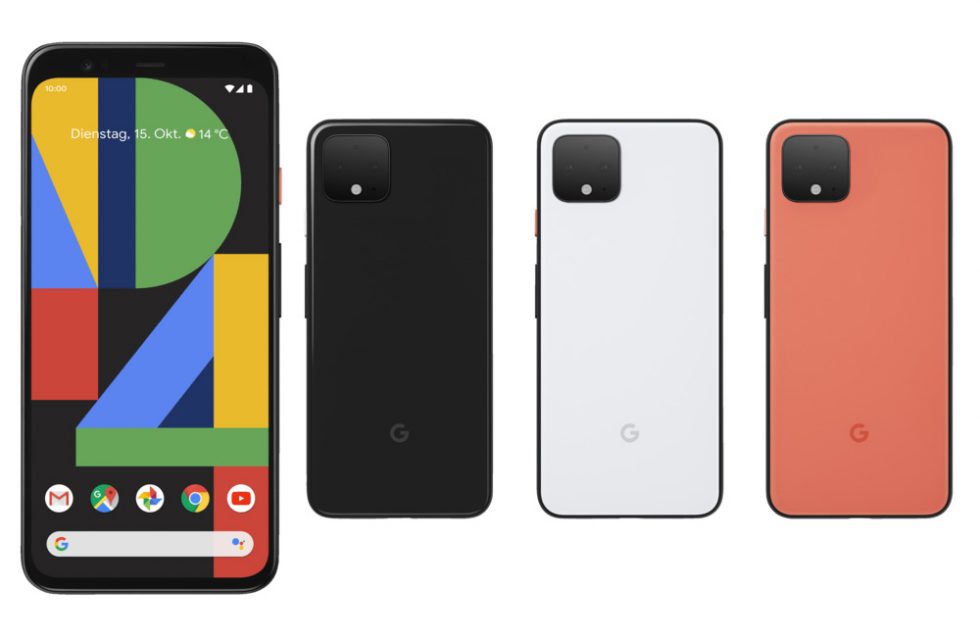 Google also brought back the squeezy sides that allow you to launch Google Assistant with a firm grip, plus they are bringing in Face Unlock for the first time in a couple of years. Called Motion Sense, Google has essentially created its own version of Apple's Face ID that should bring one of the more advanced facial recognition experiences in the smartphone game. You can learn all about Motion Sense from this post a few months back.
As a part of Motion Sense, Google included a Soli sensor in the top portion of the phone that will allow you to control aspects of the phone with gestures. To start, Soli (former "Project Soli") will let you change music tracks, wake your phone, and silence calls, though we hope Google has much more in-store for this advanced radar technology.
Cameras are going to be a big part of the Pixel 4 story, just as they are with every new Pixel phone. For the first time, Google is including a dual camera setup on the back made up of a 12.2MP camera and a 16MP telephoto. The camera app is new too, with a fresh UI, new features, and an experience that Google hopes help it stay king of smartphone photography. You now have live HDR+, the ability to take astrophotography, improved night sight, and better portraits.
The Google Pixel 4 and Pixel 4 XL start at $799 and $899, respectively. You can pre-order them in Just Black, Clearly White, and Oh So Orange today with orders arriving as early as October 24. Pixel 4 is available at every major carrier.
Pixel 4, Pixel 4 XL Specs
Pixel 4
Pixel 4 XL
Display
5.7" Full HD+ Smooth Display
(Up to 90Hz OLED, 2220 x 1080, 444ppi)
Ambient EQ
6.3" Quad HD+ Smooth Display
(Up to 90Hz OLED, 3200 x 1800, 537ppi)
Ambient EQ
Processor
Qualcomm Snapdragon 855
Adreno 640 GPU
Qualcomm Snapdragon 855
Adreno 640 GPU
Memory
Storage: 64GB, 128GB
RAM: 6GB
Storage: 64GB, 128GB
RAM: 6GB
Battery
2800mAh
Wireless Charging
3700mAh
Wireless Charging
Cameras
Rear: 12MP Dual Pixel (f/1.7, 77°) + 16MP Telephoto (f/2.4)
Front: 8MP (f/2.0, 90°)
Rear: 12MP Dual Pixel (f/1.7, 77°) + 16MP Telephoto (f/2.4)
Front: 8MP (f/2.0, 90°)
Connectivity
802.11ac WiFi
Bluetooth 5.0
802.11ac WiFi
Bluetooth 5.0
Other
Motion Sense
Face Unlock
Titan M Security Module
Pixel Neural Core
Stereo Speakers
USB-C
IP68 Water/Dust
Motion Sense
Face Unlock
Titan M Security Module
Pixel Neural Core
Stereo Speakers
USB-C
IP68 Water/Dust
Colors
Just Black, Clearly White, Oh So Orange
Just Black, Clearly White, Oh So Orange