It's possible that your shiny new Galaxy Note 10 is making its way to you, and if you purchased a Verizon variant, note that your Note 10 will have an update waiting for it as soon as you fire it up.
According to Verizon's support page, all three models, which include the Note 10, Note 10+ and Note 10+ 5G, are receiving the same vague changelog.
The current software update provides performance improvements and the most up to date Android security patches on your device.
According to SamMobile, select Note 10 models are receiving the below update (screenshot), but because the build numbers are slightly different, we're not 100% this is what Verizon units are receiving yet. It's possible, but with a lack of VZW units currently in the wild, it's tough to say for sure.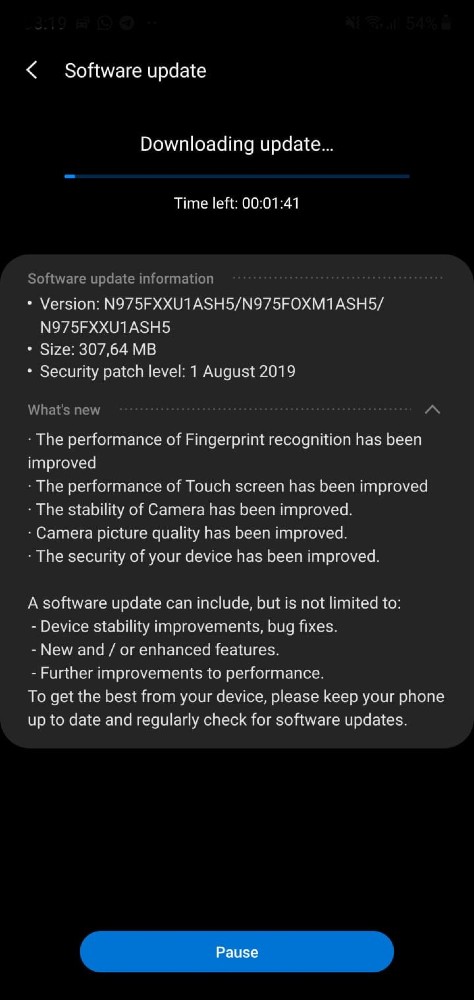 The security patch is labeled as August, 2019 and the software version numbers are labeled as the following.
Note 10: ¯\_(ツ)_/¯
Note 10+: N975USQU1ASH4
Note 10+ 5G: N976VVRU1ASH4
If you need a laugh this morning, we're missing the regular Note 10's software version number because Verizon's page links to a software update help page for the Note 10.1 tablet that Samsung launched in 2012. We knew this naming scheme would mess something up.
Regardless, when you boot up your Verizon Note 10, be on the lookout for an update.
Update: Now that the Note 10 is showing up on doorsteps, we're seeing that the ASH5 build is the same as the ASH4 build, meaning the changelog shown in the screenshot above is the same update rolling out to Verizon variants, as well as T-Mobile variants. So, Galaxy Note 10 owners, expect a day one update that improves fingerprint recognition, touch screen improvements, camera stability improvements, plus more.