Yesterday, the internet discovered an FCC listing for a Chromecast-like device made by a Chinese manufacturer that was splattered with Google's "G" logo, a Google Assistant button, and talk of a 4K Android TV experience. On Twitter, I mocked it heavily as being nothing but some sort of fake knockoff device. I still think it is, to be clear, but now that Google has refused to comment on it and the FCC has buried photos of it behind a confidentiality letter, I feel like we should at least tell you about it.
OK, so here is the device (you can see it above too):
And here are a couple of pages from its supposed user guide, which shows the device, its remote, and specs: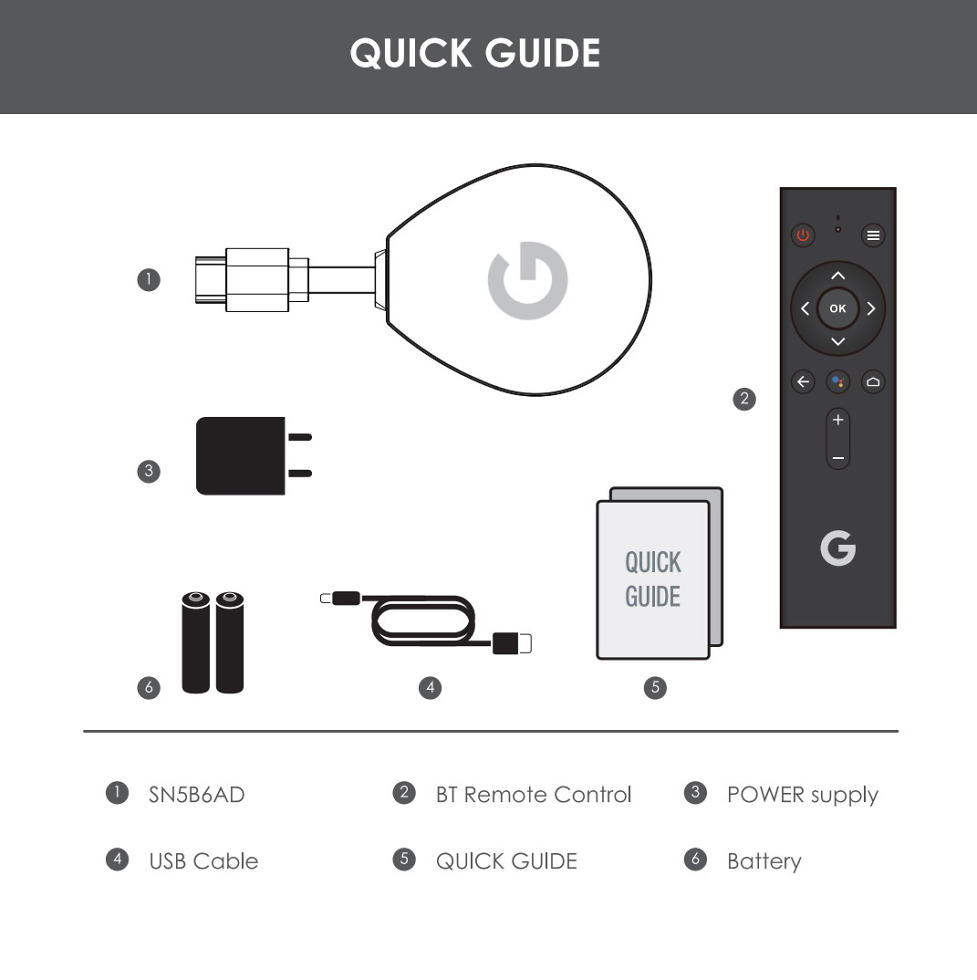 Before you start laughing, let's talk about this. The device was submitted under model number 2AOVU-SN5B6AD to the FCC and is manufactured by Shenzhen SEI Robotics Co. They have a website (here) that is filled with similar devices to this. That's a generic way of saying that they make other knockoff-ish devices, including a "Android TV 4K HDMI Stick" called the Verimatrix Ultra. It basically has the same specs as this "G" device: 4K at 60fps, H.265 HEVC, and a Amlogic S905X processor. OK, those are identical specs.
Many have noted that it has a Google Assistant remote. Sure, it does indeed have a remote with Google Assistant branding. That remote also includes a home button design that Google hasn't used in years, as well as a menu button that Google killed in Android further back than I can remember. Then again, we don't have real imagery of the remote, so this could just be a concept of sorts.
The guide itself is filled with odd descriptions ("Android Media Box") and bad grammar, though I guess it could just be a quick mock-up before a final guide is done. Or it was written to describe the types of products produced by Shenzhen SEI Robotics Co. You decide.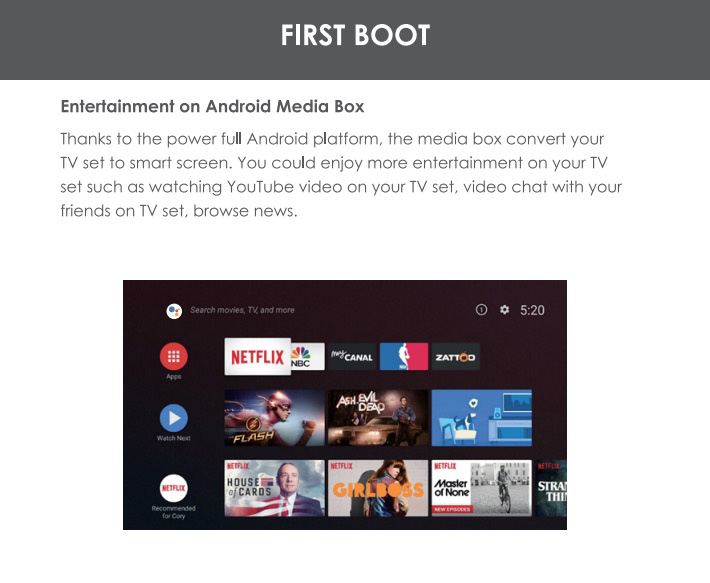 As for that model number (2AOVU-SN5B6AD) and someone else making this for Google, there are some things to be aware of. For one, Google does indeed have a lot of other companies make shit for it. The Pixel Buds were made by someone else and you can see that FCC listing here. LG made the Pixel 2 XL and submitted the FCC paperwork. HTC did the same with the Pixel 2.
Those devices do have one thing in common, though – almost all of their model numbers, even at the FCC, included a "G" at the front as if to signal that they were made for Google. The Pixel 2 had a model number of G011A, Pixel 2 XL was G011C, and the Pixel Buds were G015B. That was the same with the original Pixel (G-2PW2100) and Pixel XL (G-2PW4100), both made by HTC.
Does that immediately disqualify this dongle device because it isn't "GSN5B6AD?" Well, no, but these things are starting to add up.
I'd also note that the Amlogic S905X is basically the standard processor for all HDMI dongles like this today. All of the random off-brand devices use it, plus the newest Fire TV 4K Stick uses a similar version. Would Google really just use this, the industry standard? They certainly could! It would probably help keep costs down.
Oh, it also does run Android 8.0.0. Is any other Android TV box running that outside of the Nexus Player?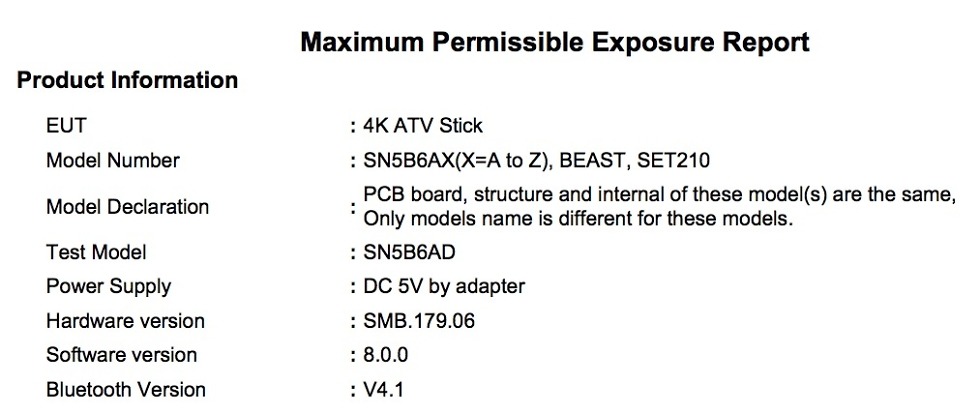 Alright, so why are we even entertaining this thing? Because it has a "G" logo on it, as well as a Google Assistant button on its remote. Apparently, because no one has ever sold a product before with someone else's logo on it (/s). Also, when other press asked Google to comment on it, they would only say that they don't "comment on rumors or speculation," adding to the mystery. And then today, an updated confidentiality agreement buried the photos, citing the public disclosure as being "harmful to our company and would give competitors an unfair advantage in the market." The new agreement hid the info for the next 180 days. All of that has left enough questions for this to be a thing. If that's not hype…
I'd point out that the timing of this hitting the FCC is super odd in relation to Google product releases. For the past two years, Google hosted a late-Fall hardware event where they announced new devices. They took a hell of a lot of pride in the fact that they had an entire line-up of similarly designed hardware to show off on October 4 of last year. With this device hitting the FCC already and only a 180-day confidentiality agreement, we'd know what this device was again before we got to October. That just doesn't match up, even with Google I/O around the corner.
With all of that said and my skepticism aside, this thing would be sweet! We need a new Android TV product from Google and I think a number of us would rather have a fully-powered Android TV dongle vs. a box we would need to find shelf space for. At 4K, with a similar processor to competitors, and enough RAM and storage to get us by, this thing here could easily be priced with Amazon's newest Fire TV 4K. Or maybe just give me this.
Your thoughts?
// FCC | Arstechnica