Man, Nest really dropped all the goods on us last night. The Nest Hello doorbell and Nest x Yale Lock are both now available, plus, we're finally getting a temperature sensor to go along with our Nest Thermostats. It's legitimately raining Nestness over here, y'all.
To catch you up, let's recap all three products.
Nest Hello doorbell: It's a smart doorbell, like the ones that Ring has been making for a while. This one is sleek and simple in design, takes in HD video at a 4:3 ratio in HDR, has night vision, makes a 24/7 stream available, and has a 160-degree field of view. It does person, motion, and sound alerts, can recognize family and friends, is able to send pre-recorded messages to people, and maybe most importantly, works within the Nest app, so that you no longer have a separate doorbell app outside of your Nest products. It costs $229.
Nest x Yale Lock: It's a smart lock, like the ones made by August or other various companies. Yale is a known lock brand, though, and Nest has be working on this particular lock with them for at least a year, maybe more. You can unlock it within the Nest app, but it also contains a touchpad for entry when your phone isn't around. You can handout custom codes to friends and family, and also decide when they should work. When locked or unlocked, it can toggle your Nest Secure system, or you can have it automatically do that through a variety of ways. It costs $249 by itself, or $279 with a Nest Connect.
Nest Temperature Sensor: It's a temperature sensor, like the ones Ecobee has been shipping with their thermostat for years. You can buy multiple if you want and you set them throughout your house to check on the temperature in rooms. You can use them to tell your Nest Thermostat to make those rooms a priority, so that it then heats or cools your house until specific rooms are the temperature you want them to be. This is awesome! These sensors will now ship with Thermostats, but you can pre-order them alone right now. They cost $39.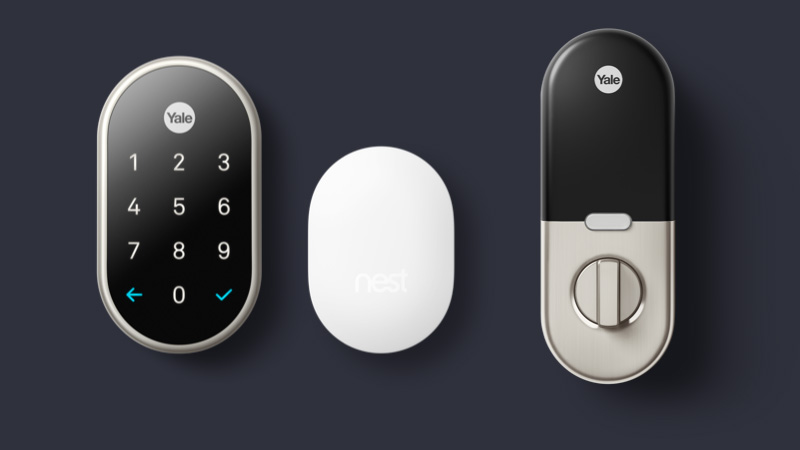 Alright, so when can you buy all of this? The Nest Hello and Nest x Yale are available now. The new Temperature Sensor will come bundled in new Thermostat purchases, while stand-alone units will ship soon. Maybe April?
Nest Links:
// Nest