Google's first pair of headphones or earbuds or wireless-but-not-truly-wireless in-ears or whatever you want to call them, are here. They are the Pixel Buds and I'd be shocked if you know what these are and also haven't read one of the early reviews that mostly destroyed them. I say that because we're talking about Google's own smart earbuds that cost a whopping $160. You either know or you don't know about them, and if you do, that means something about their introduction grabbed your attention and you sought out words from reviewers.
What I can tell you in this review, assuming you are still contemplating them and are hoping that after further testing or later testing, that a reviewer (me) would change the tone and offer up an alternate view that will get you to pull the trigger, is that I'm sorry because that's likely not going to happen. I will share some thoughts, though! These aren't all bad, they are just a mostly average first attempt in too many ways.
This is our Pixel Buds review.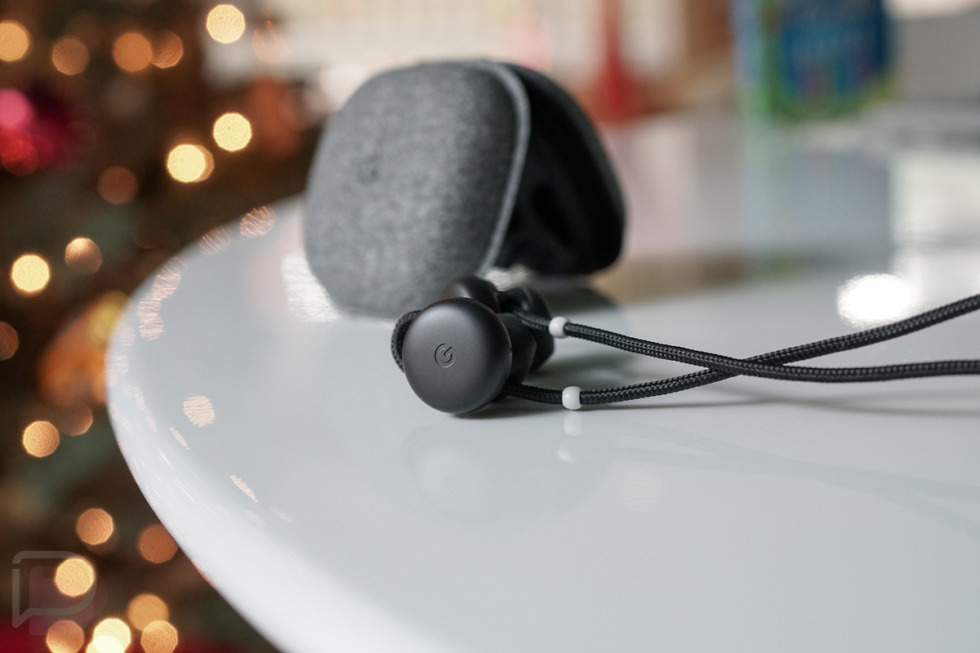 What are the Pixel Buds and how do they work?
Google's first earbuds! They are wireless to a certain extent, though they do have a wire between them that you most definitely should not cut as an attempt to make them truly wireless. They cost $159. They work on Android and iOS devices, but the experience through the Pixel phones is slightly improved as it offers a pretty cool real-time translation feature. They also have Google Assistant onboard which works on all phones running Android 6.0+.
In the right bud, you get a touch-sensitive outer case that allows you to fire up the Google Assistant for voice actions, control volume, pause/play audio, and listen to notifications.
The Pixel Buds are available in three colors (Just Black, Clearly White, and Kinda Blue), come with a carrying case that doubles as their charger. Again, they cost $159 at the Google Store and Best Buy.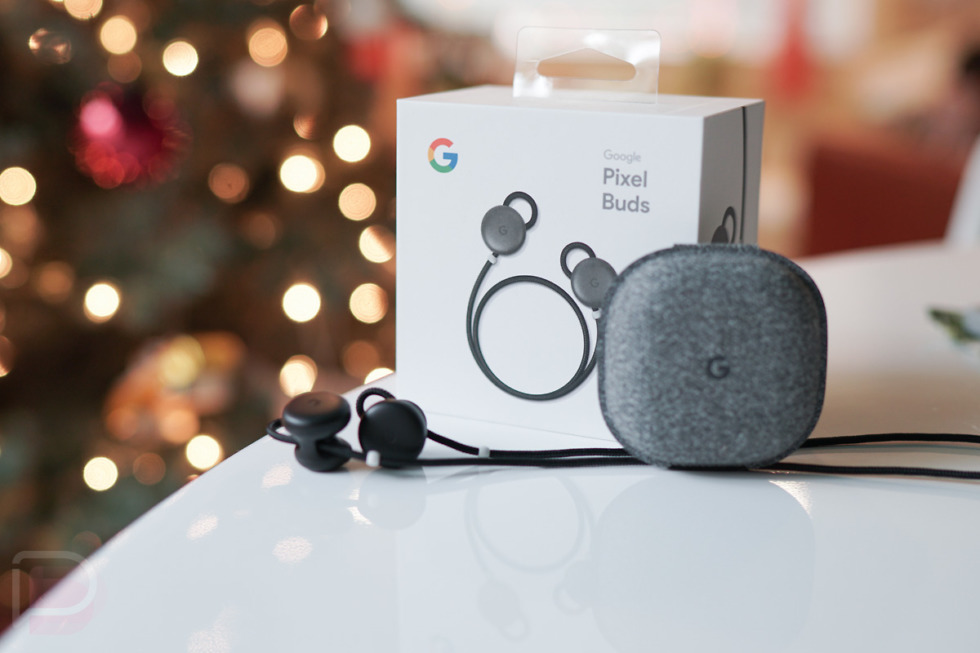 What's good about them?
As I mentioned above, this isn't going to be a glowing review of the Pixel Buds, but I do have some positive notes to share. For one, the Google Assistant onboard is pretty cool, plus I don't think the audio experience is all that bad for casual use.
1. Google Assistant is the future of headphones. The first time you pair the Pixel Buds to your phone and a notification comes in, you'll get a mini in-ear tutorial on what to do next. It'll tell you that you can double tap to get a re-hashing of your day, including a readout of your notifications available. As notifications roll in, especially from messaging apps like Hangouts, you can get readouts of those messages and even reply back. Rather than just hearing a beep like most headphones, listening to your notifications is super powerful and handy. That stuff is all done very well and is the best feature of the Pixel Buds.
It'll also tell you that to fire up the Assistant, you'll long-press on the touchpad until you are finished with your command.  That means the other Google Assistant features are here too, like checking the weather, getting directions or answers to questions, firing up music and playlists, adding items to your shopping list, controlling your home, and setting reminders or timers. It's very much like how Google Home works in that you don't have a screen to do any of this stuff, so you are relying on voice commands and Google understanding you. I'd call this a mostly well-done Assistant experience for a first attempt.
In fact, this is the future of headphones, I think. While I'll talk about some issues below, this ability to access the Assistant from within headphones is something that all headphones are going to need. We aren't going to want to live without it once we all get a taste. I'm already feeling that way, that's for sure.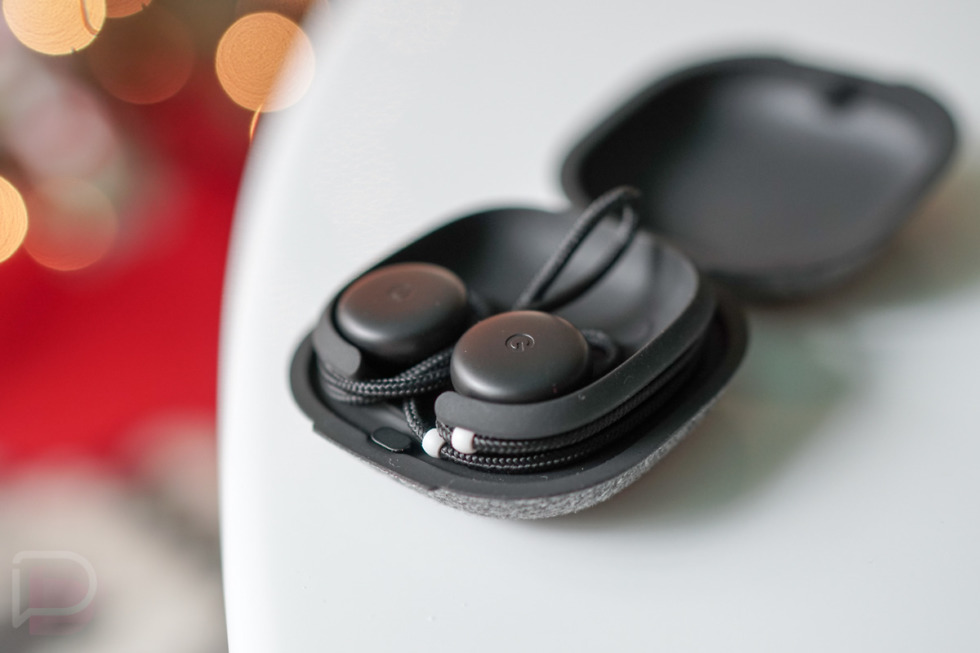 2. The audio isn't offensive and that's fine for most. Look, I'm no audiophile, but the audio experience here is good enough. Google isn't making $400 over-ear cans here. These are buds and they offer up ample bass for buds, clean mids with somewhat mushy highs. They are fine. I've jumped between these and the new Libratone Q Adapt USB-C earbuds that were released alongside the Pixel 2 and they keep up well there. For a wireless pair of headphones, made by Google who isn't an audio company, to hold up against those, that's probably good enough.
Are these going to satisfy audio bro with his DAC in a dimly lit room smelling of old leather and cigar butts? No. Are they going to offer a steady musical experience for you in-between trips to and from work or while sitting at your desk all day long? Yeah.
3. Battery life is as advertised. Google lists the Pixel Buds as lasting about 5 hours on a single charge (120mAh battery inside), along with enough juice in the case (620mAh battery inside) to get you multiple additional charges that could last upwards of 24 hours. I've been testing the Pixel Buds off and on for the past couple of weeks and haven't killed them in a 3-hour period. I'll listen for an hour or so, put them down, listen again, put them down, and then check battery and its always got 50% or more left. For example, I'm a good two hours into writing this review and I'm at 57% after messing with them constantly by jumping them from device to device and also streaming music non-stop. I'd say they'll probably last 4-5 hours on a charge.
With the included case also holding another couple of charges, you should have no problem getting a full day's use out of the Pixel Buds. Your purchase of them includes a USB-C cable too, so you shouldn't have any issuing juicing them back up overnight.
What's not-so-good about them?
Well, I have a list, so bear with me.
1. The setup process is both convenient and somewhat frustrating. Those are polar opposite items, so let me try to explain that. The Pixel Buds can utilize Google's new Fast Pair process for pairing headphones with a single tap. It is indeed here, and it works well when your phone recognizes the Pixel Buds. I ran into some issues where I followed Google's directions to initiate the pairing process and nothing happened, though. Since there isn't much of an interface, trying to then force-start that process proved to be difficult until I dove into Google's online support section for the Pixel Buds.
In order to get these into pairing mode manually, you have to put them back in their charging case and then long-press on a button within the case for a few seconds until they get into pairing mode. You hope that Fast Pair fires up, but if it doesn't you should be able to find them as an available device within Bluetooth settings. That's not the worst process once you know it, just be aware.
On top of that, the Pixel Buds only work with a single device at a time. So if you wanted to pair them with your computer and your phone, or your work phone and personal phone, you can't keep them connected to both at the same time. They will switch between devices that you have previously paired to as you disconnect one.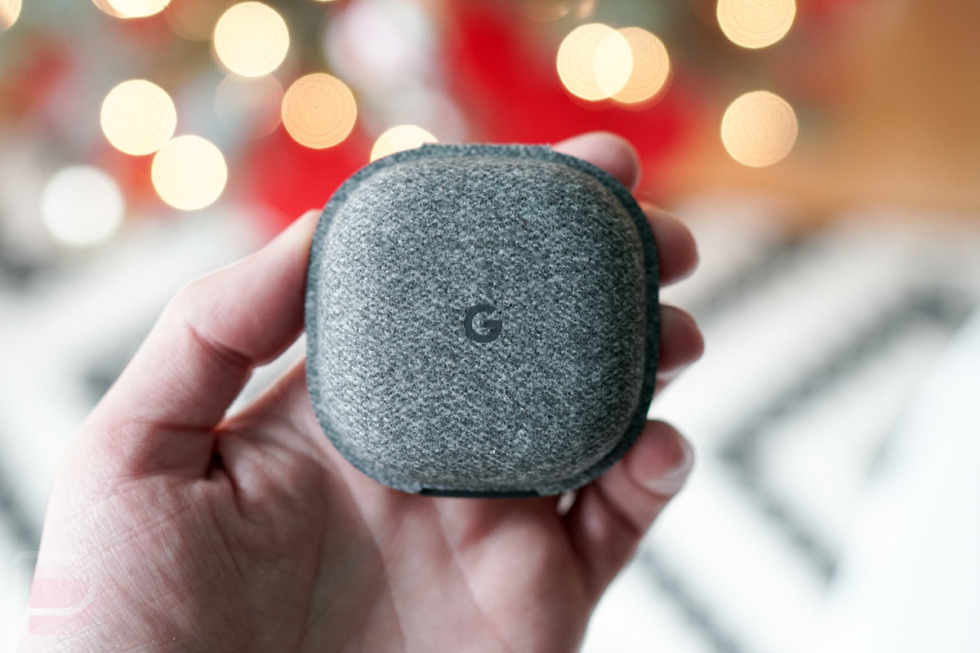 2. Charging is fine, but not a great experience. To charge the Pixel Buds you have to slap them in this cheapish-feeling case that is designed pretty poorly and isn't easy to open. I hate to nitpick something like a case top, but look at this setup (above). Google used a cutout on the top flap in order to allow you to separate the top from the bottom as you open. Except, the cutout should be on the bottom section, so that as you go to open, you would be able to lift the top. With this terrible design, you have to actually push the bottom case downward in order to separate top from bottom. That's a functional disaster of a design decision, if I'm being honest. Anyways, back to charging.
Once you have the case open, you slot the right and left earbuds into the case in their appropriate slots and then proceed to wrap the cord around the case in a specific manner to secure them for juice. It's not a hard wrap-around move once you do it a couple of times, but getting the buds and their pins aligned properly in their slots isn't always so easy. In fact, I've had multiple occasions where I thought the buds were properly placed, yet no indicator light fired up to show me they were charging. I then had to wiggle and wiggle and wiggle until they moved ever-so-slightly and into position to get the light to fire up. But to be honest, I think they often were in the right place, the light just didn't light up to confirm that they were. It's weird.
Once they do start charging, you get an indicator to show you what their battery level is, sort of. You get a blinking green light if charging, a solid green light if fully charged, or an amber light if "critically low." That's it. So if you are half-charged, which wouldn't be critically low, you'd see a blinking green light. I don't know about you, but a green light typically means, "Go get 'em, champ!" yet in this situation that could mean not much of a charge. As for the case, it also has its own battery meter that shows up to 3 white dots (3 is full) at a time.
Did I just nitpick the hell out of charging? Yep! Normally, that would be a bunch of wasted breath, but come on, charging shouldn't be this awkward.
3. Comfort, seal, and sizing all aren't good. The Pixel Buds definitely gave me some ear fatigue the first couple of times I used them. It's tough to tell if that's because of their weight or because they are just too big for my ears. I'm assuming it's their size and my ears, but I also wonder if it's because they use the cable attached to provide stabilization. Instead of fins or rubber ear pieces like other buds in the industry use, Google just wants you to pull the string attached to the two, to get a proper fit. It does work initially, but I found that the cords gave way with each wear and I had to re-adjust them each time before using.
I also feel that because we're using a soft rope/cable to hold these buds in place, you never really get a good seal to really amplify the audio experience. And that's worth noting, because the Pixel Buds are a one-size-fits-all pair of buds, unlike others in the same space that offer tips or fins to help you get the best fit.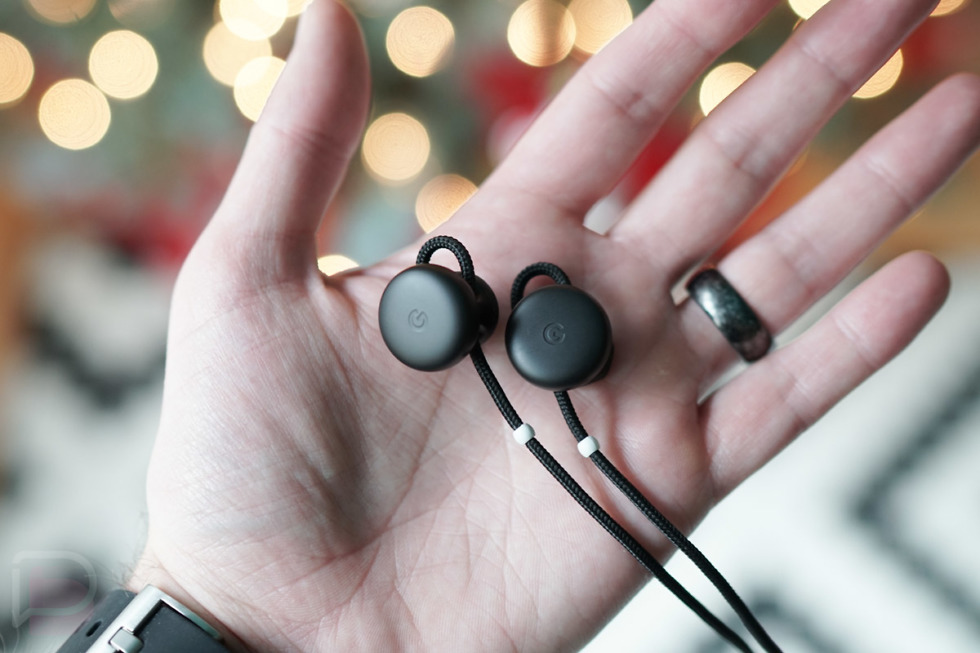 4. What about for workouts? So I live in the wet winter wonderland of Portland, OR, and that means I took the Pixel Buds on a 6 mile run in the rain. They got wet. I probably shouldn't have done that, but some have asked if they'd be good for runs or at the gym. On a run, I'd say not so much. I noted earlier that they don't seal well with the attached cable, so I found that they constantly loosened while on a run and forced me to push the volume to the max in order to get some sound.
I should point out that the touch pad for accessing Google Assistant works OK when wet or sweaty, but not great. I tried it with both a bare hand and using a pair of smartphone-ready gloves with the little finger touch pad. On some attempts, the volume would adjust and Google Assistant would fire up, and then others I'd have to swipe again or tap and hold again, which isn't something you want to have to worry about while on the go.
They could be good in a gym setting, though I'm not sure Google has ever really pushed these as fitness-ready.
5. Assistant confusion and touchpad sensitivity. I praised the heck out of Google Assistant above, but it's not all good there. For the most part, things are straight forward, thanks to the touchpad in the right bud. You tap to pause or play, swipe to change volumes, double tap to get a readout of notifications and your day, or long-press to fire up Assistant.
Where I run into issues is when you get to having conversations or when the Assistant seems to miss notifications. For example, on multiple occasions I was having a Hangouts conversation with Tim that started off great. Then all of a sudden another message from Tim arrived and the Assistant told me that I had muted him for 30 minutes and would no longer hear his conversation. Umm, what? I didn't tell it to do that. Not only that, but I couldn't figure out a way to stop that silence or re-apply it in case I did actually wanted to mute someone. I also still can't find any documentation on this feature from Google, how it works, why it applied itself, and how to turn it off or on.
On top of that, I found that notifications wouldn't ping in my ear from time to time. By the time I realized that, I'd look at my phone and realize I'd like to hear notifications, only since they had piled up, the Assistant could no longer read them individually and would instead just say that Inbox had multiple there. That then means I'd have to pick up my phone and unlock it to see what the pile included.
The touchpad is a sensitive little guy too, if not inconsistent at the same time. Sometimes you'll tap or double tap and it'll recognize both. On other occasions, you might think you doubled tap, only it recognized that as a single tap, which then prompts you to tap again or double tap and then music is pausing and playing and your notifications aren't playing and all hell is breaking loose.
You should also understand that because the pad is so sensitive, adjusting them in your ear, taking them off, or putting them on can also activate the pad. I can't tell you how many times I've taken them off to put the Buds back in their case only to turn the music back on. That means you'll cause unwanted pauses when adjusting the strings that never hold and almost any other time you might brush the right bud.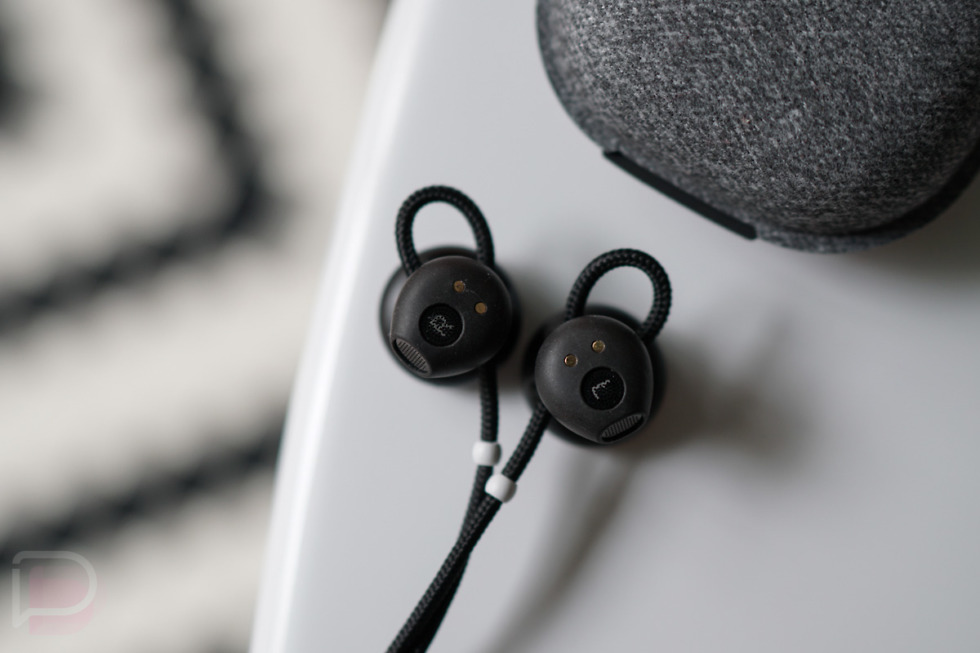 6. Other notes:
They aren't true wireless buds, which I've noted several times. I keep mentioning that because everyone else is making truly wireless buds, yet here is Google putting a rope cord between theirs and charging the same price, if not more, than everyone else who is truly wireless.
Changing songs requires a voice command, which is dumb. You can swipe forward and backward to change volume or tap to pause or play, but there isn't a gesture on the touchpad to just change songs. Think about that.
In terms of design, the Pixel Buds are nice looking, if not a bit bulky when in-ear. I don't think anyone is going to laugh at you like they would the Bose SoundSport Free wireless buds or Apple's cigarette dongles, but they aren't hiding either.
On the translation stuff
I didn't test it! That's silly, right? How could I not test the flagship demo feature of the Google Pixel Buds? Because, in my life, I haven't been in a situation where I would need to use that feature. I lead a pretty boring life on most days. I apologize for not having done that. But you can certainly see Google demo it right here. Other reviews seem to suggest that it works, even if it does require your phone and the Translate app and can be a bit clunky.
Should you buy them?
I wouldn't. Google sent me this pair to review and once they go back, I don't see myself picking up another pair for personal use. The combination of the high price ($159), somewhat confusing Assistant experience, lack of simultaneous connected device support, and the fact that they aren't really made for getting sweaty as hell, would steer me in other directions. Plus, the little things from the weird charging case and pairing experience, to the poor fit and that cable, just leave a lot to be desired.
I do like what the Assistant integration has brought here, especially because the future of headphones will be brighter with Assistant onboard, but yeah, for $160, it's a tough sell.
Buy Google Pixel Buds: