Up until now, the only official pictures of the Google Pixel 2 XL have been those provided by us. Unfortunately, we only had access to the phone's back and both colorways, not the front. Thanks to @evleaks, we may now have our first look at the front and it is indeed glorious.
The picture posted is supposedly of the Pixel 2 XL in a case. It certainly looks like we expected it to look in many ways, but assuming this picture is the real deal, it shows dual front-facing speakers, that all-display front, and some tweaks to the Pixel experience.
Reports have suggested for weeks now that both the Pixel 2 and Pixel 2 XL would have front-facing speakers, we just haven't seen the 2 XL front to be able to confirm that. We've seen a couple of shots of the regular Pixel 2 already sporting dual front speakers, but were trying to envision a way for Google and LG to do the same on the XL, knowing it has an all-display front. Apparently, they found a way to cram two in there.
But again, the speakers aren't the only thing to point out here. The UI is also seeing a major change from the Pixel Launcher that came with the original Pixel and Pixel XL. We're seeing the Google Search bar moving to the bottom of the home screen and into the launcher dock, just above the on-screen navigation. Then, above that we have 5 apps that will likely be customizable in the same way that we have now in the Pixel Launcher app drawer dock. An arrow indicator still suggests a swipe up to access the rest of our apps.
In place of the Google Search pill button that used to sit up top, we now have information relevant to a person's day. Instead of just showing the weather next to Google Search, this appears to be tuned-in to your calendar and future activities, sort of like Google Now is. As you can see here, it's reminding this person when their next event is and how long it's scheduled to last. The weather is there as well. What we don't know is if this info is more of a ticker that displays more than one item at a time or if it'll just update throughout a day until that next event is over with.
What do you guys think about this look?
UPDATE: And here it is without a case! (Holy weird bezel!) (@evleaks)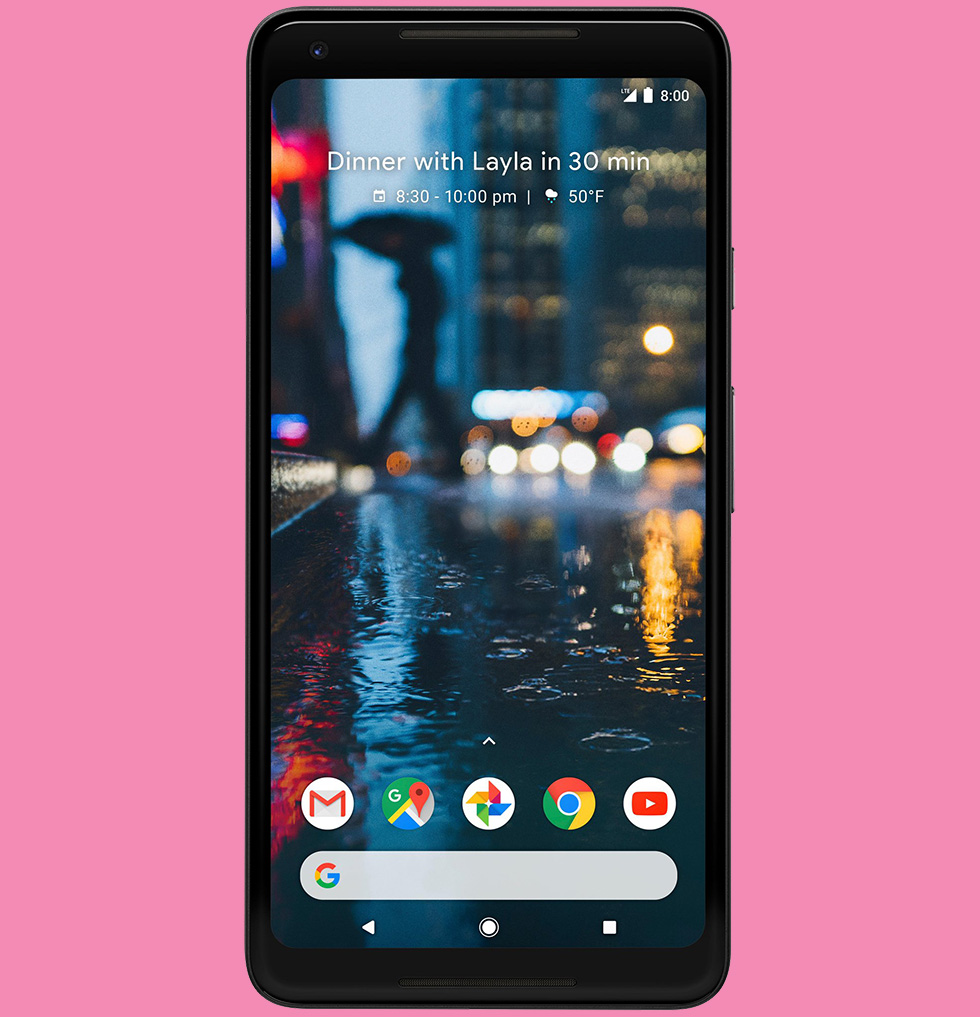 UPDATE 2: We've got more pics of all colors now, plus possible release dates following pre-orders. More info and pics here.