In June of last year, the Google Research team launched Motion Stills for iOS. Why only iOS? Don't ask me. If you aren't familiar with this app, it allows you to snap Live Photos, then share them as short videos loops and GIFs. With the help of advanced stabilization techniques, the loops tend to look pretty slick, too.
Anyway, the big news today is that this app is now available for Android, too!
As Google details, there have been some changes for this release, one of them being quite major. I'll let Google do the explaining.
For this release, we redesigned our existing iOS video processing pipeline to use a streaming approach that processes each frame of a video as it is being recorded. By computing intermediate motion metadata, we are able to immediately stabilize the recording while still performing loop optimization over the full sequence. All this leads to instant results after recording — no waiting required to share your new GIF.
The perfect example of this implementation can be seen in the below image. The loop is snapped, then instantly the user is able to preview what they shot. No waiting around for a rendering process.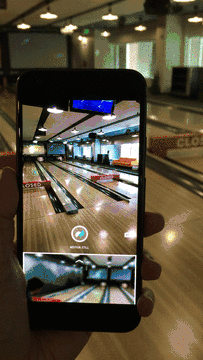 Additionally, users can fast forward videos before sharing, thanks to the baking in of I-frame spacing. This allows you to speed a clip up to 8x, potentially leading to a few awesome and unique shots.
Follow the link below to check it out for yourself.
// Google