Not that you can keep up, but Sprint changed its unlimited plan offerings once again. They do this every month or so by tweaking the pricing slightly and extending out the promotional period before your bill skyrockets. It's odd, but it's also very Sprint. Today, the company is simplifying their Unlimited Freedom plan, which I think just means dropping the price slightly. 
Starting April 7, Sprint's Unlimited Freedom for new customers starts at $50/month for the first line and then jumps to $80 for 2 lines, $100 for 3 lines, and $120 for 4 lines (prices with autopay turned on). The plan includes "unlimited" data, talk, and text, plus HD video (up to 1080p) and throttled gaming and music streams. Customers also get 10GB per month per line for tethering (2G after) and "high speed data for most everything else."
Keep in mind that the price I mentioned (and below) is only good for about a year. If you sign-up tomorrow, the $120 for 4-lines deal lasts until June 30, 2018 and then jumps substantially. Once that day rolls around, pricing becomes: $60 for line 1 plus $40 for line 2 and $30 each for lines 3 and 4. So your $120 bill becomes $160/month.
This is how Sprint is comparing its Unlimited Freedom plan to the other carriers: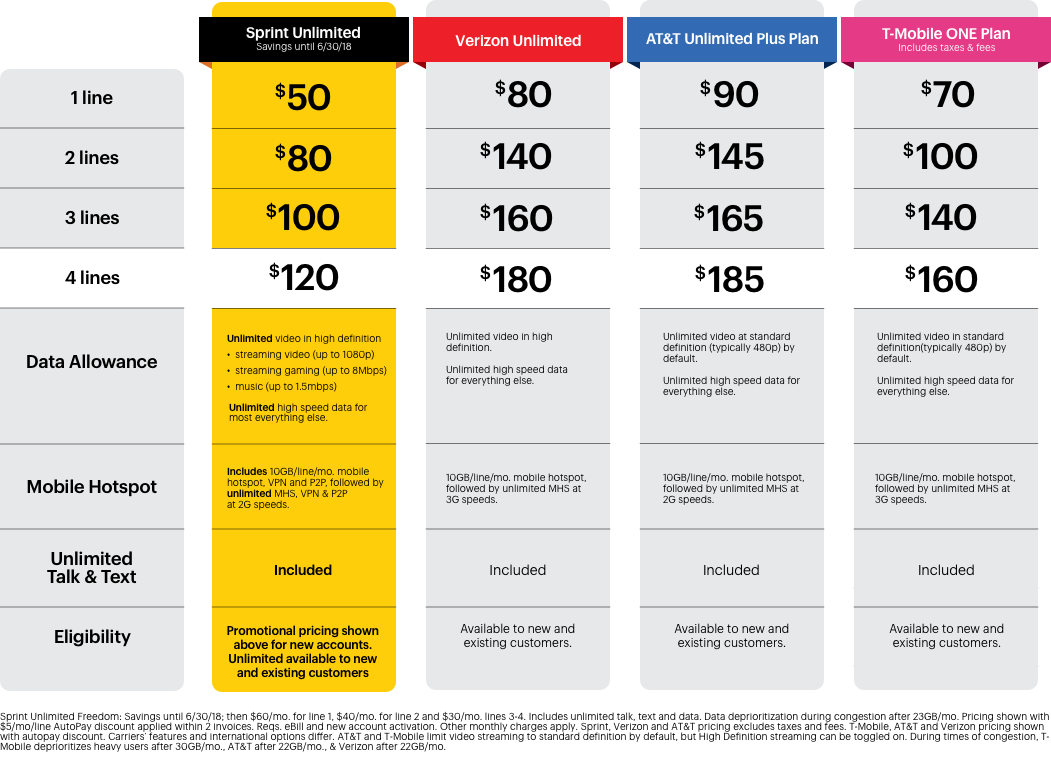 I should also point out that Sprint is "retiring" its 50% Off plan and "moving away" from Better Choice. Their previous unlimited promotion $90 for 5 lines) ends tonight as well.
Sign-up for Sprint Unlimited Freedom right here.
Via: Sprint