With the G6, LG is hoping to do something it was unable to last year — sell some phones. While we must applaud the company's investment and willingness to try something new with the G5 (modularity), we've stressed multiple times that the implementation did not work. Through our LG G6 review, we try to decide if the quick flip-flop was the right move.
In 2017, LG has scrapped the modularity entirely and is offering a completely redesigned smartphone. It has metal, glass, and a great 5.7″ QHD display with hardly any bezel surrounding it. It's a night and day difference between last year's G5, but is it enough to get people excited and on board? That's what we're here to find out.
This is our LG G6 review.
LG G6 Review
The Good
---
Specs
There has been a little bit of arguing among Android nerds (ourselves included) concerning the processor inside the G6. LG decided to ship this phone with a Snapdragon 821 processor, which is last year's high-end silicon from Qualcomm. It is argued that LG should have utilized the Snapdragon 835, the latest and greatest from Qualcomm for 2017 flagships. Basically, it was bad timing for LG, as the Snapdragon 835 was not being produced in high enough quantities, and then whatever was being made was already spoken for by Samsung for usage in the Galaxy S8. LG's desire to get out ahead of Samsung this year by sticking with the 821 was a gamble, but in my eyes, it's not as if you're getting a bad phone because it has last year's processor. The G6 has everything on its spec sheet minus the SD 835, so you can't knock it too much.
Anyway, for complete specifications, we're looking at a 5.7″ QHD+ "FullVision" display (18:9), dual 13MP rear-facing cameras, 5MP front-facing camera, Snapdragon 821 processor, 4GB RAM, 3,300mAh non-removable battery (Quick Charge 3.0), microSD support, IP68 certification, fingerprint reader, USB Type-C, Bluetooth 4.2, and Android "Nougat."
Now, don't get me wrong, I would have loved to have seen a Snapdragon 835 in here, but from my experience, the G6 hasn't suffered due to a lack of one. I'll get to performance in a little bit, but just know that this phone isn't really missing anything in the specs department, which is hard to say for all phones these days. The G6 is a complete package, one that I haven't regretted keeping in my pocket for almost a couple of weeks now.
Display
One of the marquee features for the G6 is this rounded, super immersive 5.7″ QHD+ display. In pixel speak, that's a resolution of 1440 x 2880 (564 ppi). When you first get it in your hand, it's pretty incredible, as it seems like you're really just holding a big display with hardly any bezel surrounding it.
Speaking purely on the rounded corners,  they've grown on me quite nicely. It's not such a drastic thing once you get used to seeing them, and with the Galaxy S8 also sporting them, it seems like something we'll all need to get used to, at least for the time being.
Now, as for the 18:9 aspect ratio, it may take some time for apps and media to get better acquainted with this, but again, once you get used to it, it's not bad at all. To help make your apps fit the screen better, LG offers a software tweak that will scale the app to whatever size necessary (16:9, 16.7:9, 18:9). Once you tweak this, the app will restart itself, but do note, not all apps will look perfect. Essentially, if an app is made for 16:9, switching it to 18:9 may make things look zoomed in or stretched. As an example, YouTube and Netflix look fine in 18:9. Super Mario Run looks a tad funky when scaled, but it's totally useable. All of these scaling settings can be found in the "App Scaling" section of the Display settings.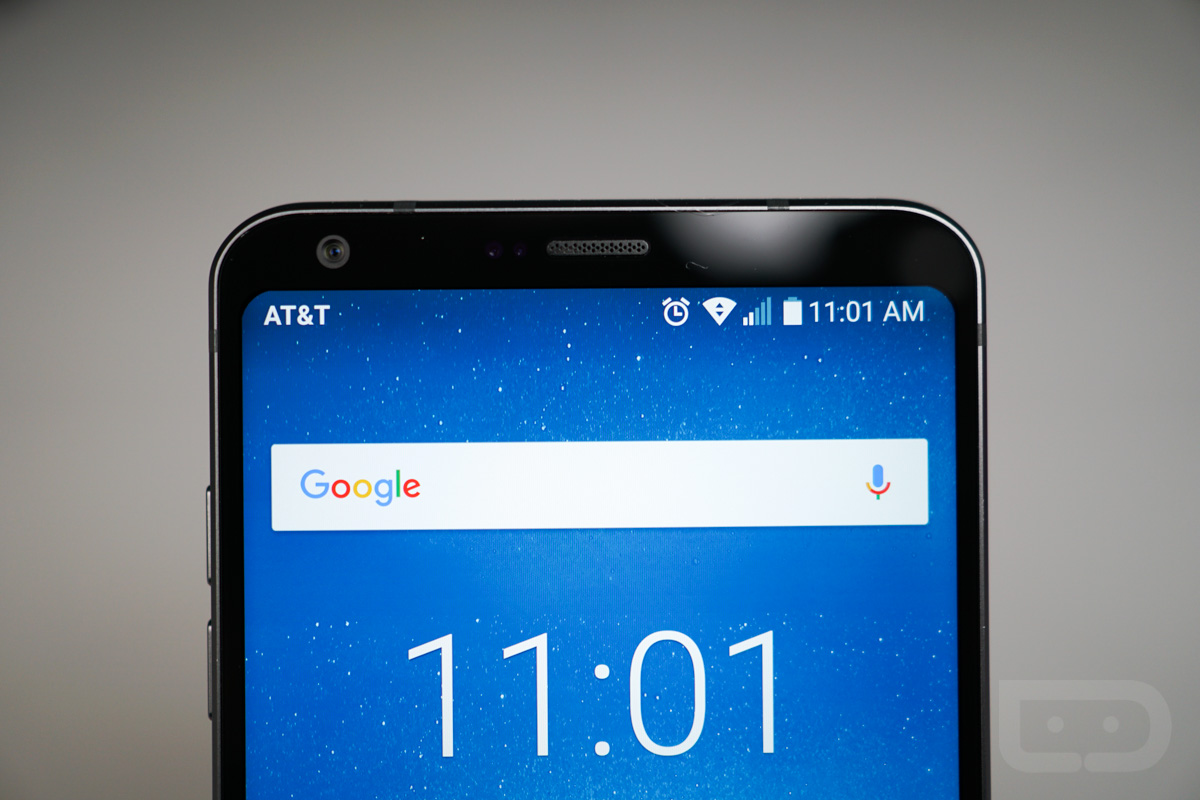 The panel itself in the G6 is a LCD, so I do have the regular minor beef that is normal for these displays. There is minor edge bleed, colors aren't as saturated as I might like when compared to AMOLED, and usability in direct sunlight is not ideal. Summing it all up, though, the display on the G6 is quite the looker and has been most enjoyable to look at. If you're worried about rounded corners, don't be, you'll get used to it in no time at all.
Design
You can't help but notice the LG G6's design. To me, it's hot. Others may think it looks odd, at least the backside that is similar to a robot's "O-face." But hey, it is what it is. Most importantly, on the front, you have a huge display wrapped with minimal bezel, complete with the rounded corners. The entirety of the phone's edges are metal, then glass on the front and back. On the backside, you have the easily accessible fingerprint reader, plus the dual camera setup. As you already know, we enjoy having a fingerprint reader on the backside, as it's something we've become accustomed to for what feels like years now. We liked it on the LG G5, we liked it on the Pixels, and it's no different on the LG G6.
Comparing it to the G5, it's crazy to think LG evolved in the design department so quickly in just one year. If we gave out Most Improved awards each year, my vote would be for LG this year.
With the glass design, there are a few drawbacks, that being fingerprints smudging your phone and the idea that a single drop on the ground means the end of your phone's existence. Accidents do happen, so don't be ashamed if you plan on throwing your G6 in a case. Not only will it protect from drops, but light scratching, too.
Going back to the big display in little body design, I am loving where smartphones are headed. We're getting these crazy big panels in a body that is easily manageable with one hand, and as someone who doesn't have weirdly big hands, it's very helpful when I only need one hand for operation.
In the US, the G6 comes in Black or Platinum, but other markets get a White version, too. I'd have loved to see the White come to the US, but oh well. Each color has its own positives – The black looks better for the display, but it also picks up fingerprints like crazy. The Platinum is better for fingerprints, but can look odd at first with the rounded corner display. It's something you'll need to get used to, to put it plainly.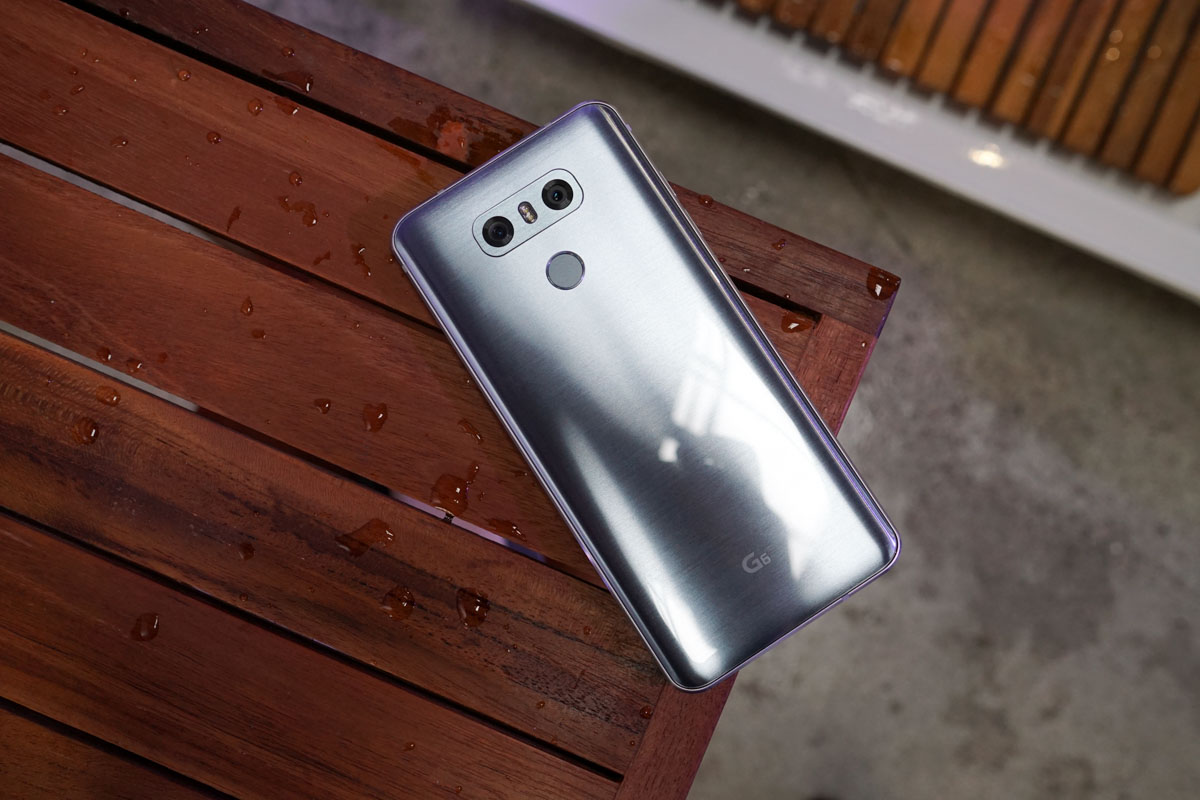 Camera
There's a few things to say about the G6 cameras, but let it be known, the camera(s) are good. There are dual 13MP (Wide: F2.4 / 125°, Standard: OIS 2.0, F1.8 / 71°) sensors on the backside, capable of producing the wide angle shots many may be looking for. Upon firing them up, you will notice that it takes a second for the camera to focus and snap its initial shot. I've noticed that this slight stutter could cause you to miss a shot, but as long as you're in no rush, you can easily create some fantastic images. There's also a manual mode included, so professionals should have no problems adjusting the values and all that good stuff for top of the line shots.
The UI is straightforward enough, exactly what you'd expect on almost any Android device. There's quick access to settings such as which mode you want to shoot (Auto, Square, Manual Image and Manual Video), flash, filters, plus options for panorama, slo-mo, time-lapse, and 360 panorama. There's no shortage in features for camera, so don't worry about getting bored when trying to be creative.
Now, as for the Square Camera stuff, meh, it's pretty gimmicky. I get why LG would think its useful, but I'm not a huge fan. When on a cellphone, I tend to just point and shoot, without needing LG's guidelines (Guide Shot) for positioning shots. However, I do like the Grid Shot function, which is perfect for sharing four squared off images to Instagram. On the other hand, Instagram now allows for people to publish multiple images in a single post, so we may not see grid shots as much as we used to on social media.
In terms of the camera's abilities, I'd say it's quite the capable shooter. My shots typically come out looking very crisp, with exception to when shots are taken in extreme low lighting, but that's nothing new for smartphone cameras. As I've said before, I'd appreciate a bit more saturation in the display, allowing for a bit more color vibrance when previewing shots, but the G6 gets the work done. The camera's manual mode is a huge benefit when dealing with lighting, and for the most part, I'd say you shouldn't come across a shooting opportunity not capable of being performed by the G6's dual sensors.
With regard to the wide angle vs. standard shooting, I have loved having the ability to switch between the two. Below you will see a few shots that compare differences between the two. To me, it helps add context to certain photos. For example, if I need to show a big scene, but have no room to back myself up, I can simply throw it on wide angle, then get the entire scene without having to be too far away. Context is the word I'd like to stress when it comes to wide angle shooting. It's not great for all shots, but you'll find it comes in handy quite a bit.
I haven't spent a lot of time with the Galaxy S8 yet, but once I do, you better believe I'll be doing a massive shootout between these two devices.
The below photos are samples from my time with the G6. They have not been retouched, only resized.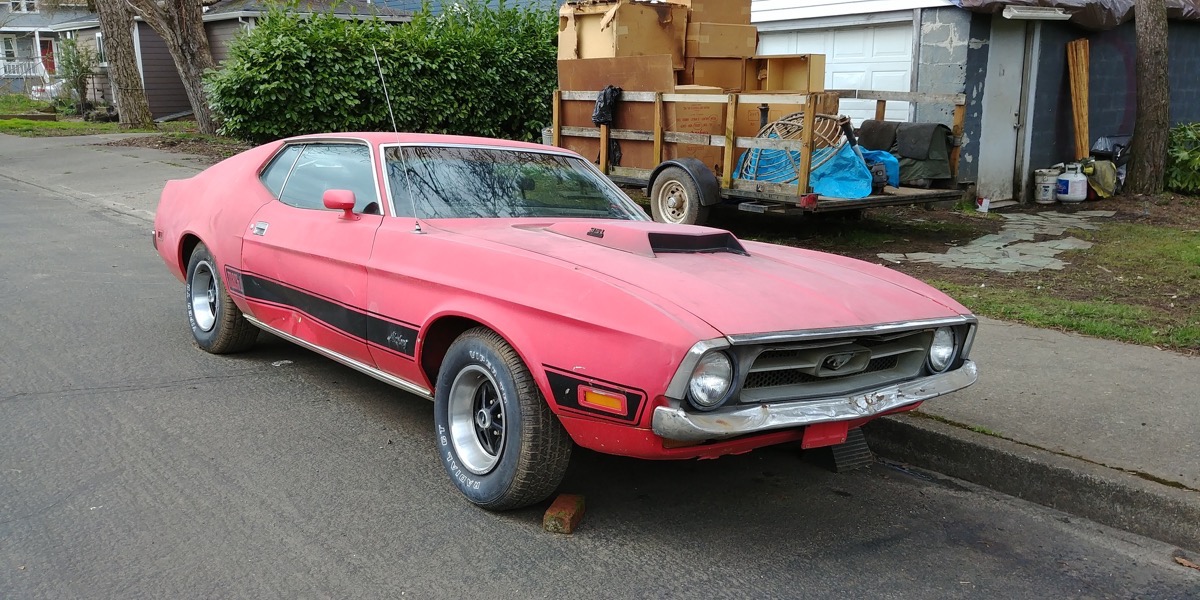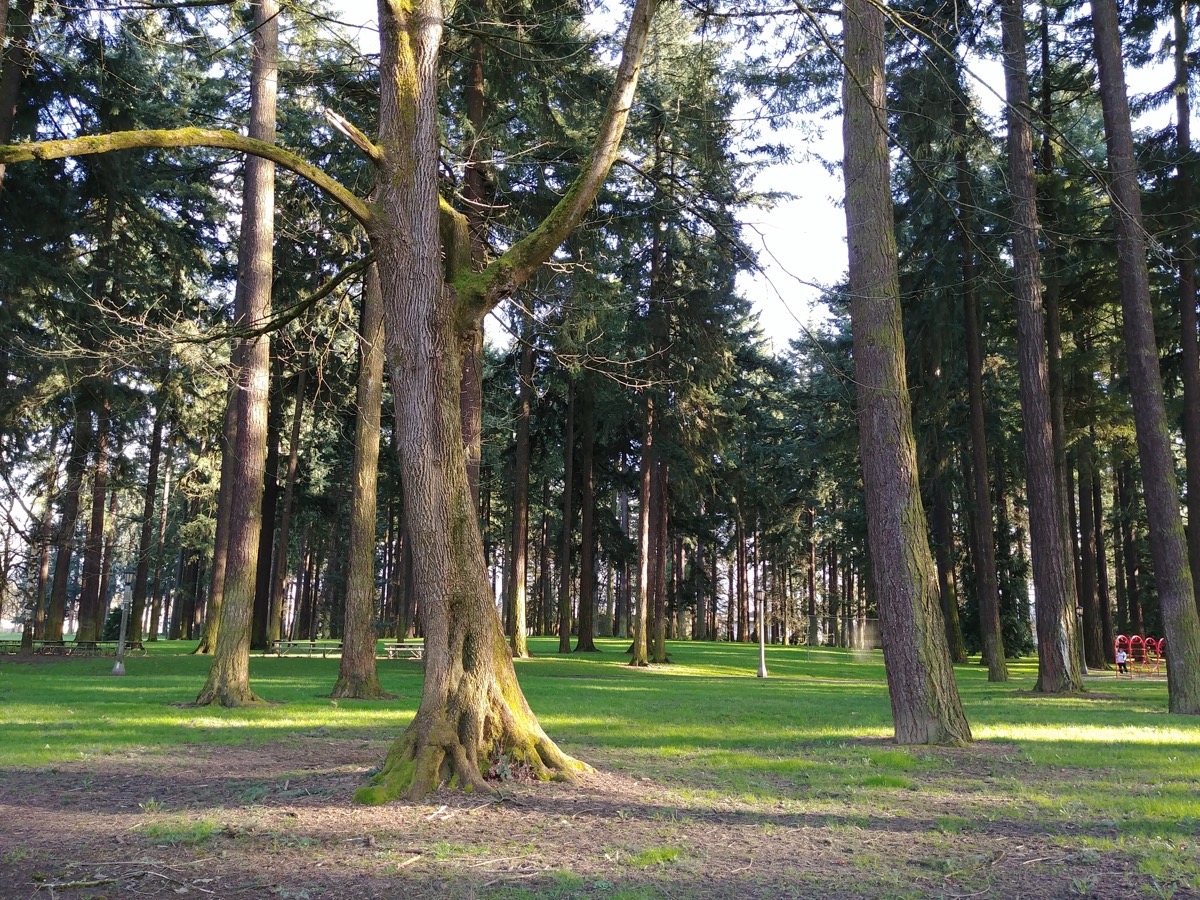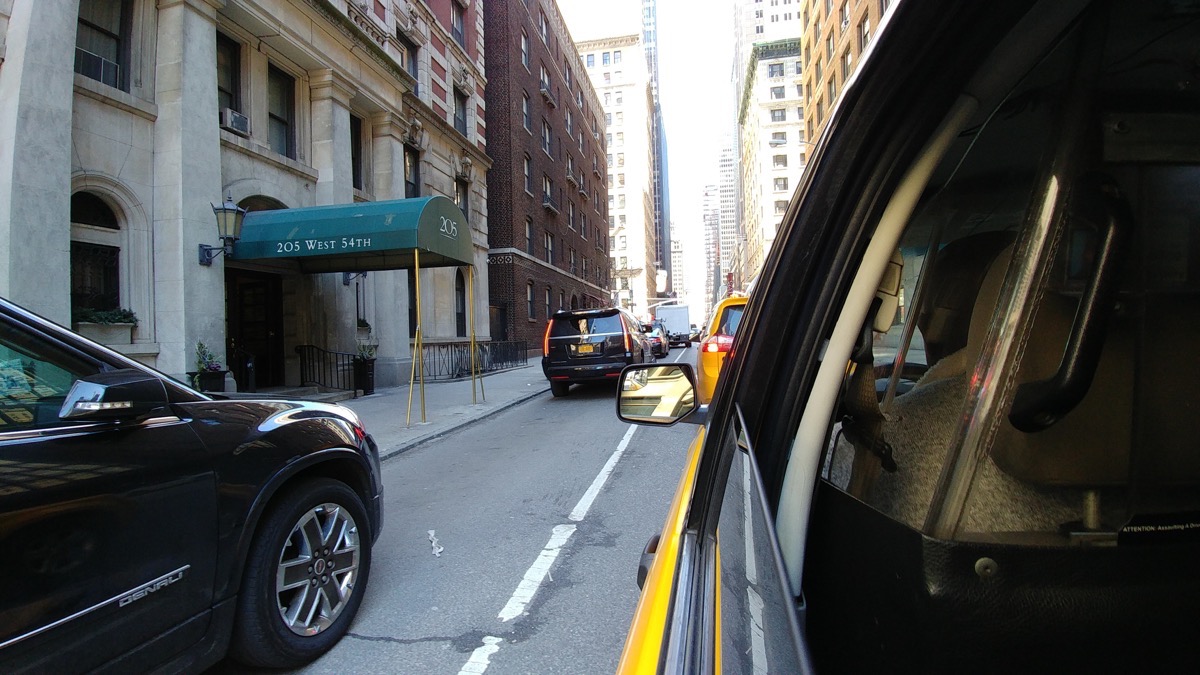 Wide Angle vs. Standard
Performance
The G6 comes with a Snapdragon 821 and 4GB of RAM, but before you go grabbing your pitchforks over LG using last year's processor, do realize that the SD821 is good silicon. Heck, it's the same processor used in the Pixel and Pixel XL, and those phones operate just fine. What it comes down to is real world usage and from my experience, things have been fine.
Opening up apps, playing games, then switching back and forth is no problem on the G6, and there hasn't been any real jank to complain about. Believe me, if there was something wrong in the performance department, I'd be the first to let you know. And for everyone who cracks a bootloop joke, don't bother, I have had zero issues concerning bootloops.
The only real performance problem I can report on has to do with the camera, which I already touched on. It takes a second to load up and snap that first shot, but once that is completed, you can click the shutter and get to work just fine. Other than that, the performance has been fluid and let's hope it stays that way. Considering this phone is running a processor from 2016, it will be interesting to see how it holds up over time compared to the Galaxy S8 and the Snapdragon 835.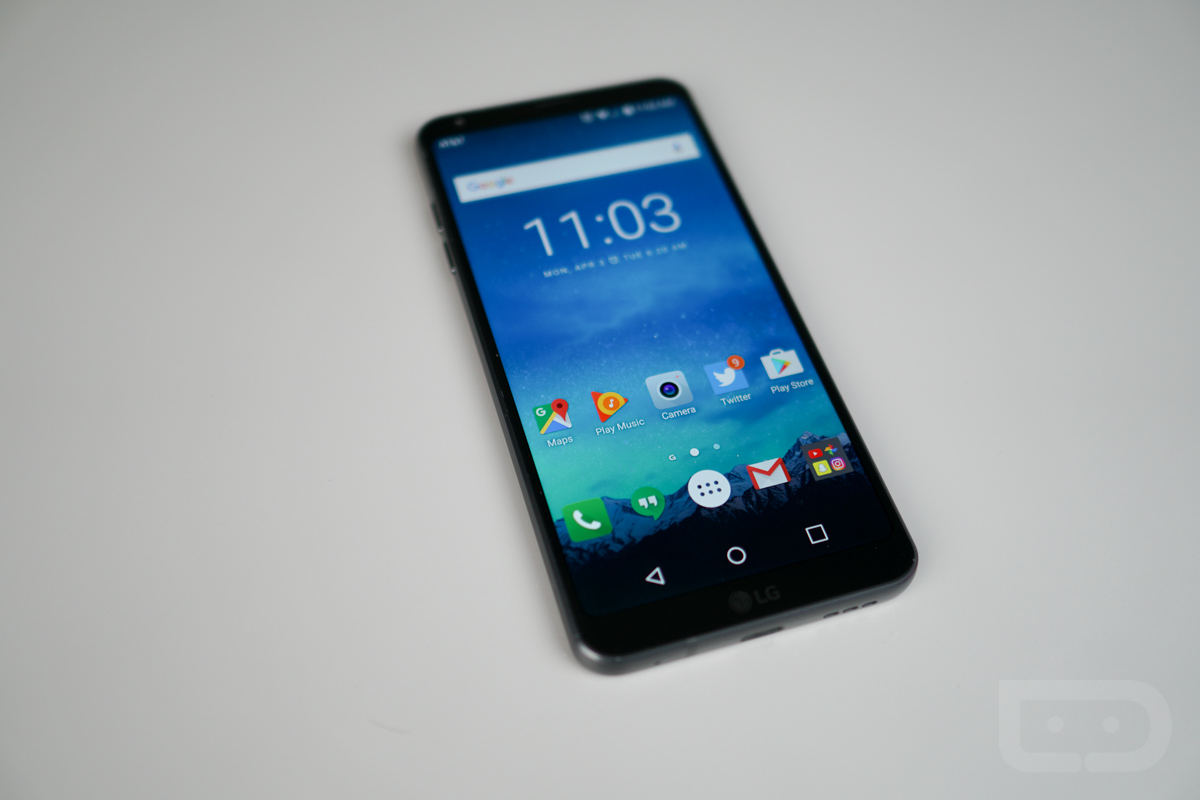 Somewhere in the Middle
---
Battery Life
The battery life I experienced on the G6 is the definition of "average." It's not bad, it's not great. Just a run of the mill, average battery life. It's sized at 3,300mAh, which is pretty large I'd say for a phone this size. Even with that size, though, I wasn't pulling in two days or anything crazy, but rather a typical one day of usage.
My day is usually 7:30AM to about 10:30PM and I was getting through that every day no problem. Sometimes I'd have some spare juice and sometimes I wouldn't. To be as helpful as possible, I'd say you shouldn't have a problem getting through your average day, so long as you aren't streaming HD video over a mobile network 2 hours a day during a commute or playing Pokémon GO for 5 hours. Then again, if you are running out of battery, the phone does have Quick Charge 3.0, so charging quickly should never be an issue.
Software
While performance of the phone is fine, the software in general is another story. Again, it's not terrible, but it's not great, either. I'm not the biggest fan, but I've been that way regarding LG's skins for years now. It never seems to change drastically, which is what I think it needs.
The phone comes out of the box running Android 7.0 "Nougat," which does indeed help the underlying Android experience. You've got your multi-window, better notifications, improved Doze features, and all that jazz. Of course, LG couples tons of other software bloat, such as Capture+ (screenshot and writing), theming, and KnockON.
The two features included that I absolutely could not live without on the G6 are KnockON and the ability to theme the UI. With KnockON, the same as it's been on countless LG devices, you just tap twice on the screen to turn it on and off. It helps when the phone is just sitting on your desk and you don't want to pick it up to check the time or notifications. LG, keep doing KnockON.
The other aspect of the skin I don't hate is the ability to theme. This is a growing addition to many OEM skins and it's one that I adore. The standard skin out of the box is quite atrocious, but I utilize the "High Contrast" theme, which switches everything to Black and Orange. It helps that I'm a diehard SF Giants fan, so that's an added bonus. There are other themes to choose from and I can also decide on individual app icons I want displayed, so long as I use the supported home launcher LG offers.
Now, to be completely real, I would recommend downloading a 3rd-party launcher, but I say that for every phone. Google Now Launcher and Nova Launcher are my go-to launchers, so if you aren't a fan of LG's own launcher, give one of those a try. You won't be disappointed. Take note that you can also change the color (Black, White) of the on-screen buttons. It can help if you're going for a particular look.
To conclude the software section, let's talk about updates real quick. LG is pretty middle of the road when it comes to updating phones, and a lot of it may have to do with carriers. Looking back recently, the G5 seems like a good sample for what we might expect of the G6. On T-Mobile, the G5 received Nougat in November, while the Verizon model got it in December. That's pretty good turnaround time. However, on AT&T, the G5 didn't receive Nougat until February. That's not awesome, but not terrible either. Point being, with the G6, you probably won't have the most insane update speeds ever (not like a Pixel), but you also won't be feening for too long, depending on which carrier you're with.
Pricing and Availability
---
We would typically list this portion under a specific section, but I can't be the judge of whether this pricing is right for you. All I can do is lay out the barebones pricing and promotional goodies, then let you make the decision. However, if you do need my opinion on the G6's pricing, it's solid. Compared to the Galaxy S8, which starts at $750, the G6 is priced rather competitively. When we throw in water resistance, dual cameras, and all of that, it's hard not to tip the hat to LG for making this phone so obtainable. No, it's not sub-$500, but LG probably could have charged more and justified it.
Here are the current prices and promotions taking place for the LG G6.
Prices
Verizon: $28/mo for 24 months; $672 full retail
AT&T: $24/mo for 30 months on AT&T Next; $30/mo for 24 months on AT&T Next Every Year
T-Mobile: $26 down and $26/mo for 24 months; $650 full retail
Sprint: $29.50/mo for 24 months
Promos
Free Google Home: Buy the phone from anywhere and then redeem your Google Home online at LG's promo site.
Verizon: Giving away free LG 43-inch Smart TVs ($349 value) with a new line, device payment plan, and Verizon Unlimited. You can claim the free TV here.
AT&T: Giving away a 2nd LG G6 for free with 30 months worth of bill credits. They'll toss in an LG Watch Sport for $49.99 on 2-year contract too.
Sprint: Giving away free LG 1080p TVs ($349.99 value).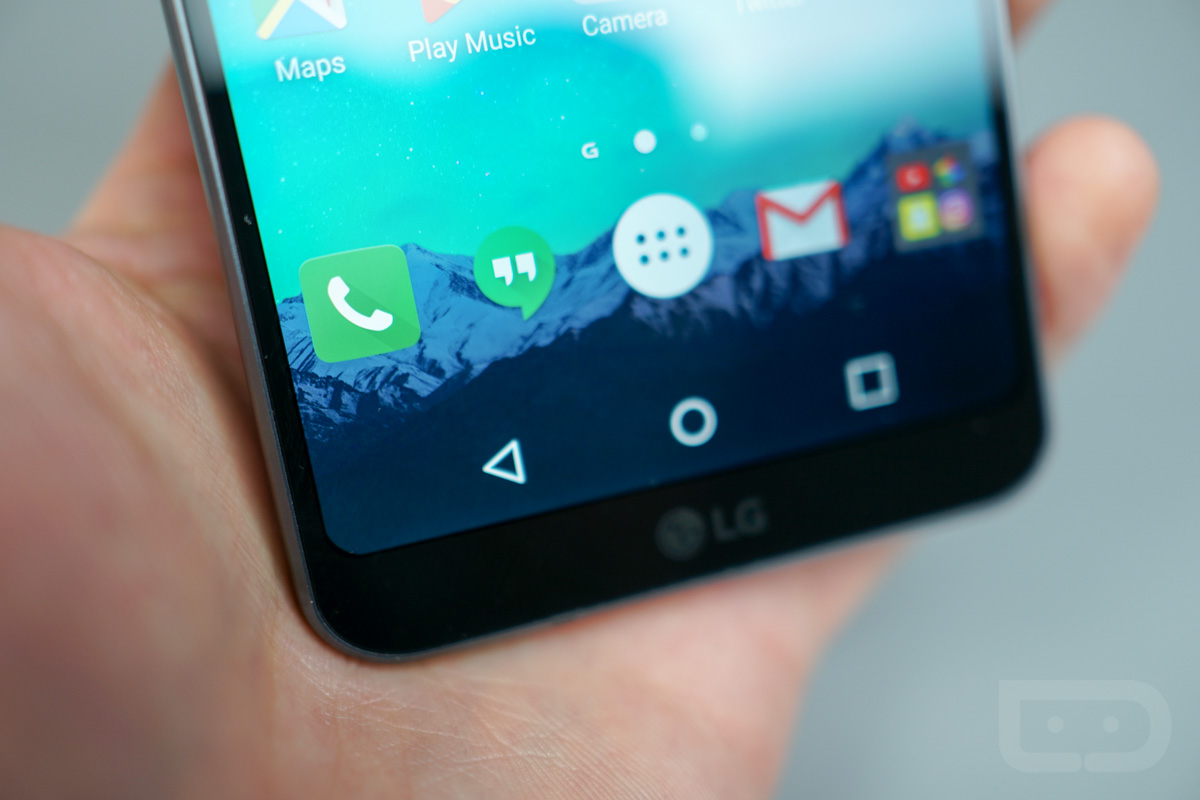 Other Notes
---
Water resistance: IP68, capable of protecting your device in up to 5ft. of water for 30 minutes. Need some swimming pool shots? This phone has you covered.
External speaker: The single speaker on the bottom certainly gets loud enough, but does lack a but of oomph. You can't ask for much from a single speaker, so don't go in expecting a BoomSound-type experience.
Google Assistant: Thanks to Google making this available on all new Android devices, it's a lovely feature to have on the G6.
No Quad DAC in US: For us in the US, LG is not including a Quad DAC for the G6. While this is sad, we do get wireless charging in exchange, which is an option not offered outside of select markets. You win some, you lose some.
Call quality: I was running this G6 on AT&T's network and had no issues when it came to folks hearing me or me hearing them. Pretty typical call quality experience.
Girlfriend impressions: "Comfortable to hold and operate in one hand. I like the weight, it feels durable, and its not slippery like other phones. There's way less bezel than I'm used to, which makes the display look larger than what you'd expect from a phone this size. Really like the placement of the fingerprint reader on the back, and I like the way it doubles as the lock button. Makes the phone seem really sleek."
Wireless charging: If you have a wireless charger (I'm using one from IKEA), the G6 is totally compatible. Place it on the pad, let it do its thing, then you're good to go.
Headphone jack:  It's got one! Courage!
Expandable storage: Yup, it's got that, too!
AT&T Bloat Count: Hella. Technically, there were 14 apps that I disabled. They include Firefox as the default browser (lolz), DirecTV, YellowPages, Amazon Shopping, Lookout, and others. Woof.
Videos
---
LG G6 First Look
20+ LG G6 Tips and Tricks
LG G6: First 10 Things to Do
Gallery
---
LG G6 Review: A return to form?
---
Ladies and gentlemen of the jury, have you reached a verdict? Your Honor, we most certainly have. In the case of the LG G6, we hereby find the smartphone… fantastic! As I said before, you can't even compare the G6 to last year's G5. It's as if they were made by two entirely different companies. From the in-hand feel to the ability to customize LG's ugly theme, the G6 is a real winner in my book.
Now, I don't have a Magic 8 ball or anything, but my belief is that the G6 story may not have a happy ending. We've touched on this during The Droid Life Show, but with Samsung and the Galaxy S8, the G6 might be a tough sell, with exception to the price. Is it acceptable to call the G6 a poor man's Galaxy S8? I'm not trying to be rude, but the argument has grounds. On paper, they are very similar devices, both featuring water resistance, rear-facing fingerprint readers, great cameras, and OEM skins that we all wish we could ditch for stock Android. Yes, there are other difference, but to your average American consumer, it might all be indiscernible. They got big screens, they got big cameras, and they both cost a lot of money.
To wrap this all up, if you are a fan of LG and a free Google Home unit (and maybe even a free TV), the G6 is a solid deal. I've enjoyed my time with it very much, so it has my recommendation to anyone in the market.
---
Buy the LG G6: AT&T | Verizon | Sprint | T-Mobile | Best Buy