With Android Wear 2.0 delayed until next year, Google is continuing to push updates to the developer preview program for it. Today, Developer Preview 4 is out with a number of new goodies, like authentication for apps, in-app billing from the watch, and more. Also, swipe-to-dismiss is back! 
Because Android Wear 2.0 allows apps to be installed on watch-only, there was a need for easy authentication (like signing into an app). Google created a new API to allow you to easily sign-in to apps by tapping a screen on the watch that will they let you quickly sign-in to a service via phone. The GIF below shows how this will work and appears to be a great implementation for signing into apps and services on a watch without needing to type out anything on the watch.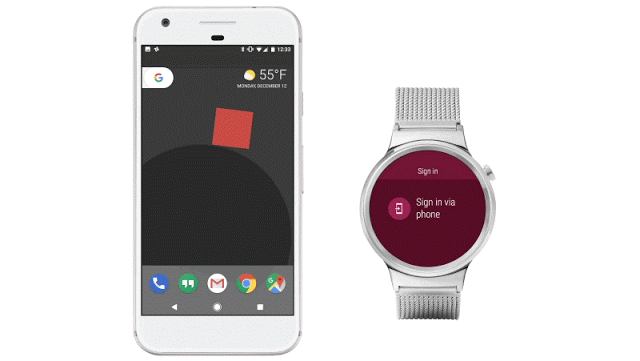 For in-app billing, Google is giving developers another way to monetize their Wear apps, by allowing users to purchase goods from a watch. All it'll take for someone to do so is with a 4-digit pin entered on the watch as confirmation of a purchase. Think of purchasable items like another watch face from your favorite watch face app.
Swipe-to-dismiss is back in this latest preview. Google listened to feedback from users who said they loved being able to swipe away notifications or cards from left-to-right. This was a prominent feature in Android Wear 1.0 that I almost can't believe was killed in 2.0. Glad to have you back, old friend! This change does mean that Google has switched hardware button mapping to controlling "power" instead of "back," like it had previously in 2.0 builds.
The DP4 update also tweaks the way that Android Wear 1.0 apps prompt a user for installation, adds burn-in protection, and a bit more. To read up on the rest of the changes, hit up that source link below.
If you want to install the latest preview, hit up this link.