It's November 10 and Google's Daydream View headset is now available for purchase. I've been able to spend most of the past week with one to familiarize myself with the virtual reality headset and take in some content, like games and other experiences. As of today, Daydream View may only work with Pixel and Pixel XL, but it's off to a great start for the mobile VR category.
Let's take a deeper look in our Daydream View review. 
What is Daydream View?
Daydream View is a mobile virtual reality (VR) headset from Google that is powered by your smartphone (today, only the Pixel and Pixel XL). Think of it like a more refined Samsung Gear VR experience where you place your phone inside the viewer to utilize the screen for the VR experience. What helps View standout out, though, is its handheld controller for more precise interactions. I would even argue that the controller will help Daydream View separate itself from the rest of the mobile VR units available because it really does make the experience that much more enjoyable.
The viewer is covered in soft material, features a single adjustable strap, and costs just $79.
Daydream View Links: Verizon | Best Buy | Google Store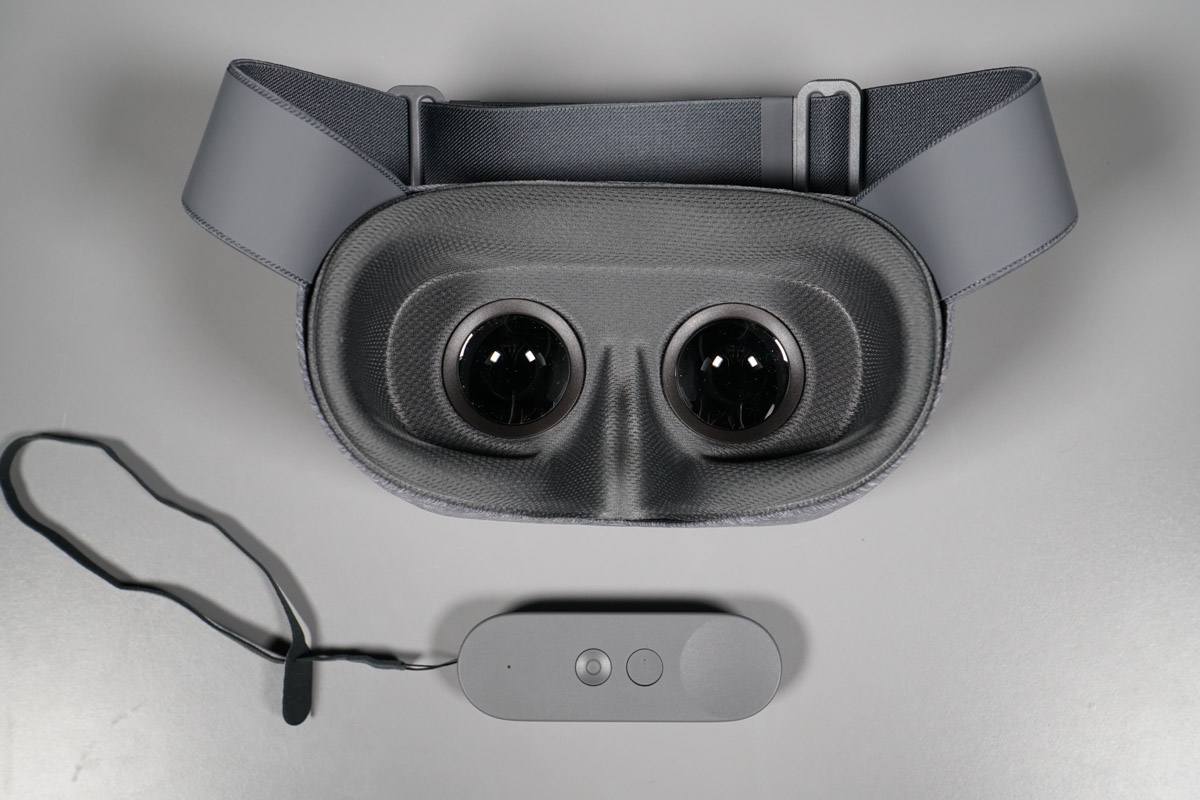 How does it work?
Well, you'll need the Daydream app from Google Play, which can be found here. Once installed, all you need to do is open up your Daydream View, unlock your phone, and set it in the viewer. Through what I'm assuming is NFC, the phone will then launch the Daydream app and tell you to close it into the viewer with the elastic strap. Once the phone is in, you adjust it to your head and walk through the tutorial, which involves setting up the remote and familiarizing yourself with the controls.
After the short tutorial, you then have Google Play ready from within Daydream to help you get apps, games, and other experiences installed. To do so, you use the remote as a pointer to select things and the motion trackpad to click them. Trust me, once you go through the tutorial, that will make more sense.
With apps installed, you can then launch into them and start enjoying VR content.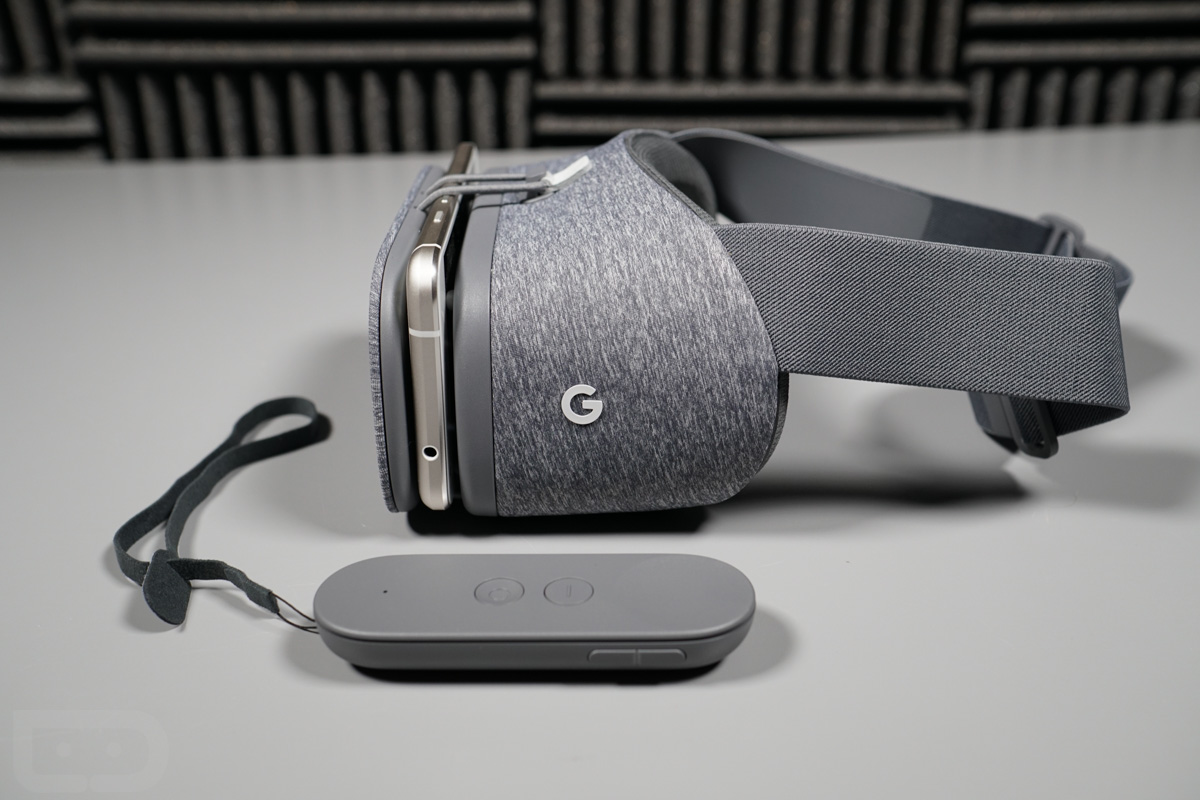 Is Daydream View any good?
I actually think it's pretty sweet! And that's coming from someone who also owns HTC Vive, which is very much the best-of-the-best when it comes to a VR experience. In other words, I feel like I know my VR stuff and am impressed by what Google has done here. While Daydream View can't and won't ever match up to Vive (because it's limited to being powered by your phone), it's my favorite mobile VR experience by a long shot. Let me tell you why.
First of all, the headset is quite comfortable and light. Instead of being a hunk of futuristic plastic, the sweatpant-like covering really does feel nice as you wear it for extended periods of time. Plus, if you get the cover sweat-nasty, Google says you can hand-wash it. I like the clever way that Google lets you attach the remote to the inside of the visor when done, as well.
I think what I really like about View so far is the fact that Google is launching it with a handful of decent games that are high quality. Games like Danger Goat, Mekorama, VR Karts Sprint, and Hunters Gate are all very well made and look fantastic through a Pixel XL. Outside of games, you have choices of content viewing from the likes of the Wall Street Journal, CNN, Guardian, and of course, YouTube VR. And even if games and straight content aren't your thing, you have custom built VR experiences like Google Arts & Culture VR, Star Chart VR, Rose, or IdeaSpace. By the end of the year, Google expects there to be around 40 titles available for Daydream.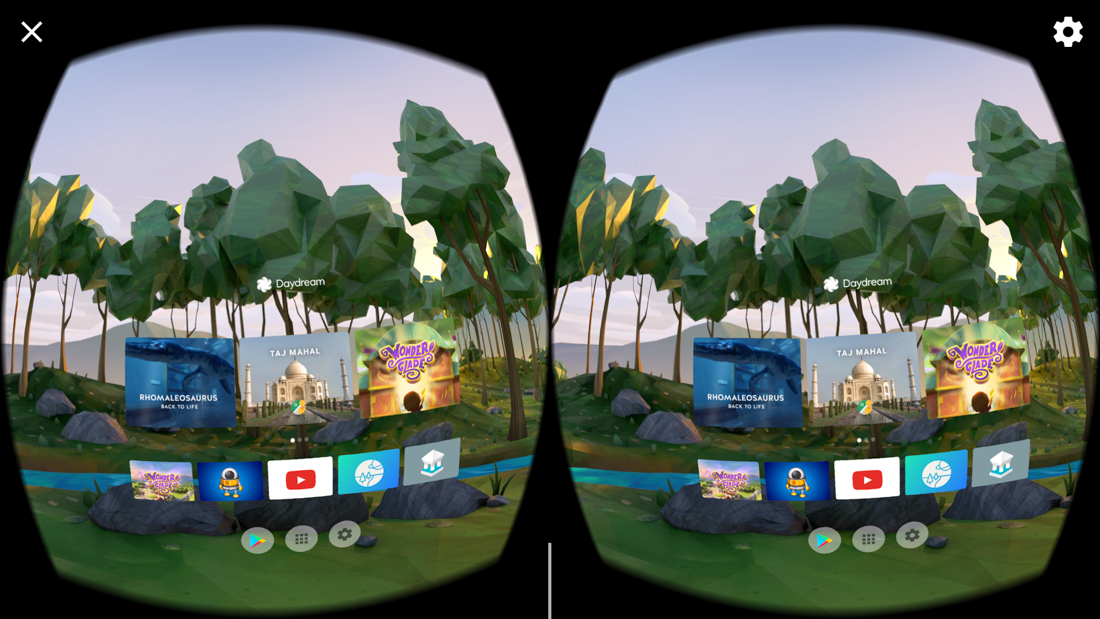 Of course, as I mentioned earlier, the remote is kind of the real game changer here. With a handheld remote, you get to immerse yourself in the VR experience, pin point items you want to control, and interact more with everything. The controller features volume buttons, two other input buttons, and a touchpad that doubles as a button. It pairs over Bluetooth to your phone and then can be seen on screen moving as you move it. So not only do you have better controls, the controller being in view as your hand moves it helps you feel closer to the VR environment as if you are really interacting with surroundings, much in the way that Vive does.
The controller comes with a wrist strap, so that you won't fling it across the room, charges via USB Type-C cable, can be used in either right hand or left hand modes, and seems to last for hours on a single charge. In my week of using View off and on, I have only had to charge the remote one time.
The only real downside to the controller is that you basically hold it at waist level and point or turn it depending on the app. That's an issue, only because it would go super-next-level if there was a sensor that could realize as you extend your arm and the remote out away from your body. That would probably require an additional set of sensors and would certainly increase the price and wear on the battery life.
Either way, the controller is what has helped set Daydream View on top.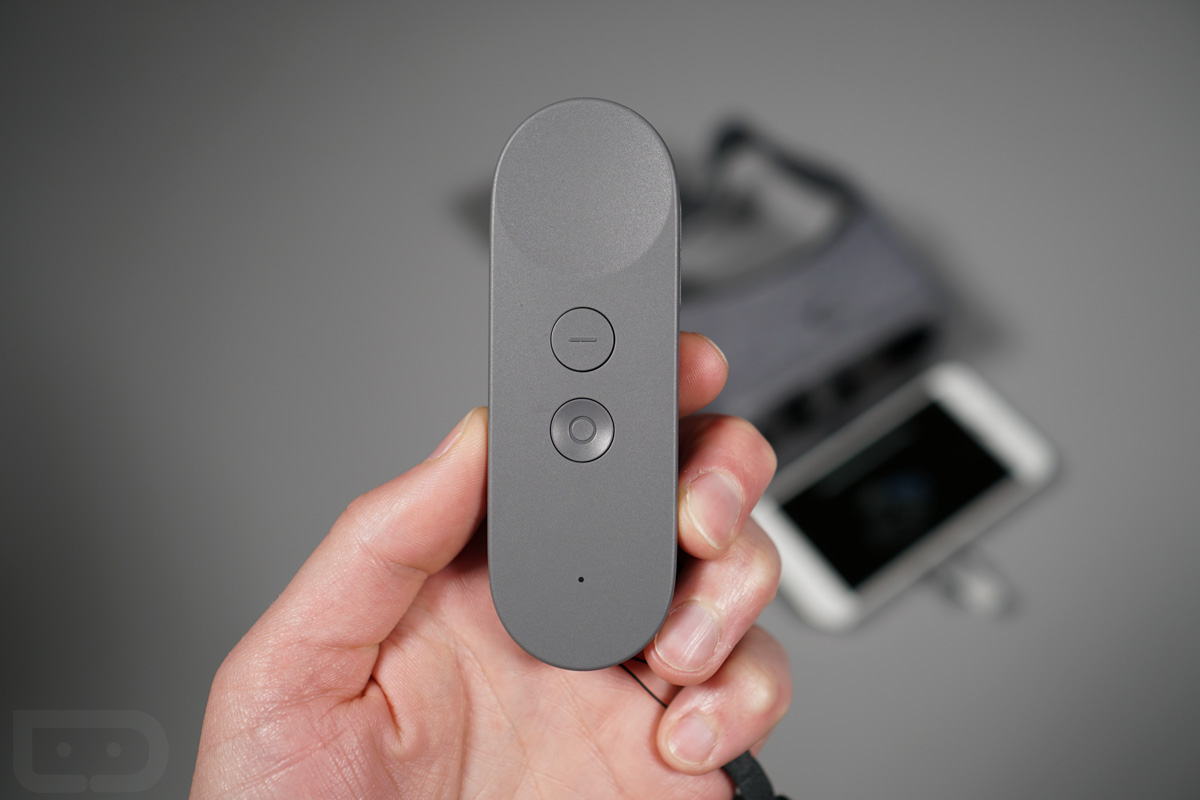 With the Pixel XL powering this headset, I haven't had issues with performance at all. The games and apps I've tested all worked well, the frame rates and amount of detail all are better than I expected. Sure, you can see some of the pixels on the device, but not in the obnoxious way you do with Samsung's Gear VR headsets. Google seems to have found a proper magnification through the lenses in the viewer to give you a good experience without going overkill.
What about apps and games? Any suggestions?
If you are picking up a Daydream View or have a free one coming, thanks to your Pixel pre-order, my recommendations for games would be Danger Goat (3D puzzle game with a goat), VR Karts Sprint (like Mario Kart in VR), Mekorama VR (similar puzzle game to Danger Goat and Monument Valley), Hunters Gate (3rd person shooter, sort of set up like Gears of War), and maybe even Twilight Pioneers for some first person action (and it's free).
For non-games, I'd definitely pick up Fantastic Beasts (because all things Harry Potter world are fun), Star Chart VR (exploring the galaxy), Rose (an immersive VR film experience), and YouTube VR. YouTube VR is great because there is actually quite a bit of content there for VR ("360 Videos"). It's not always the sharpest in quality, but there is a long list of stuff to consume.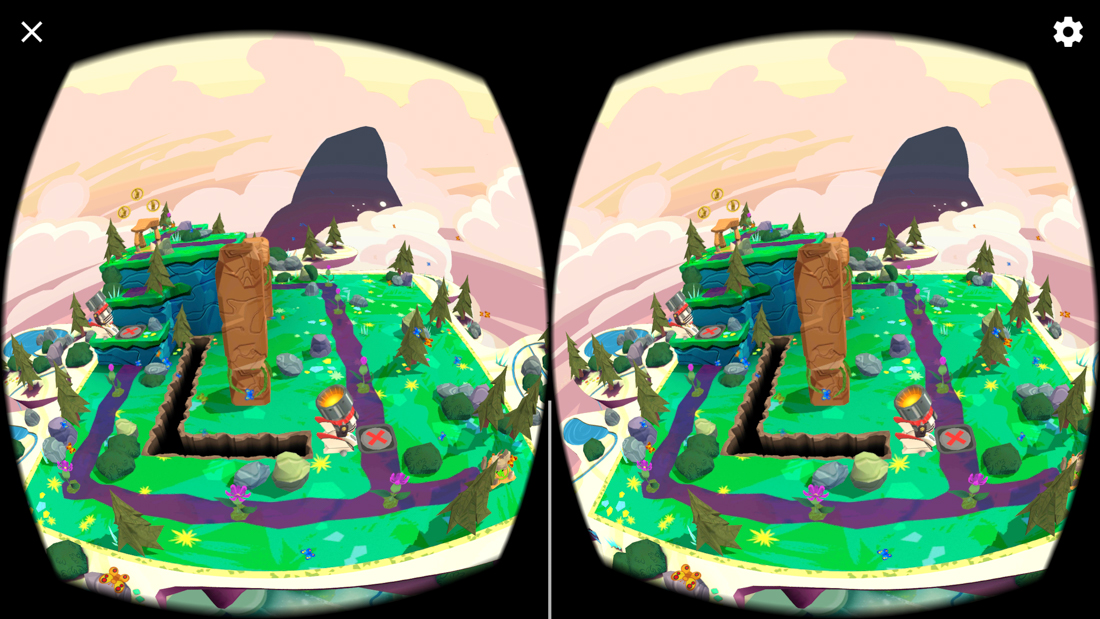 Any issues?
I have noticed the Pixel XL that was given to me by Google for review gets quite hot after lengthy periods of Daydream usage. It's not up to burn-you levels, but it's noticeably hot and you should be careful if you do get into a VR realm for more than 30 minutes.
The lack of content for now is real, though Google does seem to have waves of apps and games coming. Will that continue? We sure hope so because this is packable VR that can be done from anywhere that actually looks and performs well.
Also, keep in mind that this is a $79 mobile VR unit – this isn't Vive or Playstation VR or Oculus Rift. This is a headset that is powered by your phone, not a high-end computer. It's not ever going to be the most immersive, jaw-dropping experience, but it is good for what it's trying to be – affordable VR.
Other than that, I haven't noticed much of a battery hit just yet. With that said, I haven't exactly been doing detailed battery testing, since the unit I'm using for testing isn't a daily phone. I would imagine that if you spent a good amount of time in Daydream, your battery life will drop fairly quickly, so be careful if you have a long day ahead.
NOTE: Someone in the comments asked about the viewing experience from Pixel to Pixel XL and if the difference in resolution is noticeable. It is, unfortunately. With the regular Pixel, because it's only 1080p, you can see more pixels and the picture just isn't as sharp. On the XL, it looks pretty great.
Overall
Daydream View feels like one of those accessories that all Pixel owners should probably buy if VR is of any interest. At $79, it seems like a bargain for the VR experience you are getting, thanks to the high-quality headset and remote. We'll need to see the VR app catalog grow, but even with upwards of 40 titles by the end of the year, Google seems to be creating a nice little catalog. Some of the early games and apps are well worth a look.
Daydream View Links: Verizon | Best Buy | Google Store