With HTC 10 pre-orders through Verizon shipping and arriving next week, those of us who pre-ordered the unlocked model a couple of weeks ago have been starting to wonder if Big Red's early exclusive would push us aside as well. According to HTC's Jeff Gordon, that shouldn't be the case and unlocked pre-orders should ship next week as well. 
In response to a couple of HTC fans on Twitter who asked about pre-order shipments, Gordon carried on a somewhat evasive conversation about early May shipments and credit card confirmations going out (which we have yet to receive on any front) before finally committing to "unlocked HTC 10 begins shipping in the US next week."
One thing I should point out is the fact that HTC uses a company called Digital River to handle distribution of their online ordering system. I mention them because they made quite a mess out of the HTC Vive launch a few weeks back. The mess included credit card payments being canceled moments before shipments were supposed to start and HTC offering very little help in the matter because they don't seem to work all that closely with Digital River. They had no way to check on the status of your order or when it would ship or anything useful. Hopefully, that doesn't happen this time around.
Either way, take that, Verizon early exclusive garbage.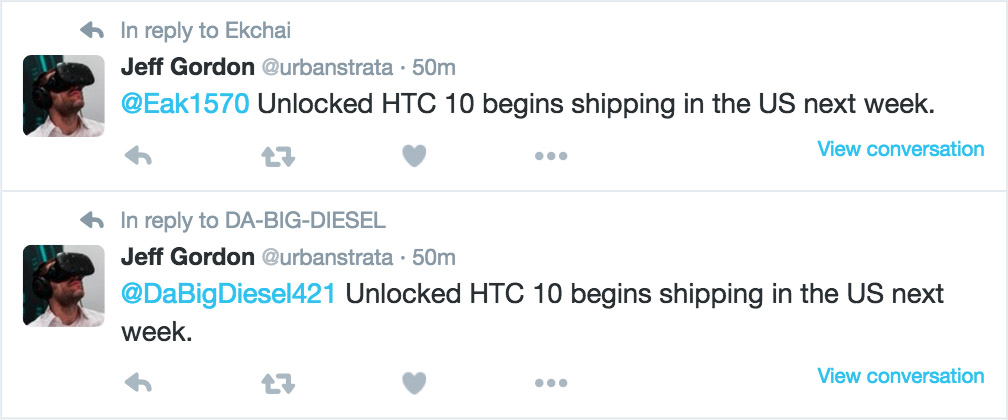 Cheers Bert!