As is always the case whenever Samsung announces new phones, this year's line-up for the Galaxy S7 and Galaxy S7 Edge includes a massive list of official accessories. From snap-on keyboards, new battery packs, and jewelry, to an angled fast wireless charger, handful of cases, and a couple of swappable camera lenses, I don't know that Samsung has missed a category.
Here are a few of the items you'll see over the coming months. 
Battery packs and chargers
Samsung has new battery packs with larger capacity and fast charging, but is also improving their fast wireless charger. The battery packs will weigh in with 5100mAh and 10200mAh capacities and fast charging. The new fast wireless charger is still fast, but it now includes a hinge or stand so that it can sit landscape (flat on a table) or portrait (propped up).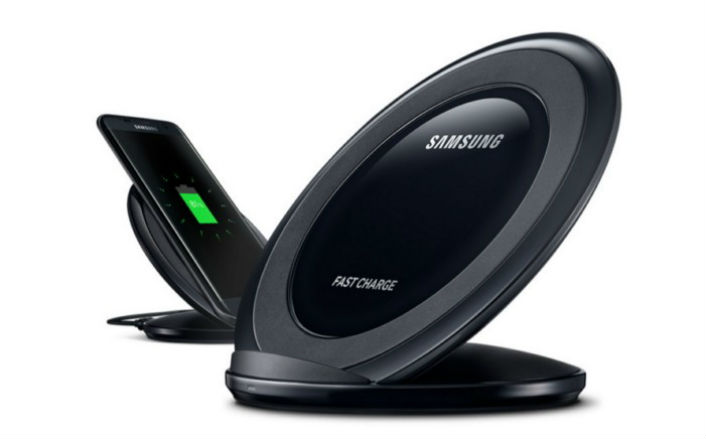 Jewelry / step tracker
Samsung is introducing a couple of smart bands that look like jewelry. They are a part of a "Charm" line that is capable of sending you notifications and tracking steps. They feature 17mAh batterys that are capable of lasting for up to 18 days and include LEDs for notifications. Take a look at this gems.
Cases
Of course, it wouldn't be a Samsung product launch without a variety of cases and case types to choose from. We'll see a new LED View Cover with LED display and controls via touch interface, Clear View Cover (image at top of post), S View Cover, and leather or TPU traditional cases.
Keyboard and camera lenses
On a slightly different note, Samsung is for the first time (at least to my knowledge) introducing swappable camera lens that attach over the top of the Galaxy S7's camera. Accessories like these have been around for years from 3rd party outfits, but these are coming directly from Samsung. They will be available as either Telephoto or Wide Angle lenses.
Finally, Samsung is bringing back the Blackberry-style keyboard cover we saw with the Galaxy S6 Edge+ for those who need that physical typing experience. I don't know that the keyboard for last year's phones was widely available, so we'll see what happens with this one.
Of course, Samsung hasn't offered information on pricing or availability for any of this at this time. I wouldn't be shocked if only half of this stuff ever actually makes it to market, but at least we know what Samsung is capable of and is working on.
Will you pick up any accessories for your Galaxy S7 or S7 Edge?