It's late 2015 and Verizon and Motorola are showing no signs of slowing this exclusive DROID partnership that once stood for everything we loved about Android. This year, to follow-up last year's DROID Turbo, the franchise has been given two new robotic, manhood-enforcing options in the DROID Turbo 2 and DROID MAXX 2.
I have had the pleasure of reviewing this year's flagship, which is the Turbo 2 and have had just enough time to hopefully give you the full scoop on whether or not this should be your next phone. I've taken its shatterproof display for a drop or ten, made sure its camera is as good as the shooter found in the Moto X Pure, and even tried to find out if we have a new battery king on our hands.
This is our DROID Turbo 2 review.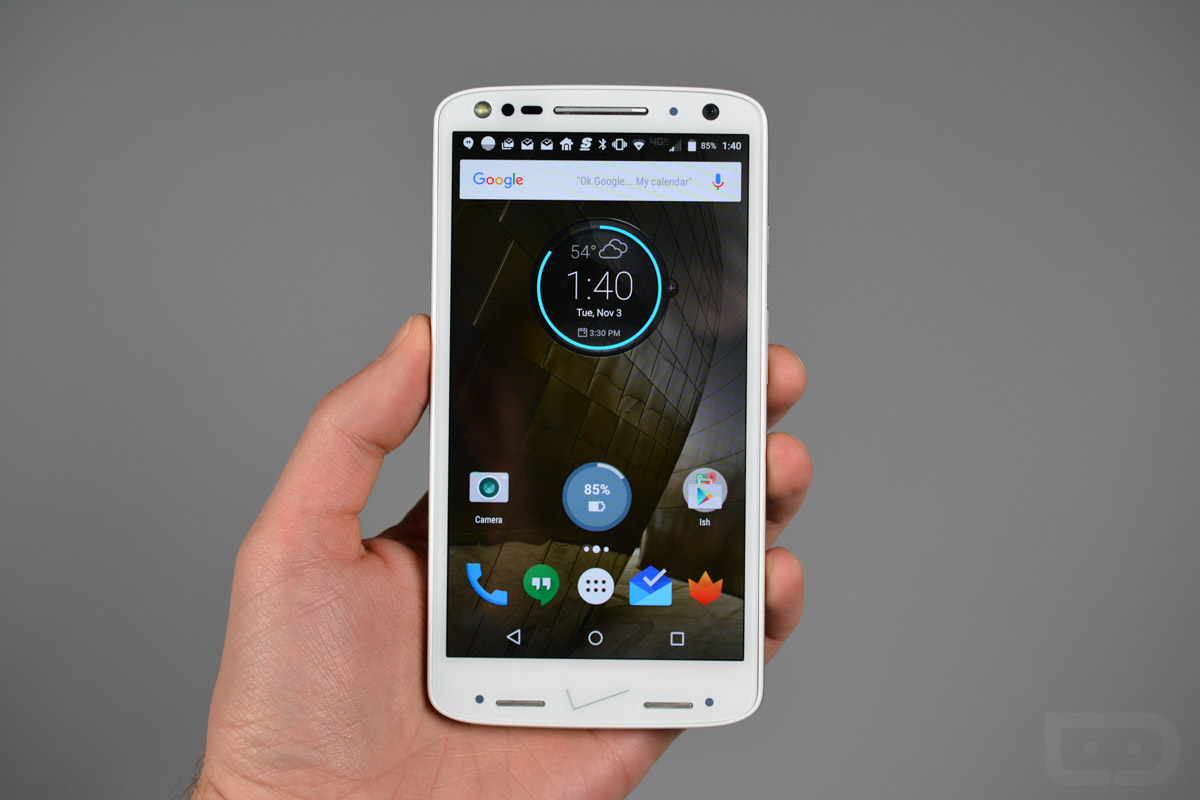 The Good
---
Specs
Motorola has done just about everything right in the specs department with the Turbo 2. It has a big 5.4-inch QHD Plastic-OLED display (2560×1440) that is shatterproof, 3GB RAM, 32/64GB storage with micro SD slot for expansion, Snapdragon 810 processor, 3760mAh battery (with fast and wireless charging), 21MP rear camera, 5MP front camera, 802.11ac WiFi, and mostly stock Android 5.1.1. For a current flagship, I don't know that it's missing much, except for maybe a fingerprint reader and optical image stabilization in the camera. Some will cry for a removable battery, but come on, it's packing a 3760mAh battery already – you won't be running out of battery any time soon.
Here are the full DROID Turbo 2 specs.
Shatterproof
Motorola has made a phone that uses a technology (or marketing term) called ShatterShield. It's a 5-layer approach to display protection that renders a phone "shatterproof." Yes, Motorola claims that they have a phone whose display cannot be shattered or cracked. Bold, right? Very, but Motorola is so proud and sure of ShatterShield in the DROID Turbo 2, that they are putting a 4-year guarantee behind it.
So is the Turbo 2 shatterproof? It very well could be. Because of the flexible P-OLED display they are using here, along with a variety of other protective layers to make up ShatterShield, I'm not even sure there is glass to be shattered. In fact, CNN put this phone through some pretty silly tests (like having a horse stomp on the display) that ended up denting the phone's display, not cracking or shattering it. Seriously, their variety of tests left dents in the display, but couldn't crack it.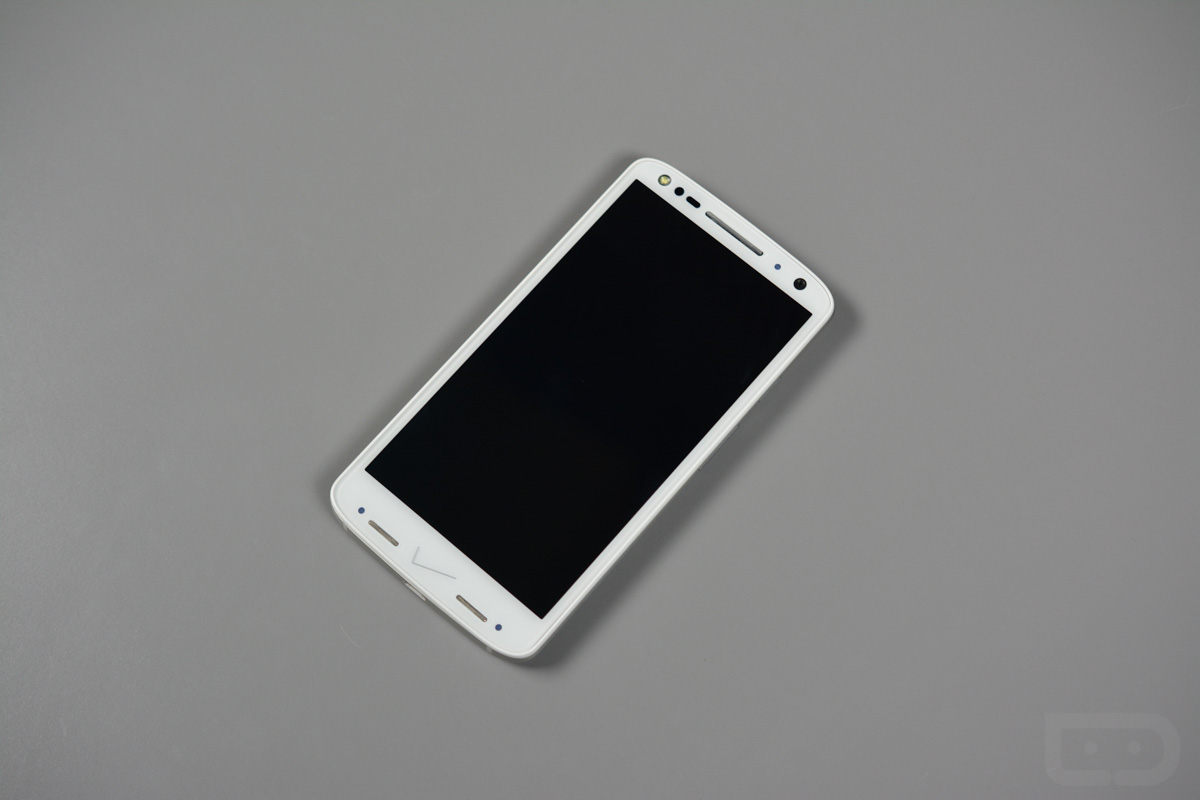 I've also done my fair share of drops and was not successful in cracking it. One thing to note, though, is that the phone has this really soft outer lens (part of ShatterShield) that scratches and scuffs pretty easily. You can think of it kind of like one of those really bad screen protectors that your weird uncle Larry uses. In my handful of drops on cement, pavers, hardwood floors, wood decks, and rough asphalt, I did leave some marks on the screen that are now there for the time being. Thankfully, Motorola is going to let you buy replacement top lenses, so you can actually replace part of the ShatterShield system yourself and constantly refresh your screen. As an added bonus, the top lens is where that ridiculous Verizon check sits, so there is a chance you'll be able to buy replacement lens that won't have it.
Before doing this review, I don't know that having a shatterproof display was something on my radar or "must have" list, but now I'm wondering if I even want to live without it. Phones like the Galaxy S6 or Note 5 and all their glass almost seem unappealing because of the care needed to preserve their beauty. With the Turbo 2, that constant thought in the back of your mind that keeps telling you to be careful and not drop your phone every time you pull it out of your pocket, isn't there. That's a big deal.
Software
In a time where Android phone manufacturers continue to try an differentiate by bloating up the software experiences with skins on top of Google's mobile OS, Motorola is still doing it, what we would consider to be, the right way. They offer Google's take on Android, which is a stock experience, but then add on useful features through their Moto suite of services. With the Turbo 2, you get an experience just like you would on the Moto X Pure Edition, DROIDs before it, and the Moto G and E line. That means you get Moto Display, Moto Voice, Moto Assist, and Moto Actions.
In fact, this is what I said about the Moto X Pure Edition, which still stands with the Turbo 2:
"Moto Voice still lets you have hands-free interaction with your phone and have it tell you information or complete tasks with a key phrase, like "OK, Moto X, what's the weather like?" With Moto Display, the most innovative lockscreen replacement is back and slightly improved. With Moto Assist, you still get to automate things in your life, like how your phone acts when you are asleep or in a meeting. And finally, with Moto Actions, Motorola is allowing you to turn on your flashlight with a chop, view the time or notifications with the wave of a hand, and now (a new feature), get Moto Voice responses into your ear instead of publicly out loud."
To get a full overview of the software, feel free to check out our Moto X Pure Edition tips and tricks video. These two phones essentially run the same software for the time being and this video a great tutorial on how to get the most out of your new Motorola phone.
As much praise as I have for Motorola when it comes to software, I can't exactly say the same for Verizon. What I mean by that is Verizon seems to force Motorola into tweaking things for no apparent reason, other than to piss people like me off. For example, almost all Motorola phones ship with the Google Now Launcher, which is Google's ultra-light launcher that gives you quick access to Google Now. On this phone, Verizon has essentially made Motorola swap that out, for "Launcher3," which is like a half-baked version of the Now Launcher. It's not updated and probably won't be updated until you get system updates, because it's a system app. Why make this move?
Along with annoyances like that, Verizon also loads this phone full of so much bloatware, that you feel like you are running VerizonOS. From the opening setup screen where it tries to force you into their cloud services, to the couple of dozen red Verizon icons in the app drawer, it's quite gross.
So, props to Motorola for continuing to do Android right. No props to Verizon, because they just don't know when to get the hell out of the way.
Performance
What can I say about performance on this phone other than, "Wow!" I've recently been using the Moto X Pure Edition, LG V10, and Nexus 5X, all of which are powered by Snapdragon 808 processors. I've noted in 2 of the 3 reviews I've done for these phones that they show some signs of hiccups, stutters, or lag. In fact, the Nexus 5X was one of the worst performing phones I have used in some time. With the Turbo 2, Motorola has ditched the Snapdragon 808 and gone with the warmly controversial Snapdragon 810. My experience with the 810 has been limited this year because many OEMs backed away from it, but on this phone, it's awesome. Great choice, Motorola.
When you get to flagship level phones, even the ones I just mentioned that have their low-performance moments, you typically need to look closely or even nitpick a bit to find issues. I do that when reviewing phones by just hammering on the keyboard (I only use the Google Keyboard, by the way). I also do that by watching closely at the animations when swiping up from home into Google Now or opening the app switcher or doing anything in Hangouts or Chrome. I can tell you that after coming from the Nexus 5X to this phone, the typing experience and general UI fluidity were about the most eye-opening things I noticed. Everything just opens as it should on the Turbo 2, highlighting the early Material Design animations found in Lollipop. The keyboard, oh my the keyboard, just types. I'm a typing pecker and so I know keyboard lag. There isn't any here, at all. Motorola tossed in the prettiest vibration motor as well, which feels like soft rabbit bums fluffing your fingers as you type. It's a dreamy experience.
In all seriousness, the Turbo 2 really is about the best performing phone I've used in a while. It's powerful enough to get everything done I need it to, but it also seems to be efficient enough to outlast everyone in the battery department.
Customization
For the first time, Motorola is letting the DROID franchise into its Moto Maker service. That means you get dozens of choices of backs, accents, frames, and textures with the Turbo 2, so that you can make a phone that is as close to a one-of-a-kind custom as it gets.
Like with the Moto X line, the Turbo 2 has a couple of storage options (32GB or 64GB), 3 frame colors (silver, gold, dark), 14 backs (leather, ballistic nylon, soft touch), 10 accents, engraving, and a splash screen greeting. You can make some really cool combinations, especially if you go the ballistic nylon route. You won't find another phone on the market with that kind of texture.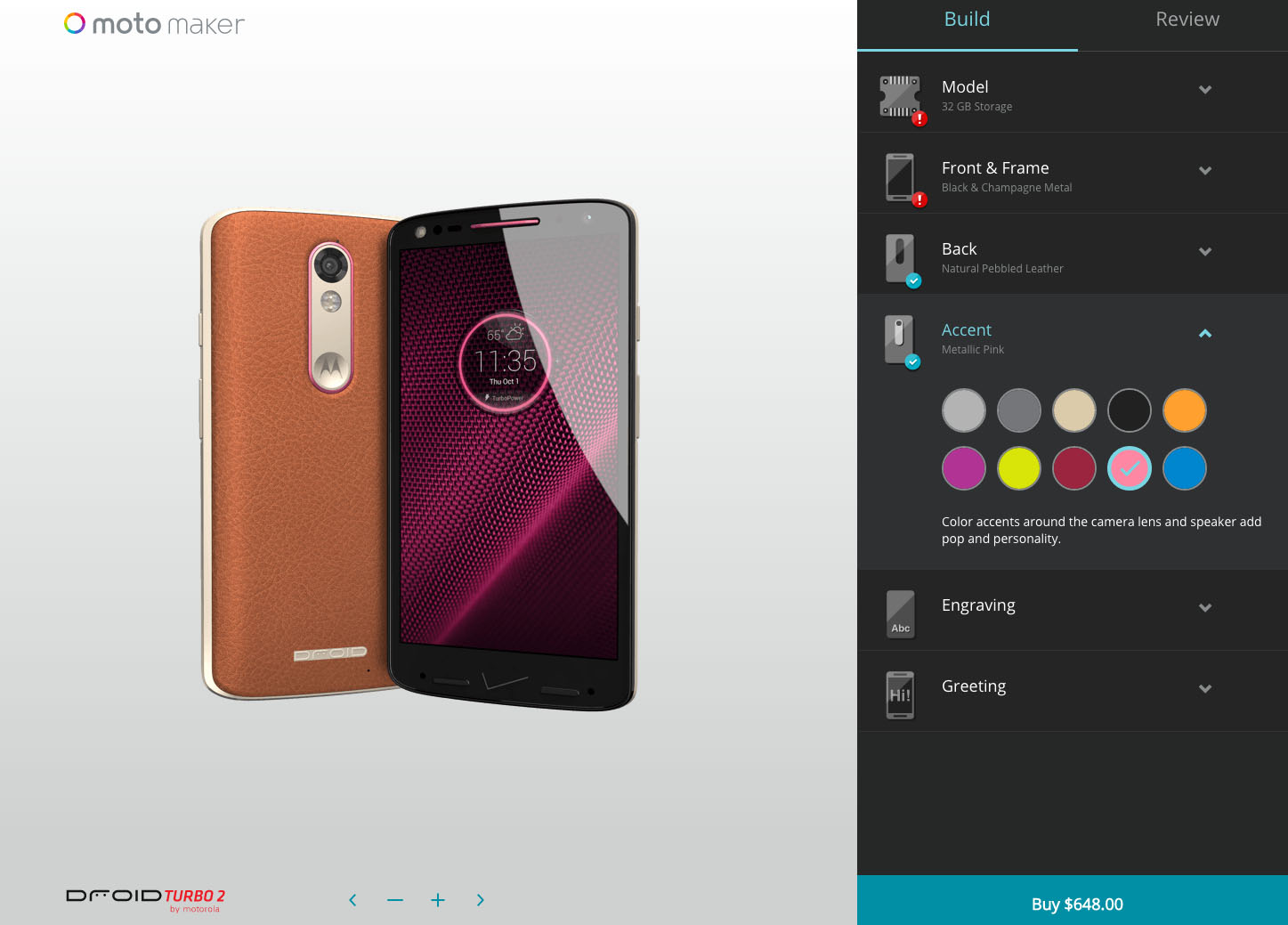 Also, keep in mind that Motorola is doing a first of its kind program with the Turbo 2, where if you buy the 64GB model, they will let you do a "design refresh" once within 2 years. That means you can design a 64GB version of the phone today, then once within the next 2 years, design another one for free. All you have to do is wait for your new design to show up before returning your old one. Hopefully, we see this "design refresh" program carry through to other models of Motorola phones, like next year's Moto X.
Camera
The 21MP camera in the Turbo 2 is the same sensor (as far as I know) as is used in the Moto X Pure Edition. That's a good thing, because the Moto X's camera was the best in a Motorola phone to date and ranks up there with other high-end smartphone cameras.
With the Turbo 2's camera, you get an out-of-the-box experience that shoots widescreen 16MP shots. As is almost always the case, I flipped my settings to the traditional 4:3 ratio, which bumps the resolution up on this camera to the full 21MP. It also shoots 720p slow-mo video recording, has 4K video recording, a night mode for stills, auto-HDR (that I left on), panorama mode, and the option to save everything to an SD card (if you insert one). All of these options are handled through a slideout menu that is accessed from the left side that rolls like a wheel.
The camera may lack the manual controls you'll see from Samsung and LG's cameras, but I can imagine that a few of you aren't interested in adjusting ISO, shutter speeds, and focus. Many of you probably just want to open the camera and start shooting quality photos. With the Turbo 2, you get that most of the time. The UI, as can be seen above, is dead simple and super easy to use. You just open, tap, and shoot.
In terms of results, like with the Moto X Pure Edition, I came away impressed. The camera is quick to load, quick to focus, and quick to shoot. I found it to shoot in HDR quite often, but with this camera, you almost don't notice because it's just as fast with HDR as it is without. I point that out because when Google's Nexus 5X shoots in HDR, you'll often find yourself waiting in between shots while it processes.
Below, you'll find a bunch of samples that haven't been edited in any way other than by resizing through Lightroom, which also reduced the file size. You should be able to pick out the amount of detail that this camera can capture (especially in the full resolution shots), along with the mostly natural colors. Even with HDR doing a lot of heavy lifting, I don't really feel like it's ever overdoing it. Sure, it can get wild with reds, but the rest of the time, the camera software here seems to really pull out the colors your eye can see.
In low light, this camera is average. With its f/2.0 aperture, it won't capture as much light as the cameras found in the Galaxy S6/Note 5 or LG G4/V10 or Nexus 5X. So if you really want the king of dark room shooting, this isn't it. Still, it's capable and will get the job done.
Overall, this is a quality smartphone camera that you won't be disappointed with.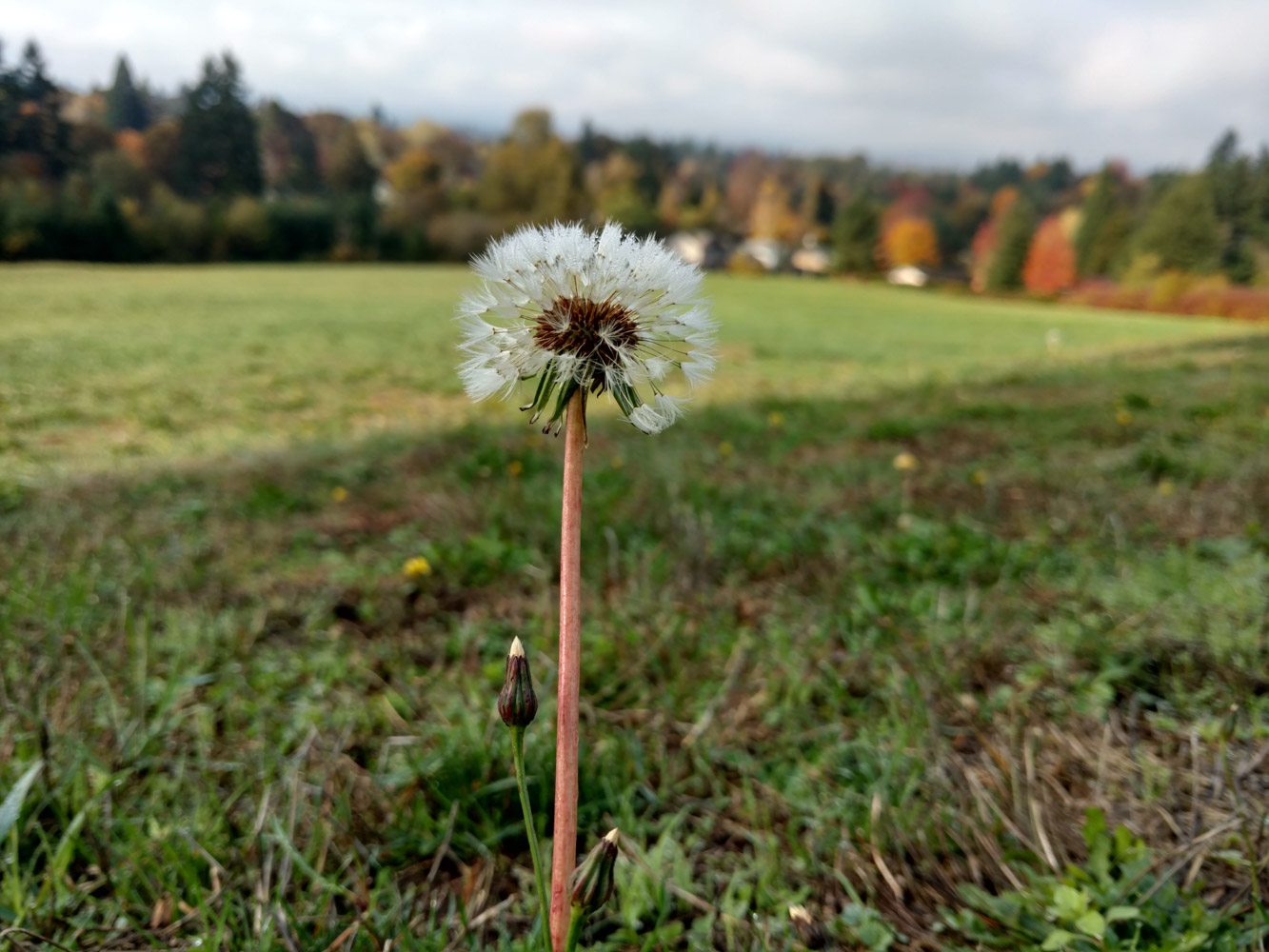 If you want to see the full resolution photos, you can download them here.
Battery Life
My Black Hole of Signal Death (BHoSD) testing facility, which is my home office that seems to get terrible coverage on all the major carriers, has been well-documented around these parts. For those new, just know that the BHoSD has scared and pissed off a number of people because it often reflects poorly on the battery life of phones I happen to be testing. With that in mind, you should also understand that Verizon service at my house is about the absolute worst of them all. So when I took on the task of testing and reviewing the Turbo 2 and its mega battery, to say that I was very interested in seeing how it could hold up in this battery life hell hole is an understatement.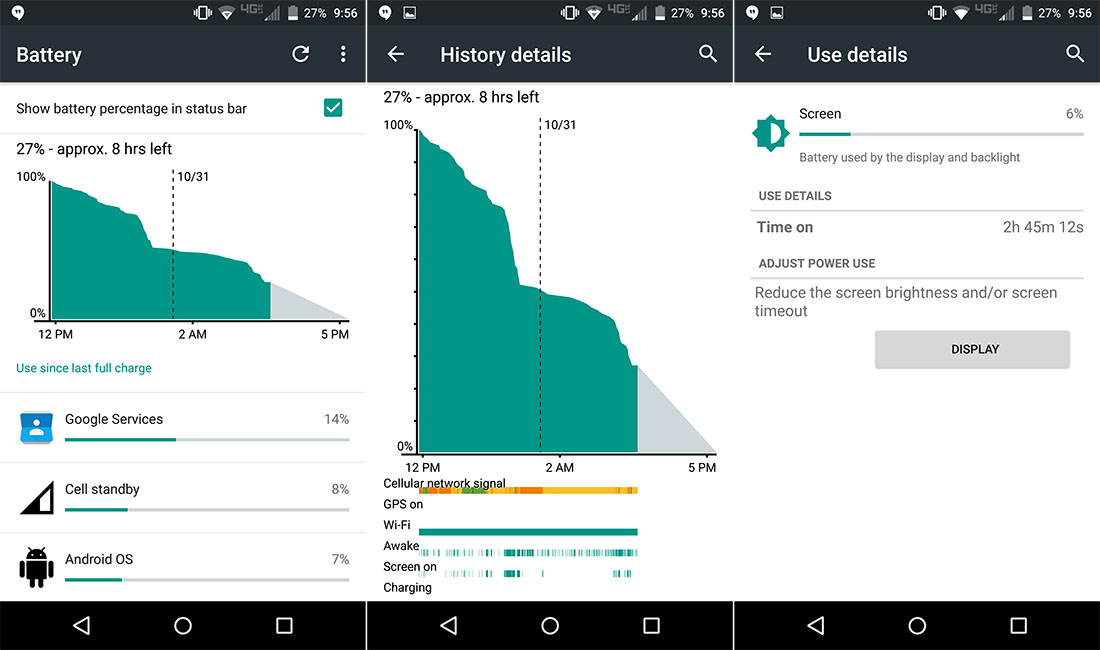 Here is what I know. The 3760mAh battery inside the DROID Turbo 2 will last you for a really, really, really long time. As you'll see in the included screenshots, I was typically pushing close to 3 hours of screen on time in a day, with the phone registering my cell connection as either yellow or orange (which is terrible), and I still was lasting through until the next morning. On lighter days, I would go to bed with 40% battery remaining. And that's with this horrific Verizon connection! It almost excites me to think that someone could own this phone and have a solid green connection to a Verizon tower throughout a day. It may actually last the 48 hours that Motorola and Verizon say it will.
For those curious, here is a screenshot of my GSAM stats for the past week.
Somewhere-in-the-Middle
---
Display
We already talked about this phone's display being shatterproof, but that spec is almost its own category. When the conversation is done, you still need to know whether or not this shatterproof grouping of pixels is even worth looking at. I'll just have to say that my feelings are somewhat mixed, though mostly good.
On one front, the display has super impressive viewing angles, so you can consume whatever is on your screen from almost any angle. It also gets really dark and is great if you spend a lot of time in low-light settings and want to keep your retinas intact. But, its brightness levels aren't great. So while you can see the phone when it's laying off to your side at your desk or dim it nicely in dark situations, you may struggle to see it clearly when in any sort of ultra-bright scenario (like in sunlight). The display is also, at least in person (the images below don't show it), quite warm and almost yellowish to my eye. It's just not that clean, crispness you see with a Samsung display, especially when you are viewing anything white, like the Droid Life site. I would typically prefer a cooler temperature to displays and so this turns me off some.
Overall, though, I've enjoyed the 5.4-inch P-OLED panel here. It certainly has its issues, but still performs much better than I had anticipated. As a first attempt at using a Plastic OLED display, Motorola did a pretty decent job.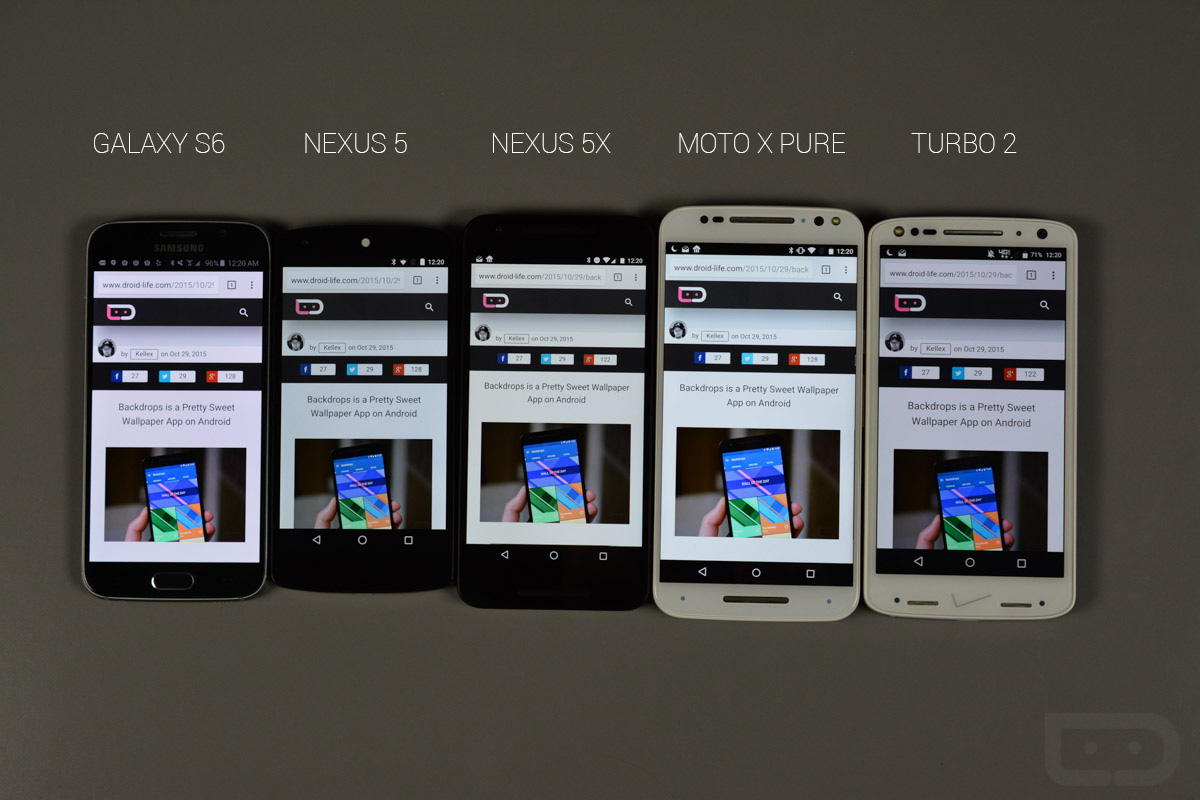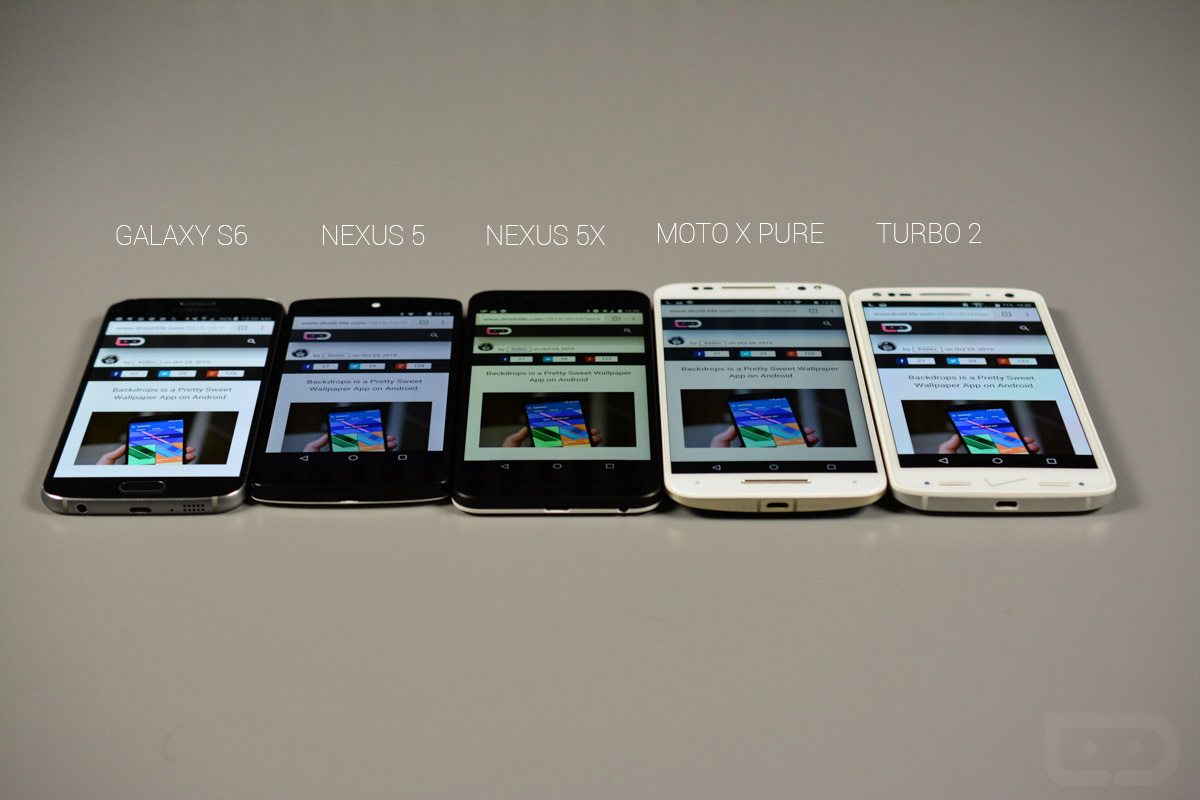 Design
Design is always a personal taste thing, so excuse me for being blunt here in saying that the white version of the Turbo 2 is about the ugliest phone I have ever seen. Actually, I should clarify that by saying that the front of the white version is the ugliest phone I have ever seen. Because of the excessive amount of IR sensors and cameras and flashes and other sensors and speakers and split speakers and that f*cking Verizon check mark, there is just no helping this phone. It's ugly. It's really ugly.
Here, look at it.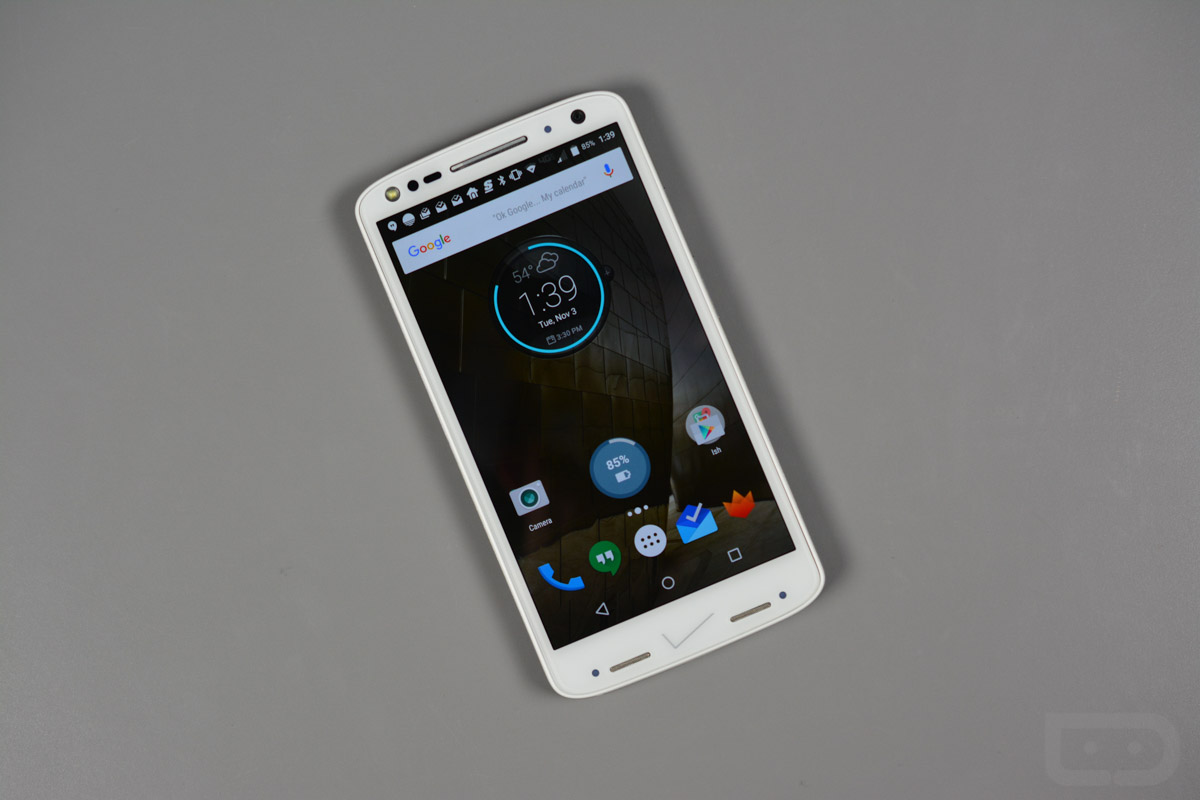 Now, I don't know that I would say the same for the black version. The black front still has all of those same sensors and such, but most of it is hidden by the fact that it blends in with the black coloring. Sure, you'll still have that disgusting Verizon check at the bottom and that ridiculously dumb split speaker setup, but you will be able to live with it. What I'm trying to say here is that if you plan to buy a Turbo 2, avoid the white version and a 2-year period of being ridiculed by me.
As for the rest of the phone, it's not half bad. You have those leather, ballistic nylon, or soft touch backs, a full metal frame, and nice contour to the backside. My review unit is a soft touch white and it feels great, just like it does on the Moto X Pure Edition. The phone is probably slightly too wide for my hand, though, plus that massive chin where the Verizon logo sits makes for a phone that is often awkward to handle. Like with the display, the overall design here is a mixed bag. The Turbo 2 is built well, but man, Verizon and Motorola sure aren't trying to win any pretty awards with it.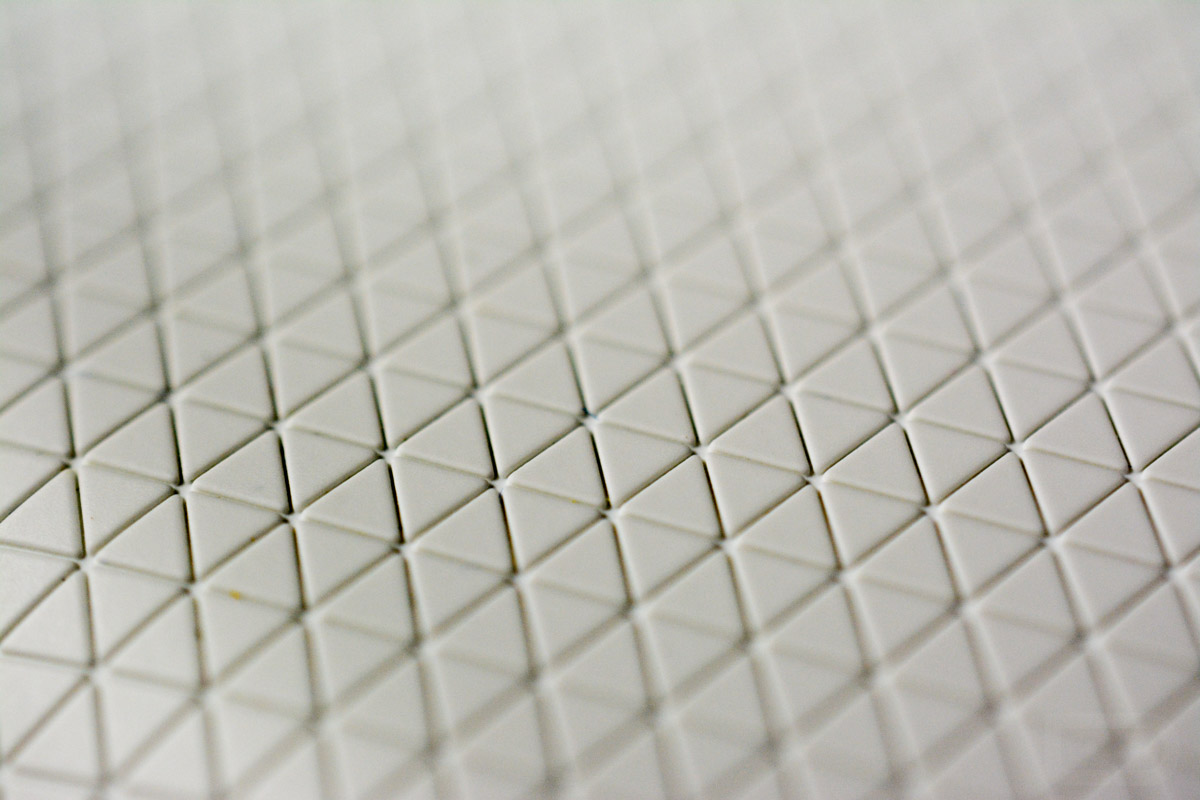 Software Updates
Motorola has pissed off a good handful of customers over the past 12 months, with most of the anger stemming from slow, or in some cases lack thereof, software updates. I penned a piece recently on the subject, but the basics are this. Ever since Lenovo officially took over for Motorola, they have gone from the best in the business at updating their phones to about the worst.
Part of the whole issue centers around last year's DROID Turbo, where Motorola took 7-8 months to get the phone updated to Android Lollipop. They've also recently cut out updates for some of their carrier devices after only being a year old. It's a bad situation all around. Unfortunately, Motorola hasn't even attempted to make the situation better by being open about their plans going forward.
So here we are with this shiny new DROID Turbo 2, which is running Lollipop. I point that out because, well, Google released Android 6.0 Marshmallow about a month before Verizon and Motorola announced their new DROID phones, yet all Motorola would tell us is that this phone is "updatable" to it. Keep in mind that HTC announced a phone the week before the Turbo 2 and MAXX 2 that runs Android 6.0 and also told us to expect updates within 15 days of Nexus phones going forward. But again, Motorola would only go as far as to say, "updatable."
This phone will more than likely get Android 6.0 at some point, I don't think there are any doubts there. But we are pointing it out and knocking Motorola a bit for it because it's anyone's guess as to when that will be. We also don't know how long Motorola and Verizon plan to support the phone, give it updates, or care to tell anyone about any of that.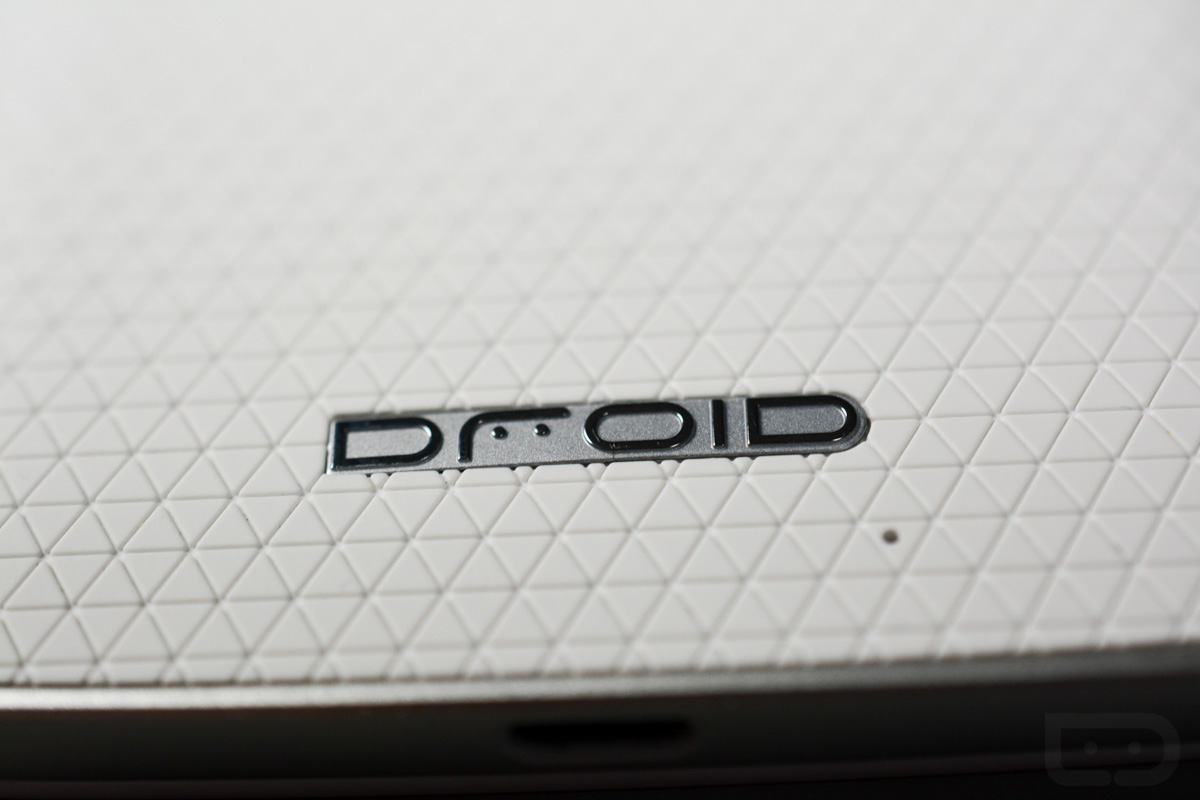 The Not-so-Good
---
Verizon Exclusivity
People are continuing to ask if Verizon's DROID line of phones still has any meaning or level of importance. Honestly, I don't really care because it's just a phone. Those conversations are for talking head journos who need to feel important by having a hot take on Twitter. I just want to know if these DROID phones are still good phones. As it turns out, this Turbo 2, like the original Turbo, is a pretty awesome phone. My only problem with it being a DROID, is that only Verizon customers get to experience it. Motorola is selling an unlocked version called the Moto X Force, but it's only available outside of the US and that's too bad. In the end, I can sit here and tell you that this is a phone you should consider, but if you aren't attached to Big Red, I'm almost hoping you didn't even read this far in the review.
No Fingerprint Reader
Not having a fingerprint reader isn't the end of the world, but it's time for Motorola to start adding them into phones. I know that they ditched the idea of using fingerprint readers after the supplier they planned to use with the Nexus 6 was bought by Apple, but countless companies have now shown that they are capable of putting good fingerprint readers in phones. Google's new Nexus phones have the best in the industry, if you ask me. So again, not having one isn't the end of the world, though we would prefer that flagship level phones have them. They provide a level of security without compromising the user experience and also fit nicely in a world that could soon be dominated by mobile payments.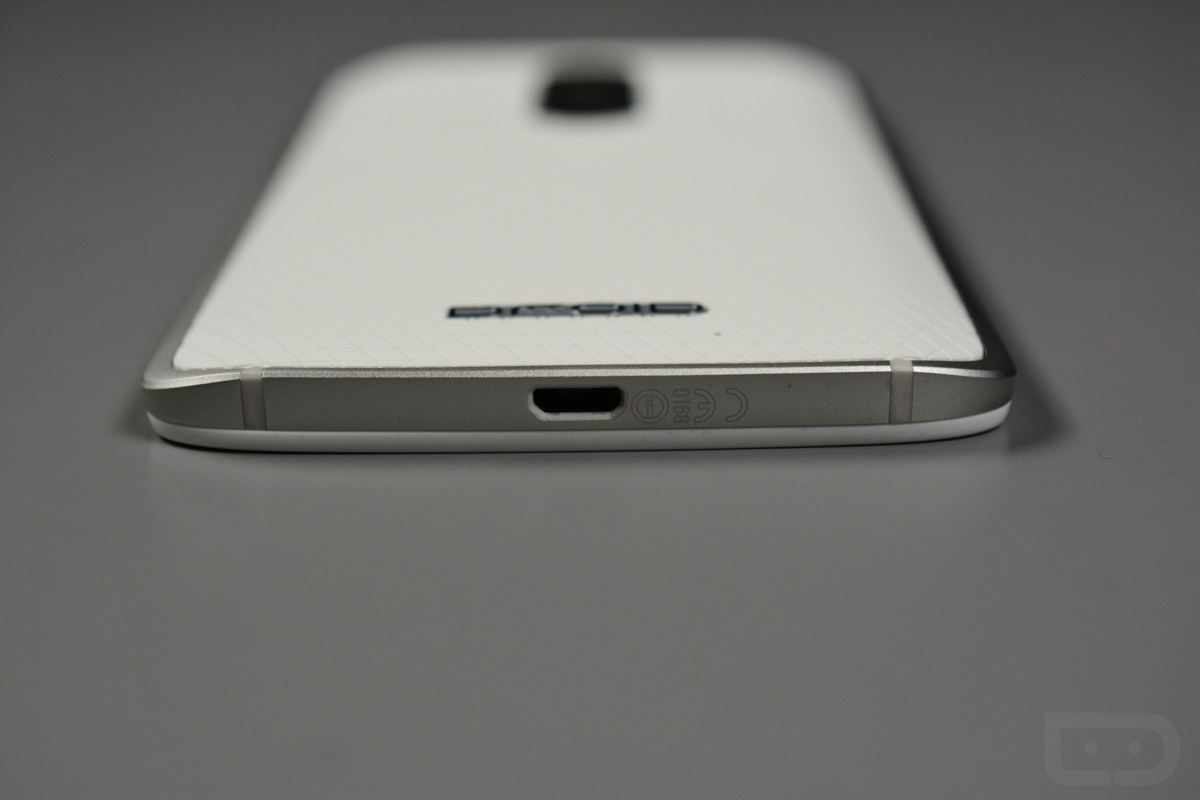 Bloatware
I counted at least 23 bloatware that I found were immediately in need of a disabling or uninstall. Twenty-three. At one point, the DROID brand stood for pure Android, power, and being better than the competition. When you boot up a DROID today, it feels like it's nothing but a greasy advertisement for all of Verizon's shit services.
Other Notes
---
Wireless charging:  This phone has wireless charging! That's kind of odd, just because it has such a massive battery and would take about 5 hours to fully charge. I don't actually know the time, but I don't really even want to try. I guess you could keep a wireless charger by your bed and charge at night or something and go that route, to charge over a long period of time where you don't need your phone. Otherwise, you are almost always better offer using the phone's included Turbo Charger.
Call quality:  Hey, as always, nothing to report here! I promise, one day, I'll find a phone with a terrible speaker and the call quality is something to complain about. For now, just know that all is well in Moto DROID Big Red land. Call away, 70 year olds!
Video
---
Unboxing
Gallery
---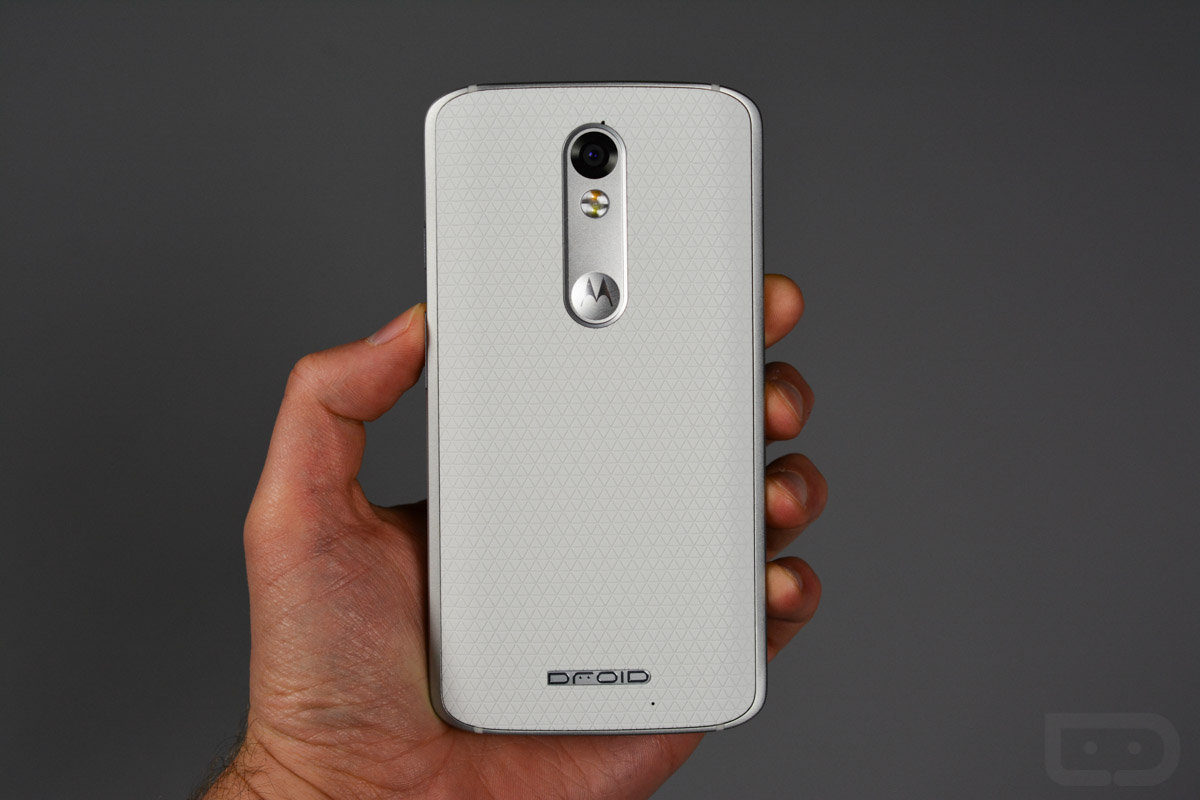 The Verdict
---
Do I think you should buy the DROID Turbo 2? I don't think you would be disappointed if you did go that route. The phone is fast – really fast. It has all of the rest of the specs you need in a modern flagship phone, as well, but it's also built to last. The freakin' thing is shatterproof, folks, shatterproof. That's a big deal for a lot of people. You can also design your own, refresh that design in a few months when you get bored of the first design, never worry about finding a charger again during your commute home, snap quality photos, and enjoy mostly stock Android.
Just understand that if you buy this phone, you are putting your software future in the hands of Motorola and Verizon, which haven't exactly proven to be capable in recent months. That could change going forward, of course, and we hope that it does. This is a phone that should be experienced without drama.