The Moto X Pure Edition has a lot to live up to around these parts. For two straight years, its predecessors have grabbed the "Phone of the Year" crown in our end of year top 5 list. That's a pretty big deal when you consider all of the phones that come out each year. Obviously, we love the approach Motorola takes to Android phones and so if you have used any of the Moto X products, you probably aren't surprised that they won even with a couple of troublesome areas (their cameras, for one) that certainly weren't best-in-class. Motorola gets Android – that's about the best way I can explain their phones.
So what about this year's model? Can this phone 3-peat with its incredible combination of specs, price, and availability? Well, I'd be spoiling this whole review if I told you that now before we even get into this. What I will say is that we've spent a good week+ with a custom designed Moto X Pure Edition and have a ton of opinions to share about it.
This is our Moto X Pure Edition review.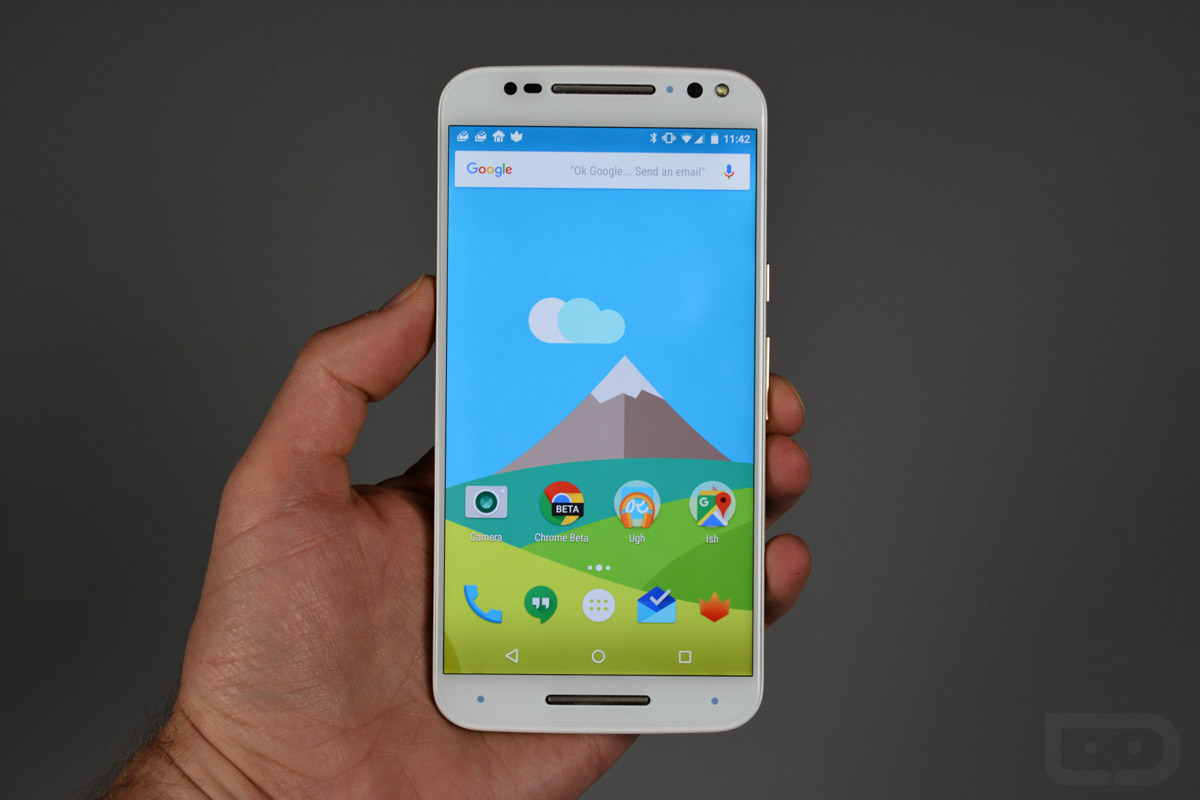 The Good
---
Price and Availability
You can't really talk about the Moto X Pure Edition (MXPE) without talking about its price and where you can buy it. Motorola is taking a completely new approach to selling this phone, an approach that is typically reserved for smaller, lesser-known phone manufacturers. With the MXPE, Motorola is selling the phone unlocked, directly to consumers through its own site, Amazon, and Best Buy (with more to come). You can't walk into a Verizon or AT&T or T-Mobile store and buy this phone. Motorola is cutting out those middle men to keep the price down, hopefully deliver you software updates faster, and let you choose where you want to connect it.
As for the price, well, you are looking at a heck of a deal. The phone starts at $399 for a 16GB model that can be customized by you through Motorola's site at no extra charge (depending on the choices you make). That's $399 and you own it out right. There aren't confusing payment plans or contracts here. With the Moto X Pure Edition, you pay a starting price of $399 and then walk away with a new phone that is 100% yours, that you also get to take to a carrier of choice.
If you compare the starting price to phones like the Galaxy S6, which retails at minimum for $600, you can see the value here.
Now, not everyone is going to be a fan of paying $400 upfront for a phone. Some like monthly payment plans or buying phones for cheap with a new contract. But in our opinion, this is the future and it's time people start getting used to the idea that you can buy a phone and own it, instead of thinking of a phone purchase as a monthly payment or lease deal.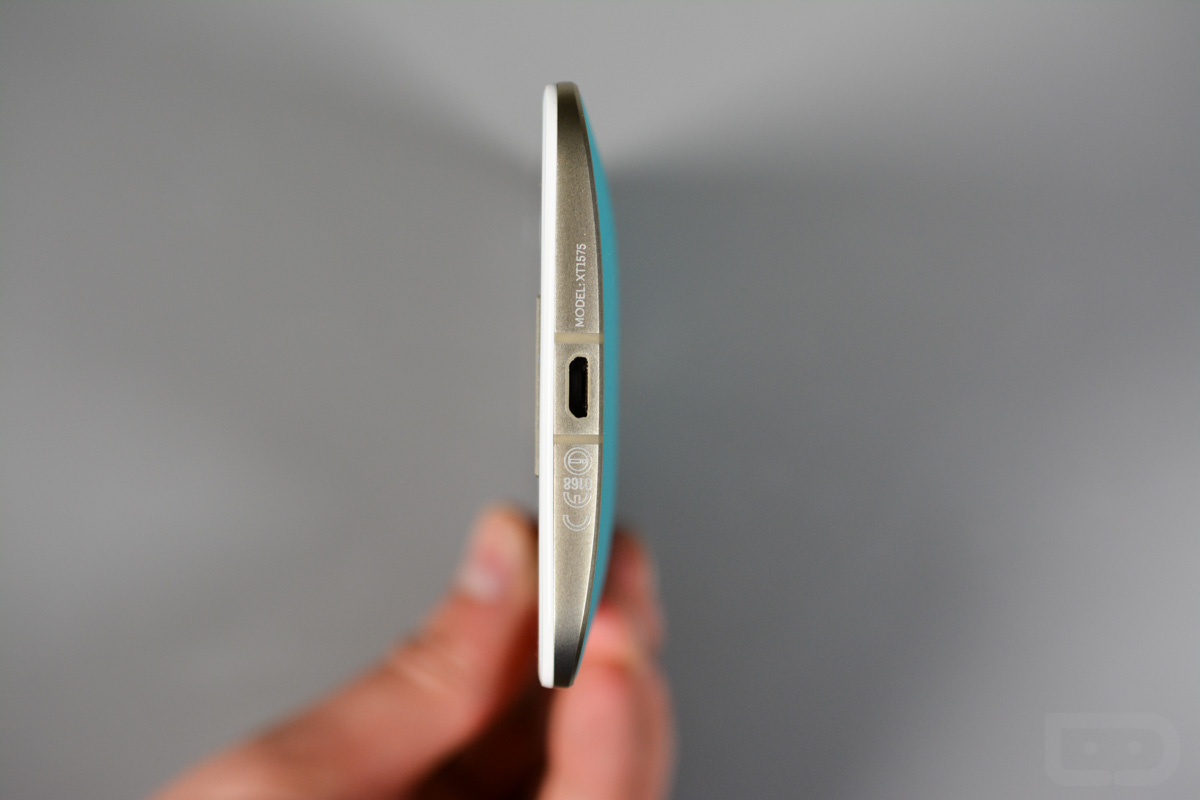 Specs
Of course, that starting price of $399 wouldn't be much of a deal if Motorola didn't include top tier specs, right? Well, they did. They went with a 5.7-inch QHD LCD display, 3GB RAM, 21MP camera, 3000mAh battery, 5MP front camera with front flash, 16/32/64GB storage with microSD support, Turbo Charging, Snapdragon 808 processor, and dual front stereo speakers. Motorola didn't really leave much out except maybe optical image stabilization with the camera and wireless charging.
Again, if you compare the specs here to other flagship phones, you are paying at least another $100. There is true value here that we haven't seen from a company like Motorola before.
It Works Everywhere
If you tried to tell me that the best piece of technology inside the Moto X Pure Edition is the modem, I don't think I would disagree. The modem inside the MXPE supports 14 different LTE bands, including those from AT&T, T-Mobile, Sprint, and Verizon. It works with all of the major US carriers in a way that few phones have before it. It's a pretty incredible thing to see a phone that starts at $399 that can be taken wherever you want to take it. No carrier gets to interfere with this phone. No carrier gets to bloat up a phone that you own. No carrier gets to hold back software updates. It's yours and you are in control. Plus, with a single model being available in the US, Motorola has so much more control over delivering you the latest in Android advancements.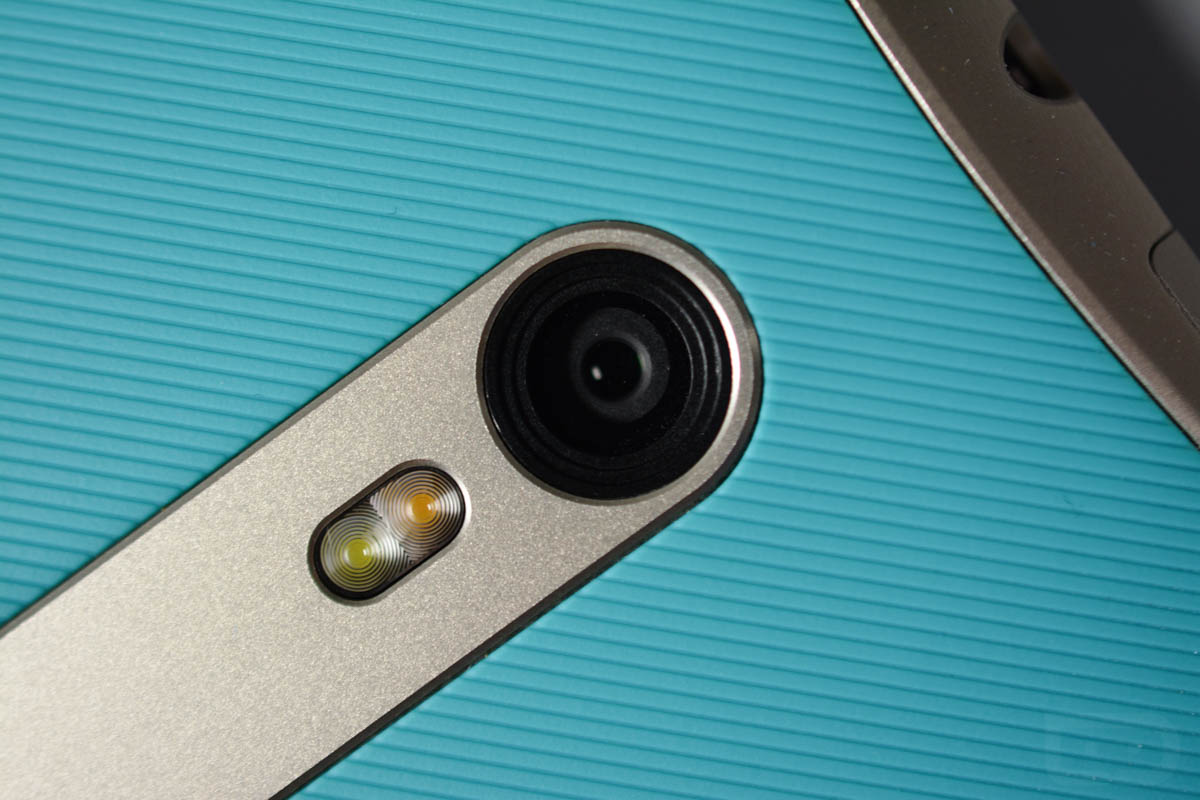 Camera
Motorola is pretty excited about the camera inside the Moto X Pure Edition. Before they ever announced the phone, they let famed camera reviewer, DxoMark, take it for a spin and report back. To Motorola's delight, the scores came back high enough to put it up there with the Galaxy S6 as having the best smartphone camera on the planet. It also landed ahead of the iPhone 6 Plus.
Motorola used a 21MP Sony IMX230 sensor in the phone and generally bragged about how much time they put into fine-tuning it during the phone's unveiling. They want you to believe that this is the best camera they have ever put in a phone and they are probably correct in telling you that it is. It's a pretty solid smartphone camera and easily the best from Moto.
The UI of the camera remains the same as it has been for years. It's dead simple. Motorola autofocuses for you, then lets you tap anywhere on the screen to quickly tap a photo, rather than a often times hard-to-find shutter button. If you want more control, you can switch it to a tap to focus mode with quick exposure controls. That's about it, though, in terms of manual controls. So if you want a straight-forward, easy to understand approach, you can't go wrong here. If you want to control every little aspect of your phone's camera, you'll need to find a third party app to do those types of things.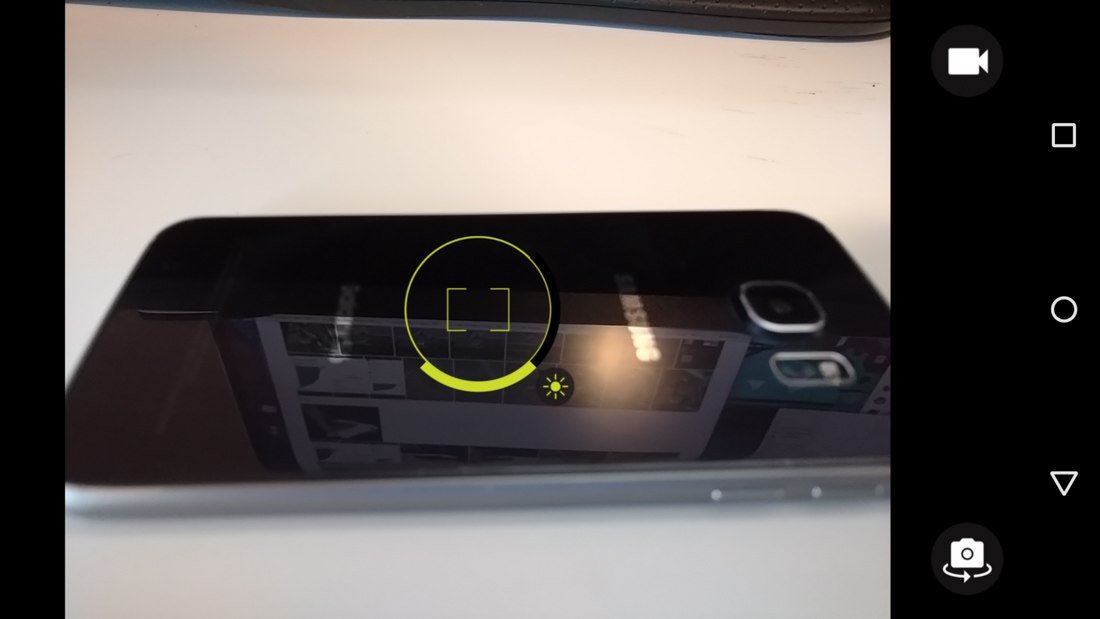 The camera shoots out of the box in widescreen 16MP shots, but I flipped mine over to the full 21MP 4:3 resolution. It also has 720p slow-mo video recording, 4K video recording, night mode for stills, auto-HDR (that I left on), panorama mode, and the option to save everything to an SD card (which I did). All of these options are handled through a slideout menu that is accessed from the left side.
So what about actual results? Here are some sample shots that have been resized only. Full resolution shots are also available.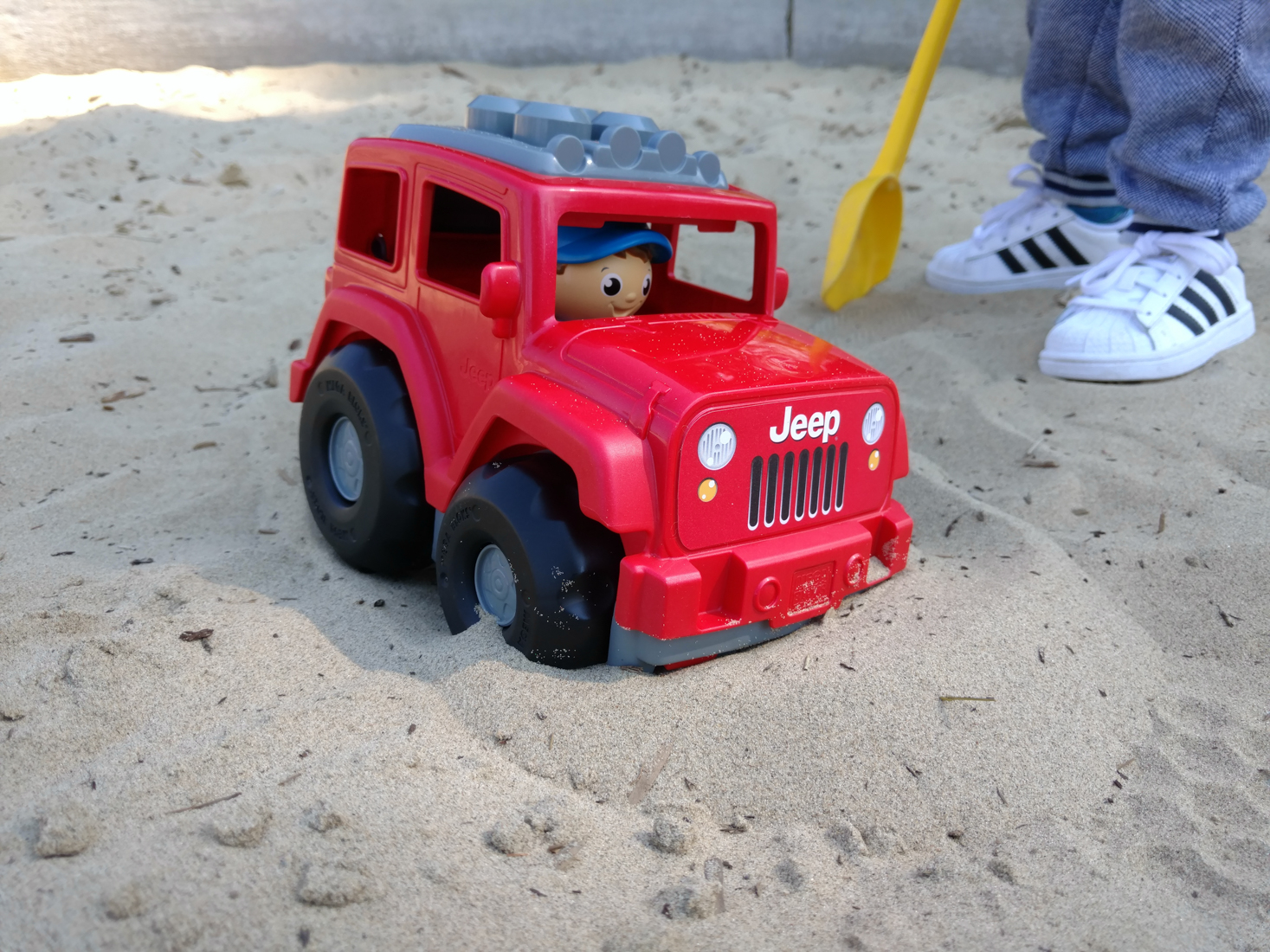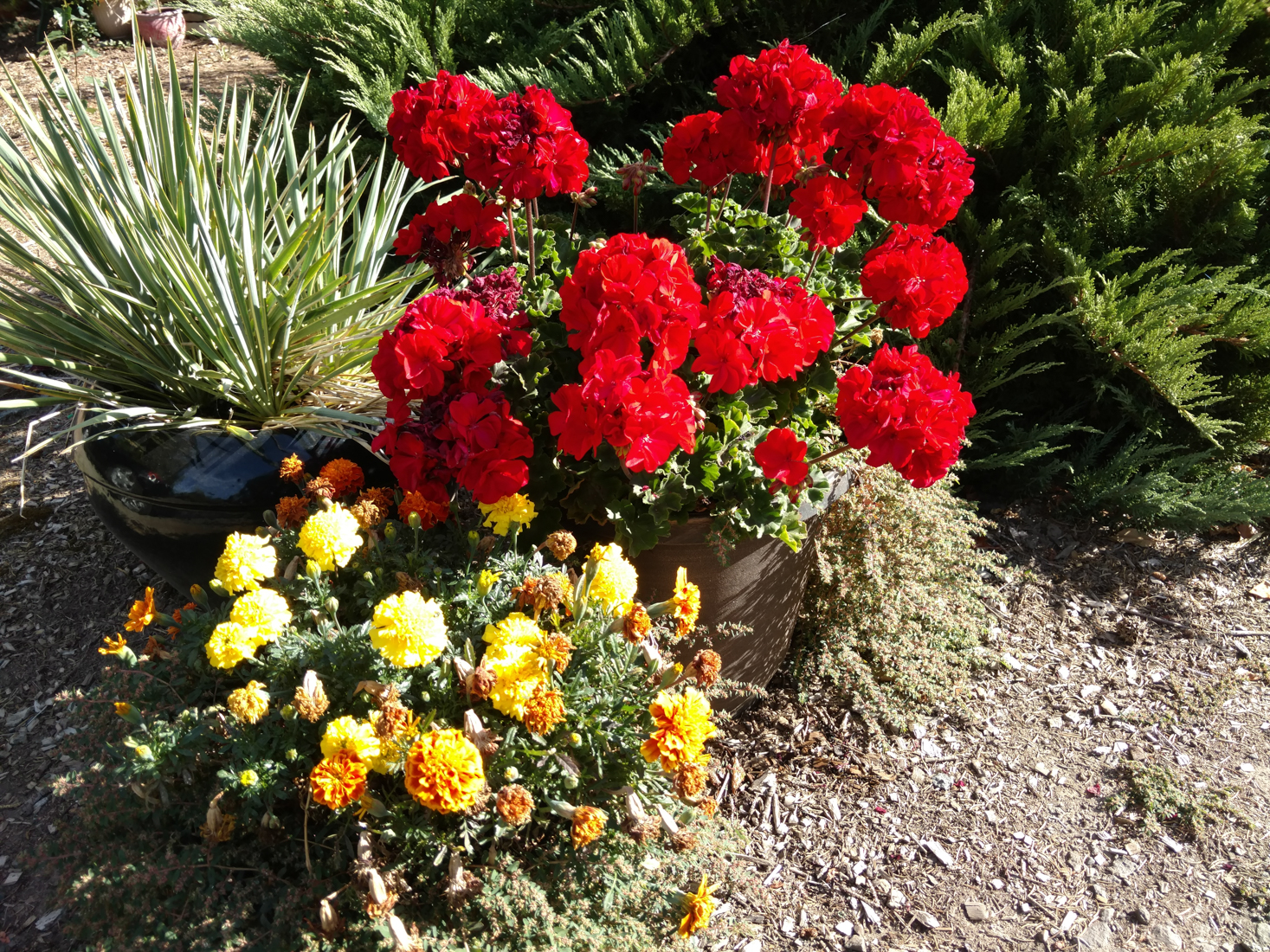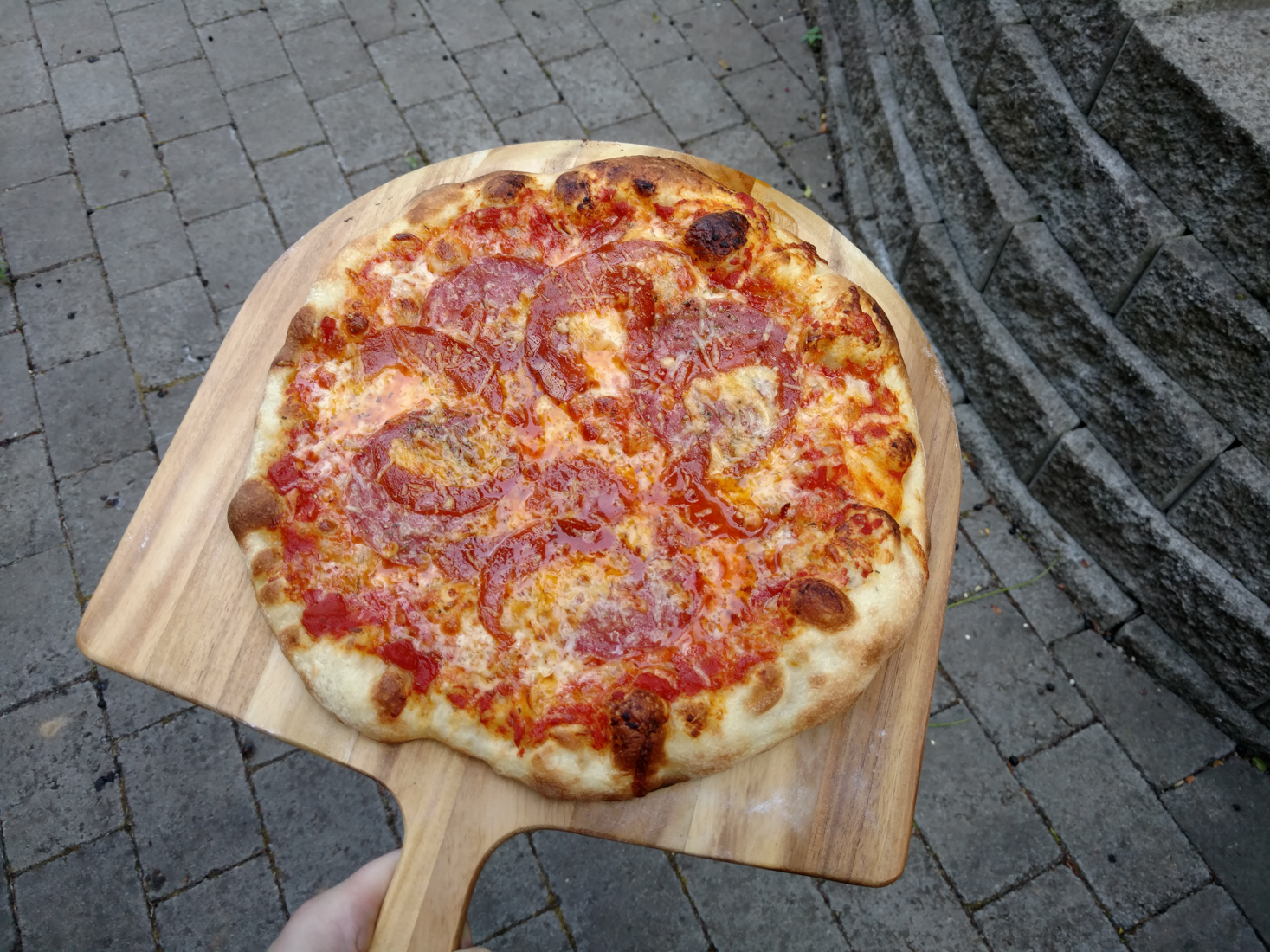 Full resolution: 1 | 2 | 3 | 4 | 5 | 6 | 7 | 8 | 9 | 10 | 11 | 12 | 13
I tried to cover a range of types of shots like outdoor landscapes and building backgrounds, macros of food and flowers, some low-light indoor situations, and a couple of people (my son in this case). Colors in almost all situations came off extremely accurate to my eye, with an intense amount of detail, thanks to the 21MP resolution. For example, look at the full resolution photo of the jeep and also of my son standing at the bottom of a play structure holding that soccer ball. In the jeep picture, you can see every single piece of sand on the jeep's tire, along with great detail of the figure inside. In the photo of my son on the playground, zoom all the way into his Adidas Superstar shoes and you can actually read "Superstar" in clear detail. That's just nuts. It's an amazing amount of detail for a smartphone camera. The one outlier in good light is the picture of the flowers that just looks completely blown out by the sun. I took this photo 3 times and they all look this way.
In outdoor situations, this camera might be the best I have ever used. In low-light settings, it's a bit of a mixed bag depending on what you are looking for.
For comparison's sake, here are low-light shots from the MXPE and the Galaxy S6, which arguably has the best smartphone camera. The lighting here is pretty bad, but each is able to capture a good amount of detail. What you will notice immediately is that the Galaxy S6 seems to capture more light, slightly more detail with less noise and processing, and overall, a better picture. But here's the thing – the color is all sorts of off in the Galaxy S6 picture than from what a human eye sees. The MXPE actually captured the more accurate picture that isn't blown out by yellowish warmth. It's actually showing the true grey color of that desk and the red of the speaker. Sure, it's not letting in quite as much light, so it all appears darker and overprocessed, but it really is the more accurate picture.
You get somewhat of a trade-off with the MXPE in low-light. It's not as fast to focus or capture when compared to the Galaxy S6, but it may produce results that are more appealing in the end.
Moto X Pure vs. Galaxy S6 | Full resolution: 1 | 2
In the other images above in low light situations, you can see that the camera is processing the hell out of the photos to try and re-create the scene, so those fine details you see on the outdoor shots just aren't there. That's to be expected of course, I just feel like you are losing them quicker with this camera. Maybe that's the lack of optical image stabilization or maybe Motorola just needs to continue tweaking.
As for other notes, I should point out that the camera has a really quick shutter once it is in focus. You tap and it shoots. On a related note, I did have issues with autofocus either being too slow or failing to focus on the area I wanted here and there. That's kind of a big issue at times, especially when you only have seconds to get the perfect shot. I get the feeling that this can be fixed, especially since the speed of the autofocus is something that Motorola is bragging up in marketing materials. Finally, the camera just isn't all that quick to launch. If you use the twist-to-capture gesture that was present in the last two Moto X phones, it just seems like it takes a couple of seconds too long to fully load up. The Galaxy S6 is much quicker to launch, focus, and snap.
Overall, this camera is indeed Motorola's best ever. It's fast to snap once it has a correct focus, is incredible in good light, and decent in low-light situations where your objects aren't moving. I would be willing to bet that most of you will be more than satisfied here.
Design
I like the design of this new Moto X, probably because it's a solid evolution on the previous generation Moto X phones that I liked as well. I could complain about the size, because the phone is huge and I'd rather it be smaller, but all phones seem to be huge these days. I've gotten used to phones like the Galaxy Note 5 and LG G4. Sure, I'd prefer all phones to fall in line with compact devices like the Galaxy S6 or Xperia Z5 Compact, but people keep buying these behemoth things and so it's obvious there is some magic in the bigger phone department.
With that in mind, Motorola also seems to have figured out how to make a big phone not feel as big as it is. This phone isn't exactly a 1-handed device, but you can manage it in most situations with a single hand. The back curves so well in your palm, while the metal frame does its job at adding grip. The buttons are all in ideal spots, the bezels are trim enough, and it looks quite handsome, especially when you take the time to customize one with Moto Maker.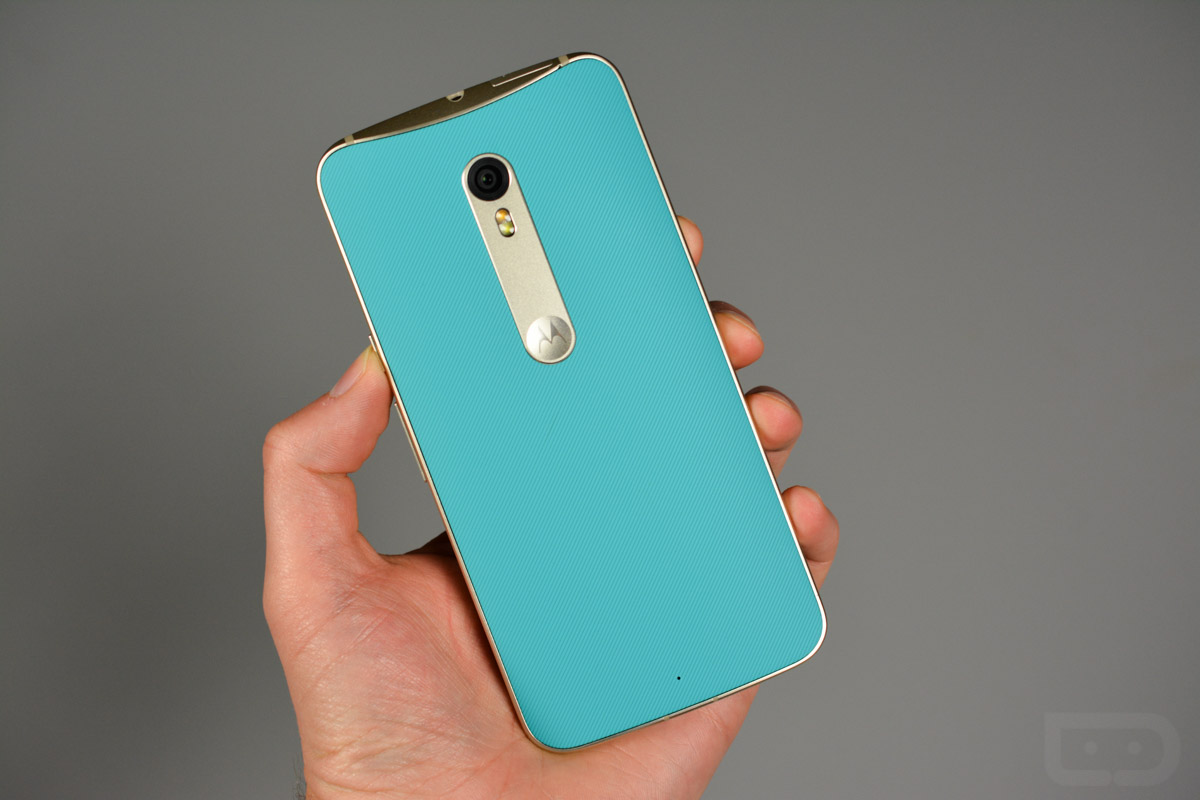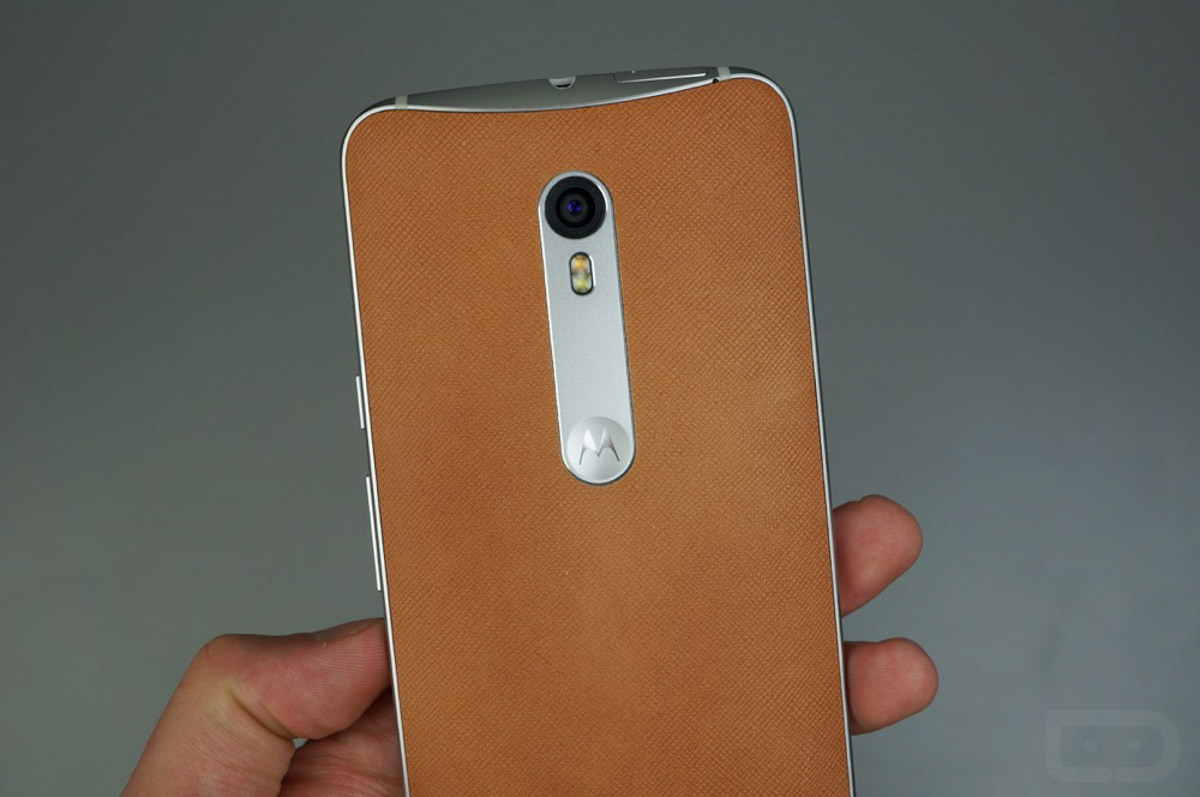 Our review unit has a bright teal back with gold frame and white front. I may have settled on this color combination for our review unit, but I'm tempted to build about three more. I want a natural wood back and a leather one too, but I'm also interested in going super simple – like white back and black front. There are so many options…
Not only does this phone feel great in hand, but no one else is letting you fully customize a one-of-a-kind phone like Motorola at no extra cost. Seriously, people, go customize a phone already.
Customization
Speaking of Moto Maker, Motorola brought back its phone customization store for the third year in a row. This time, you have 2 front choices (white or black), 3 frame choices (silver, dark, gold), 10 soft grip backs, 4 wood options, another 4 leather choices, 7 accent colors, 3 storage picks, engraving, a greeting, and an optional SIM from your carrier of choice.
Moto Maker may be the coolest phone feature of them all because it gives you the opportunity to have a phone that no one else has. You aren't just another guy with a space gray iPhone or a black Galaxy S6. When you customize (for free) with Moto Maker, you have a one of a kind phone that is built in a couple of days before shipping to your house from China.
Keep in mind that the base model is $399 with free customization, but if you add on additional storage or choose leather/wood backs, you will increase the price.
Software
In the opening, I said that Motorola gets Android. What does that mean? It means that Motorola lets Android be great under the vision of Google, but they also aren't afraid to improve its usefulness in areas that could benefit your daily life.
With the Moto X Pure Edition, like the last few years of Motorola phones before it, Motorola has a phone with stock Android that includes its Moto suite of software on top. We are talking about Moto Voice, Display, Assist, and Actions. Now, Motorola didn't necessarily add a bunch of new features to any of these areas, but they are all still so good in their current state that I don't know that you will care.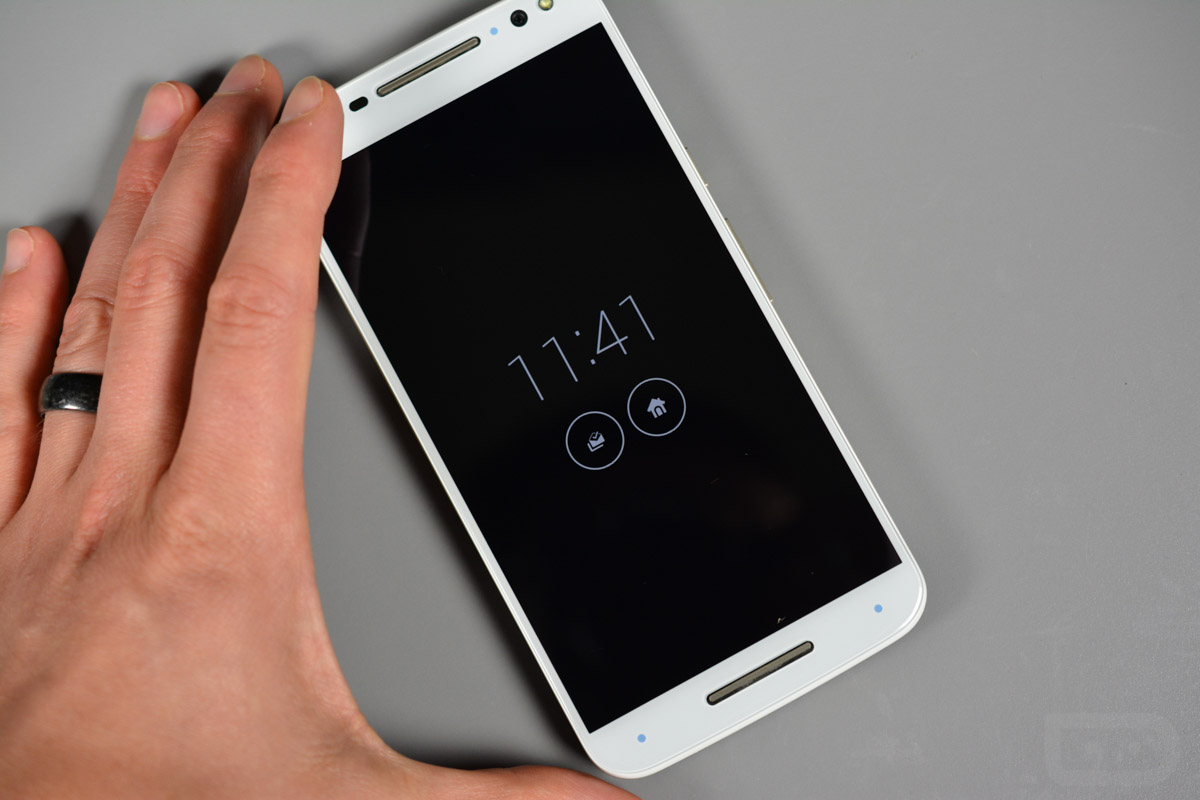 Moto Voice still lets you have hands-free interaction with your phone and have it tell you information or complete tasks with a key phrase, like "OK, Moto X, what's the weather like?" With Moto Display, the most innovative lockscreen replacement is back and slightly improved. With Moto Assist, you still get to automate things in your life, like how your phone acts when you are asleep or in a meeting. And finally, with Moto Actions, Motorola is allowing you to turn on your flashlight with a chop, view the time or notifications with the wave of a hand, and now (a new feature), get Moto Voice responses into your ear instead of publicly out loud.
It's the best Android experience outside of a stock Nexus. And actually, because of features like Moto Display, it might be a better Android experience than what you get with a Nexus.
Turbo Charging
Outside of the OnePlus 2, I'd venture to guess that your phone has some form of Turbo or Fast Charging. Honestly, I can't live without it and will never own another phone that doesn't have it enabled on some level. Batteries in phones die too quickly and this at least gives me some form of a security blanket in knowing that I can grab a whole bunch of battery juice in a short amount of time should I need it.
The Moto X Pure Edition has Turbo Charging, which is Qualcomm's Quick Charge 2.0 technology. Motorola is claiming that this is the world's fastest quick charging phone, probably partly because they are selling it with a Turbo Charger that pushes more juice than other quick charging chargers. In the right scenario, you can technically grab 10 hours worth of power in 15 minutes time. That's probably more like 2 hours of real usage in 15 minutes, but still, that's a big deal. For a full charge, while I didn't exactly keep track, it certainly seemed like I was grabbing full charges in about an hour.
I'll say it again – I won't buy another phone without Quick Charge 2.0 or Turbo Charging or Fast Charging. It's 2015, and it shouldn't take you 3 hours to charge a phone.
Performance
During a Q&A session I did with readers about the MXPE, I think I scared everyone when I said that I noticed stuttering here and there when jumping between apps and navigating the phone's UI. Maybe I should be more careful, because the tone after those comments seemed to go to, "The performance is terrible!" which isn't correct. So let me clarify that here by saying that the performance is quite good. Is there a bit of stuttering here and there? Yes, but this isn't lag. Lag and stuttering are completely different to me.
Lag, a lot like the "jank" we refer to when talking about Samsung phone performances, means the phone can't keep up with the tasks you are throwing at it and slows down for periods of time. Stuttering simply means that a transition from one screen to the next isn't as smooth as you would like. I don't know why this phone stutters here and there, but my guess is that the Snapdragon 808 struggles at times to smoothly transition everything on this QHD resolution.
Otherwise, the performance on this phone has been good for the most part. Apps load on tap, the camera launches when you tell it to, and little things like the swipe up on Home for Google Now happens without a hiccup. We don't run benchmarks, but I can tell you that (other than a stutter in a transition) this feels very much like Moto Xs of the past, in that they benefit in the performance department from the stock Android approach.
Somewhere-in-the-Middle
---
Display
Motorola ditched AMOLED this time around for its display choice and instead opted for a TFT LCD at 5.7-inches and with a Quad HD resolution of 2560×1440. It's an average display at best. If it's the only phone you've owned in a while, you will probably think it's just fine. But when compared to the best in the business, you can see that it is indeed not as good as we had hoped it would be. That's not to say that it's bad – it's just not great.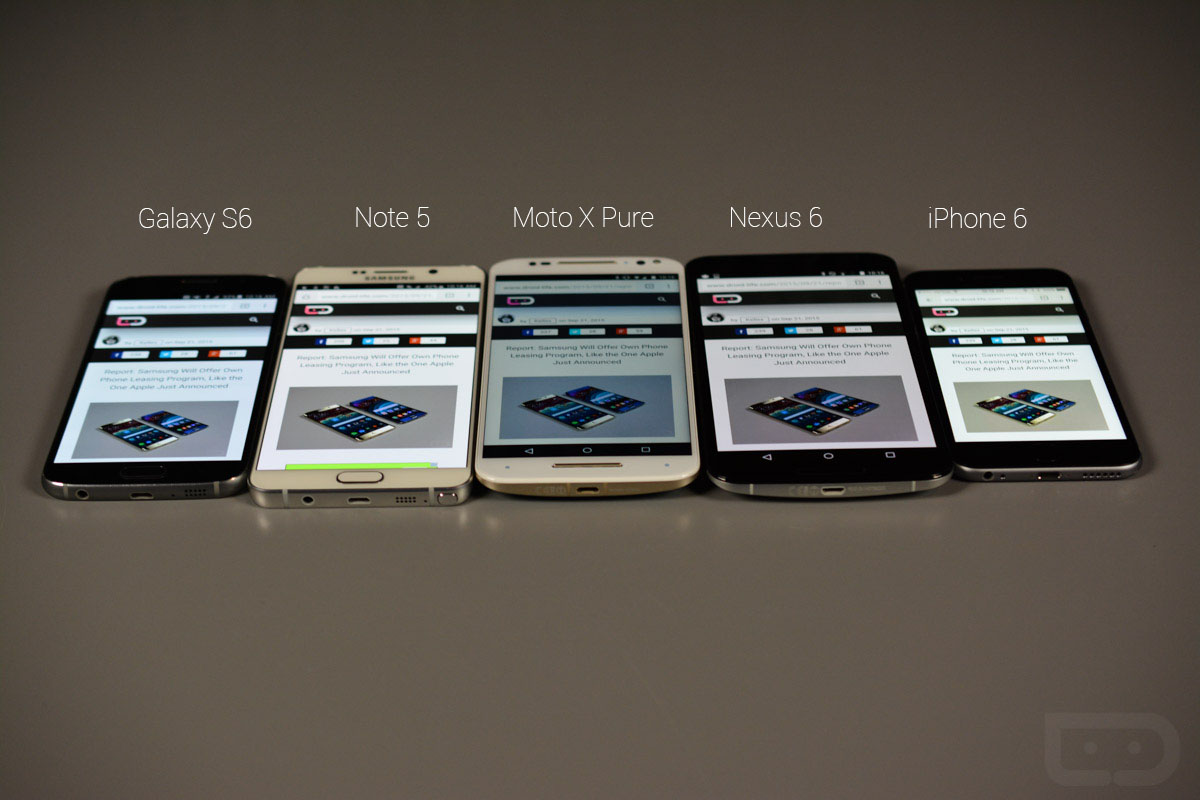 For one, the display's highest brightness level just isn't as bright as others (phones above are all at 100% brightness). I did use the phone outdoors on a number of sunny days, though, and can report back that I had no issues using the phone or seeing everything on the display. With that said, the viewing angles here aren't all that good and are noticeable at even the slightest angle off to the side of the display. That becomes extremely apparent when you look at the image centered above, where all of the other phones in the comparison hold onto clarity and brightness at a somewhat steep angle except the MXPE.
Finally, in terms of color reproduction, I think it's safe to say that the Moto X Pure Edition is good enough. It's not pink (Hello, Nexus 6!), that's for sure. Whites are greyish, which is better than yellow or blue, colors can pop at times if you turn on "Vibrant" mode in the phone's display settings, and for the most part, everything is as it should be in videos, apps, or the Play store.
Again, it's an average display in a phone that is priced at $399. It is what it is.
Battery Life
The battery life on the Moto X Pure Edition is fine, from what I can tell from my tests. On heavy usage days, which for me is closing in on 3 hours of screen on time with a mix of WiFi and LTE, I was looking for a charger at 4PM. On days where I was back in my comfort zone of around 2 hours of screen on time, it was 9PM before I was considering a quick charge. For me, that's probably good enough.
I tend to live in a black hole of signal death no matter which carrier I go with (I tested Verizon, AT&T, and T-Mobile SIMs in this phone), so you have to understand that the numbers I just stated are actually quite good. If I attempted to get 3 hours of screen on time with a Galaxy S6 at my house, it would be dead and off by noon. So the fact that this phone is getting me through a day and into the evening is about all I can ask for.
I know that all of you will claim to get 5 and 6 hours of screen on time with your phones and that this phone isn't good enough, according to my numbers, but in my testing and averages, this is actually just fine. It's not exceptional, like I remember the OnePlus One being, but it's going to be good enough for most people.
Size
I talked about this in the design section, but I need to point it out again here – this phone is big. It's not unreasonably big, though I can tell you that I wish Motorola had gone with a similar sizing to the first two Moto X phones. Both of those were small when matched up to competitors, and that's exactly why they were so attractive to many of us. With this phone, it's like Motorola just gave into the big phone movement and went away from what was part of the reason their previous Moto X phones were great.
The phone isn't that difficult to use, but it's certainly not a 1-handed device. If you loved the size and feel of the previous Moto Xs, you probably will have mixed feelings about this one. It definitely feels like a Moto X, but it's not quite as pure and enjoyable as the last two models.
The Not-so-Good
---
No Carrier Partners
In the first bullet point for this phone, I mentioned how much I like the fact that the Moto X Pure Edition is sold unlocked, without carrier interference at a starting price of $399. But while I love the way Motorola is selling this, I can imagine that a number of you won't. Many of you, and maybe even some who don't know that this phone exists, would love to be introduced to it in a store, in a normal US wireless phone situation that involves a salesperson and contract or potentially-confusing monthly payment plans and weird line access discounts and the thought of a dedicated wireless support center and all that. Unfortunately, you just can't. You can buy this directly or you can choose something else.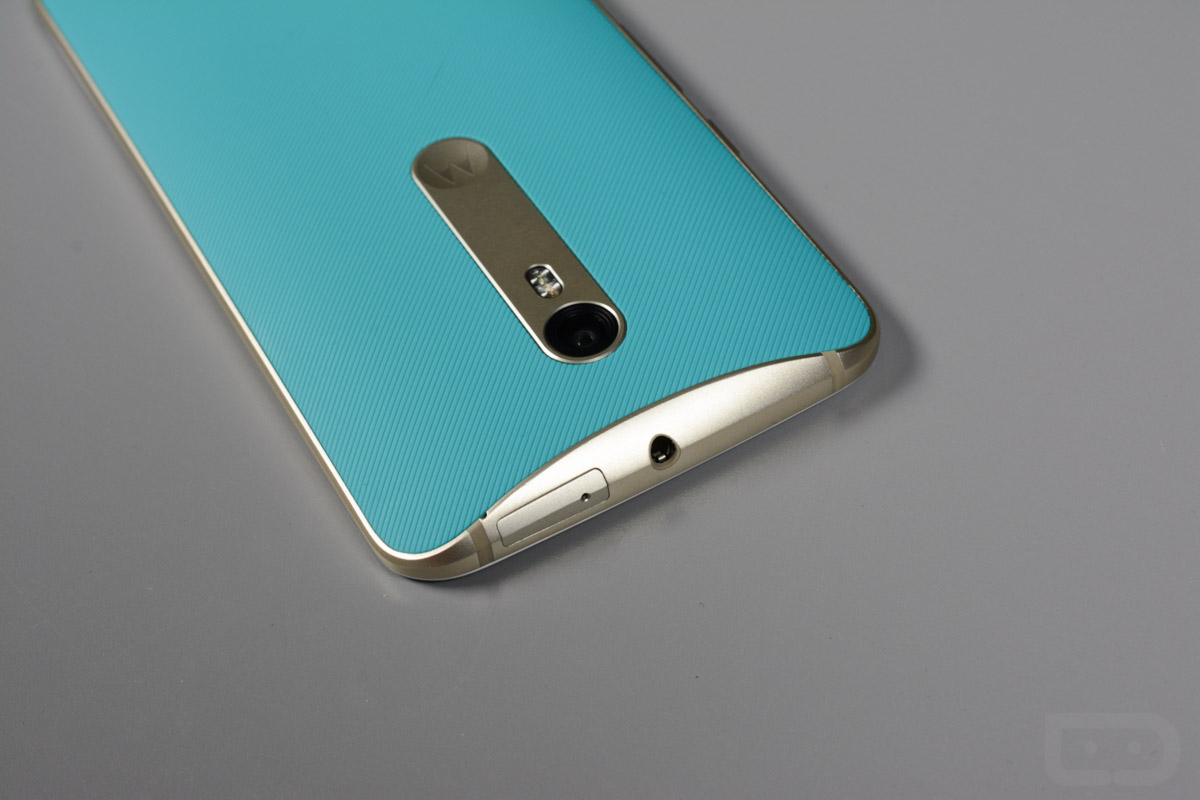 No Fingerprint Sensor
Does a phone in 2015 need a fingerprint sensor? Probably. Fingerprint sensors, if implemented correctly, offer a form of security on your phone that doesn't ask you to change the way you use your phone. Instead of having to stop and type in a password or swipe out a pattern, a fingerprint sensor can wake your phone while also allowing you to bypass its lock screen. Samsung and Apple are doing these right, as is Sony. Hell, even Google has built in native fingerprint sensor support in Android 6.0 and is more than likely including sensors in their new Nexus phones. Motorola, for some odd reason, is still avoiding them.
The Nexus 6 was supposed to have one embedded in its dimple, but we now know that they ditched the idea after Apple bought the best (at the time) fingerprint sensor provider. That's fine, but it's now 2015 and everyone is finding good fingerprint sensors to put in phones. Motorola should have revisited and implemented a sensor in the dimple of this phone.
Leaving out a fingerprint sensor isn't a dealbreaker on any level, but with mobile payments seemingly become the future, it would have been a welcomed addition.
Other Notes
---
Cell reception and volume:  People ask, so I figured I can address it quickly here. The MXPE seems good in the call reception and volume department. Almost all phones are these days, but in case you were wondering, I didn't notice low volume or bad reception or difficult-to-hear conversations at any time over the past couple of weeks.
No wireless charging:  This phone doesn't have wireless charging. That's too bad, but since it has Turbo Charging, I don't think you'll care. If it had fast wireless charging, like the Galaxy Note 5 has, that would be awesome. So far, though, that phone and the S6 Edge+ are the only two on the planet to offer fast wireless charging, so it's not exactly like Moto skipped out.
Front speakers:  They are dual front stereo speakers and they are quite good. They get plenty loud and offer an enjoyable media or gaming experience. You have to give props to HTC for pushing the stereo front facing speaker revolution years ago with their One M7. The rest of the industry (Motorola included now) took notice and is now giving us all better audio experiences.
SIM and MicroSD:  The SIM tray on this phone doubles as a microSD slot. This phone can utilize up to 128GB microSD cards, so if you decide to go with the cheapest $399 option, don't worry about storage, because you can always add-on later. As for the SIM, this phone takes a nano SIM.
Video
---
Unboxing
[responsive_vid]
Tips and tricks
[responsive_vid vid_url="yz72DyJBcp0″]
vs. Moto X (1st and 2nd gen) vs. Nexus 6
[responsive_vid vid_url="LrR3wiVdf5A"]
SIM swapping
[responsive_vid vid_url="_7OiSnxKZa4″]
Gallery
---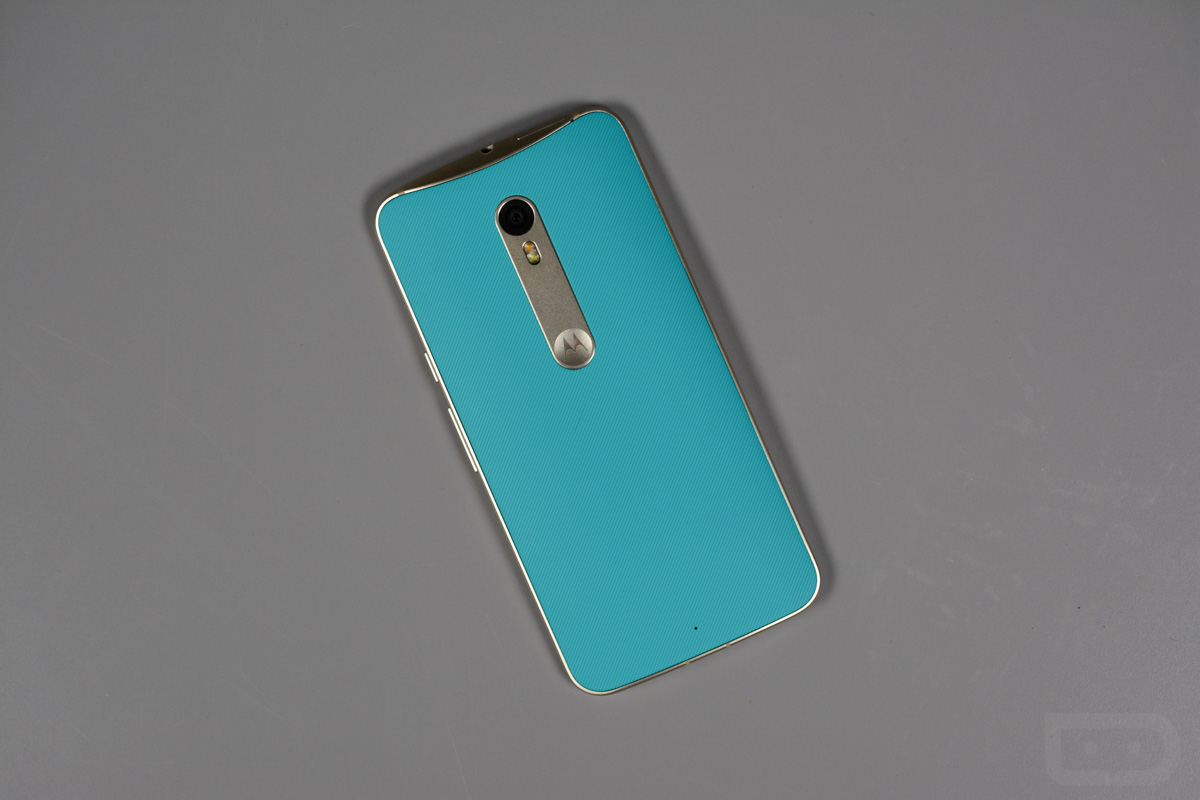 The Verdict
---
If you asked me if I thought the Moto X Pure Edition would be a good choice for your next smartphone, I'd tell that it is. It's a solid all-around phone with an unbeatable price. It's customizable, it runs stock Android, it has a solid camera, looks great, should see frequent updates, works on your network of choice, and is available directly to you, instead of at a carrier store. You could do a lot worse than a Moto X Pure Edition. In fact, there are few phones better than it.
You can buy the Moto X Pure Edition starting at $399 from Motorola, Amazon, and Best Buy.