Samsung just made the Galaxy Note 5 and Galaxy S6 Edge+ official at press events in both London and New York City. Both phones are available across the US on August 21, with pre-orders opening today. Also, AT&T, Sprint, T-Mobile, Verizon Wireless and Samsung Experience Shops at Best Buy will have previews of each phone available starting tomorrow.
As expected, the phones feature big 5.7-inch QHD Super AMOLED displays, but the S6 Edge+ has curves or dual-edges on its screen. They each have 4GB RAM, Exynos 7420 octa-core processors, 16MP cameras with OIS (f/1.9), 5MP front cameras (also f/1.9), fast charging and fast wireless charging, and run Lollipop.
Samsung is also launching Samsung Pay with these two devices in the US on September 28 and in Korea on August 20.
More coming! 
Specs
---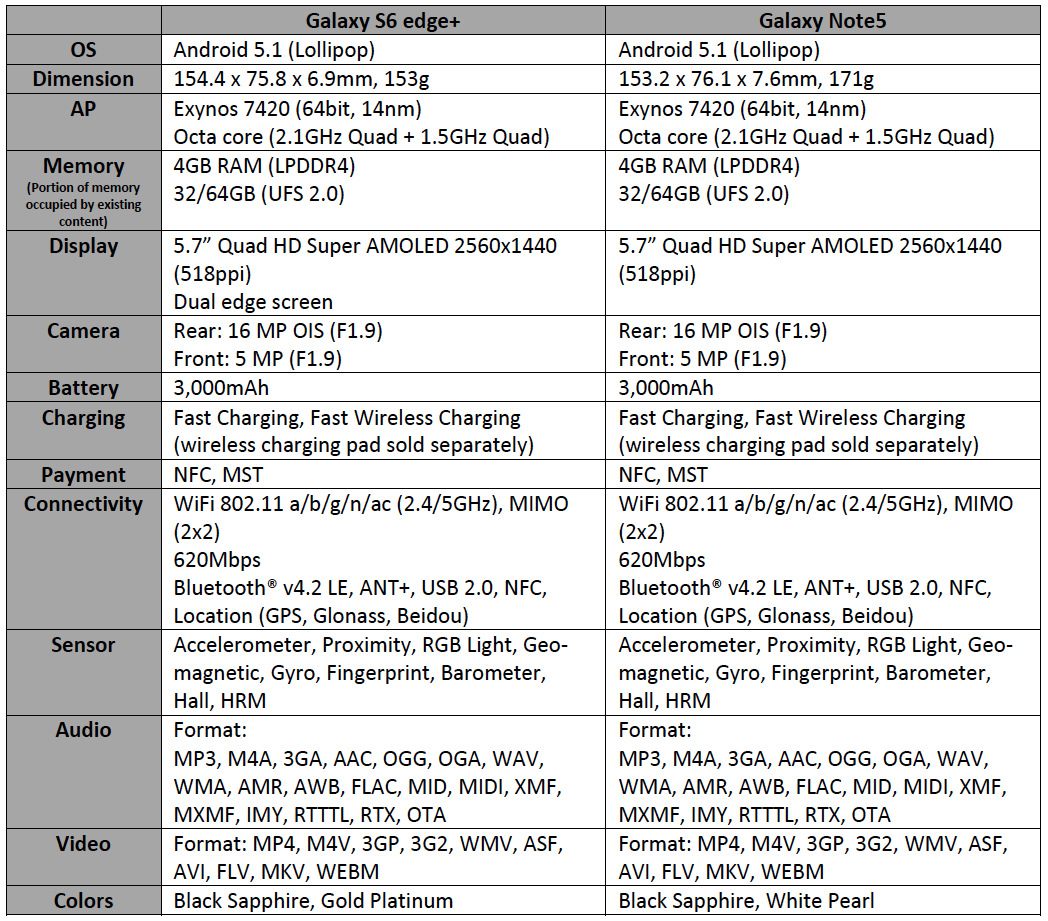 Press Release
---
Samsung Remains Ahead of the Curve with Bold, Big Screen Smartphones

Galaxy S6 edge+ features a dual edge display for ultimate multimedia experience; Galaxy Note5 takes multi-tasking on mobile to new heights with an integrated S Pen

Available in the United States on August 21, with preorders beginning today, August 13, at 3 p.m. EDT

NEW YORK, August 13, 2015 – Samsung Electronics Co., Ltd., announced today the global launch of the Samsung Galaxy S6 edge+ and Galaxy Note5. Both devices represent Samsung's commitment to the big screen smartphone market, which Samsung boldly pioneered in 2011 with the original Galaxy Note.

The Galaxy S6 edge+ and Galaxy Note5 blend form and function with industry leading features, including: Samsung's best screen technology, Samsung's most advanced camera for high quality photos and videos, fast wireless and wired charging, and an incredibly powerful processor. With increased 4GB RAM, both phones enable users to enjoy more seamless multi-tasking.

With its curved 5.7-inch Quad HD Super AMOLED screen, the Galaxy S6 edge+ makes the edge experience even better and provides a more immersive multimedia experience. The thinner, slimmer and newly-designed Galaxy Note5 has a refined, next generation S Pen and multi window capabilities for a more productive smartphone experience.

Samsung Pay, Samsung's simple and safe mobile payment service, will launch in the U.S. in September and will be available virtually anywhere you can swipe your card1. Protected by Samsung KNOX, fingerprint verification and digital tokenization, Samsung Pay works with both MST (Magnetic Secure Transmission) and NFC (Near Field Communication) technologies, bringing consumers closer than ever to a world without wallets.

"At Samsung, we believed in the promise that big screen smartphones could actively address some major consumers pain points by providing users with a better viewing experience and more productivity on-the-go," said JK Shin, CEO and President of IT & Mobile Division, Samsung Electronics. "With the launch of the Galaxy S6 edge+ and Note5, we're reemphasizing our commitment to bold, fearless innovation that meets the needs of our consumers."

Galaxy S6 edge+ – best for multimedia

With the Galaxy S6 edge+, Samsung is bringing everything consumers love about the S6 edge to a bigger screen in a slim and thin form factor. Beautiful and intuitive, it uses the dual edges as a shortcut from any screen to users' top contacts and apps. 'Apps edge' allows users to access their favorite apps by just swiping the edge display. 'People edge' helps users quickly find their favorite contacts and send messages, or give a call directly from any screen.

Galaxy Note5 – perfect for multitaskers

The Galaxy Note5 is a stunning upgrade to Samsung's flagship Galaxy Note line – more powerful than ever. Inspired by the design legacy of the Galaxy S6, it ergonomically fits in one hand with a narrower bezel and curved back which makes it easier to use the phone with one hand.
Engineered to help people get more done, faster, the Galaxy Note5 includes an all new S Pen that feels more solid and balanced in the user's hand, offering improved writing capabilities and a variety of practical tools. A unique clicking mechanism pops the S Pen out with just one quick click. Users can now quickly jot down ideas or information even when the screen is off. The 'Air Command' feature gets more intuitive and practical as well; now the icon hovers for instant access to all of S Pen tools from any screen at any time. Users can also annotate on PDF files or capture a whole website from top to bottom with Scroll Capture.

Powerful Core Galaxy Features

Both the Galaxy S6 edge+ and Note5 feature unprecedented multimedia capabilities through Samsung's industry-leading 5.7-inch Quad HD Super AMOLED display.

As social networking becomes more ubiquitous, consumers expect to share the moments of their lives through video. On both the front-facing and rear-facing cameras your videos will be steadier and smoother with the added Video Digital Image Stabilization. Video Collage Mode allows users to record and edit short videos easily in various frames and effects. The Galaxy S6 edge+ and Note5 also feature 4K Video filming which can be displayed on a 4K TV, as well as full HD Live Broadcast, which lets users instantly stream video straight from the phone to any individual, group of contacts, or even the public through YouTube Live. Anyone who receives the YouTube link from a Galaxy S6 edge+ or Note5 user is able to enjoy live broadcast from his or her smartphone, tablet, PC or Smart TV.

Galaxy S6 edge+ and Galaxy Note5 users will also benefit from Samsung's advanced camera system, including Quick launch (double-click the home button to launch the camera from any screen), Auto Real-time High Dynamic Range (HDR), and Optical Image Stabilization (OIS) and brand-new filters. Both devices feature Ultra High Quality Audio (UHQA) to upscale audio streams and files for richer, high-quality sound. UHQA is supported over Bluetooth on Samsung's next generation wireless audio accessories, including the Level On Wireless Pro.

The Galaxy S6 edge+ and Note5 feature Samsung's built in, fast wired and wireless charging technology which is compatible with virtually any wireless charging pad available today.
Samsung's newest devices are further upgraded to support SideSync 4.0, which offers both wireless and wired PC-smartphone integration for seamless connection across devices2. Thanks to auto-detection and an ultra-quick setup, users can instantly connect their Samsung device to their PC or tablet to easily respond to text messages, answer phone calls or access and share files and data.

The Galaxy S6 edge+ and Galaxy Note5 are built on the upgraded Samsung KNOX, end-to-end secure mobile platform, offering defense-grade features for real-time protection from potential malicious attacks. Both devices are also ready for immediate enterprise adoption, with market-leading MDMs and KNOX enhancements. Right out of the box, Samsung KNOX takes security to the next level.

In the U.S., the Galaxy S6 edge+ will be available in Black Sapphire and Gold Platinum, and the Galaxy Note5 will be available in Black Sapphire and White Pearl – in 32GB and 64GB memory options3. AT&T, Sprint, T-Mobile, U.S. Cellular and Verizon Wireless will carry the Galaxy S6 edge+ and Galaxy Note5. The devices will also be available at Samsung Experience Shops at Best Buy, as well as Amazon.com, BestBuy.com, Costco Wholesale, Inc., Sam's Club, Target and select Walmart stores. Carriers and retailers will confirm specific pricing and availability.

Consumers can get an exclusive first look at both devices at more than 7,000 participating AT&T, Sprint, T-Mobile, Verizon Wireless and Samsung Experience Shops at Best Buy locations across the U.S. starting tomorrow, August 14. The full list of participating locations is available at www.samsung.com/onebigdecision.
For more product information, please visit www.samsungmobilepress.com or www.samsung.com/galaxy

About Samsung Electronics Co., Ltd.

Samsung Electronics Co., Ltd. inspires the world and shapes the future with transformative ideas and technologies, redefining the worlds of TVs, smartphones, wearable devices, tablets, cameras, digital appliances, printers, medical equipment, network systems, and semiconductor and LED solutions. We are also leading in the Internet of Things space through, among others, our Smart Home and Digital Health initiatives. We employ 307,000 people across 84 countries with annual sales of US $196 billion. To discover more, please visit our official website at www.samsung.com and our official blog at global.samsungtomorrow.com