Motorola has done a pretty good job in recent years of keeping their upcoming flagship smartphones under wraps. Sure, we see a leak here or there that gives us a clue or two, but never anything like how HTC phones see full reviews before they are even announced. Motorola has been able to hide most of the details of their last few phones up until the last minute. But as we inch closer to a potential late August-early September launch of a new Moto X, puzzle pieces are starting to arrive.
Remember back in May where I told you to keep an eye on Motorola model numbers XT1585 and XT1578? Well, they are back in headlines today, thanks to a benchmark that showed up over at GFXBench. 
The specific device that showed up is the XT1585, which is carrying a codename of "Kinzie." The benchmark reveals a phone that has a 5.5-inch QHD (2560×1440) display, Qualcomm Snapdragon 810 processor, Adreno 430 GPU, 3GB RAM, 21GB storage (which probably means 32GB), 20MP rear camera, 4.8MP front camera, and Android 5.1.1. Sounds decent, right?
Here is the benchmark.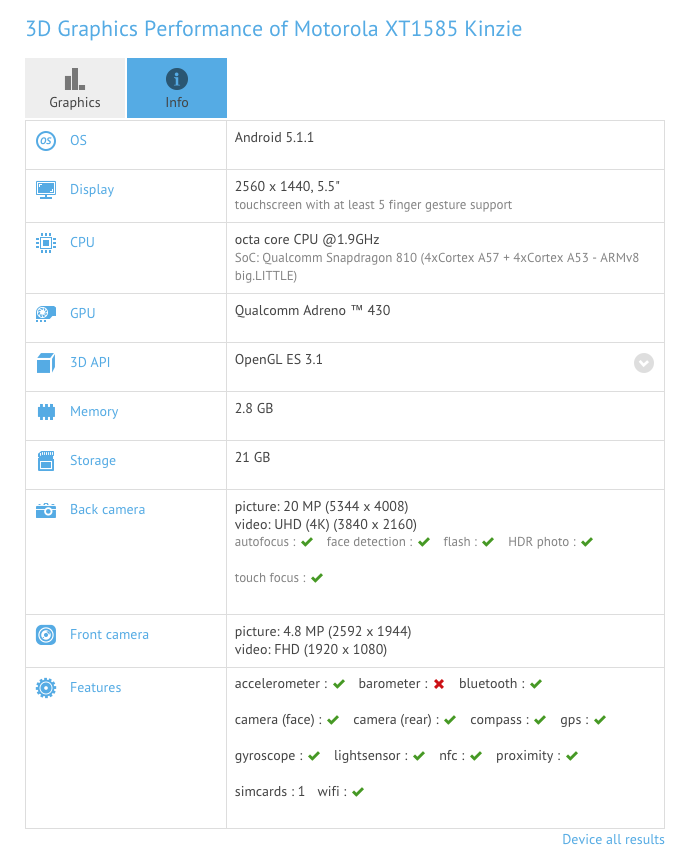 Now, we are calling this a Verizon phone because of a purported leak through reddit from the same person who gave us those model numbers so long ago. According to this redditor, the "Kinzie" is set for launch on Verizon. He describes the phone similarly to what this benchmark shows.
On a related note, since his mention a month ago of the "Kinzie" seems somewhat legitimized by this benchmark, we should point out that he also attached the name "Clark" to Motorola phone XT1578. That phone is also supposedly coming to Verizon with a Snapdragon 808 on board. Industry pundits think that the "Clark" may end up as the new Moto X (3rd gen), while the "Kinzie" may end up as new DROID.
I can't say that I have a feeling for either, but I'd be willing to buy into that idea. What about you?