Even though Google announced the Nexus 6 back in October, saying at the time that it would be available at all major US carriers (AT&T, T-Mobile, Sprint, and Verizon), there is still one who has yet to sell the device in stores or online – Verizon. We could speculate all day as to why that is, but what we do know for sure is that Big Red confirmed to us shortly after Google announced the phone, that they planned to carry it. They wouldn't offer up a timeline, price, or any other detail, only that they would carry it at some point down the road. 
We are now almost four months removed from that initial announcement and confirmation, yet the phone has still not surfaced through Verizon in stores or on its website. In fact, other than the confirmation that their communications team gave directly to us, they haven't even mentioned the phone's name publicly. Until today, or some time recently.
If you cruise over to Verizon's site today, jump into their on-site search box, and type out "Nexus 6," you will arrive at the screen we captured below. Look! The Nexus 6! And it's "coming soon!" I know, that isn't much to go on, but the fact that the phone is showing up on their site is at least something to get excited about.
You may have been able to buy the phone for some time through a variety of other outlets (and use it out of the box on Verizon's network), but there is a good chance that you were waiting for Verizon to sell it to get on-contract or Edge pricing. That time may be almost here.
If Verizon finally starts selling the Nexus 6 (rumored launch of February/this month), are you ready to pick one up?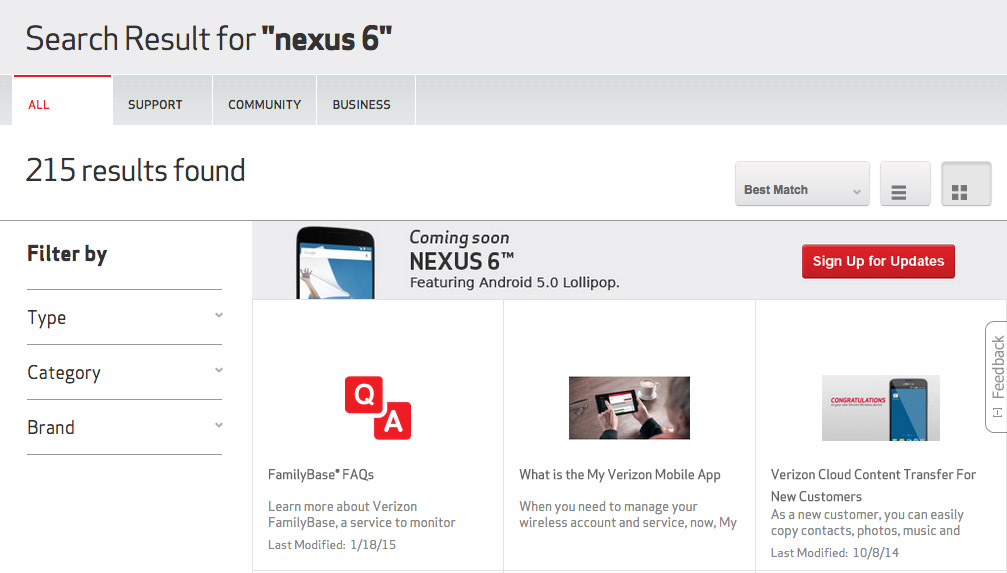 Cheers Kyle!