Thanks to an ANTuTu benchmark (assuming it is real) of an unreleased HTC phone that was posted by @upleaks, we now know that HTC's next flagship phone, currently codenamed as "hima," is headed to Verizon under the model number HTC6535LVW. That benchmark also seems to confirm the impressive set of specs that has been rumored often over the last couple of weeks, a set of specs that will have you seriously considering HTC as the manufacturer of your next phone. 
If we take a look at the benchmark below, you will see a model number of HTC6535LVW, which is the giveaway that this phone is coming to Verizon. For reference, the HTC One (M8) on Verizon was the HTC6525LVW and the One (M7) was the HTC6500LVW. The HTC Remix (aka the One Mini 2) was the HTC6515LVW. See anything similar there? Besides the model number scheme of 6535 falling perfectly in line as the model number of the next HTC phone, it's the "VW" we care about. "VW," if you haven't figured it out yet, stands for Verizon Wireless. If we assume that the "hima," which is listed next to the model number below, isn't just an HTC Remix 2 or some other mid-range phone, then it has to be the next flagship. There aren't any other HTC devices currently on our radar.
(Edit:  As some in the comments have noted, the DROID DNA was HTC6435LVW.)
As for the specs, this benchmark shows a device with a 5-inch FHD display (1920×1080), Qualcomm Snapdragon 810 processor, 3GB RAM, 20.7MP rear camera, 13MP front camera, and Android 5.0.1 "Lollipop." Those specs match up perfectly to previous leaks, though leaks also noted that the battery should weigh in at 2,840mAh.
I wouldn't say that we are surprised at all to see this phone coming to Verizon, since you can't release a flagship these days without it being included at all of the major carriers. If you were to exclude someone as big as Verizon, you might as well throw in the towel, something HTC should have done when it skipped Big Red for months with the original One (M7). Then again, having the One (M8) everywhere didn't exactly slow their quick decline either.
HTC is going to need to do something really special this year with the "hima" – any guesses as to what that will be?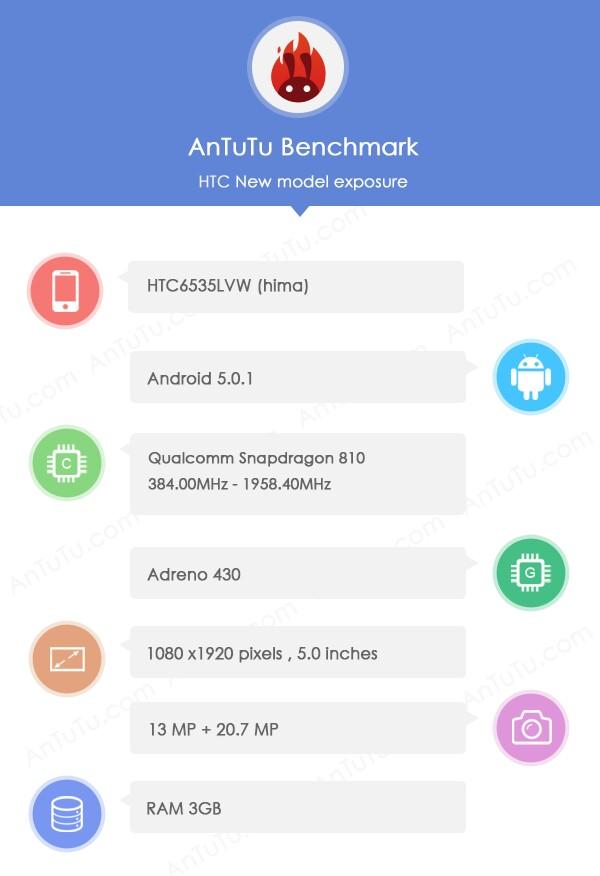 Via:  @upleaks