The Chromecast app received an update yesterday that not only included the much anticipated Guest Mode, but the UI of the app also got a fresh Material Design makeover and screen mirroring is open in beta to most devices running Android 4.4.2+. The update is rolling out in stages (of course it is) on Google Play or can be sideloaded using the link we included below. 
With Guest Mode, which uses a special WiFi beacon from the Chromecast to ping guest devices, you can setup your Chromecasts to allow friends and family to share content to your dongles without needing to be on your WiFi network. As long as they have an Android device (4.3+) they can connect, once you enable the feature. In the video at the bottom of the post, you will see how to enable Guest Mode (open Chromecast app, connect to a Chromecast, tap Guest Mode, turn on).
As I mentioned in the opening, the app also received a makeover with Material Design. You are now treated to a bright blue action bar with full-page navigation drawer and rippling animations throughout. It's pretty.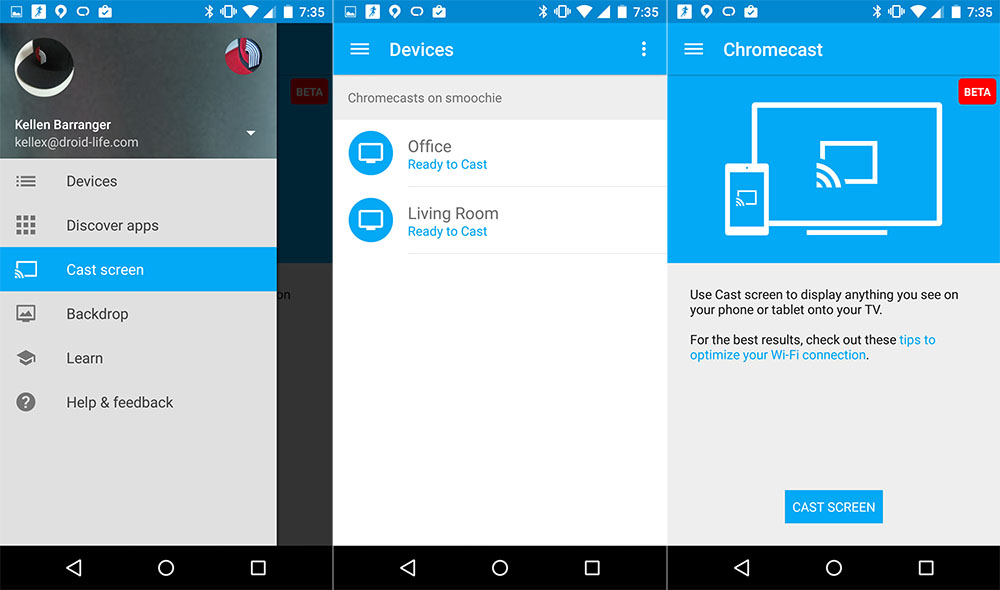 Finally, if you haven't been able to cast (mirror) your screen to Chromecast devices, you may see the option now with the new update. It appears as if the Chrome team has moved mirroring into full beta, giving devices that weren't previously supported the chance to mirror (like my Moto X "Pure Edition"). Give it a shot!
[responsive_vid]
Cheers Marco and Brady!