Reviewing Google's new Nexus 6 has been an entertaining mixed bag of an experience. This is so close to being the phone that long-time Android fanboys have been waiting for. This is a Nexus phone, made by Motorola, that has the most premium set of specs currently available in the mobile space, and that works on Verizon, along with a number of other carriers. This is supposed to be as good as it gets. This is supposed to be the Nexus phone of Nexus phones. But is it?
That's a tough question to answer, mostly because Google created the Nexus 6 knowing that this wouldn't be the phone for everyone. In fact, their VP of engineering, David Burke, said that he thinks about 50% of people who hold a "phablet" like this won't want to put it down. In other words, they know that at least half of you want something much smaller or different than the Nexus 6.
And that's exactly why the Nexus 6 is that mixed bag. For the most part, you can't help but love everything about the Nexus 6. It feels premium. It looks great. Internally, it tops the charts. It runs Lollipop, which is ridiculously fun to use. But then it's also a giant whale, which Google is clearly aware of since they codenamed it "shamu." You have awesome and then huge. You have premium, but in whale form. You have the phone of enthusiast dreams, that's available everywhere, but that only 50% of may want due to its size.
As you can see, we have plenty to talk about.
This is our Nexus 6 review.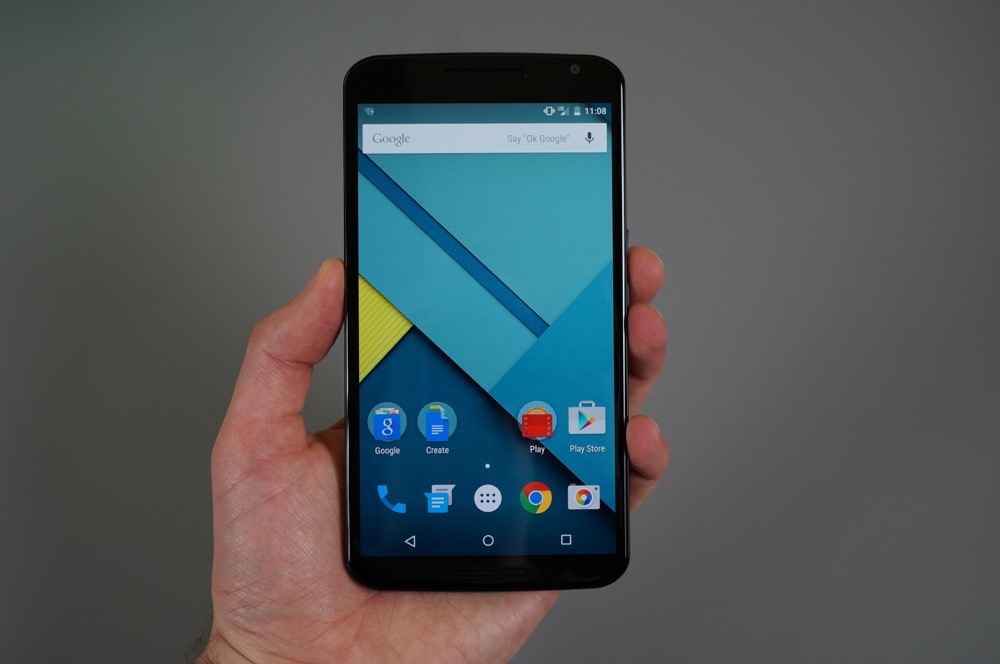 The Good
---
Specs
In years past, Google has often created phones that are a mixed bag of specs. On one hand, they try to introduce a new technology or two to help move the Android or mobile arenas forward. But on the other, we have seen them attempt to try and create a device that remains affordable by cutting corners in critical areas. The Galaxy Nexus had a terrible camera and lack of LTE outside of Verizon. The Nexus 4 lacked storage and LTE. The Nexus 5 was a bit shy on storage, but also had terrible battery life and a below-average camera.
With the Nexus 6, no corners have been cut. Google and Motorola have given us a 5.96-inch Quad HD AMOLED display (2560×1440, 493ppi), 2.7GHz quad-core Snapdragon 805 processor, Adreno 420 GPU, 13MP rear camera with optical image stabilization (OIS), 3GB RAM, 32GB or 64GB of storage, front-facing dual stereo speakers, 3,220mAh battery, water resistance, Qi wireless charging, support for Motorola's Turbo Charger, and support for 12 global LTE bands. Some will argue that a lack of micro SD card support is a killer, but I would argue that a 64GB model eliminates the need and should be more than enough storage.
Design
I have so many mixed feelings about the size and design of this phone, but you probably expected that. Before we get into the size, let's first talk about how the phone looks.
In terms of the design, I absolutely love the look of the Nexus 6. It looks like a mix of last year's Moto X and this year's Moto X (2nd gen), only blown up. It has a smooth, plastic finish on its backside (in blue or white) with Motorola dimple, Nexus logo, and eye-catching camera with ring flash attached to a metal frame that feels incredibly premium. Motorola and Google took out that odd-looking Motorola disk-button-wannabe thing from the new Moto X and instead went with the much more subtle dimple from last year's.
On its front side, you have the massive 6-inch AMOLED panel that has smooth edges for soft interaction and dual-front stereo speakers that help lift the display off of surfaces when placed face down. It looks like a giant black slab, but without any carrier or Google logos, it isn't as obnoxious as you might expect from a display this large. I would argue that it presents itself as being understated, which is a good thing in an age where companies like Verizon brand every inch of a phone they can, especially oversized phones like this.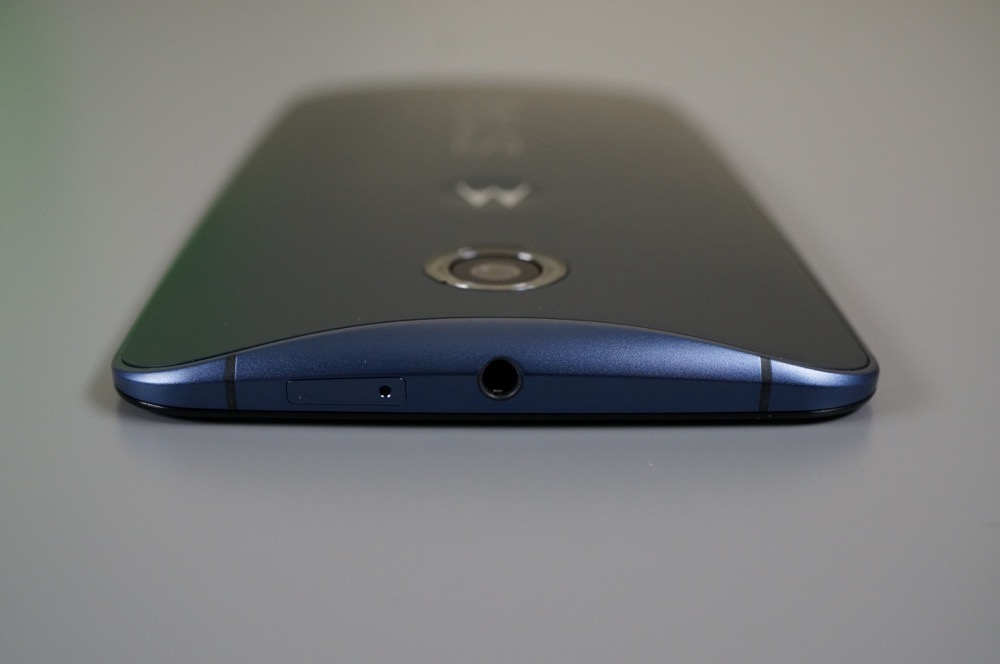 Around its frame (which is blue metal on the Midnight Blue model, silver on the Cloud White model), you have well-placed power and volume buttons on its right side, both of which have been adjusted to sit perfectly where your thumb should fall when holding it. Up top you have a headphone jack and nano SIM tray. On the bottom is your USB 2.0 port.
Overall, the Nexus 6 is a beautiful phone that feels premium and looks incredible in a couple of different color options.
My thoughts on the phone's size didn't make the cut up here in the "Good" section, so you will have to jump below to read those.
Display
The display on the Nexus 6 is going to be the most talked about spec because of its intense size, I don't think there is any getting around that. Just keep in mind that if you have the balls to put a 6-inch AMOLED Quad HD display with a ridiculously high resolution in a phone, it better be good or your pretty whale may end up just being a bottom feeding grouper, and I'm not talking about the Nexus 7. So is it? It's pretty damn good.
If you compare the AMOLED panel in the Nexus 6 to something like the new Moto X, which also uses an AMOLED panel, you can tell that the Nexus 6 has been calibrated to show much more natural looking colors. Don't get me wrong, this is still an AMOLED panel, it's just that colors are slightly muted and less obnoxious on the Nexus 6. The pink on Droid Life isn't so bold – it's a lighter pink. And that could be because of better contrast control, since almost everything looks a little lighter and more muted on the Nexus 6.
Viewing angles are excellent, as can be seen in the images above. The Nexus 6 also gets plenty bright with Adaptive Display turned off, but can get very dark as well, which is a plus for those of us who can't help but check emails at 3AM in bed.
In terms of sensitivity, the Nexus 6 is very responsive. We still aren't quite on iPhone level here, at least in my opinion, but there is little lag between your finger and the action you see on-screen.  The display also floats close to the glass, so with the 6-inch panel showing you beautiful imagery, you do feel about as close to it as is possible.
On a pixel arrangement note, it looks like all AMOLED panels these days have moved over to a diamond pixel arrangement, first seen in the Galaxy S4. We have seen this arrangement time and time again since then, which isn't a bad thing. In fact, Samsung's AMOLED panels continue to be voted best-in-class, so it would make sense that others, including the Nexus 6, go this route as well.
The Galaxy Note 4 is still the king of big, AMOLED panels, but the Nexus 6 isn't far behind it. There is nothing here that will turn you off, except maybe the size, if size is something you worry about. If you use your phone for media consumption, though, you can't go wrong here.
Macros for fun.
Performance
95% of the time, the Nexus 6 flies through any task you throw at it. Android 5.0 is so buttery smooth in transitions, the Snapdragon 805 processor handles all of its heavy animations and layers, and games or videos play without a stutter. Every so often, though, you will see slight delays when hitting the app switcher or home button, when trying to exit the camera, or tapping a notification to open an app. The thing is, I'm not worried about it because these delays are consistent on the Nexus 9 as well, so that leads me to believe these hiccups are due to software issues that can be fixed. I would bet that all of them will be gone within an update or two.
Overall (again 95% of the time), this phone just screams. It's so enjoyable to browse around, from Google Now to pulling down the quick settings toggles, Lollipop and this powerful processor together make a great combo. When you press items, things happen. When an animation or layer floats in, there isn't a jitter or stutter. I can't recall the last time I used a phone that moved this fluidly.
On a related note, the performance on the Nexus 6 is far and away better than that of the Nexus 9. I know we are talking about tablets vs. phones here, but the Snapdragon 805 seems to best the 64-bit Tegra chip time and time again.
Android 5.0 "Lollipop"
Lollipop is the biggest and best update we have seen come to Android in years, if not ever. To me, this is without a doubt the biggest and most bold yet, and is an update that will help guide the platform for years to come.
Material Design has been used to give everything from stock apps to settings menus to finger presses to transitions a complete makeover. It is beyond beautiful. Tim and I have discussed this on the DL Show a number of times, but with Android 5.0, you feel like you can play with the operating system without even opening an app. There are fun transitions and animations everywhere, many of which require new swipes or multi-finger touches in order to activate. At this time, we have seen almost all of the Google apps updated with Material Design makeovers, but it should be really fun over the coming months to see what third party developers can do.
Outside of the fresh coat of paint, Android 5.0 introduces a variety of new and useful features. We have covered most in our series of Android 5.0 Feature Highlights.
Things like easy setup from one Android device to the next with a simple tap has been added. You can also select which specific Android device you want to restore your new device from, when it's running Android 5.0. There are more powerful notifications on the lock screen, better battery stats, a refreshed keyboard, new dialer, more powerful and visually improved app switching (with app pinning too), better controls over notifications, a do not disturb mode, adaptive, ambient, and tap-to-wake display modes (Nexus 9 only for now), trusted Bluetooth devices, multiple user accounts on phones, retooled quick settings toggles menu, (with flashlight shortcut!), and more. The list goes on and on and on.
If you get away from the front facing features I just listed, you have to understand that Google is also trying to greatly improve battery life through Project Volta. They are also ready to support RAW camera images, SD cards again, improve overall performance with the ART runtime, support for 64-bit processors, and support for USB audio. Again, this update is massive.
Android 5.0 could probably use its own review.
To watch a tour of many of the new Android 5.0 "Lollipop" features, be sure to watch this video.
Camera
I won't even hesitate to say that this is the best smartphone camera we have seen to date from Google. It's not even close, actually. But the real question is, is it better or at least as good as the other really good smartphone cameras out there? I tend to believe that it is after spending the last couple of weeks shooting photos in a variety of situations.
Before we get into the results, we should talk about the camera experience, which should be familiar to many of you. Google is using the Google Camera, a camera app that is updated and readily available to almost everyone through Google Play. It's minimal, includes gestures from its right side in order to choose camera modes (photosphere, panorama, lens blur, regular photos, video), and features a massive shutter bar on its right side to help you shoot photos. It has some manual control over exposure, an HDR+ mode, flash controls, and an optional grid, but that's about it. Google wants you to be able to snap without much work.
Out of the box, the Nexus 6 defaults to shooting 4:3 photos with a 13MP resolution. You can change that to a 16:9 ratio at 9.7MP if you want, or potentially go even lower. I tend to prefer 4:3, so that's what you will see in my samples below.
In terms of performance, the Google Camera is plenty fast, most of the time. It's just that every so often, it struggles to load or close in a timely manner, leaving me wondering if I need to try and force close it. It can also be slow enough to focus that you may miss shots that have movement. But if you are shooting still objects or are in good light, the Google Camera is fast enough. Once it gets locked onto an object or lighting situation, you can rapid fire shots pretty quickly, many of which will come out as acceptable photos.
So what about results? Well, take a look at the series of photos we have included below. You will find shots in low light, good light, and light with shadows, along with indoor and outdoor shots. I really tried to use the Nexus 6 camera in as many different situations as possible to see what the camera is capable of. I'll just say this – unlike the DROID Turbo, these photos don't turn immediately muddy and noisy the minute you start zooming or cropping. This camera also snaps photos instantly when you press its big shutter button; there is no stutter. I do feel like the Google Camera app is doing some crazy over sharpening, but unless you really crop or zoom, you may not notice it.
Overall, this is a pretty fun camera to use, which is saying a lot since we are talking about a camera included in a Nexus phone. And keep in mind that we are still waiting for camera apps on Google Play, like Google Camera, to be updated with support for RAW image capturing. Once that happens, this camera could become scary good.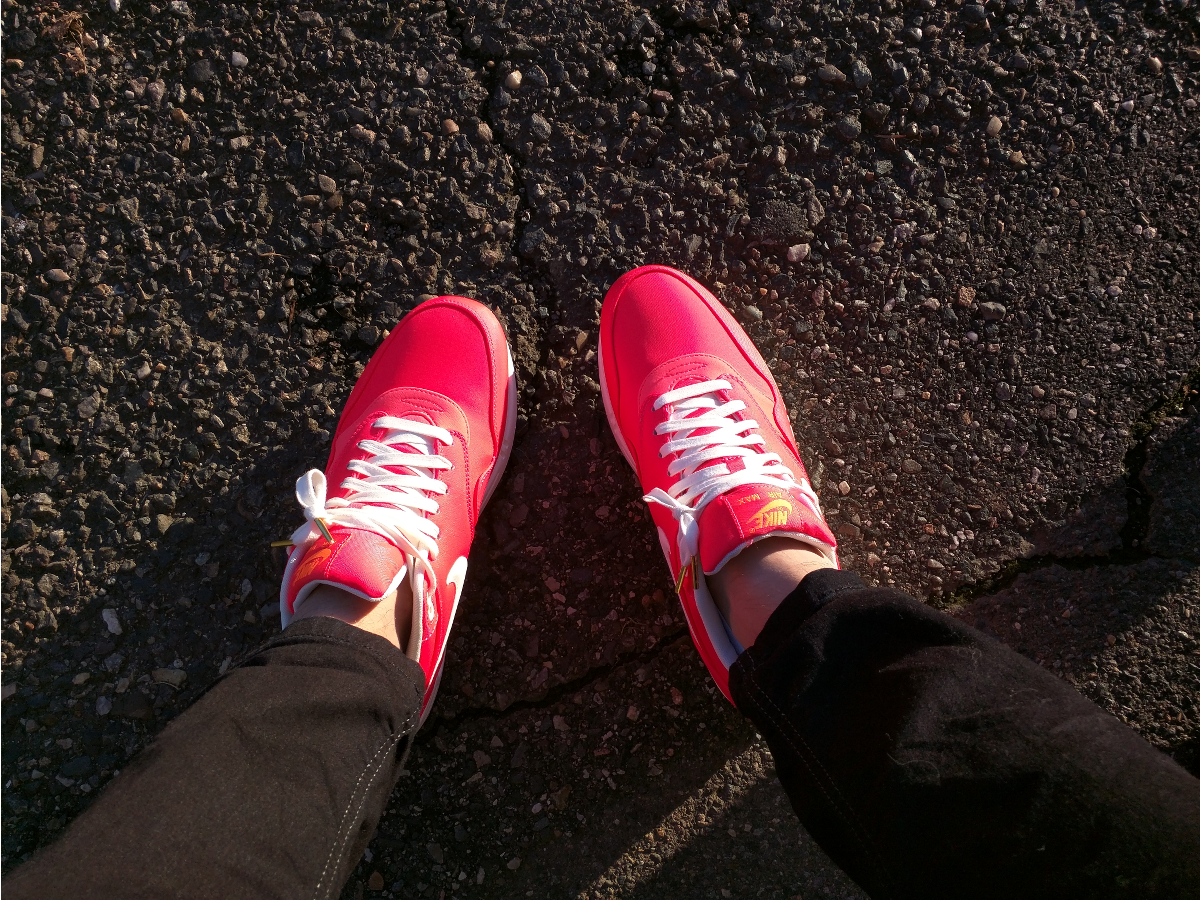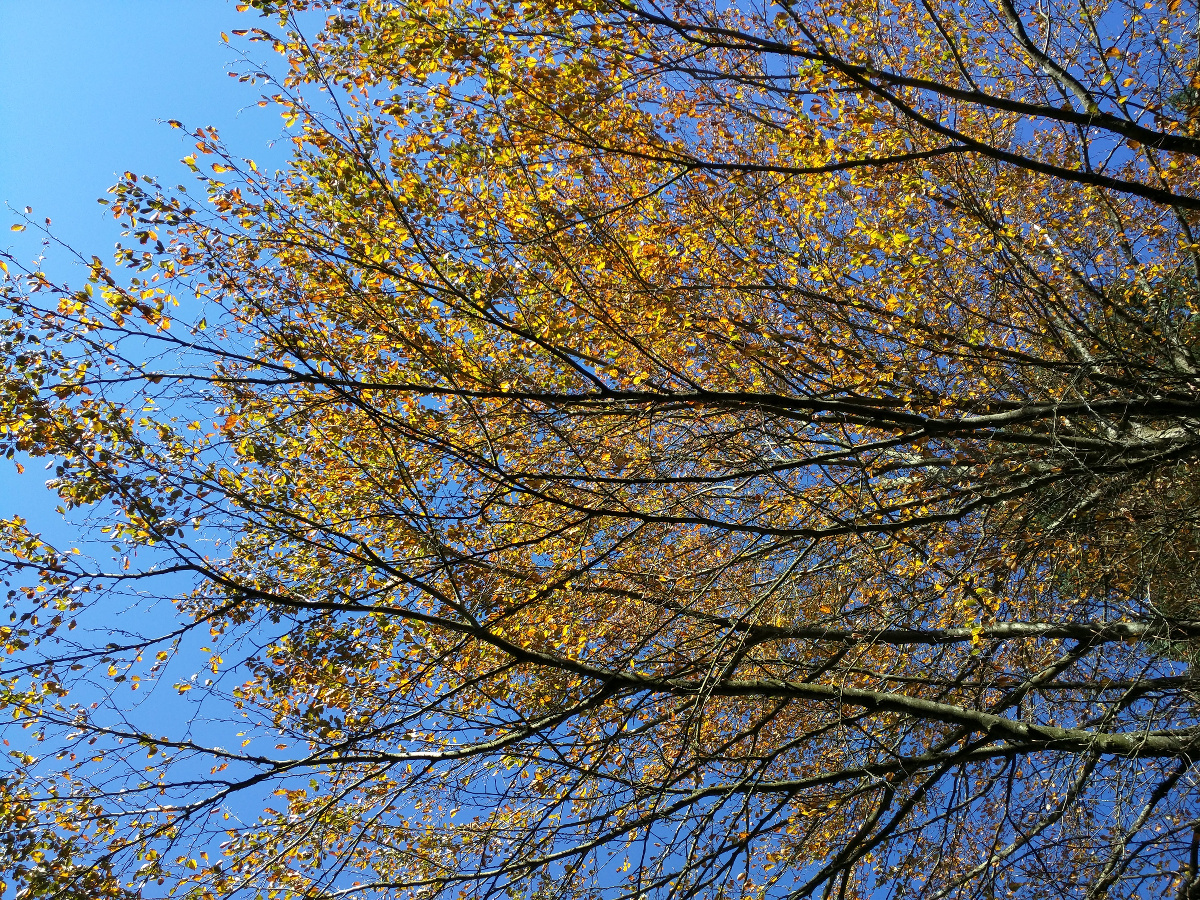 Full resolution:  1 | 2 | 3 | 4 | 5 | 6 | 7 | 8 | 9 | 10 | 11 | 12
Updates
If you know Android and are at all familiar with the Nexus line of devices, then you know that part of the reason to purchase one is that you will see updates to new versions of Android before almost anyone else. While companies like Motorola are doing their best to beat Google at their own game, the Nexus line still defines what it means to get timely updates. With the Nexus 6, as Google's new flagship phone, you will get new updates, whether that be Android 5.1 or 6.0 before almost anyone else.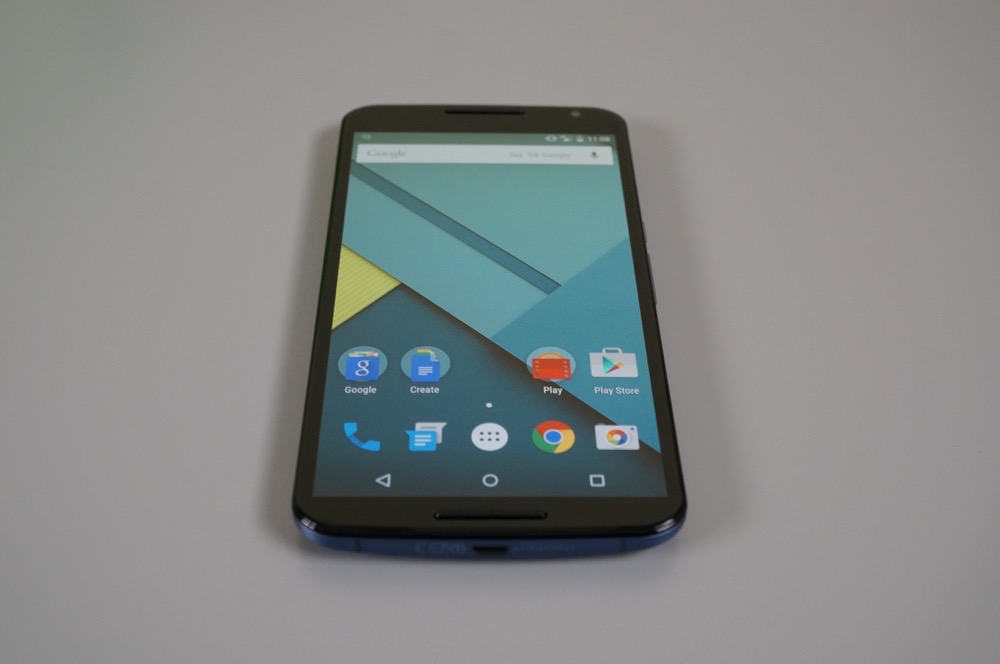 Unlocked Plus Carriers
Google is doing something different this year with the Nexus 6 in terms of distribution. Instead of selling the Nexus 6 cheaply as an unlocked phone through Google Play and then allowing a couple of carriers here and there to sell the phone, they are going the typical smartphone route, which means they are actually partnering with carriers to sell the phone. While I mention below that this model mostly sucks, there is still some light at the end of this tunnel, thanks to Google creating a single US variant that supports 12 LTE bands and all sorts of network frequencies.
If you buy the Nexus 6 from Google Play, you can then take it to almost any carrier in the US, slap in a compatible SIM card, and have service. The device is fully unlocked, works on Verizon and Sprint's CDMA networks, AT&T and T-Mobile's GSM networks, and has no trouble connecting to any of their LTE bands. This phone can essentially be taken anywhere without fuss. I don't know that we have ever seen a phone that is this open to your network of choice.
Now, we aren't exactly sure how its unlocked status will work when sold directly through a carrier, but I would imagine it will/should still be unlocked. There aren't carrier versions of the Nexus 6, according to Google, carriers are simply selling the unlocked Nexus 6 with their SIM cards pre-installed.
Front Stereo Speakers
These speakers, are awesome, for smartphone speakers. Placed at the top and bottom of the front of the device, the dual stereo speakers on the Nexus 6 can rival the BoomSound speakers found on the HTC One (M8). They get plenty loud during music or video playback, might scare you if cranked to the max for notifications, and could allow you to use your phone as the get-the-party-started speaker if you lack other options. You aren't going to hear deep bass like you would a traditional speaker, but you should understand that going in – these are smartphone speakers. With that said, at full volume, I have yet to hear a crackle or distortion, and that's from hip hop to pop.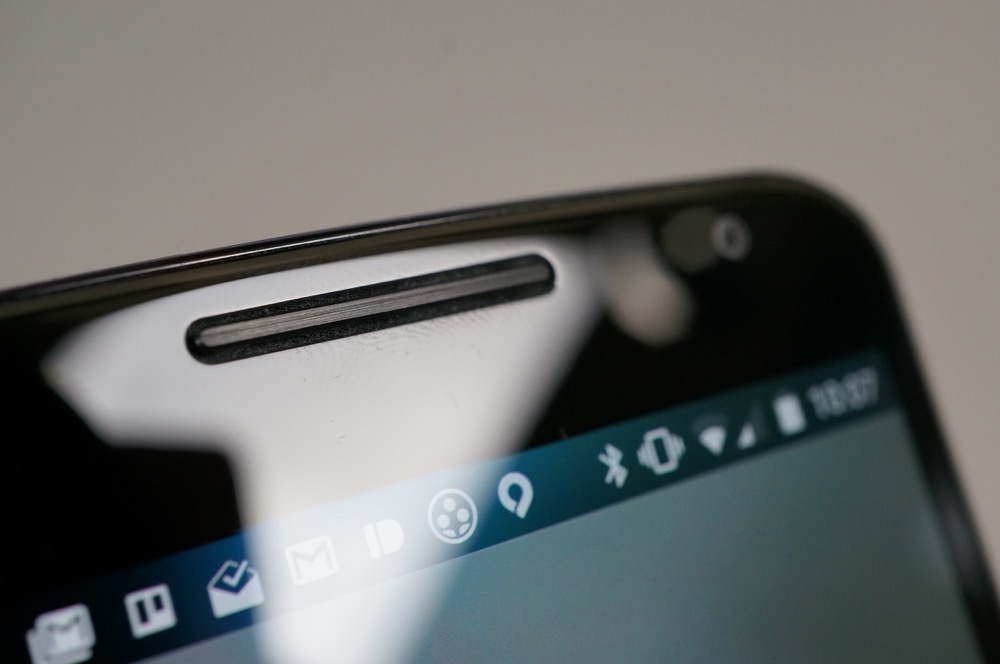 Somewhere-in-the-Middle
---
Size
There is no getting around the size of the Nexus 6. This phone is f*cking huge. You can't use it with one hand. It barely fits in your pants pockets. It looks silly when held up to your head during phone calls. It feels enormous in hand when making those phone calls. You have to adjust it constantly to get anything done. It's heavy. Taking pictures is impossible without two hands. And Google has done absolutely nothing with stock Android to take advantage of its immense size. This phone is big just to be big. Because big. Because bigger. Big all the things. Just big it. Bigger than bigger, than bigger.
But you know what? It's actually kind of cool, if you have two hands free. As I mentioned above, the phone is designed beautifully. Not only that, but its weight is distributed so well from corner to corner, that it isn't difficult to hold, even with its massive footprint. The curvature to the backside has been optimized for the palm of your hand, just like it was on the Moto X. And the metal frame should bring pleasure to anyone who has had the unfortunate pleasure of holding a pre-October Samsung phone.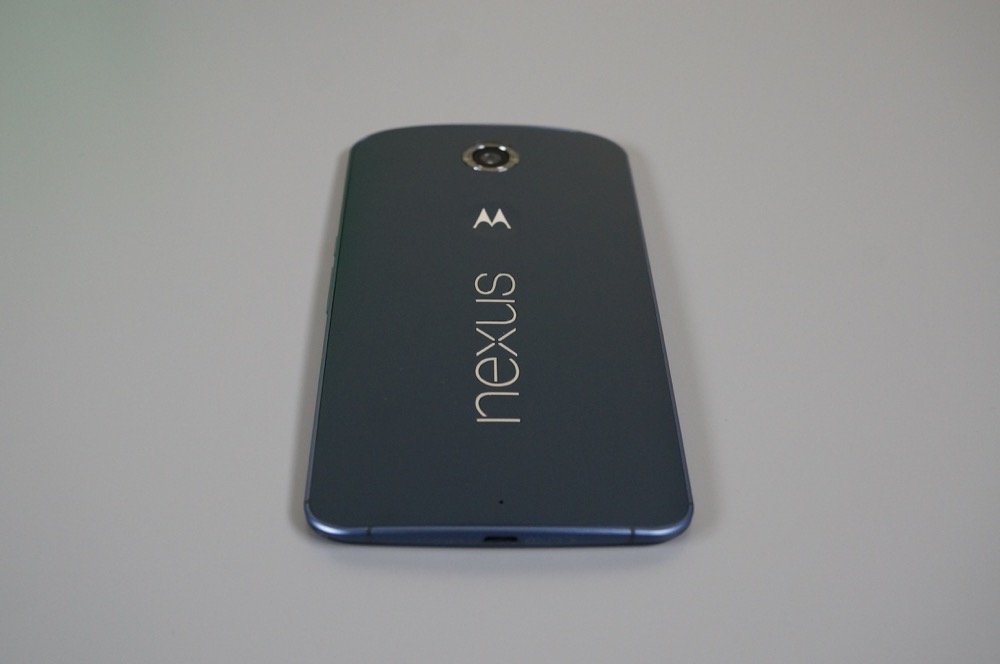 So this is where my mixed feelings come in. You see, I don't want a phone this big because I tend to like using a phone with one hand. But then again, this phone, with its big beautiful display, is so damn fun to use because of the way it was built and the fact that it runs Lollipop, that I almost want to force myself to use it. If you love big phones, I can't imagine you not loving the Nexus 6. If you don't, you may find some joy in it like I have anyway. And if you really don't like huge phones, then that's OK, because there are so many other awesome phones out there for you to choose from.
In the end, I can't hate the Nexus 6 for being big. Even though it is big just to be big, there isn't anything wrong with that. Fans of big phones will love it, and fans of regular sized phones still have plenty of other options.
Battery Life
For two weeks, I have been using the Nexus 6, putting it through all sorts of conditions in order to test out its battery life. Up until yesterday, when I read Tim's review of the Galaxy Note 4, a device that has the exact same battery size as the Nexus 6, I was convinced that the battery life on the Nexus 6 was better than average. Now, I'm not so sure that it is. The Galaxy Note 4 seems like a battery superstar when compared to the Nexus 6. That's not to say that the Nexus 6 is a battery failure, but it's battery life has been so all over the map, that this might be an area that needs further testing or a software update from Google.
In my time of use, which typically amounts to around two hours of screen-on time in a day with a mix of WiFi and LTE (on Verizon's network for this review), I had nights where I needed the charger at 10PM and others where the phone had 40% battery remaining. A couple of nights I had to switch to my Nexus 9 to finish out some late-night couch time – others I watched videos and played games for some pre-bed entertainment without needing to think about a charger.
As a reminder, the Nexus 6 has a 3,220mAh battery. That's a big battery. One would hope that this phone, coupled with a large battery and Project Volta (Google's new battery optimization in Lollipop) would produce class-leading battery life. It still might, it's just really hard to tell with such a massive range in battery times. On its best days, the Nexus 6 can compete with the DROID Turbo and its 3,900mAh battery, but I also had days where it felt a lot more like the Moto X and its smallish 2,300mAh juice box.
Thankfully, on those days where the Nexus 6 has a mind of its own, I can plug in the included Turbo Charger and get all sorts of power in just a few minutes.
Price
I don't hate the price of the Nexus 6 (32GB for $649, 64GB for $699) because this is about as premium of a package as you will find in the mobile space at the moment, but I would be lying if I didn't think the price was directly related to Google deciding to play ball with carriers this time around. The Nexus 5 was close to packing in all top tier specs for its time, yet still came in at $349 (16GB) and $399 (32GB) without a contract. The Nexus 6 seems to fall perfectly in line with the constantly-criticized subsidy model that carriers in the US have enforced for years (cheap phone with a contract vs. expensive and overpriced phone without one to deter you from buying it off-contract), something that Google was attempting to take aim at the last three years with the Galaxy Nexus, Nexus 4, and Nexus 5.
But look, at $649 and $699 the Nexus 6 still comes in at a lower price than the Galaxy Note 4, yet it equals Samsung's new oversized phone in almost every aspect. The phone technically has good value overall, but the whole situation just doesn't feel as anti-carrier and clean as it has for the last few years.
Unfortunately, as I write this review, we don't have full pricing info from all carriers (nothing from US Cellular or Verizon). AT&T is now selling the phone with 32GB of storage at $249 on a new 2-year contract. T-Mobile, Sprint, and AT&T also have plenty of month-to-month device payment plans to choose from, so you can potentially buy the phone reasonably instead of having to fork out $650 or $700 up front. If you aren't into buying phones at full retail price, especially phones $650+ and above, you shouldn't have any trouble finding a pricing plan that works.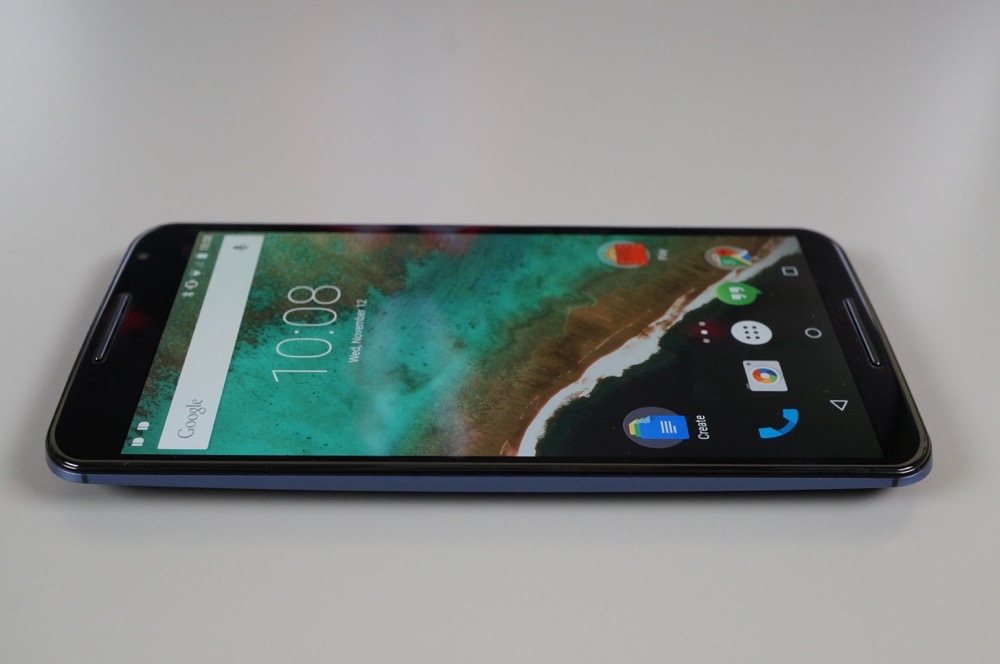 The Not-so-Good
---
Availability
Good luck buying a Nexus 6. Things could change on this front in the very near future, but as I click "publish" on this review, T-Mobile, AT&T, and Sprint have all announced limited availability of the new Nexus. Not only that, but all of these carriers are currently only planning to sell it in Midnight Blue with 32GB of storage at some point this week or next, with AT&T being the first to open pre-orders. As for Verizon and US Cellular, we aren't sure if they are taking their sweet time getting the device tested on their networks or if Google told everyone so last minute that they simply haven't had a chance to get it ready.
All we know as of today is that Google Play continues to sell out of re-stocks in about 20 seconds each Wednesday, T-Mobile already delayed their launch to November 19 for some reason, Motorola's online shop hasn't seen new inventory since selling out last week, AT&T has a pre-order with a shipping date of November 18, and Sprint is Sprint. It is practically impossible to buy this phone, and that's too damn bad, since this is one of those phones we wish everyone could spend some quality time with.
If things change, we can certainly update this section, but as of right now, I wish you the best of luck in your Nexus 6 buying endeavors.
Other Notes
---
Call quality:  I may not place a lot of calls, but on the few that I had over the last couple of weeks, the Nexus 6 neither stood out as being excellent or poor. It was acceptable. Calls were clear, volume was loud enough, and I have no complaints.
Wireless charging:  The Nexus 6 has wireless charging built in, but I have yet to really use it. Wireless charging isn't the fastest technology on the planet, so charging a 3,220mAh battery with a wireless charger could take a while. But that's not even why I haven't used it. Remember that the Nexus 6 comes with a Turbo Charger, so you can charge this phone to 6 hours of battery life in 15 minutes or the whole thing within about an hour.
Accessories:  At this time, there aren't many official Nexus 6 accessories on the horizon other than a couple of cases (folio and a clear case with stand) that are out of stock on Google Play. We could see some from the big accessories players, but so far, haven't seen any that look amazing.
Video
---
Unboxing
Nexus 6 working on Verizon
vs. DROID Turbo, Moto X, and more
Gallery
---
The Verdict
---
The Nexus 6 is the best Nexus phone ever made by a mile. Google and Motorola have teamed up to produce a phone that is premium in build, in specs, and in user experience. Sure, it's a whale. This phone is massive. But you know what? Because of the quality here and the overall package, you may be able to look beyond its size. In fact, you may just enjoy its size. I have, and I typically can't stand phones this big.
At a starting price of $649, the Nexus 6 isn't cheap, but since Google partnered with carriers this time around, you should be able to buy the device at a price point or with a payment plan that works for your situation. And speaking of carriers, the Nexus 6 will be available at all of the major US carriers at some point over the next couple of months. If you wanted to buy a Nexus device through your carrier after all these years, that time has finally come.
The Nexus 6 is a hell of a phone. I urge all of you to try and get your hands on one.