After being announced by Samsung, the Galaxy Alpha was a device we saw unexpected excitement for. Maybe it is the new design language Samsung implemented for the hardware, or the fact it features decent specs in a smaller package, but many people across the web seemed interested in the device, so we decided to pick one up and try it for ourselves.
Having spent my time with an iPhone 6 before the Galaxy Alpha, the smaller size was no big deal, as I was already accustomed to a display smaller than 5″. However, making that jump between iOS and Android was a weird one, as the operating systems are certainly very different from each other, but it felt great to be back on Android. Plus, given that a few in this industry labeled the Galaxy Alpha as an "iPhone Killer," I was excited to see if the phone could live up to that hype.
This is our Galaxy Alpha review. 
The Good
---
Design
I have no problem in stating that the Galaxy Alpha is Samsung's best looking hardware since ever. It is that hot. With a graceful touch of real metal surrounding its outside, coupled with the soft touch plastic along the back, the Galaxy Alpha is a real joy to hold and carry around. The size is completely manageable, which seems like such a rare thing these days in the Android world. While all of the top Android devices this year sport more than 5″ displays, the Galaxy Alpha is perfect for those who don't need all of that extra screen space. To say that I hope Samsung continues the Alpha's trend of design, including with the upcoming Galaxy S6, would be an total understatement.

Display
Alongside the overall design and materials used to create the device, the display is probably my next favorite thing featured on the Galaxy Alpha. While it is only a 720p Super AMOLED panel, it looks gorgeous. Colors displayed are bright and crisp, allowing games to look exceptional, with photos and videos also appearing to have substance.
Samsung's displays are always top notch in my opinion, and the Galaxy Alpha is no exception. One nice touch is Samsung's bright wallpapers included on the phone, which show off the display's abilities quite well. For me, the Galaxy Alpha proves that we still don't need QHD displays on our smartphones. FHD and HD displays do just fine for almost all use cases.
Macros for fun.
Somewhere in the Middle
---
Specs
The Galaxy Alpha features a handful of great specs, while the rest are sort of drab. The phone features a 4.7″ HD Super AMOLED display, 2.5GHz Snapdragon 801 processor, 2GB of RAM, 12MP rear-facing camera, 2.1MP front-facing camera, Bluetooth 4.0, 32GB of storage, 4G LTE connectivity, a fingerprint scanner, 1860mAh battery, and runs Android 4.4+ with Samsung's TouchWiz skin on top.
On paper, those specs sound legit for a smaller, cheaper device. However, after my review time, I find that hardware featured on a smartphone is only as good as the software allows it to be. In the case of Samsung, we have yet another handset hindered by endless amounts of TouchWiz, and for the umpteenth time, we come away disappointed. To read more about my hopeful disappointment, skip to the Performance section.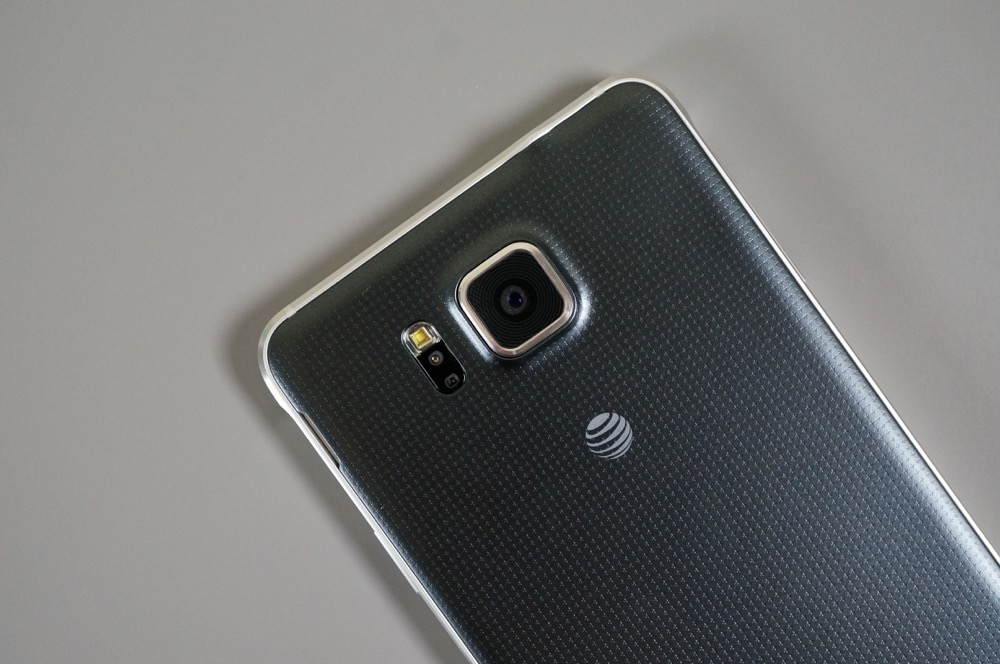 Camera
The 12MP shooter on the Galaxy Alpha is pretty good, but having used the iPhone 6 right before the Galaxy Alpha, my initial reaction is sort of skewed. I mean, the Galaxy Alpha has a good camera, but for an Android phone. In the grand scheme of things, it is only so-so, and when compared to the LG G3 or Galaxy Note 4, it does not compete. However, the Galaxy Alpha is not marketed as a direct competitor to those phones, so with that in mind, I was somewhat impressed by the small shooter.
Where the camera excelled was in abundant natural lighting (go figure), but the sensor struggled with night time shots. I attempted to take multiple shots of my dogs running during the day, but they ended up looking like blurred messes, so I have not included those shots. To conclude, stay away from night shots and fast movement, but don't be afraid to go for macros in good lighting and landscapes.
Full resolution: 1 | 2 | 3 | 4 | 5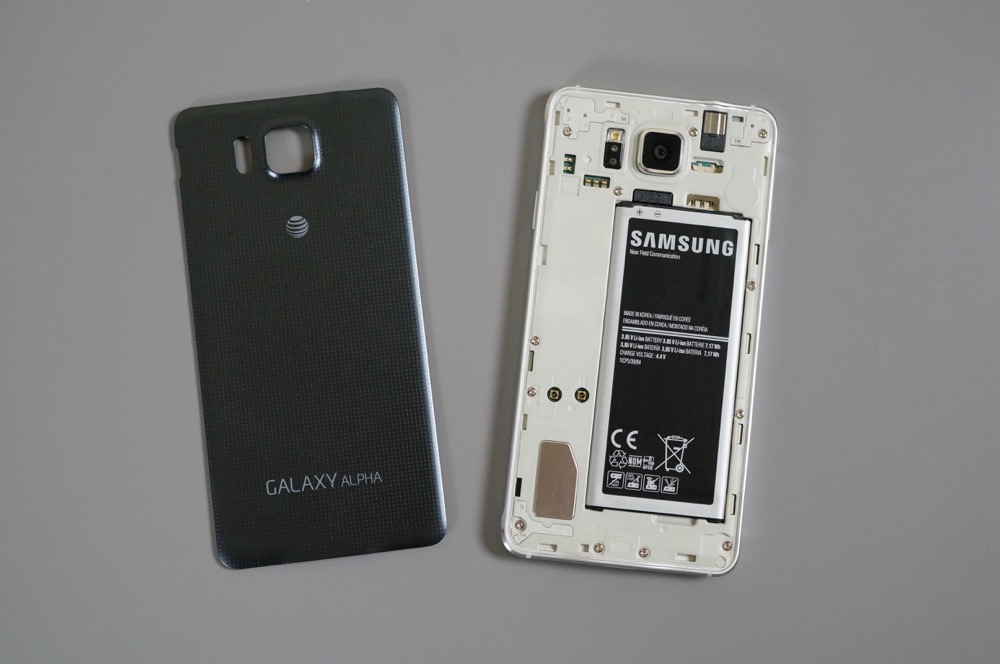 Battery
Battery testing seemed great at the beginning of my time with the Galaxy Alpha. However, I quickly found that after a few days, the battery was not giving me nearly what I had initially saw, so for the fact that my experience was so inconsistent, and that really is the last thing you want to see on a phone in terms of battery life, I have to score it low on this review.
If you don't play many games or do a lot of web browsing, the phone should easily get you a solid 10-12 hours of use, but being the power user that I am, I found myself plugging in for a charge around 6pm every night. I like to take a lot of pictures, browse sites, play games, and scroll through Instagram and Twitter. Every user should be able to do that without seeing a huge damper on their battery life, but with the Galaxy Alpha's small 1860mAh battery, it just was not cutting it for me. Again, coming from the iPhone 6 and LG G3, the Galaxy Alpha was not fitting to my smartphone usage, so I was not pleased with my experience.
The Not-so-Good
---
Performance
At first boot, the Galaxy Alpha was impressive in the performance department. Ultimately, that performance did not last. After playing a few games and running Chrome Beta on top of Google Maps, the stuttering and epically long pauses after pressing the home button took its toll on my patience. However, if your job is to test a device, pushing it to its limits, then you will definitely be able to do so. As for the average consumer, I think the performance will suit many people's needs, allowing for minimal multitasking and decent game playing. Since the device is not marketed as some ultra powered beast, then we can't knock the phone for not performing like a top tier flagship. While I had hoped for more, taking the Galaxy Alpha's gorgeous looks into consideration, I found myself wishing I had my G3 or new Moto X back.
My main concern was how hot the device got during certain times of the day. While playing games, the phone would not reach an insane temperature, but it was when I was out and about, browsing the web or using GPS that the phone got very hot to the touch. So hot that an immediate dismissal of all apps and a reboot was necessary to calm it down. I mean, really, that is not the type of experience I expect from any smartphone, regardless of price or specs.
Availability
The Galaxy Alpha's biggest foreseeable issue is availability. As of right now, you can only purchase the device through AT&T, and as we have seen many times before with carrier exclusives, don't plan on seeing them in the hands of many consumers. Priced at $199 on a two year contract, the package you receive for that type of cash is simply not worth it in my eyes. This is a $99 or cheaper on-contract device, without a doubt. Clearly AT&T thinks the hardware is good enough to charge you a premium for it.
Software
Samsung is back again with yet another smartphone filled to the brim with TouchWiz software. While it does seem that Samsung is refining its TouchWiz offering, it is by no means getting smaller. There are settings for everything, as well as additional features that you won't find on any other Android device. Special swipe gestures, Multi Window, Toolbox, Ultra Power Saving Mode, Touch Sensitivity, Quick Connect, S Finder, Smart Stay, and the list goes on and on.
Our feelings on TouchWiz are no secret; we really can't stand it. Instead of adding value with additional features, phones end up feeling burdened by the bloat that is TouchWiz. While we hate to toot that Motorola horn anymore, we do enjoy their take on software additions much more than Samsung's.
In terms of which features we recommend, I could see myself actually using Multi Window and Toolbox. That's it. Everything else? It can be removed with the quickness.
Fingerprint Scanner
The Galaxy Alpha is listed as featuring a fingerprint scanner. Wanna bet? After countless reboots and data wipes, mine never decided to work, so that's some jank straight out of the box.
Video
---
Galaxy Alpha vs. iPhone 6 vs. Xperia Z3 Compact
[responsive_vid]
Unboxing
[responsive_vid vid_url="qVtw09MdpmY"]
Gallery
---
The Verdict
---
The Alpha could have been a real contender, however, its exclusiveness on AT&T, coupled with poor performance and average battery life should keep most buyers away from it.
If Samsung wants to make a real "iPhone Killer" device, all they need to do is remake this same exact hardware, but throw in a bigger battery and improve upon TouchWiz's jank. Seriously, it might be perfect then. In our eyes, they could even get away with overcharging for it if the performance was not so held back by the huge amount of TouchWiz featured on the phone.
In conclusion, I absolutely love the design and feel of the Galaxy Alpha, but the software and performance struggles killed my experience after the first few days.
I am hoping that the Galaxy Alpha 2 sees a big performance boost.