A potentially on-the-horizon DROID phone being teased by the recently awakened @DroidLanding Twitter account will apparently support Motorola's new Turbo Charger. At least that's what today's cryptic Tweet leads us to believe.  The Tweet is short and sweet, but does mention that "fast charging is a big deal," so that's why Motorola "made it a bigger deal." The account finishes with hashtag #waitforit.  
If you missed our coverage from last week of the new Turbo Charger for the Moto X, just know that you can grab up to 8 hours of battery power by charging with it for just 15 minutes. As of last week's Moto X announcement, the new Moto X is the only phone of Motorola's that can take advantage of this new charger. However, it would make sense for Motorola to produce other devices that are compatible with it, including new DROID-branded phones headed for Verizon.
Motorola and Verizon have yet to even set a date for new DROIDs, but after Motorola took over the exclusive on the name for Big Red last year, we would be shocked if we didn't see follow-ups to the DROID MAXX and Mini. Expect them to be mostly based off of the new Moto X, only with silly in-your-face names that incorporate multiple Xs and patterned KEVLAR.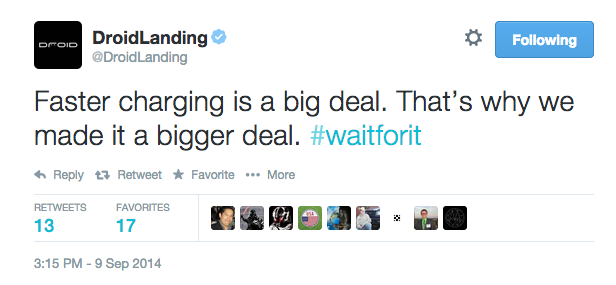 Via:  @DroidLanding