With the Android platform continuing its growth, mobile app and game developers, as well as hardware manufacturers, are all looking to slice themselves off a piece of the pie. NVIDIA, known for their long history in desktop computing, has always seemed highly focused on mobile gaming on Android, going back as far as the release of the Tegra 2 processor which powered the DROID X2.
Now, NVIDIA has the Tegra K1 quad-core processor, capable of running PC grade games on mobile devices. Not only are mobile processors stronger than ever, but the hardware game has changed significantly in the past few years, with the company releasing the SHIELD Tablet and SHIELD Controller as of this morning.
Both devices broaden the newly-named "SHIELD Family," which also includes last year's SHIELD Portable, previously known as just SHIELD. This new tablet and controller are NVIDIA's commitment to make mobile gaming on Android an experience like you have never had on Android. I'm not sure anyone could have imagined when we all got our first DROID devices back in 2009, that this is where we were headed in terms of mobile gaming. Below, we take a look at NVIDIA's new Android-powered gaming offerings, putting them to the ultimate Android fanboy gaming test.
This is our SHIELD Tablet and SHIELD Controller review.

The Good
---
Specs
Featuring a Tegra K1 processor clocked up to 2.2GHz, 192-core GPU, and 2GB of RAM, the Tegra K1 is essentially unmatched in performance potential among other Android-powered tablets. Built with gamers in mind, NVIDIA has delivered a tablet that can stand up to any type of usage, whether that be PC game streaming, Netflix HD streaming, web browsing, local game playing, and much more. The SHIELD Tablet also features an 8″ Full HD display (1920 x 1200), 5MP front-facing camera, 5MP rear-facing camera, Bluetooth 4.0 LE, 16GB or 32GB of onboard storage (depending on which model you buy), dual front-facing stereo speakers, microSD slot for up to 128GB of storage, 4G LTE connectivity (available only with compatible model), 19.75 watt hours battery, mini-HDMI out, and runs stock Android 4.4.2 out of the box.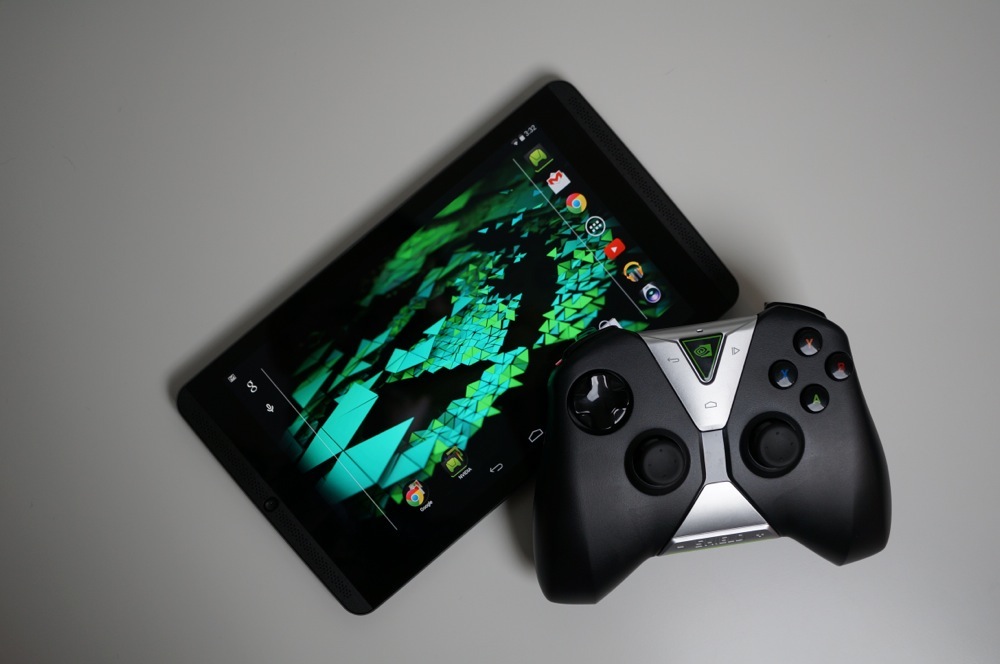 Hardware / Build Quality
As we saw with last year's SHIELD Portable, NVIDIA has a knack for making good hardware. The SHIELD Tablet and SHIELD Controller keep this young tradition alive, as NVIDIA is still relatively new to the consumer hardware scene. To me, it seems the company has no problem sparing any expense, concluding with two devices that can stand up to the harshest of treatment. Sure, I wouldn't drop either of these units off of a building and expect them to survive, but I can easily see the tablet and controller taking a good beating over the course of a couple years.
The SHIELD Tablet is semi-heavy, weighing in at 13.7oz, which makes it feel very durable and sturdy. It reminds me that I would rather have a tablet built for the long haul instead of an insanely light tablet that I constantly feel as if I'm going to snap in half. The SHIELD Controller is made of a hardened plastic, weighing 315 grams. It features console-grade controls, capacitive touch buttons, and an excellent in-hand feel. I would compare it to the SHIELD Portable's controls, but it is much lighter given that it doesn't feature a built-in display and a ton of additional hardware inside.
Gaming
Having been built specifically for gamers, there is no doubt that NVIDIA knocked it out of the park with the SHIELD Tablet and SHIELD Controller when it comes to gaming. Suitable for hardcore players to the more casual gaming enthusiasts among us, there really isn't a game that this device can't handle. Given that the SHIELD Tablet has full access to Google Play, you can use it as you would any other Android-powered tablet, downloading all of your favorite games to play whenever you would like.
Sending your gaming experience over the top is the GRID Beta application and the GameStream platform. With GameStream, owners of a GeForce GTX-powered PC rig can stream their PC games over a WiFi network directly to the SHIELD Tablet, giving you an awesome gaming experience from anywhere in your home. NVIDIA does a great job at making the setup process for the platform as easy as can be, while also making sure to visually "green light" your rig when it is hooked up properly with the correct drivers. Not only can you stream over 100 compatible games to your tablet over WiFi at 60fps in HD, but you can then hook the SHIELD Tablet up to your HDTV in the living room with Console Mode, which allows you to play your PC games at up to 60fps in 1080p right from your couch. It should also be noted that SHIELD Tablet allows for multiple SHIELD Controller devices to be hooked up to it simultaneously, meaning you and your friends can have fun at the same time.
The one feature which really blew me away was Stream to Twitch. While playing any game on your tablet, NVIDIA has built in the ability to livestream any gameplay to Twitch, for everyone to watch. So, you are streaming your PC game to the SHIELD Tablet using GameStream, streaming your gameplay up to Twitch for people to enjoy, and you can then also overlay a video of yourself using the tablet's front-facing 5MP camera at the same time. It's just like all of the gaming pros that you watch on YouTube and Twitch, minus the pain of setting all of the hardware up. To livestream, make sure you are signed in to Twitch on the tablet, pull down the notification shade, hit "Share," then select "Broadcast to Twitch." I livestreamed a little Granny Smith and Batman Arkham Origins (PC version) to test it out, and I came away very impressed with how easy it was to set up and control. If you enjoy watching a few YouTubers as I do that livestream their gameplay and commentary over it, you will have a blast trying it out for yourself.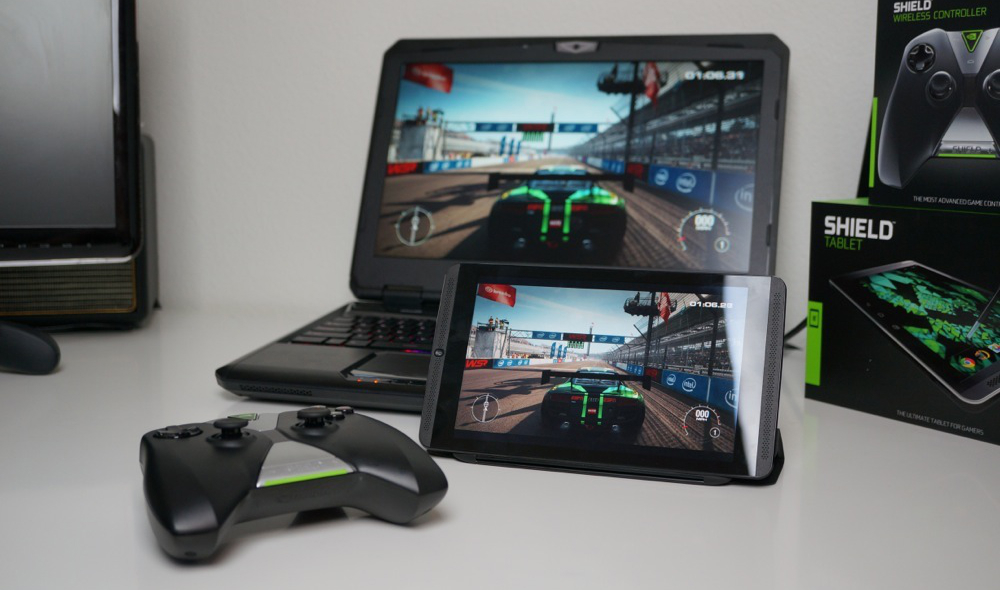 In addition, if you live in a supported area, don't forget about the GRID Beta application. With GRID Beta, NVIDIA gives you access to multiple PC titles, without the need to buy anything. Games are streamed directly to your device over the cloud, meaning that you can get a lot of usage out of your SHIELD Controller, playing games such as Borderlands, Dead Island, Red Faction: Armageddon, Darksiders 2, and Alan Wake American Nightmare. Given that you have a decent router, gameplay streams phenomenally with no lag at all. This is most apparent when playing the racing game GRID, which calls for precise controls or you will end up going off of a cliff. Lag-free gameplay is thanks to the WiFi Direct connectivity between the SHIELD Tablet and SHIELD Controller, which is a much more powerful option for gamers over Bluetooth, with a direct data rate of 24Mbps versus Bluetooth's 3Mbps.
To wrap this section up, I want to emphasize that NVIDIA does a great job at showcasing compatible games for the SHIELD Tablet paired with the SHIELD Controller, while also making players aware of Tegra exclusive titles that are available. While we don't always agree with the "Tegra exclusive" game plan from NVIDIA and publishers, you might as well take full advantage of it if you own a compatible device. Owners of a compatible device can browse games through the Shop section of SHIELD Hub, which is an app downloaded from Google Play. Inside SHIELD Hub, you can see detailed descriptions for each game, including whether a title features full Controller support, "controller required" support, or partial controller support.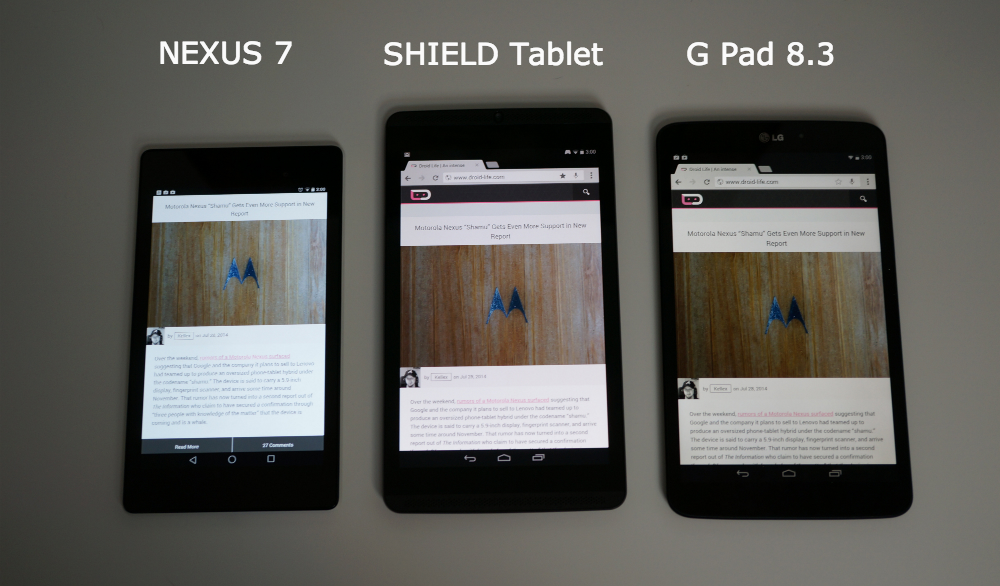 Display
The SHIELD Tablet features an 8″ Full HD display, with a resolution of 1920 x 1200. Unlike the issues I had with SHIELD Portable last year, with its 5″ 720p display, the SHIELD Tablet features a gorgeous panel, capable of reproducing all of the stunning graphics that you would see on your HD computer monitor while playing games. That fact is important, given that streaming PC games to the Tablet is such a big selling point of the device. The overall size is quite nice as well; not too small like a Nexus 7, and not too big like a 10.1″ display. The 8″ allows for clear visuals, as well as an ultra portable experience. The display can get very bright, as well as extremely dark. It might actually get lower on the brightness scale than any other tablet I have seen to this date. This is good for me when I am laying in bed and don't want to be blinded by a backlit display.
Macros for fun.
Battery
Given that I have only had the tablet for less than a week, and that time was spent constantly streaming content, I can only give a partial review of the battery life for the SHIELD Tablet. However, even though it was a short time, I came away very impressed with how long this tablet can stay alive while gaming and outputting Full HD content to my HDTV in Console Mode. Since last Wednesday morning, I have charged the device twice, but it never got lower than 15%, and I used the Tablet each day for a solid amount of time. I played local games from Google Play, streamed over GRID Beta, and used GameStream to play Batman Arkham Origins while livestreaming to Twitch. I never ran into any battery issues during this time. To me, that is most impressive.
As for the SHIELD Controller, I still have yet to plug that device into the wall for charging, since I haven't needed to yet. Given that I haven't needed to, and all you do is plug in a microUSB to charge it, I can give the SHIELD Controller a solid A+ in the battery department.
Once I have spent more time with the SHIELD Tablet and SHIELD Controller, using them as I would during a regular time (and not a reviewing period), I will report back with my findings if I feel the need to. For now, you can expect no type of battery issues from either device.
Software
There is no doubt that NVIDIA loves Android. Why else would they ship their hardware running stock Android, coupled with minor proprietary tweaks? Android as an OS is a strong mobile gaming platform, with NVIDIA only looking to make it stronger, while also capitalizing on it a bit. While keeping all baked-in applications to a minimum, the ones that NVIDIA does include are quite useful, including all of the SHIELD applications, a free copy of Trine 2, handwriting software for DirectStylus 2.0 (which we get into below), and the built-in Twitch integration. The software on SHIELD Tablet is an awesome package, full of value, which is also easy to navigate since it is stock Android. Everyone knows we are quite fond of stock Android, but there are certain companies that add in functional tweaks – such as Motorola – which make stock Android even better. NVIDIA has done that on the SHIELD Tablet. For that, we congratulate NVIDIA with a heartfelt golf clap.
Updates from NVIDIA
Just like the SHIELD Portable, OS updates for the SHIELD Tablet are sent straight from NVIDIA, and the company is awesome in terms of turnaround time. With the SHIELD Portable, large Android updates took 4-6 weeks to be pushed out to all users, with NVIDIA expecting the same update times with the SHIELD Tablet. Quick update times are important for Android users, as it makes us feel like our devices are very important to the company which makes them. If a company releases an Android device, only to let it die with no updates after a year, then you should know not to buy a device from that company again. The SHIELD Portable is still receiving updates from NVIDIA, bringing more features, and of course, the latest versions of Android. If NVIDIA treats the SHIELD Tablet as they did the SHIELD Portable (which they will), buyers can expect a long updating life from their tablet.
DirectStylus 2.0
Before I dive deep into DirectStylus 2.0 talk, please make yourself aware that I am not an artist. I can draw a solid stick figure, and maybe a dog and cat, but that's about it. With that said, I am the last person you want to explain the benefits of having a stylus coupled with this tablet, but I will try my best.
Built into SHIELD Tablet are a few apps which will help you get the most out of your stylus usage, these are NVIDIA Dabbler, Write, Evernote, and JusWrite. My favorite is NVIDIA Dabbler, which is basically a full painting studio inside of your tablet. Dabbler is the world's first GPU accelerated 3D Painting application, which features gravity simulation, dynamic lighting controls, smart shape recognition, color mixing, and a ton more. As I mentioned, I can't possibly explain these features in depth, but NVIDIA's video on the software can give you a great look at it. Given that I had fun drawing my favorite Cartoon Network character (Clarence) with Dabbler, I can say that I actually had fun using DirectStylus 2.0.
Dual Front-facing Speakers
The SHIELD Tablet comes with dual front-facing speakers, capable of awesome audio output. While playing my games, bumping my heavy metal tunes, and watching Netflix content, the speakers were always delivering good sounds for my ears to take in. While I noticed that they are not the loudest speakers, but are still plenty loud, and the sounds that are created by the speakers are clear, full, and controlled. At no point were there signs of peaking or crackling, something which I would find unacceptable for a luxury device such as this. Given that I consume a ton of content that requires good speakers every day of the week on my devices, it is nice to see that NVIDIA put special thought into the design (front-facing) and overall audio quality outputted by the SHIELD Tablet.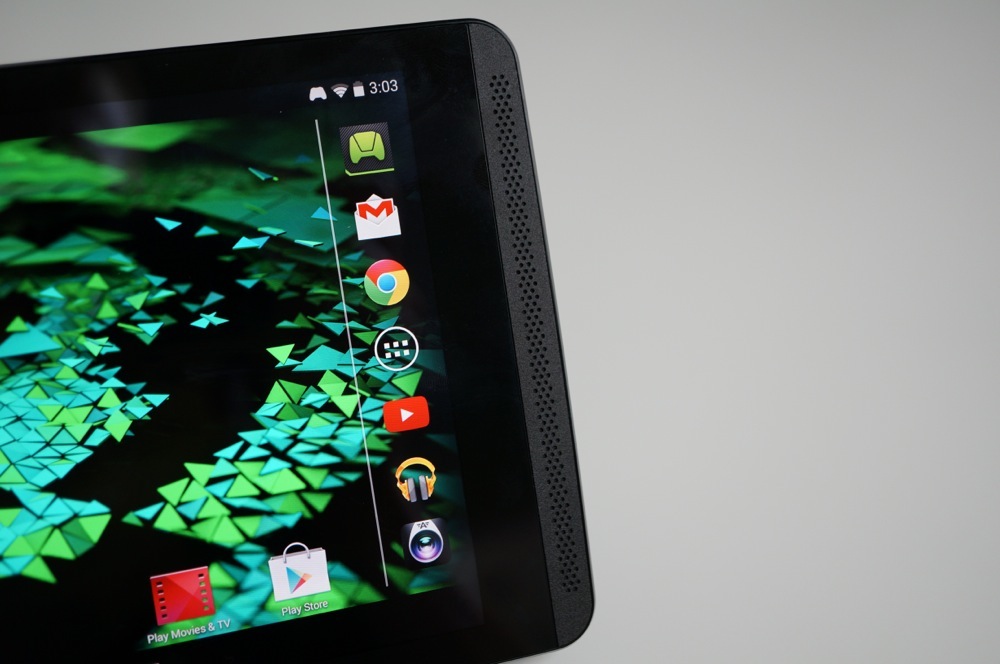 Pricing and Availability 
The SHIELD Tablet and SHIELD Controller are available through NVIDIA's own website, starting July 29. The Tablet with WiFi + 16GB of storage can be purchased for just $299, while the 4G LTE + 32GB model is listed at $399. They can also be purchased through Amazon and other select retail locations. The SHIELD Controller is priced at $59, and the SHIELD Cover/Stand is priced at $39. To me, these prices are very reasonable, considering the functionality and power you are getting. Not only are you getting an awesome tablet, but you are opening yourself up to a ton of great content to consume from GRID Beta, GameStream, NVIDIA Dabbler, and Twitch.
Somewhere-in-the-Middle
---
Camera
While I don't think insane mobile photography was exactly what NVIDIA was looking to accomplish in creating the SHIELD Tablet, they didn't do that bad of a job. The SHIELD Tablet features two shooters, one rear-facing 5MP and one front-facing 5MP. The front-facing shooter looks very good when livestreaming to Twitch, but besides that, I never have much use for a front facing camera. Maybe the occasional Snapchat, but I use my phone for that. The rear camera is not the best shooter I have seen on a tablet, but since it is a tablet, it gets the job done just fine.
The only downer is that instead of Google's camera application, NVIDIA partnered with Camera Awesome to have their application preinstalled on the SHIELD Tablet, which I don't really care for. Camera Awesome tends to be a bit bloated in my opinion, so I would rather have a plain point-and-shoot experience, especially since this is just a tablet. Regardless of software used, the pictures come out looking fine as long you can find some decent lighting and an object that stands still, unlike my dogs.
Photos below are unedited, but have been resized.
Amount of Onboard Storage
The only real gripe I think anyone can have over the SHIELD Tablet is the amount of onboard storage that the WiFi-only model comes with. 16GB really isn't all that much, especially when you consider that NVIDIA wants you to load this bad boy up with games and content. However, the tablet does feature a microSD slot for an additional 128GB of storage, but we all know that playing games from the microSD can sometimes be a bit hit and miss. From what I saw, after powering on the tablet, you are given about 12GB of storage to play with, which should be enough for a few big 1.5GB+ games from Google Play. Keep in mind, the SHIELD Tablet does come preloaded with Trine 2, which weighs in around 1.75GB on its own out of the box. With that said, this storage issue should really only matter to people who buy the $299 WiFi-only model, as I would assume that someone would never need to fill a tablet with 32GB of games. That's just me, though.
SHIELD Controller
---
I wanted to give SHIELD Controller its own little section, given that it is its own little device. However, without a SHIELD Tablet, I don't know how much fun a controller all by itself would be. Regardless, SHIELD Controller is a well constructed piece of hardware, featuring full console-grade triggers, bumpers, joysticks, capacitive buttons, a full volume rocker and a D-pad. I would compare it to the game controller that you can buy with the Fire TV, but much, much better. It is kind of small, easily handled with two hands, and you get the sense that you can really wrap your hand around it.
With the Controller, while playing PC games (or regular Android games, for that matter), you can hook up a full headset through the 3.5mm headphone jack, which also supports chat audio. If you play Call of Duty or a genre of game that requires a headset to chat with other players, you will know what I am referring to. When not using a headset, users can press the NVIDIA button and use Google Now, with voice commands such as "Open Netflix," "Watch Godzilla," and much more.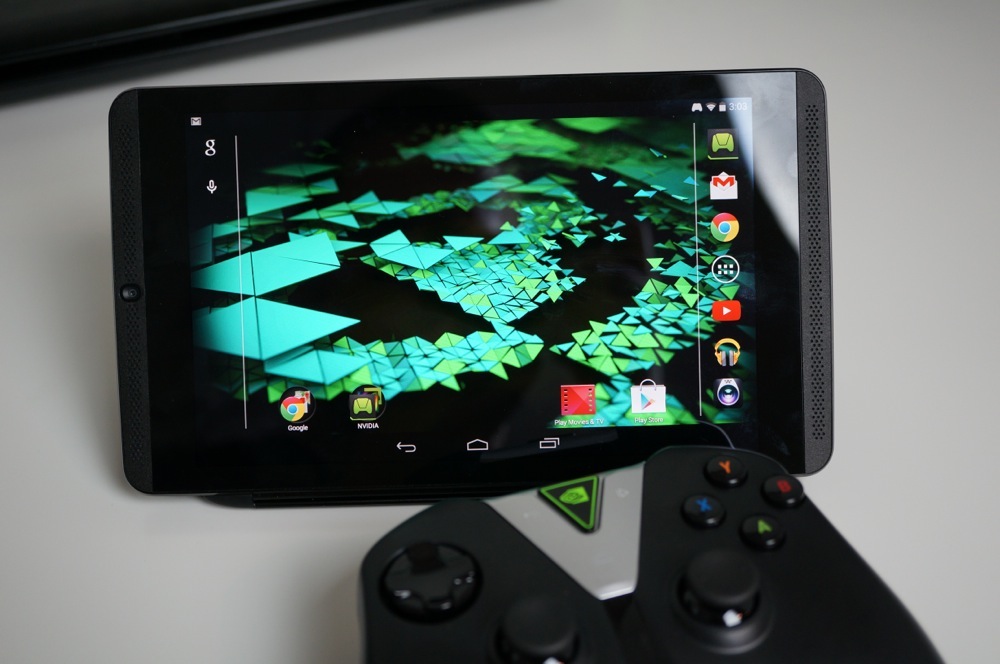 Going back to battery talk, the SHIELD Controller is marketed as able to deliver up to 40 hours of gaming, taking less than 5 hours to go from completely drained to charged. Since the battery is not removable, all you do is plug the controller into the wall, which means you don't have to worry about losing any parts since you are not removing anything.
All in all, the SHIELD Controller is a sweet little piece of hardware, perfectly paired with the SHIELD Tablet, but we do sort of wish that it was priced at $49.99 instead of $59.99. With a slightly lower price, people might be tempted to purchase more for multiplayer use cases.
Videos
---
[responsive_vid]
[responsive_vid vid_url="QXse7wEHxwg"]
Gallery
---
The Verdict
---
I think it speaks volumes that the SHIELD Tablet is the first device I have reviewed where I didn't think anything belonged in a "Not-so-Good" section. During my time with the unit, I didn't come across a single gripe or pain point, which seems so rare these days. There is always something that I don't care for in a device, but the SHIELD Tablet simply delivers exactly what it was made to, with no gimmicks and no bullsh*t.
To me, NVIDIA priced the SHIELD Tablet and SHIELD Controller as "affordable luxury" devices, meaning that you can get an insanely premium experience for the same price you would have with a watered-down Android experience from a competitor device. While I would normally always recommend a Nexus tablet over any other, the SHIELD Tablet will now replace Google's offering in the recommendation category, given that you really get so much more value for your money.
The SHIELD Tablet coupled with the SHIELD Controller is the ultimate gaming package for Android lovers. All you have to do now is go buy one and see for yourself.
Amazon Links:  SHIELD Tablet ($299) | SHIELD Controller ($59.99) | SHIELD Cover ($39.99)