We spend plenty of time talking about the LG G3's display and camera, since those features are highlighted quite frequently by LG, but what about other cool features that come preloaded on the device? Well, we are about to show you a few.
For starters, let's talk about five cool features you can use on the LG G3. While the features are not necessarily specific to just the G3, potential owners will most certainly want to check these features out when they pick up their new device.
Let's check 'em out. 
---
Camera Software / Magic Focus / Immersive Mode
While the camera itself is quite remarkable for being attached to a smartphone, the UI and software for the camera on the G3 is also quite well done by LG. The nicest feature I would claim is the immersive mode that can be toggled when shooting stills. What this mode does is hide all of the settings buttons from the UI, allowing you to view only what you are shooting. For those of us easily distracted by a massive amount of buttons and toggles, this is a step in the minimal direction.
When toggled, the camera turns to a tap-to-shoot mode, instead of a tap-to-focus mode. But thanks to the laser built into the rear side of the device, you can still count on taking crisp and well-focused shots, even without tapping on the display.
Finally, much like the Galaxy S5 and One (M8), the G3 features a mode called Magic Focus. With this mode enabled, the G3 takes a small series of photos during a single press of the shutter button. In the gallery, you can later go back to refocus on a certain part of the photograph. I will say, it doesn't seem as well-tuned as it does on the One (M8) or Galaxy S5, but it is still there for anyone who chooses to use it.
Knock Code
With Knock Code enabled, users can designate a random set of display taps to unlock their device. When setting Knock Code up under the Lock Screen settings menu, there are four quarter areas placed on the screen. Inside those four quarters, you decide what your code will be. For example, you can tap in the top right corner three times, then two times in the lower left corner. The choice is yours.
While it isn't the craziest innovation since sliced bread, it is a breath of fresh air compared to pattern and pin lock codes that users have been forced to use since the dawn of man. Plus, let's be real, does anyone actually use Face Unlock?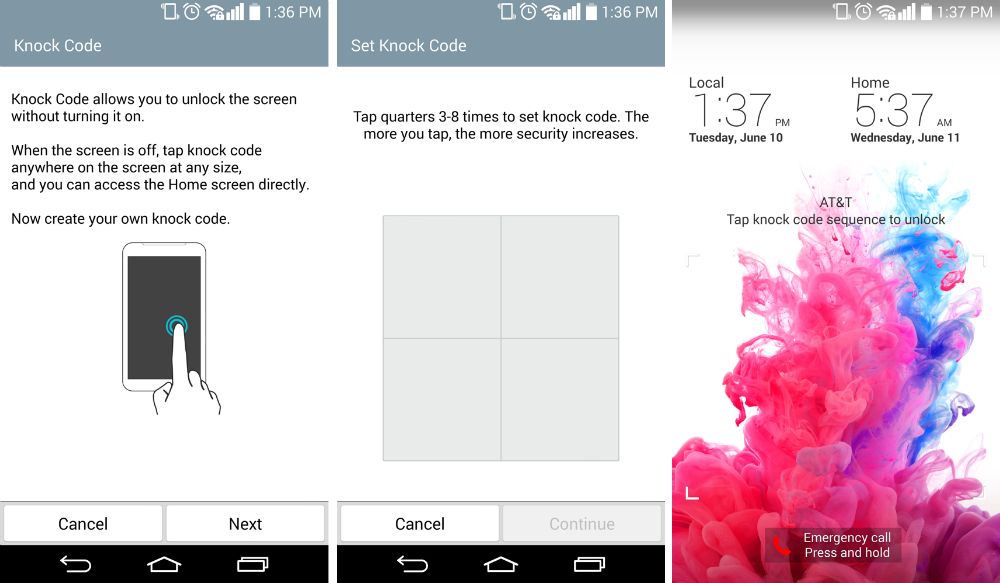 Smart Notice
For users of Google Now, Smart Notice will sound deadly familiar. Located on your home screen when you have the widget in place, Smart Notice shows you cards based on weather conditions and upcoming events. For example, when it's a nice day out, but the temperature is expected to drop quite a bit, a card will remind you that you would be better off bringing a jacket or umbrella with you when you leave the house.
The card is always at the bottom of the Smart Notice widget, which also displays the current weather conditions, as well as the local time.
However, keep in mind it isn't quite as comprehensive as Google Now is. In time it may be, but for now, it only handles weather, calendar events, and a few reminder settings. We would like to see LG bring more functionality to Smart Notice in the future.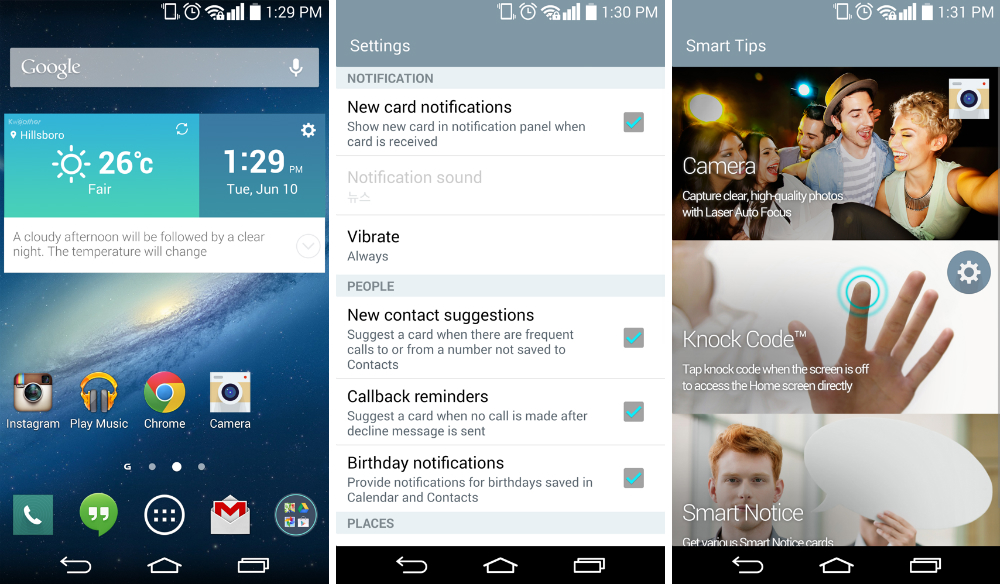 Guest Mode
When you buy your LG G3, you can expect to have a lot of people who will want to play with it. And even if you don't have many friends, maybe your kids or wife will need to use your phone from time to time. Phones can contain a lot of personal information, so when you don't want a person to have access to those files, you can set up a Guest Mode that will make sure you are protected.
Set up through your main Settings menu, when Guest Mode is enabled, owners can choose which applications are usable in the mode itself, which means if your kids are using the device, you can grant them access to Google Play, plus a few apps and games for them to play with; no need for them to have access to system settings or your work email.
As stated in the intro for this piece, a Guest Mode is nothing exclusive to the G3, but potential buyers, you might be happy to hear that it has made its way to this phone.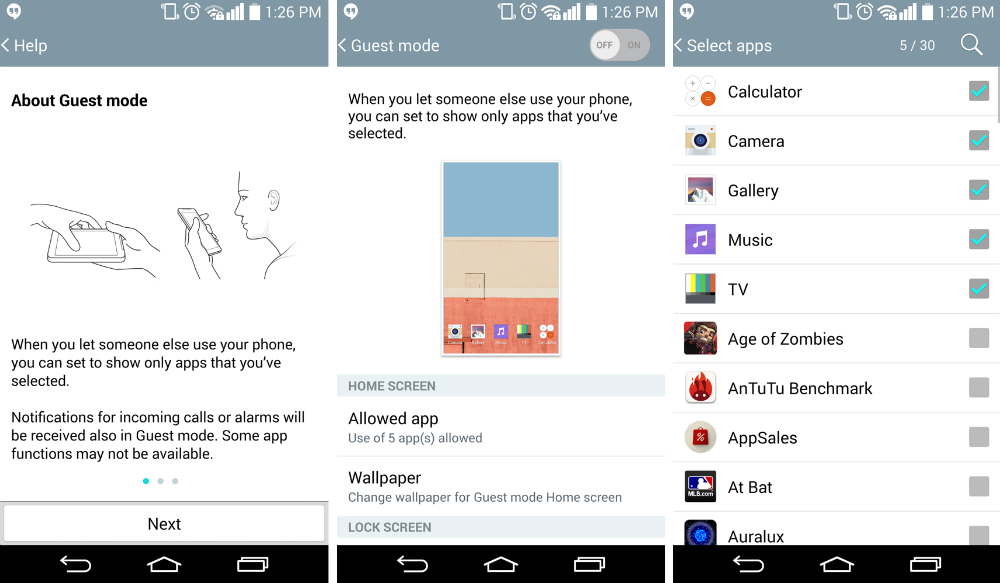 Dual Window
First introduced on Samsung devices as Multi Window, LG's Dual Window is a fantastic copy of the software. To enable Dual Window, simply long press on the "Back" button located on the navigation bar on the bottom of your display. With the feature enabled, users can run two compatible applications simultaneously, on top of each other.
This means that when you are browsing the web on Chrome, you can also catch up on the latest YouTube videos or posts on Droid Life in a window above or below Chrome. Awesome, right?
Of course, compatibility is very limited for what apps you can use Dual Window with, but you can always expect more apps to be made compatible down the road. We have seen compatibility grow for Samsung's Multi Window over time, so we can expect the same from LG and app developers as well.