On Friday, we received an LG G3 to review, but we know many of our readers don't feel like waiting for us to pump out a full review, which usually takes 1-2 weeks. To help kill time, we opened up the DL hotline, giving you a chance to ask us anything you wanted to know about the phone.
Clearly, everyone wants to know about four major things – the display, battery life, how it feels in hand, and LG's new skin.
We have had the device for four days now, and have a pretty good feel for everything this Korean model of the G3 has to offer, so check out our answers to your top-rated questions below.
How's the Quad HD display? Worth the hype?
I think that's the biggest question concerning this device? Does a smartphone actually need a QHD display? With a resolution of 2560 x 1440, the G3 has the highest resolution of any smartphone released in the United States. Sadly, but not in a bad way, it's painfully obvious to notice this fact. As of this writing, content to consume on a QHD display is limited, especially for smartphones. While you can find yourself a 4K wallpaper, which will look great, anything else you view (apps, games, YouTube videos, MLB At Bat streams) won't take advantage of this hardware.
Maybe in a few years, when QHD becomes the new standard, and mobile app developers and content creators are making higher resolution a priority, these types of displays will be useful. However, like all things that were first of their kind, we need to start somewhere. I applaud LG for taking the leap into QHD, getting the ball rolling on introductions of new technologies for smartphones.
In terms of purely looking at the display, it is easily one of the best viewing experiences on a smartphone I have ever had. My fingers are crossed that more higher-res content is created for G3 owners to enjoy.
How's the battery?
It is hard to say exactly how the battery is, since we have been given a Korean model, which is running on AT&T's 4G LTE network. When not on WiFi, I am pulling speeds of 13MB down and 3MB up, which seems a tad slow in comparison to what I am used to. I am thinking the device is not optimized for the networks here, and that may directly relate to lower-than-expected battery life. However, when on a mix of WiFi and LTE, this device surprised the heck out of me. From the mornings around 9am to 11pm, the phone handles a full charge, with about 15% battery remaining. With the device featuring a QHD display, I was surprised at how well it kept a charge. Of course, your milage may vary depending on usage, network connection, and things like that.
It "only" has a Snapdragon 801. How's performance?
I have been surprised as to the criticism of the Snapdragon 801. After seeing a few reviews of the device, it seems that everyone was hoping for a Snapdragon 805, meaning the 801 could never live up to expectation. Thankfully, my experiences have been nothing but positive in terms of performance, as the G3 feels responsive, handling mobile gaming like a champ. Even after seeing a few benchmarks posted on other sites, I found my results to be much different. Here are the results.
While a faster processor and more powerful GPU might have been nice, I feel that anyone who decides to pick up the G3 will be pleasantly surprised with its performance.
How does it feel in hand?
For being 5.5″, it's completely manageable. Unlike the Galaxy S5 and One (M8), this device features little bezel, plus it has a very ergonomic feel to it. It feels right. While there will be plenty of people who claim it's too big, I'm not one of them. Coming from a One (M8) and Nexus 5 as my daily drivers, the G3 feels awesome. My best answer would be to go feel the phone for yourself when it is launched in retail stores.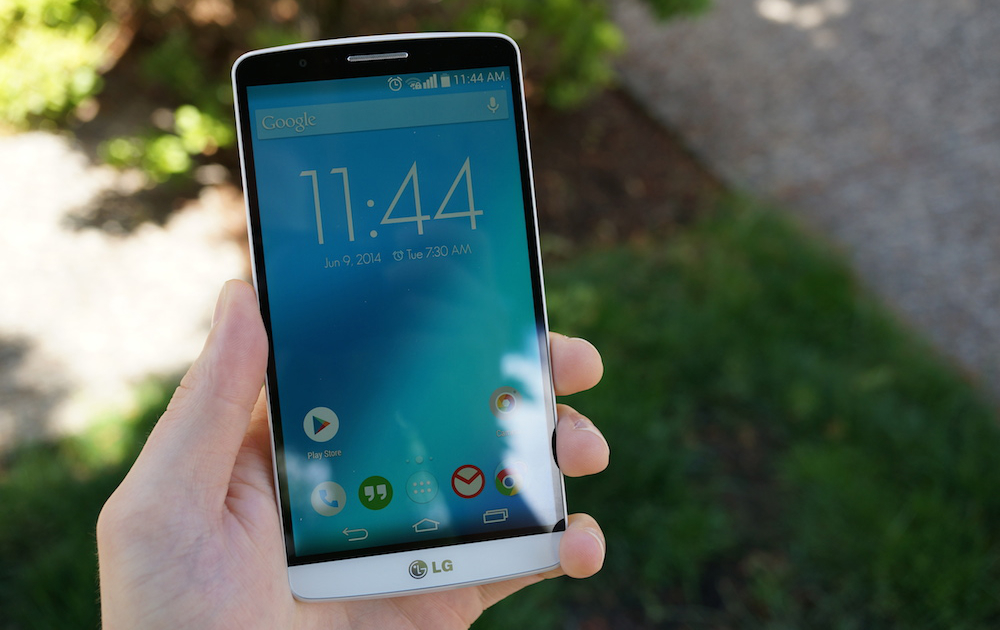 Is it water resistant like the Galaxy S5? 
No, please do not dunk this phone in your pool, as it is not waterproof or even water resistant.
How's the camera? 
The camera is so nice, we did a separate camera comparison post which you can read here. We placed the G3 against the Galaxy S5, One (M8), Nexus 5, and iPhone 5s. The results won't surprise you, unless you thought the G3 camera was somehow going to be bad. To sum up that post, the G3 cameras is awesome. It has super fast auto focus and great color reproduction.
How is the rear-facing speaker?
While LG promoted the speaker at the G3's unveiling, something only HTC is known for doing with BoomSound, I don't find it to be all that awesome. Being a BoomSound fan myself, there is no doubt that those dual front-facing speakers beat out any other smartphone in terms of audio quality. The G3 does get loud, but the sound is rather harsh on the ear, featuring nothing but high ends. Even after bumping a few rap tunes, low end on the G3 speaker is hard to come by.
How does the display do in direct sunlight?
The G3 display can be set very high, so viewing in sun should not be a problem. However, I think the One (M8) does a bit better in direct sunlight, as its top brightness setting is ridiculously high.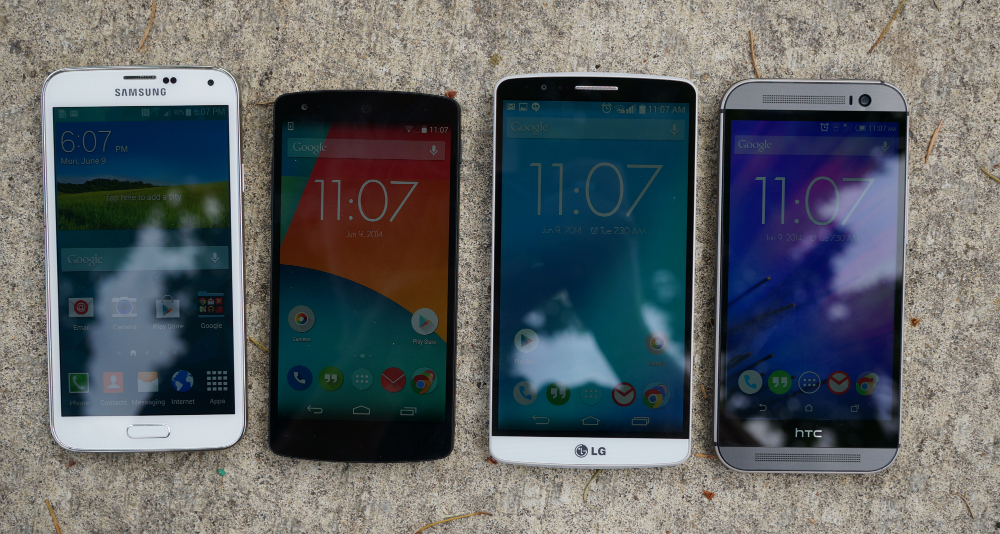 How is LG's skin?
You know, it's not that bad. LG's skin has been evolving, much like Samsung's TouchWiz, and it's only getting better. While their launcher is basically unusable, as it tends to lag up just a tad, the overall settings menu, gallery app, camera app, and other necessary system applications all look just fine. As a major non-fan of OEM skins, LG has done alright in my book. However, a two finger pulldown is not present, even though the phone is running Android 4.4.2. I enjoy the pulldown to view all of my system toggles, so for me, this was a con.
Does it feature wireless charging?
The device does not come out-of-the-box with wireless charging capability. You will need to buy LG's QuickCircle case for that functionality.
How much storage is available to user out of the box?
I was given the 32GB model, then after downloading my apps and setting the device up, I have about 21GB left. The system data takes roughly 6.5GB right off the bat, so be aware of that if you plan on purchasing a 16GB model. This move is nothing new from companies, and Samsung is still the worst, usually taking around 8-10GB of storage with their skin and applications.
If you have any follow-up questions, I can answer them in the comments below.