Apple is done with its WWDC keynote, where they introduced a bunch of new features for iOS 8, plus a new version of OS X called Yosemite. We poked fun at a handful of them already, but believe it or not, we are also capable of giving props when we see something cool or that we would like to see on Android at some point. I know, I know, you are probably wondering what I have been drinking over the last couple of hours, but hang with me for a second. You have to admit that Apple is really doing a great job at making all of the experiences seamless from iPhone to iPad to computer. They are also doing a pretty impressive job when it comes to making it easy to get in touch with or share things with the people you chat with the most.
So here we go – these are the iOS 8 features that were introduced today that we actually found to be pretty cool. Feel free to agree or disagree, of course.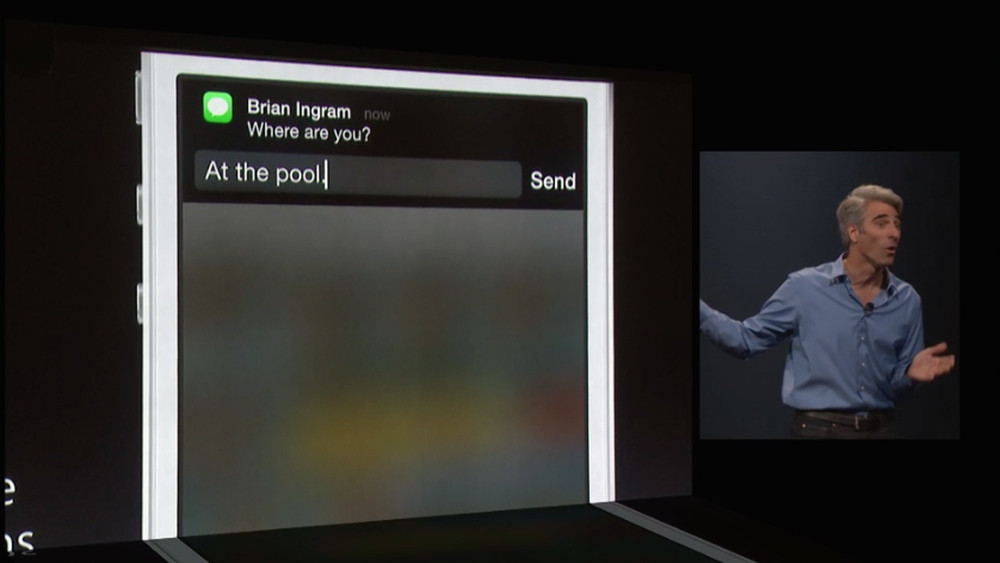 Interactive Notifications
With Interactive Notifications, Apple is giving you actionable items in a notification. These aren't groundbreaking by any means, but something as simple as being able to quick-reply to someone in a message without leaving your current app, is pretty cool. We have something similar on Android (have had for a while), but these seem to take the idea one step further. With Android, when you tap a button in a notification, you are taken out of your current app and into the app attached to the notification. On iOS 8, a text notification lets you respond (with a keybaord) within the notification without leaving your current position.
Sure, there are 3rd party apps that do this on Android already, but building this functionality into the OS would be awesome, especially so developers from all sorts of apps could take advantage of it.
Automatic Hotspot and Phone calls
Apple introduced a way for an iPhone to automatically become a hotspot for your computer and then also give you the ability to answer or make calls through your computer. I know what you are going to say, "We have Google Voice and Hangouts and hotspot apps already on Android!" But see, that's the thing – this is all seamless integration that doesn't require launching an app or signing up for Google Voice. With Apple's new voice call and hotspot integration, everything is just ready to work.
With the Hotspot idea, your computer recognizes that your iPhone is near and then lets you connect to it via hotspot to use your phone's data connection. It just appears in your list of WiFi options to connect to without ever turning anything on on your iPhone. On Android, you could tap on a widget or icon to load up your hotspot, then activate it, but automatic is automatic, and something I think we would all prefer.
With voice calls on iOS 8, you can answer or place calls on your computer as long as your iPhone is attached (likely tethered) to your computer. Now, you can do this with Google Voice/Hangouts integration on Android, but that's another app or service you have to sign-up for. Apple is allowing you to do all of this without signing up for something separate. Google seems to be moving this direction with Hangouts (or has at least promised that it's coming), but here we are still waiting for it to arrive while Apple is rolling it out.
Quick Access to Favorite People
In iOS 8, a double tap on the iPhone's home button not only brings up a list of your recently used apps, but it now shows you recently talked to people, along with a swipe that will quickly bring in your favorites. You can see how awesome this would be for those of us who talk to a number of people throughout a day. On Android, you would either need to load up Hangouts or the People app to call or start a conversation with someone (after you locate them), but wouldn't it be nice to always have those people a quick gesture or shortcut away? It seems like Google could add a favorite/recently-talked-to people section to their multi-tasking screen. Again, there are apps on Android that can make accessing your favorite people pretty easy, but this is built right into iOS 8 and always available from any screen.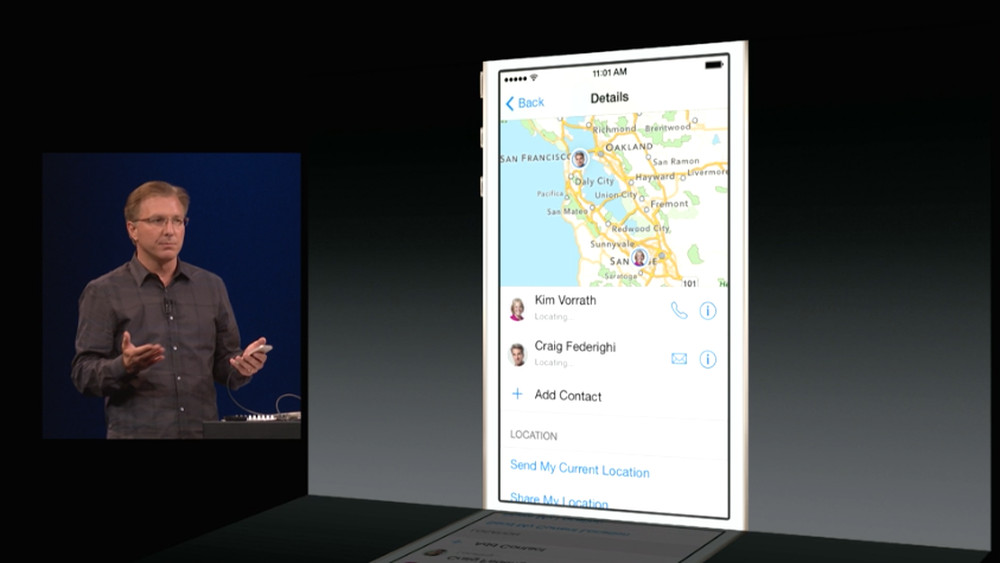 Messages, Group Messaging, etc.
Hangouts is a decent messaging app on Android, but iMessage or Messages on iOS is a much better, more well-rounded solution. Apple introduced all sorts of new group controls today, like a map that shows locations of participants in a group message, a list of attachments gathered together, easy DND, and even a way to add or remove contacts at any time. They added voice notes and video notes (that play natively), along with even more access through Messages on other Apple devices.
I mentioned this above, but a lot of this stuff could be coming to Hangouts, it just seems like Google is taking their sweet timing bringing it to us.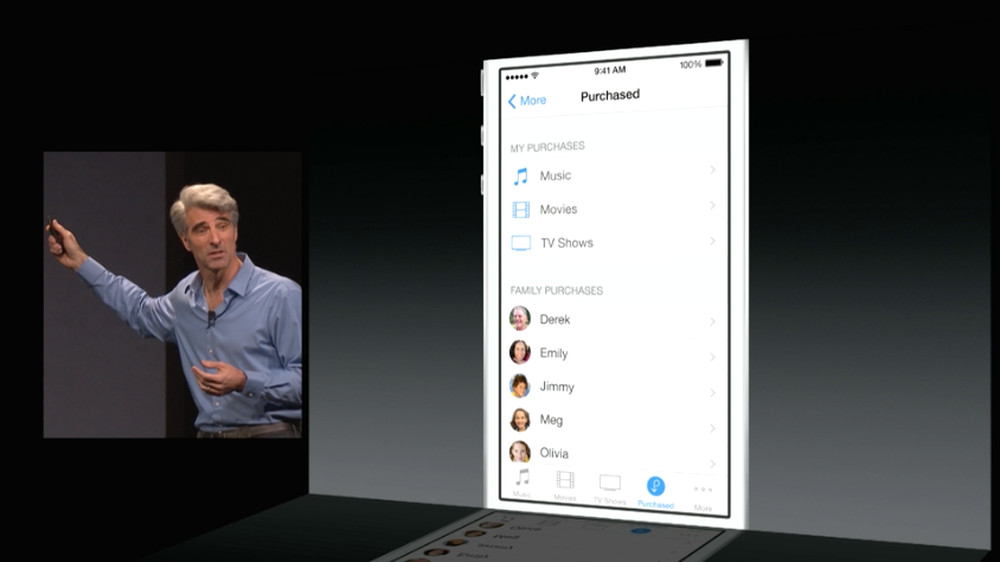 Family Sharing
Apple introduced family sharing of a number of items today, but most importantly, is content purchased through iTunes. Your family now all (up to six devices) have access to items purchased with the same credit card on their iOS devices. So if you are all using a same credit card and if someone used that card to buy a new album or movie, you can grab it too, at any time without having to pay for it again. With Android devices, you would have to add the same Gmail account to multiple devices in order to experience something similar. I actually have a setup like this with my wife, and I can tell you right now that it is a pain in the ass.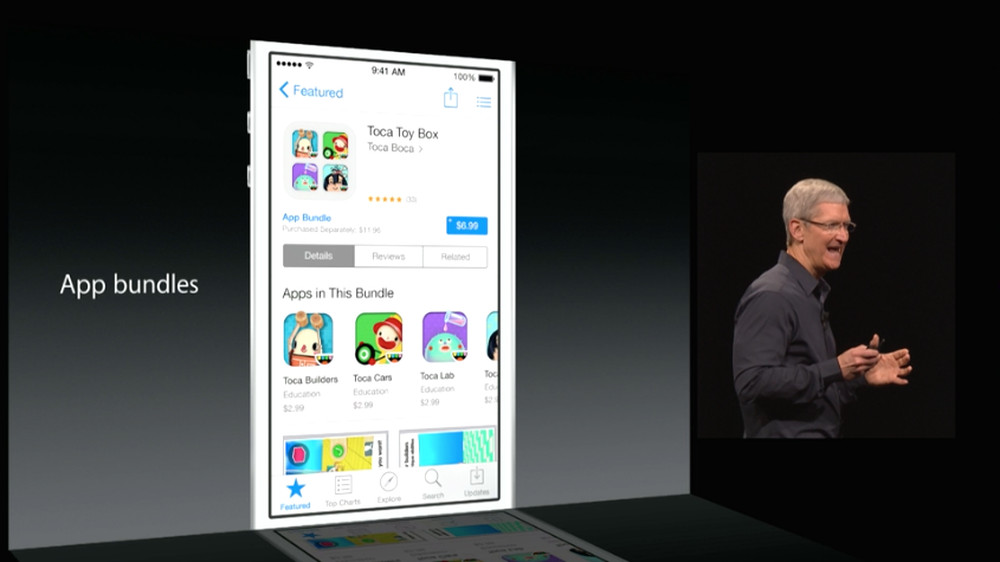 App Bundles
The final feature we saw from the lengthy WWDC keynote that we would love to see on Android, was the announcement that the Appstore will enable developers to sell app bundles. An app bundle is exactly what you think it is – a group of apps that can be purchased for a single price. That could be a game developer bundling all of their games together for a discounted rate for a period of time. Or maybe Google could grab a bunch of their favorite apps from top developers and bundle them together for a promotional deal on Google Play to celebrate a holiday. You get the point. Apple is there, Google is not, yet.
---
Anything else you saw from WWDC today that you were a fan of? Anything you would like to take a jab at? Share it below.