Back in February, Google announced that it would entertain the idea of bringing its ultra-high speed Fiber internet to nine new markets. This morning, AT&T tried to crush that number by announcing that it would look at up to 100 new markets for its "ultra-fast" Fiber network, 21 of which are major metropolitan areas.
Like Google, AT&T isn't saying that all of these cities and municipalities are guaranteed to get Fiber, but that they will work with local leaders to discuss ways to bring the service to their communities. In other words, there really is no sure thing here, it's completely up to the local markets to get the ball rolling.
The list of metropolitan areas includes cities like Atlanta, Chicago, San Diego, San Francisco, Los Angeles, and Miami, along with neighboring municipalities. It's an expansive list, all of which can be seen below. Keep in mind that AT&T's GigaPower fiber service is already available in Austin, TX and should be available in Dallas next.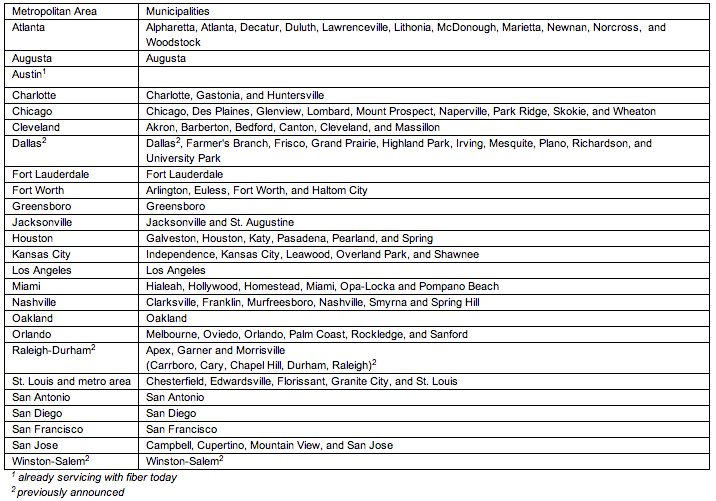 I know this isn't exactly Android-related, but we have covered enough of Google Fiber's rollout that we wanted to keep you up to date on all happenings in fiber internet.
Here are the benefits that AT&T hopes to provide with its GigaPower service:
Internet speeds reaching up to 1 Gigabit per second, faster than the fastest consumer Internet available in most communities today. With Gigabit speeds, you can download an HD online movie in less than 36 seconds, download 25 songs in one second, and download your favorite TV show in less than 3 seconds.**
Access to cutting-edge TV services that include the most advanced AT&T Total Home DVR with more HD TV streams to record and watch multiple shows simultaneously, plus greater DVR storage capacity.
Super-fast Wi-Fi speeds and the ability to schedule DVR recordings and watch hit TV shows on more than 30 varieties of smartphones and tablets, as well as your PC.
Faster speeds that enable small businesses to more quickly and seamlessly:

Upload, download and share large data files and images
Back up data remotely in the cloud at one or multiple locations
Videoconference with suppliers, business partners, and customers