Rumors and reports are flying around the Android community this week, surrounding a new piece of work from Google, reportedly titled Project Hera. Giving credence to the speculation are various screenshots which have been taken from various testing devices, showing off an updated look for both Gmail and Calendar.
Not only will Google look to revamp the look of these two applications, but the company will apparently attempt to bring a uniformed aesthetic to all major Google applications system wide. 
Without diving too far down the rabbit hole, let's take a look at the newly-leaked screenshots. First up, Gmail. Not too long ago, a leaked screenshot showed off an updated look for Gmail, but it didn't look anything like this. It had much more of an iOS vibe, while this new screenshot keeps the same basic look of the current Gmail app. The only real difference is the top bar being completely red instead of the off-white grey which we now have. It should be noted that this screenshot was leaked from a random user on Reddit, who posted it using a disposable account.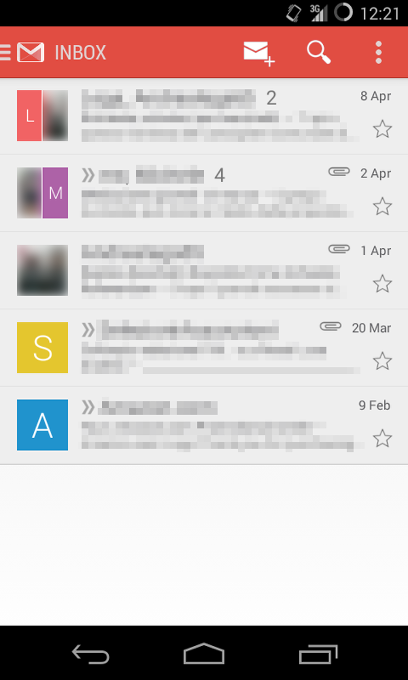 Next up we have Calendar, which features Google's internal name for the app, Timely. Yes, the same Timely which Google acquired not-too-long ago. Thanks to Geek.com, we have a few screenshots of what the new Calendar app could look like, and it is a major overhaul from what we have now.
As you can see below in the screenshots, the Calendar app takes on a much softer, more easily-read interface. In the month view, there doesn't appear to be any harsh edges and obnoxious colors, allowing for a cleaner overall interface. According to the source of the screenshots, Calendar takes on a much more social aspect, with Google allowing for the input of events from across the web and social networks.
If you ask us, we enjoy the look of it much more than the current version of Calendar, but who knows when and if it will ever come to our devices. For now, it is all in the testing phase.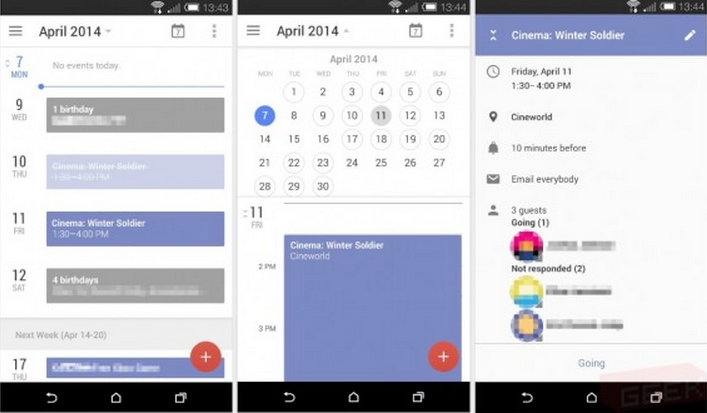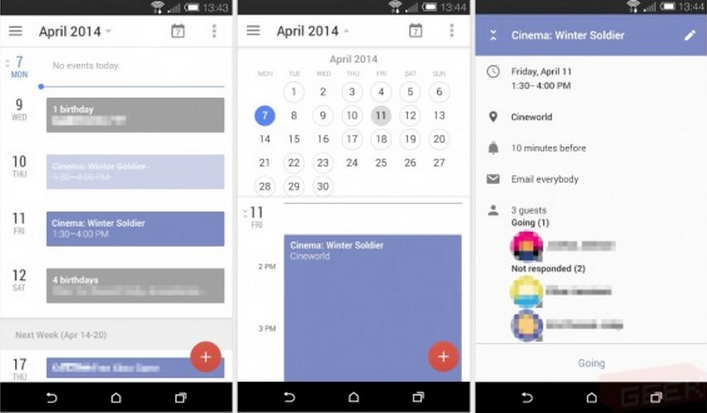 According to sources, and even speculation from various outlets, Project Hera looks to be much more than simple UI tweaks; culminating into more of a UI standardization and multi-tasking overhaul across multiple platforms, including Android and the Chrome OS. The one thing which Google will more-than-likely keep at the center of this standardization is Google Search, which includes Google Now.
From what is speculated regarding the multi-tasking across platforms, users could conduct tasks with web-based information on their smartphone, without having to open any applications. As all platforms would be tied in together, if one app is opened on your phone, then it would essentially be opened "in the cloud," allowing for the information to be viewed on any of your other devices.
Think of it like how Chrome handles tabs currently – if you open a tab on your desktop, you can find the same tab on your smartphone, thanks to the syncing feature which Google introduced just a couple of years ago. Google's main goal will be to simplify multi-tasking across all of your devices, allowing for the perfect amount of information syncing.
With Google I/O, the company's annual developer conference, right around the corner, it could be quite possible that we see more details surrounding Project Hera come to light.
To me, it seems as if Google has already put in quite an effort to change the design language that they would like to see third party developers adopt for their applications. It might even be frustrating at first that they would do it again, with almost everyone I know loving the look of Android which was introduced with Android 4.4 Kit Kat. However, if we are talking "standardization," then it's true that the same thing that might look good on my smartphone, won't look as good on something else.
What are your thoughts on Project Hera and the couple of reported screenshots we have seen? Are we diggin' it?