I don't know why, but I still almost can't believe that CyanogenMod is now shipping on a device, with Google's approval for Google apps. It's not that it sounds like a ridiculous or bad idea (in fact it is incredibly cool), it's just that I remember the early days of CM and have to admit that I never imagined it becoming this official. But official it is, with a hardware partner to boot. And that leads us to this post, where we take the Oppo N1 CyanogenMod Edition out of the box and for a quick spin to show you how far the pet project of a group of talented developers has come. 
With the Oppo N1 CM Edition, you are getting an Oppo N1 running CyanogenMod. If you have seen the N1 in action, nothing has changed other than…it is running CM out of the box. You still have the same massive 5.9-inch FHD display, Snapdragon 600 processor, 2GB RAM, 13MP camera-on-a-swivel, and arguably gorgeous design. When you fire it up, you are indeed greeted with a CM logo, setup process, and without a single sign of Oppo's own Android skin.
If you have ever played with CyanogenMod at any time in your life, then you'll know that it takes on a mostly stock Android appearance. Think about what Motorola has done with stock Android on the Moto X, by adding a few useful features to it, and then multiply it by 5 or 6. CM is stock, but it runs its own tweaked launcher, gives you the option to install themes, includes a file manager and music player, lets you tweak the interface, and so much more. With the N1 running CM, the whole experience is there, however, you don't have to root, flash, or download a thing.
Oh, and here is the monster in hand.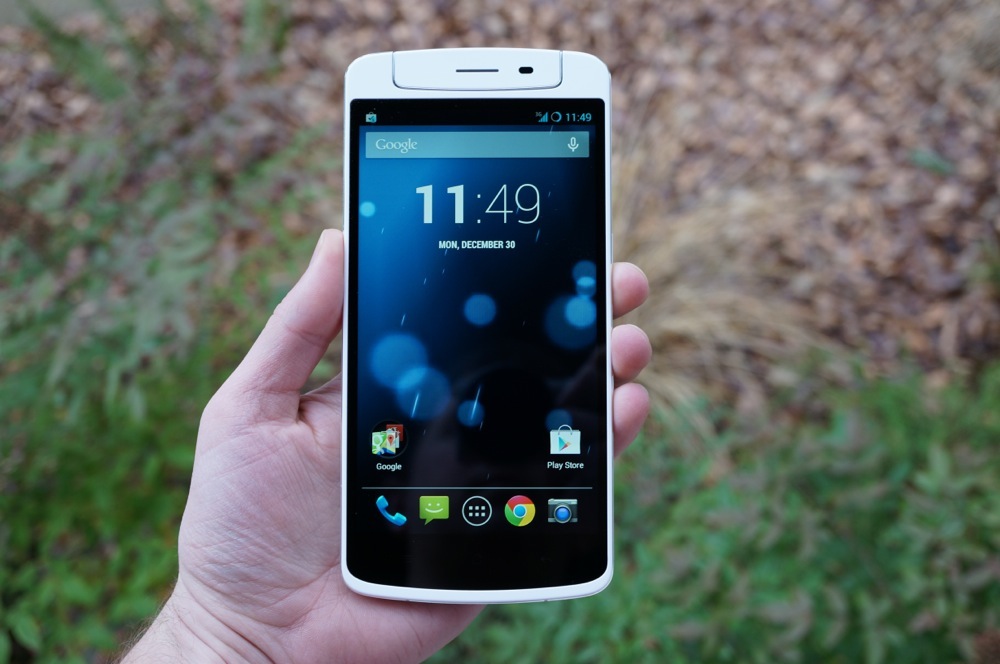 So check out the quick unboxing and hands-on below, share your thoughts, and let us know if you'd like to see more.
Video
[responsive_vid]
Gallery