From a consumer standpoint, HTC launched the One Max to counter Samsung's booming Galaxy Note line and enter into the "phablet" market. The only issue is that when entering a market completely controlled by Samsung and its marketing teams, you are fighting a constant uphill battle to gain traction. The One Max takes its looks from the HTC One, a device we did enjoy much earlier this year in our reviews. Although, with the Max's 5.9″ display and extremely heavy body, is it possible that HTC designed themselves completely out of the race against other large devices?
The device has been on the market now for almost one month exactly, so we won't be dropping a complete full-on review, but did want to touch on the essentials and go over our thoughts on HTC's latest. Plus, it has a fingerprint scanner.
Here's our quick review of the One Max. 
The Good
Hardware
Much like the One, the One Max features a wonderfully premium feel while in hand, giving off a cool metallic look thanks to its aluminum exterior. HTC has proven that they know how to make desirable hardware. For specs, the Max has everything you might expect from a oversized top tier smartphone of 2013 – a massive 5.9″ 1080p display, a 1.7GHz Snapdragon 600 quad-core processor, 2GB of RAM, HTC's UltraPixel camera, a large 3,300mAh battery, a 2.1MP wide-angle front-facing camera, a slot for MicroSD cards up to 64GB in size, BoomSound speakers (no Beats Audio), NFC, and Bluetooth 4.0.
In regards to the device's performance, it is most certainly top notch, acting just as snappy as a Galaxy Note 3 or Galaxy S4, but it would probably be right below an LG G2 in this category. Although, with all of the top tier phones running almost identical hardware these days (Snapdragon chips + 2GB RAM), all of them are quite capable of multitasking and getting tasks done, with plenty of juice to spare.
Display
The One Max features a whopping 5.9″ LCD 1080p display. It's simply gorgeous, offering a fantastic range of colors and crisp viewing angles. When viewing whites, especially noticeable on webpages, the white doesn't seem off or discolored as you would see on other panels from different OEMs. Reds and blues are especially rich, which makes for viewing photos you have taken or watching online content quite enjoyable. Beyond the pretty colors, having a display this large can be a joy, as well as a nightmare, but that's what I will cover in the not-so-good section. Viewing YouTube videos or Netflix, playing mobile games, and editing photos is a lot of fun when you have this much screen real estate. It's as if your brain is able to process tasks a tad bit easier, given that everything is spaced out well and not cramped like on smaller displays.
Battery
At 3,300mAh, the One Max's battery holds up insanely well. After hours of Candy Crush, Netflix, and Assassin's Creed Pirates, there is plenty of juice to go around for more tasks. Given the display is so massive, I actually wasn't expecting the Max to hold a charge for more than a day, but I was pleasantly surprised. My only issue is that I had to do a lot of content consumption while over WiFi, given that the model I have is on Sprint, whose cell coverage in my house is unusable. If I had been doing more of my video watching over 4G LTE, the battery life might have been little less stellar, but probably still quite exceptional for a large phone.
Speakers
Even without the addition of Beats Audio, HTC's BoomSound speakers found on this phone completely kick ass. With the One, I always found that they were just too loud, but the Max is just right. It has the perfect level of bass and treble EQ'd in, and walking about the house with music playing is a total blast. I always said, if there is one thing I could take from the One, it would have to be BoomSound, and I would say the exact same thing with the Max. Keep it up, HTC.

Somewhere in the Middle
Camera
Even though the One Max technically only features a 4MP sensor, the mixture of HTC's Sense software and the UltraPixel camera combine for a great photo taking experience. While I will be honest, and would definitely take the LG G2 or Galaxy Note 3's optics over this phone's, it still produces decent shots for what it is. When you hit the shutter button, you don't have to worry about missing the shot thanks to shutter lag or janky focusing software like we saw on the Nexus 5 when it still ran Android 4.4. On top of normal shooting, HTC adds in a ton of great real-time filter options, as well as the ability to long press on the shutter button for a burst shot mode. It's simplistic and works like a charm. And don't forget, there is still HTC's Zoe feature, dual capture and sweeping panorama modes, plus a full HDR setting.
Here are a few camera samples. They have been resized, but that's it.
Full resolution: 1 | 2 | 3 | 4 | 5 | 6 | 7 | 8 | 9 | 10
The Not-so-Good
Size and Usability
As with a few other cases in life, size isn't everything. If you know me, I'm a decent fan of large phones, as I adored the Galaxy Note 2 and enjoyed the Note 3 quite a bit as well. Unfortunately, the One Max doesn't strike my fancy with its size in the slightest. It's too damn big. What Samsung does right, is that they can create a large phone, make its size manageable, add-on a bunch of useful software, and also keep the weight down. HTC couldn't do any of this. The One Max features no special software to take advantage of such a large display – no MultiWindow, no nothing. Instead, HTC decided to throw in a fingerprint scanner, but I will get to that in just a bit.
The Max weighs in at 217 grams, compared to the Galaxy Note 3 at 168 grams. That is an extremely noticeable difference, especially when you have to keep it in your pocket. This was the first time that I have had a phone that I found myself completely turned off by having to drag it (forcibly sometimes, mind you) out of my pocket. I found that it better fit in my back pocket or even in my jacket pockets, but seriously, that's not where phones belong normally – at least according to me.
What's unfortunate is that HTC has a gorgeous, yet somewhat impractical hardware design with this phone. They gave the phone a huge display, but still had to keep the same design as the One, which means you have to add on dual front-facing speakers, as well as their own HTC branding and capacitive buttons, which adds an extra three quarters of an inch to the device's height. Right from the beginning, a designer or someone in charge should have realized that a phone of this size is completely unusable with one hand, and they could have gone a different route. Long story short, if you like big phones, then you might like the One Max. If you are like any of the people who I had hold and use this phone for five minutes, you will laugh and then never want to pick it up again. It's a sad story, especially when it involves a company that we want to see succeed.
Sense 5.5 UI
My beef with the Sense UI on the Max ties directly into the fact that HTC offers no "special" software to utilize this device's 5.9″ display. Maybe if I was Lebron James, who can completely palm a basketball without trying, then reaching across the phone's front to reach keys and other features wouldn't be such a big deal. To make matters worse for people with smaller hands, many applications from Google Play are now using the hidden hamburger menu that Google introduced, which is found on the left side of the display. If you are right handed, it's actually quite the task to work the One Max around with one hand to reach the left side of the screen with your thumb. All of this may sound like nitpicking, but I'm serious. You don't always have the convenience of using your phone with two hands, so I really wish HTC could have implemented a "scale down" feature to help with one-handed operation. Or at least give me a smaller keyboard option that I can use with one hand to text. Anything. Seriously.
Besides my continuous griping about the phone's size, this is the same Sense UI that you would see on the One that runs Android 4.3+. It has your BlinkFeed, messy "app drawer," and Settings menu with brightly-colored icons. Sorry, Sense fans – I've never been a big fan of it.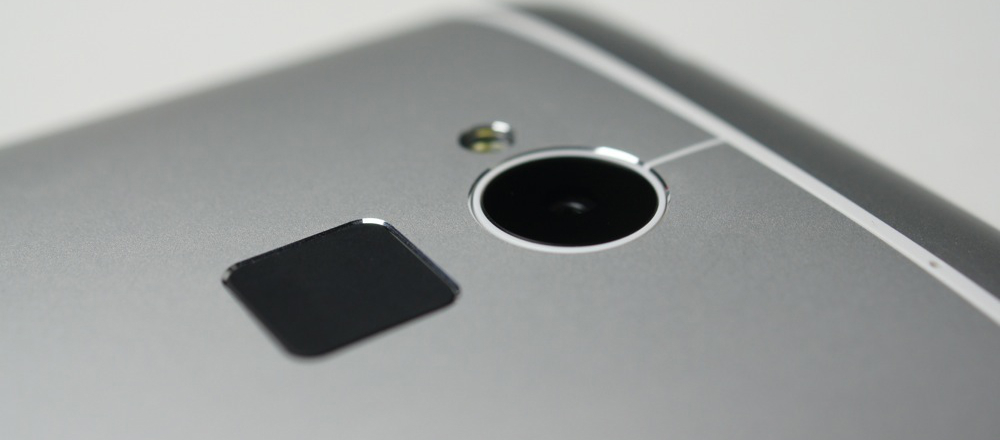 Fingerprint Scanner
And the award for the most unnecessary addition to a smartphone ever goes to…yup, you guessed it. I enabled the fingerprint scanner right out of the box, thinking it would be a great thing to show off and to see how well it compared to Apple's implementation of it on the iPhone 5S. While the idea is fantastic, as you can have different fingers open different apps and certain functions, the fact that you actually have to swipe your finger over the scanner absolutely kills any potential use of it. Some of you might have already heard my gripes on this, but could they have picked a worst place to put it, as well? Right below the camera on the backside, which means I found myself swiping my greasy blogger fingers over the camera's glass more so than I did the actual reader. Bad idea, HTC.
Not only was I wiping the glass with my finger more times than I'd like to admit, but how do they expect anyone to use anything besides their index finger to open the device? After thorough testing, I am basically 100% positive that it is physically impossible to swipe any finger besides your index and sometimes your middle finger over the reader while using just one hand. Again, this is another issue that should have been brought up in the phone's initial design phase.
Price and Availability
The One Max is currently available on two U.S. carriers, Sprint and Verizon, featuring 4G LTE connectivity on both. Verizon prices the device for $299 on a new two year contract, while Sprint has it for $149 on contract for two years and when porting your number. As for Verizon's price, that is completely insane. The Galaxy Note 3 is the same price on contract, but at least comes packed with a ton of features that are absent from the One Max, including an S-Pen and all of its goodies from Samsung. Off contract, when going month-to-month, you can purchase the One Max for a full $599.99. This means that not only are you signing up to pay a monthly bill to Verizon for two years (which will likely be quite high) if you purchase at the subsidized price, but you are paying 50% of the device's full retail cost upfront when signing the agreement. This isn't HTC's fault whatsoever, but for every person that is buying a One Max on contract through Big Red, the carrier is making an absolute killing on a device that should be listed at $199.99 on contract at the most. There isn't much getting around the sticker price if you want the One Max, and for that, we are bummed. But hey, you could always get on Verizon's Edge program. /s
Bloatware
We can't blame HTC entirely for this either, as Sprint has an obnoxious tendency of filling devices up with mountains of bloatware. There are Sprint navigation apps, streaming radio apps, Sprint music apps, BaconReader, eBay, browser toolbar add-ons, and tons of other miscellaneous apps you will never use. Thank goodness Google opted to allow users to disable any app of their choosing through the Settings menu.
Gallery
Unboxing and Hands-on
[responsive_vid]
Verdict
After my time with the One Max, it has become apparent to me why I enjoyed using the Galaxy Note devices more than this device. If you are going to make a big phone, it can't just be big. OEMs have to add in features and extra value along with the big display. Samsung bakes in in a truckload of proprietary software on its Note devices and even throws in an S-Pen with all of its goodies. To just have a massive phone for the sake of wanting to enter a market, you won't get my vote.
Where the One Max shines is important, though. It has a beautiful display, large battery that actually lasts you a complete and full day with ease, a decent camera that I enjoyed using, and while it is big and hard to use with one hand, it still looks quite sexy. HTC nailed a few important points, but it completely missed why people enjoy oversized phones.