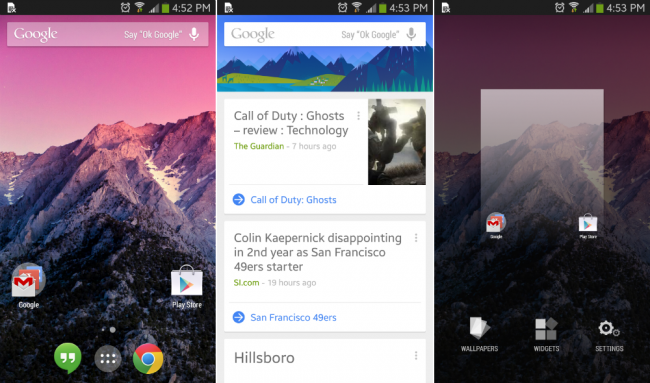 Google Search received a big update this evening to version 3.1.8, bringing with it a gang of new features. The crown jewel for most users will be the ability to use the official Google Experience Launcher that comes stock on the Nexus 5, plus its always-listening search capabilities and fancy animations to boot. But keep in mind, you will also need to download the Home apk from the Nexus 5 dump for that feature to work. You can download the additional apk and sideload it right here. 
In terms of what's new for Search, Google added in three new cards; Website Update card, News Topic card, and the What to Watch card. With the Website Update card, users can predetermine a blog they enjoy (like DL, for example), and choose to have updates from that site to appear inside of Google Now. The News Topic card brings user-selected category news right to Google Now, which allows users to see news from all around the web about content they like. Finally, the What to Watch card can give you recommendations for TV shows and Movies to watch if you and your loved one are planning a night at home.
The update also included a few other features and changes, which they have highlighted right below.
There are a few other great additions in Google Now with today's update: you can see traffic incidents on your commute using real-time data from Waze, set repeat reminders, get real time scores for rugby teams, and also see when your packages are ready for in-store pickup.
In summary, this update will allow anyone running Android 4.1+ to utilize the Google Experience Launcher by simply sideloading the official Google Home apk, and then experience the joys that Nexus 5 owners have been feeling for the past week or so.
You can grab the Google Search update by heading to Google Play, and then make sure to download the Home apk which we have listed on this post here. If you have yet to see the Google Search update available in Google Play, you can sideload it from downloading the apk right here [mirror].
Via: +Android
Cheers everyone who sent this in!