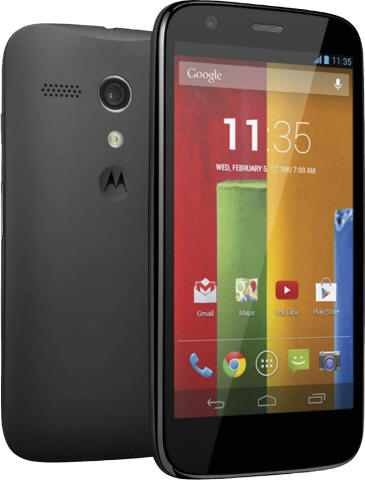 Motorola plans on introducing the world to the Moto G tomorrow morning, but unfortunately for them, a few retailers jumped the gun today. Appearing on multiple UK e-retailer sites, including Amazon, press renders of the G and even the full spec sheet is now public information. Sucks for Moto, but great for us. 
Unfortunately, as we have known thanks to previous leaks, this device is anything but top tier. The Moto G will be marketed as the perfect entry level smartphone, with a 4.5″ HD display, a 1.2GHz quad-core processor, 1GB of RAM, 5MP camera, and a body type extremely similar to the Moto X. What is still not known is if Motorola will be able to work in some of the premium software features found on the X, such as the Touchless Control and Active Display. We are leaning towards no, but nothing is confirmed at this point.
Specs:
4.5″ LCD 1,280 x 720 display
1.2GHz quad-core processor
1GB of RAM
8GB of flash storage
5MP rear-facing camera
1.3MP front-facing camera
2070mAh battery
Dimensions: 129.9 x 65.9 x 6-11.6mm
Weight: 143g
Be sure to watch Motorola officially unveil this device tomorrow morning right here.
Via: The Unwired | Pocket Lint