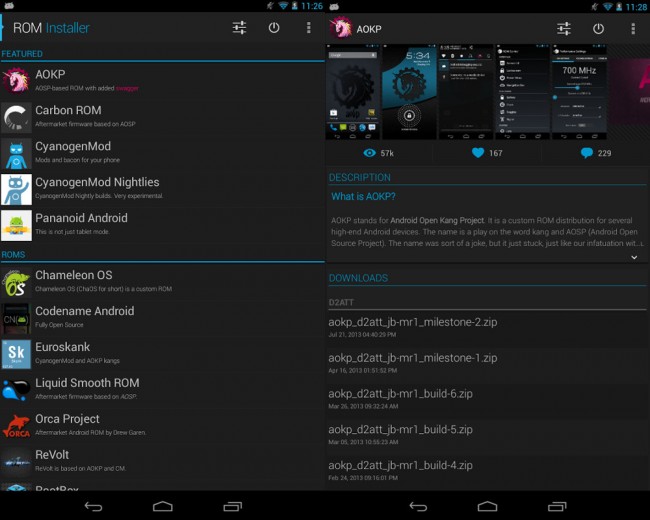 ROM and recovery flashers, a new tool from long-time site friend JRummy hit the Play store this weekend that you should consider checking out. It's called ROM Installer, and it's similar to the long-lost ROM Manager, but it has support and offers up the "most ROMs available in any app" along with 1-click recovery flashing of the latest recoveries. 
You are looking at an app that features the newest ROM builds from AOKP, CyanogenMod, Paranoid Android, MIUI, and others. You'll also find the newest versions of TWRP, which will be updated on a regular basis. ClockworkMod Recoveries  in both Touch and regular are there as well.
The app offers ways to backup and restore, install .zip files, and receive notifications for OTA updates of ROMs and recoveries.
ROM Installer is free.
Here is the features list:
 Many ROMs and ZIPs to download for hundreds of devices
One click install of the latest TWRP, ClockworkMod and ClockworkMod Touch Recovery
Backup and restore your current ROM (nandroid)
Extract apps and data and manage current nandroid backups
Install ZIPs with the easy to use ROM Installer. Install many ZIPs at one time.
Get notifications and OTA updates for ROMs and recoveries
Navigate ROMs and files on the popular ROM hosting website, goo.im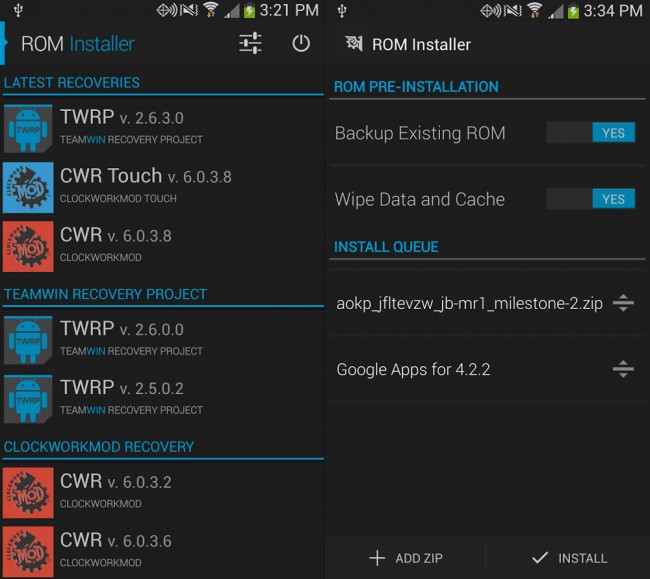 ______________________
Some of our best videos.