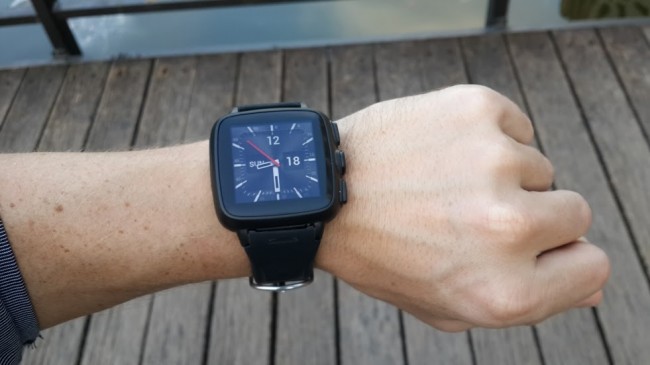 If you were trying to figure out what product you could launch to kickstart a new company, I'll give you your best idea for free right now – just make a smartwatch. Like seriously, just make a smartwatch and put it up on Kickstarter. These things can't fail. The latest of the smartwatches to go wild on the crowd funding site is called the Omate TrueSmart. Having been successfully funded almost immediately after launch, the project has now closed with over $1,000,000 in funding and over 4,000 backers. 
So what is the Omate TrueSmart? It actually sounds like a pretty powerful $199 smartwatch, assuming you are ready for a smartwatch in your life. You also have to be ready for its intense size, which may be necessary once you realize how much tech has been packed into this wearable device.
You are looking at a watch that has 2G/3G connectivity, can be a standalone computing device or a companion, is water resistant, has a sapphire face, full-ultra-bright touchscreen, records 720p video (yes, it has a camera), Android 4.2.2, runs on a dual-core processor with up to 1GB of RAM, and should have at least 100 hours of standby time. It's easily one of the most powerful (at least on paper) smartwatches we have seen to date.  It's not going to last you a week like Pebble, but it should have the power to do so much more than Pebble.
Now that it has closed on Kickstarter, we'll be waiting patiently for ours to arrive, because we seem to back anything with an Android pulse these days. Once we get it, we'll do a review just as we did with Pebble and will do with Samsung's Galaxy Gear. We would imagine that Omate will begin to sell a version at retail at some point after the Kickstarter pledges have all been fulfilled.
So yeah, another smartwatch that went wild on Kickstarter. Have you bought into the smartwatch revolution yet or are you still waiting for the perfect product (whatever Google makes)?