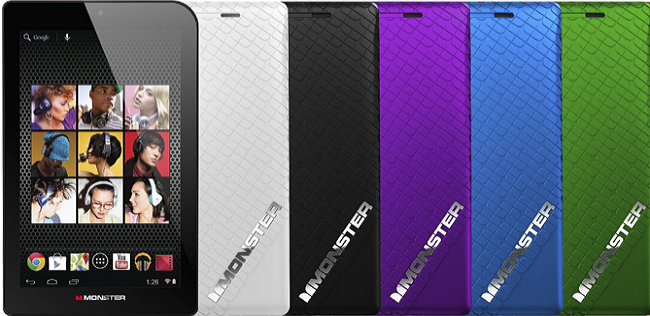 Monster, well known for its former partnership with Beats By Dre headphones, looks to have entered the tablet game. What kind of shocks us is that these are not overpriced tablets, either. The M7, which features specs best kept in 2012, sports a price tag of just $150, while its big brother the M10, will come with a bit-heftier tag and better specs. Details on the M10 are still unavailable. 
As for the M7, it features a 7″ HD (1280 x 800) display, a dual-core processor clocked at 1.5GHz, 1GB of RAM, MicroSD expansion slot, Bluetooth 4.0, stereo speakers, Android 4.1, and comes in a huge variety of colors. Mind you all of these colors look extremely tacky, but that's just our opinion. Maybe the colors wouldn't bug us so much if they didn't plaster on that humungous chrome logo. Oh well.
The M7 is available for purchase at your local Walmart for $150. Perfect for a kid's Christmas present.
MONSTER® LAUNCHES FIRST LINE OF TABLETS
Monster® M7 & M10 HD tablets Feature Pure Monster SoundTM with Time CorrectTM Bluetooth

BRISBANE, Calif., September 17, 2013 – Monster, the world leader in high-performance personal audio, connectivity solutions and headphones, today announced the launch of its first line of tablets—the Monster® M7 and M10, 7-inch and 10.1-inch tablets. The Monster® M7 tablet is first to be released, it is fully loaded with features, and is the only HD Android-based tablet with Time CorrectTM Bluetooth, a feature that movie lovers using Bluetooth speakers and headphones will adore. The Monster® tablets also feature aptX for near-CD quality sound.

A premium tablet, affordably priced, the Monster® M7 tablet is exclusively available online at Walmart.com for $149.00, in keeping with Walmart's "Save Money. Live Better." mantra. The Monster® M10 will launch later in the fall, price and specifications to be announced.

The Monster® tablet is enclosed in a unique non-skid surface that is attractively styled in eight custom "candy" colors to match the Monster® N-TuneTM headphone line—Candy Blueberry, Candy Tangerine Orange, Candy Grape Purple, Candy Apple Red, Candy Lime Green, Cotton Candy Pink, Frost White and Midnight Black (available separately.) The Monster tablets are a perfect combination of sound, style, HD video, and high performance audio.
Other features include Monster Central® PowerControlTM that allows complete energy and power monitoring over the Internet with Monster Power modules (available separately).

The Monster® M7 is also pre-loaded with Google Mobiles Services applications, as well as popular apps such as Vudu, for instant access to all the latest movies and TV shows.

Packed with features, in an array of color options to match our headphone colors, and offered at an affordable price, we believe the new line of Monster tablets is going to surprise a lot of people," said "Head Monster" Noel Lee.

Instant Entertainment
Out-of-the-box with popular apps such as YouTube, Facebook, Google Talk, Twitter and Vudu, both Monster® tablets offer easy ways to connect with friends and watch all the latest movies, TV shows and music hits. Vudu allows the user to stream directly to their device or download to watch anywhere, any time.

Cut Energy Waste, Save Big
With Monster Central®, it has never been easier for users to control their Monster Central® PowerControlTM smart plugs (sold separately) right from their fingertips. The Monster Central® PowerControlTM app helps households save money every day, cutting energy waste by setting up automatic timers to turn off electronics, computers or game consoles when not in use. The app also monitors the electricity and dollars used by any device plugged into the Monster Central® PowerControlTM smart plugs.

Specifications include: M7 7-inch Tablet: Equipped with a 1.5GHz dual core processor, Android operating system, HD 1280×800 resolution screen, Bluetooth 4.0 with Time CorrectTM, Micro USB input, 3.5mm headset jack, Mini HDMI, GPS, front (2.0MP) and rear (5.0MP) cameras, 16GB storage with 1GB DDR3 memory, MicroSD expansion slot and up to 8 hours of battery life, the 7- inch tablet is packed with all the latest specs with a great price.