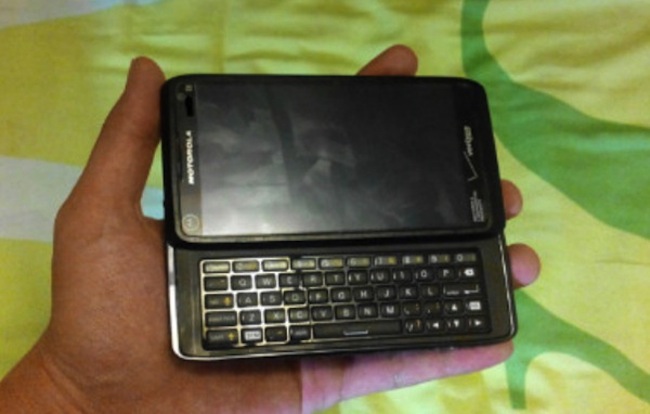 Back in August, we caught our first glimpse of what we believe to be the DROID 5 from Motorola. There have been many readers who continually hope to see another phone come out with a full-QWERTY keyboard, and finally, their time has come. Or has it?First to be thought a mythical device that could bring honor to the OG DROID's name, featuring decent specs much like the DROID Ultra or Moto X, a new leak shows that this smartphone is a mere mid-range (could even qualify for low-range in our books) device that may not even come to see the light. 
Last time we wrote this device up there were no specs to go along with the pictures. This time, the source states the device is running a 4.3″ 720p display, a Snapdragon S4 Plus dual-core processor and Adreno 255 GPU, 1GB of RAM, 16GB of storage, supports microSD, features wireless charging capabilities and has an NFC radio. Pardon me while I basically pour one out for our fallen comrade.
The device even appears to be running an older version of MotoBlur, which probably has most of you running for the hills by now. The DROID 5 is placed next to Sprint's Photon Q device, which is basically the same thing. Is the DROID 5 a shelved product that is somehow getting leaked now or does Motorola actually intend on putting this device on the market? Is it bad that I'm hoping for the former?
Let us know your full thoughts on the DROID 5 down below. If you're interested in it, can you tell us why?
Via: New Cell Phones | Weibo