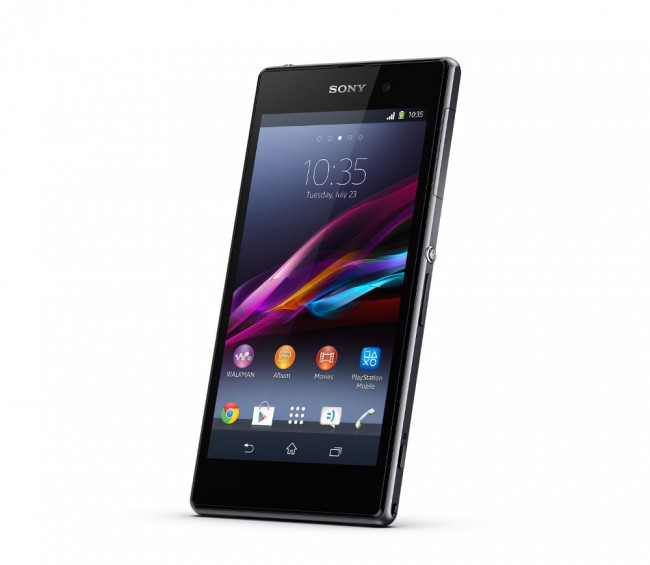 After much anticipation and leaked information on the device, Sony took the stage this morning in Berlin to officially unveil the Xperia Z1 smartphone. The device features a waterproof design, packed with some of today's top tier specifications. For starters, the Z1 smartphone features a 5″ 1080 TRILUMINOS display, a Snapdragon 800 quad-core processor clocked at 2.2GHz coupled with 2GB of RAM, plus a massive 3,000mAh battery. 
Those interested in mobile photography should be happy, as the device comes equipped with a 20.7MP Exmor CMOS image sensor and BIONZ for mobile image processing engine. Sony claims this phone's camera is now the pinnacle of mobile cameras. Sony was able to throw in some proprietary camera software for easy sharing from the camera application, as well as some special filters to give you the best chances of capturing excellent snapshots.
The press release states that the Z1 will launch globally "from September," however, no specific countries, carriers, or pricing was announced.
Video
http://www.youtube.com/watch?v=blUhgOJXetM
Gallery
Press Release
Sony introduces Xperia™ Z1 – a stunning waterproof smartphone with a groundbreaking camera experience

04 September 2013

Combines the very best of Sony's technology in a slim, waterproof and beautifully designed Android smartphone
True compact camera performance through combination of Sony's award-winning "G Lens", large 1/2.3-type 20.7MP "Exmor RS for mobile" CMOS image sensor and "BIONZ for mobile" image processing engine
Innovative suite of Xperia Camera Applications that deliver unique experiences including live social broadcasting
Immersive viewing experience via Sony's TRILUMINOS® Display for mobile and X-RealityTM for mobile
Discovery of online and offline content through the integration of Music Unlimited and Video Unlimited with Sony's media applications
Premium and exclusive out of the box entertainment offer from Sony Entertainment Network
Unrivalled ecosystem of accessories and companion products

4th September 2013, IFA, Berlin; CET 16:45 – Sony Mobile Communications ("Sony Mobile") today introduces Xperia Z1, a premium waterproof smartphone that combines the very best of Sony's technology, entertainment and wide range of companion products with a unique and groundbreaking camera experience. Xperia Z1 will launch globally from September 2013.

"Xperia Z1 represents a significant milestone for Sony in our continued efforts to deliver unforgettable experiences to our consumers," said Kunimasa Suzuki, President and CEO, Sony Mobile Communications. "Not only by bringing the power of Sony to the smartphone and through close collaboration with our partners but by setting a new standard in premium smartphones."

The world's leading camera in a smartphone

The elegant, 5" Xperia Z1 is the latest addition to Sony's premium Z series of products and brings Sony's proven world-class technologies to the smartphone like never before – including the very best of Sony's camera expertise. Xperia Z1 features Sony's award-winning "G Lens" with a 27mm wide angle and bright F2.0 aperture, custom made large 1/2.3-type CMOS image sensor Exmor RS for mobile with 20.7MP and a BIONZ for mobile image processing engine. The combination of these technologies delivers the same level of quality and performance as a conventional compact digital camera in a slim, waterproof smartphone. Indeed, independent testing has confirmed that Xperia Z1 provides the best overall image quality of all leading smartphones.* This means that Xperia Z1 captures beautiful, sharp and bright images even in lowlight conditions. High shutter speeds and 3x clear image zoom also prevents shots from being blurred while enabling them to be captured at distance.

Innovative suite of Xperia Camera Applications

Xperia Z1 takes the conventional camera experience to a whole new level by including an innovative set of Xperia Camera Applications that deliver new experiences. Applications at launch include:

Social live: Broadcast precious moments live from Xperia Z1 to Facebook and get your friends' comments right on your screen.
Info-eye™: Innovative visual search function that provides related information on landmarks and on items such as books or wine simply by capturing them with the camera.
Timeshift burst: Capture the perfect shot every time – Xperia Z1 takes 61 images in 2 seconds – a second before and after pressing the shutter – so you can scroll back and forth to find the perfect image.
AR effect: Overlay a selection of fun, customizable animations to create pictures using Sony's SmartARTM augmented reality technology.

This experience is supported by a robust ecosystem of established and up-and-coming developer partnerships who are working to create Xperia Camera Applications. Many more apps will be available through the Sony Select recommendation store after launch.

Beautiful design with high power and performance

Xperia Z1 also includes all of the features consumers have come to expect of a Sony smartphone. Its stunning looks combine Sony's acclaimed OmniBalance design with premium materials and precision engineering in a slim waterproof and dust resistant smartphone (IP55 & IP58). A solid one-piece aluminium frame with tempered glass on the front and back ensures beauty and durability as well as a consistent viewing experience from any angle.

Xperia Z1 features the fully integrated Qualcomm® Snapdragon™ 800 processor with 2.2 GHz quad-core CPU and 4G LTE to provide a seamless connected entertainment experience, industry leading battery performance and amazing speed. The Qualcomm Snapdragon 800 processor features the latest GPU and dual ISP for incredible graphics, 3D games and videos. The Xperia Z1 also includes a 3000 mAh battery for a high battery performance. Sony's Battery STAMINA Mode automatically turns off functions to save power when you don't need them and restarts them when you do.

Incredible out of the box entertainment with Sony's media applications and technologies

Xperia Z1 integrates PlayMemories Online**, a cloud-based image and video service that is integrated into the Album application. A new 'All Sync' feature enables users to instantly auto-upload all of their photos without storage limitation***.

Sony's "WALKMAN" and Movies applications are also included and provide access to more than 22 million songs on the "WALKMAN" app through Music Unlimited and more than 150K movies and TV series on the Movies app through Video Unlimited**** from Sony Entertainment Network.

Thanks to the inclusion of Sony's BRAVIA TV technology, Xperia Z1 features Sony's unique TRILUMINOS Display for mobile, creating a wider palette of rich natural colours for an immersive viewing experience. It also includes X-Reality for mobile – Sony's intelligent super resolution technology which analyzes each image and optimizes the quality to deliver super sharp videos. Xperia Z1 also brings Sony's audio expertise to play with Sony's ClearAudio+ which automatically optimizes the audio experience without the need to adjust individual settings.

Xperia Z1 comes with an incredible entertainment offer that includes five great movies plus an exclusive movie access pass to the digital release of Sony Pictures' summer blockbuster Elysium as well as a two month free trial of Sony's Music Unlimited streaming service plus much more.*****

Xperia Z1 also features a new application called TrackIDTM TV that enhances your TV-viewing experience. It lets users search, share and explore information from broadcasted TV shows such as cast & crew, biographies, filmography or show related Tweets.******

Unrivalled ecosystem of companion products and smart accessories

Xperia Z1 is supported by an ecosystem of innovative companion products and accessories. All are underpinned by Sony's one-touch functions with NFC technology which will number approximately 100 compatible products by the end of the year including TVs, headphones, audio speakers, tablets, and more. Key products include:

Companion products to enhance the camera experience

QX10/QX100: High-performance 'lens-style' cameras designed for mounting on smartphones and operated through the smartphone screen – a perfect partner for the Z1.
Smart Imaging Stand IPT-DS10M: An intelligent accessory that helps Xperia Z1 detect smiles and capture special moments without the need to hold the handset
Smartphone Tripod SPA-MK20M: A versatile tripod perfect for extra stability when taking pictures or capturing video

A host of other companion products and smart accessories that enrich your smartphone experience.

SmartWatch 2 – Use as a second screen for Xperia Z1. Read messages, handle calls, easily access notifications – all from your wrist. Trigger the Xperia Z1 camera shutter. Download other camera apps to enhance the Xperia Z1 experience. Sony is working closely with developers for even more optimised apps
SBH52 Smart Bluetooth Handset – Splash proof wireless audio accessory that enables you to listen and talk without taking out your smartphone.
MDR-10BT NFC headphones and SRS-BTS50 wireless speaker – New, high quality NFC enabled headphones and wireless speaker.
SmartTags NT3 – Create a unique experience for your tag and share with a friend via NFC.
Continually update the experience over time with the Bluetooth Music Receiver BM10 – stream music and audio from Xperia Z1 to your home Hi-Fi system
Miracast Wireless Display IM10 – Mirror your smartphone display on your HDTV or projector