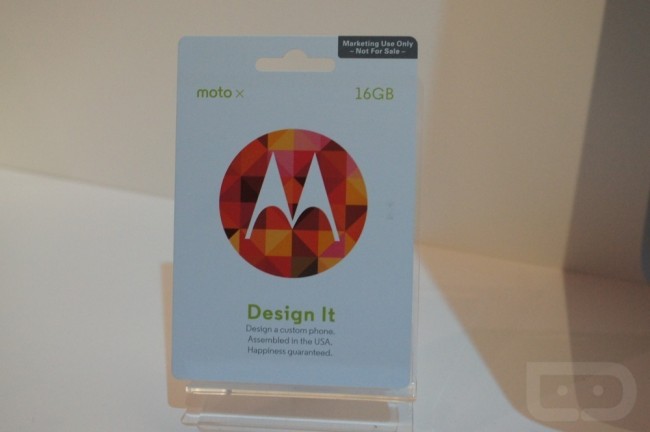 Well, folks, I have some semi-sad news to share. I just stopped off at two AT&T stores to try and pick up a 16GB Moto X "Design It" card to giveaway on the site, so that one of you lucky DL readers could customize your own phone, and was denied. I worked with a rep for a solid 30 or so minutes at one store to try and figure out how I could purchase a card for the full retail amount of a Moto X, but his system was locked into forcing the cards to be attached to an account and to only be used with upgrades. 
In other words, you can't buy a Moto X "Design It" card in store at full retail at this time and then head to MotoMaker.com to customize your own phone. You can only purchase a card if you have an upgrade available. Since MotoMaker is only half working at this time, that certainly limits some of its potential customer base at the moment.
I'd assume that the MotoMaker software isn't quite ready for prime time yet if it has these limitations. That's unfortunate for you, precious DL crew, as we were ready to give away a custom Moto X. I think this also shows that setting up a system like this isn't as easy as we all probably assumed, and why they are only launching with one carrier to start.
We'll keep an eye on the system and hope that it opens up in the near future. Also, with news of the developer editions dropping in days, it shouldn't be long before we can start doing giveaways. And should you jump into a store to try your hand at this full retail process, let us know if you have any success.