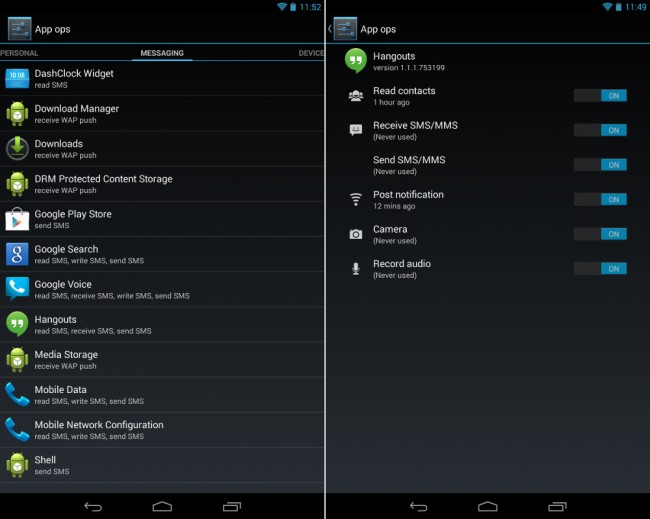 Hidden not-so-deep inside of Android 4.3's settings activities, you'll find an interesting new addition called App Ops that appears to be a work-in-progress setting for letting users manage permissions of apps with more control. You can access App Ops using an app that allows for shortcut making of activities, or you can download a handy app called Permission Manager (link below) that was recently created to access this menu on the fly. 
So what exactly does App Ops do? Once accessed, you'll find four columns of tabs for Location, Personal, Messaging, and Device. In each column, the OS has added apps that it feels meet the particular category, which is a nice attempt at organization. From category columns, you can tap on individual apps to access the area that's most important – permission control.
In each app listing, you'll see the list of permissions for each that can be either toggled to On or Off. For example, if you don't want Hangouts accessing your camera, you can turn it to off. If you don't want Twitter knowing your location, you can turn that off too.
According to Android Police, this new App Ops section isn't quite ready for prime time yet, so toggling some of these features on or off could provide mixed results. Just know before you go tweaking and removing permissions, that you are doing so in an unfinished product. Either way, it's a pretty exciting development, especially for security and privacies freaks.
Can you imagine how great this would be if you were allowed to deny specific permissions during the installation process of an app? That may be in the works as well.
Play Link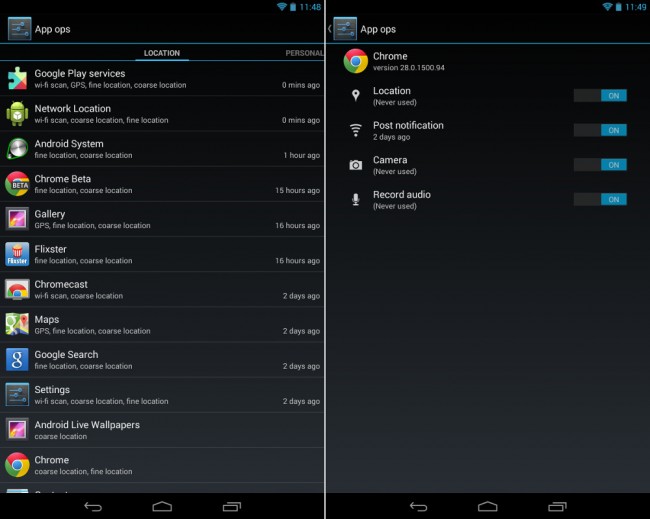 Via:  Android Police