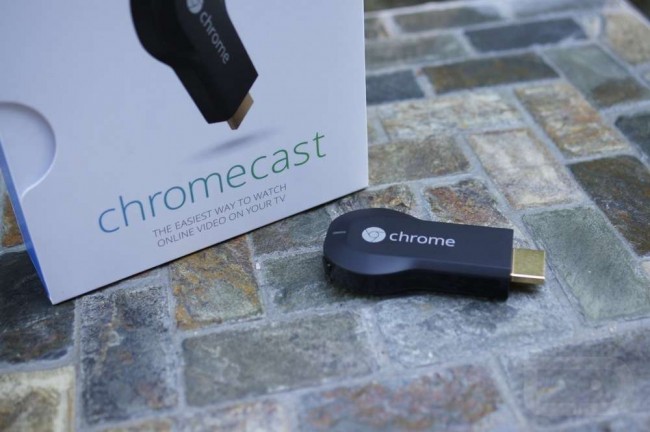 Is it safe to say that Chromecast is the talk of the tech world since its unveiling, yesterday at Google's breakfast with Chrome boss Sundar Pichai? We've already seen it sell out through Google Play, Amazon, and Best Buy (online), and have had more emails in our inbox about it than any other product announcement in recent memory. At $35, I can't exactly say that I'm surprised, though. 
So today, we're taking an in-depth look (12-minute video overview) at Google's new HDMI dongle that streams video, music and Chrome browser tabs to TVs from phones, tablets, and computers. You'll hear me say in a number of times in the video below, but after spending 5 minutes with Chromecast, it's painfully obvious that this is the new Nexus Q. The functionality here is identical to what Google originally showed off on the Q, except Chromecast costs $35 and the failed Q ran $299.
It's a fairly simple device, both in functionality and setup. But probably most importantly, it's one of those devices that hides in the background, yet is always available should you need it. And since it works with both Android and iOS devices, you are bound to have something lying around that can take advantage of it. Assuming of course, that you have a need for streaming content from a smaller screen to a bigger one.
Enjoy the video. Feel free to drop any questions in the comments!
Video Overview
Gallery
Update
After posting this initial video, we had a bunch of important questions in the comments that needed to be answered, so I'm doing that through this section. Also, since most of you wanted to know how streaming sites like Hulu, ABC, and NBC worked, we filmed another quick video with them in action. Oh, Netflix is in there too.
Other notes:
Netflix works great. Streams from either computer or app using the Cast button. Should be full 1080p.

My Netflix codes arrived via email about 12 hours after initial setup. I've seen some report that they are getting codes at the time of purchase, but this was my experience.
I tested video from Hulu, ABC, and NBC – they all worked great once I got my WiFi connection solid through the Chromecast.
I mentioned in the video (but didn't show) that you can go full screen video on sites like Hulu and ABC – just want to confirm that yes, you can go full screen.

Chromecast can plug into anything that has an HDMI port. In other words, you could plug it into a monitor if you wanted to (pictured below). I plugged mine permanently into my audio receiver, so that it would use my home theater sound and not just my TV's.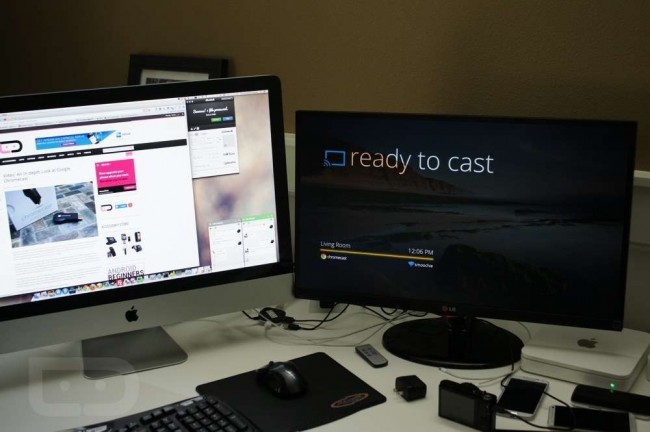 The quality of your PC browser tab casting all depends on your WiFi connection. Since my receiver is low to the ground, in a corner, and pushed up against a wall, it's not exactly in the best spot for a Chromecast that needs a WiFi connection. If you use this setup, you'll definitely want to use the extender that's included in the box to get better positioning. After tweaking mine, I'm getting a much better connection and experience when casting Chrome tabs.
Chromecast settings tweaks may help as well, especially if your connection isn't the best. By tapping on the Cast icon for the Cast extension, you'll get a chance to toggle options (pictured below). Since my WiFi is struggling to connect with the Chromecast, I left mine at "High (720p)" and have had no problems.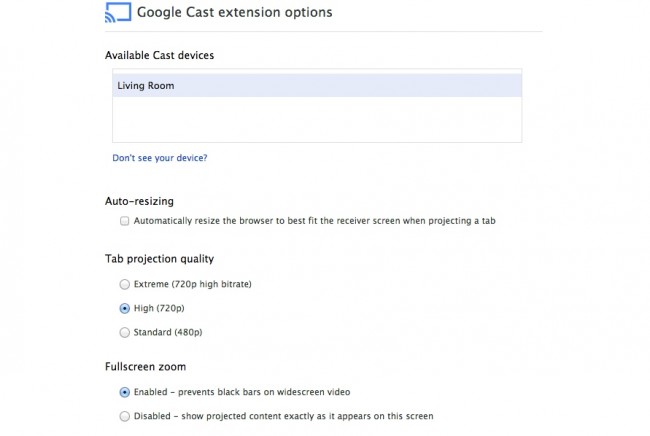 If you are casting from a mobile device (tablet or phone), it will continue to cast even with your screen off – not your TV screen, but your mobile device screen.
Receiving notifications during a cast doesn't interrupt the cast. So if you get an email or text or Hangouts message while you are casting a video to YouTube, playback goes uninterrupted.
If you are watching TV through one HDMI input and then Cast something from a device, it will automatically switch over to the Chromecast input. Once done, though, you'll have to manually switch back to your TV input.
Sideloaded or on-device music cannot be casted to Chromecast. You'll get this error: