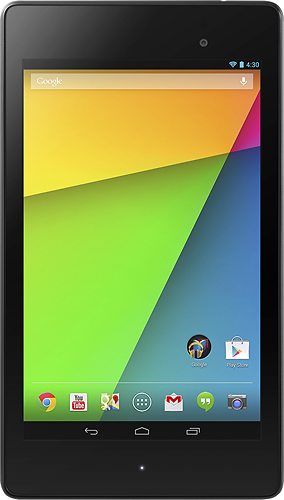 Well, there she is in all her glory. The new Nexus 7 is now live through BestBuy.com for pre-order, meaning we are almost 100% guaranteed to see it unveiled at tomorrow's breakfast meeting with Sundar Pichai. The 2nd generation tablet from Google has already been leaked, what feels like a dozen or so times through testers and retailers over the last few days, but this one sort of puts the nail in the coffin. 
According to Best Buy, we're looking at $229 and $269 prices for the 16GB and 32GB variants, respectively. On a specs front, we've got a 7-inch HD (1920×1200) display, 2GB RAM, 5MP rear camera, 1.2MP front camera, 1.5GHz Qualcomm Snapdragon S4 Pro quad-core processor (same as Nexus 4), Adreno 320 GPU, and Android 4.3. But you already knew all of that, didn't you? Yes, within the last week this and the Moto X became two of the worst kept tech secrets in recent memory.
And because it's available, here is an entire gallery of the new N7.
Gallery
So we'll see you tomorrow morning at Google's breakfast with Sundar – try to act like everything is a surprise.
Update:  It's at Sam's Club too.
Via:  Best Buy
Cheers Jonathan and Alex!